Taiping is a beautiful little town halfway between Penang and Ipoh with its cave temples, and one of Perak's best attractions.
We have already offered you a great guide to Taiping's Best Food and told you how to visit and hike to Bukit Larut/Maxwell Hill, Malaysia's second British colonial hill station — the first is Penang Hill, read our complete guide.
In 2019, before the world changed due to the coronavirus pandemic, Taiping was also awarded the third spot as "World's Most Liveable City" behind Ljubljana and Vancouver at the Sustainable Top 100 Destination Awards at the International Tourismus-Börse (ITB) travel trade show in Berlin.
Part of this "livability" is due to the beautiful Taiping Lake Gardens that lay at the center of the town, nestled right below Bukit Larut.
Taiping Lake Gardens comprise of West Lake, South Lake, Jungle Lake, and a number of smaller ponds and little islands linked by footpaths and decorative bridges. At night, some come alive with lights.
This post will tell you all you need to know to make a visit to Taiping Lake Gardens a memorable experience.
Where are the Taiping Lake Gardens
First of all, here is a map of Taiping Lake Gardens:
Where to Stay near Taiping Lake Gardens
Taiping offers a nice selection of hotels and places to stay that are all around or at a very close distance to the Lake Gardens. Click here for our ultimate list of the 15 Best Hotels in Taiping.
If you have no time, these are some of our favorite suggestions:
---
A Brief History of Taiping Lake Gardens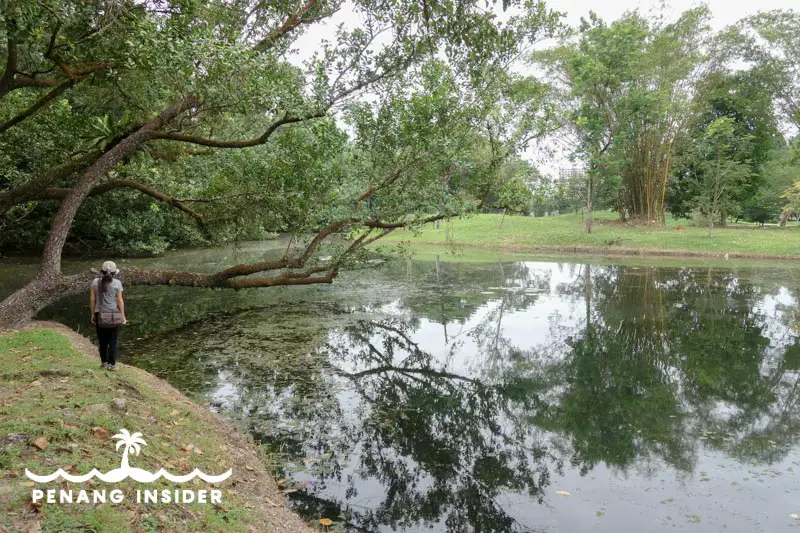 Taiping Lake Gardens date back to 1884 (the same year botanist Charles Curtis created Penang Botanical Gardens) and occupy a former 60-plus hectare site that once housed some of Perak's famous tin mines. It was donated by the wealthy tin miner and rubber planter Chung Keng Quee, and landscaped as Taiping Lake Gardens under the direction of British town planner Charles Compton Raede. The place maintains the beauty of its origins, and it's evergreen, given Taiping's favourable rainy climate.
---
Best Things to do at Taiping Lake Gardens
Taiping Lake Gardens are better visited on foot. There is ample — and free — parking around Pekeliling road, so stop your vehicle and start walking and enjoying these beautiful grounds.
The following are suggestions on some of the best activities for a day out at Taiping Lake Gardens.
---