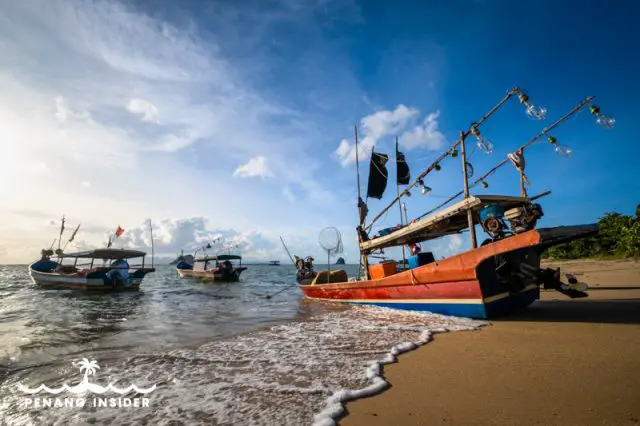 Now that you have come to Langkawi (check how to get from Penang to Langkawi and from Kuala Lumpur to Langkawi), the island jewel of Kedah state, after you have checked out our 3 days Langkawi itinerary and enjoyed many activities such as a mangrove kayak tour or the popular Langkawi sunset cruises, it may be about time to laze on a tropical beach, right?
But what is the best beach in Langkawi? Well, it's hard to say, as there are many, and each one caters to a different type of traveler.
READ MORE – Best Beaches and Islands in Penang
Most visitors start at the tourist and duty-free heaven Pantai Cenang, but it often gets crowded. The concoction of hotels, restaurants, and duty-free outlets can be frankly off-putting as it completely shelters the beach view. Maybe it'd be best to find some of Langkawi's best beaches elsewhere.

We have been around most beaches of Langkawi and have condensed our knowledge in this article so that you may choose the best beach in Langkawi based on your tastes and needs. Ready? Read on.
---
Best Beaches of Langkawi island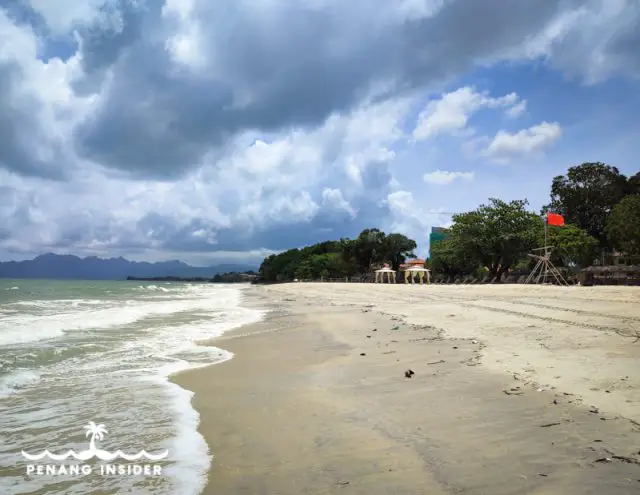 Pantai Cenang, Langkawi's most touristed beach, is still something to look at. (image © Kit Yeng Chan)
As most accommodation revolves around this most famous southwestern beach, it's mandatory to start with Pantai Cenang, Langkawi's busiest and most trafficked strip. If truth be told, it's backed by too many buildings and concrete these days, but to be objective, the beach itself is large and still beautiful. It's a very nice spot for sunsets and long strolls — pay attention to the vehicles that, like it or not, sometimes drive even onto the sand — and the easiest place to dip yourself in Langkawi's sea.
Pantai Cenang is also a heaven for water sports, from banana boats to jet skis. Everything can be found and rented on the beach, but if you want to book earlier, you can check this promotion on KLOOK. Cenang is also the place where the very cool jet ski island-hopping tours around Langkawi's southern archipelago start. Book your tour here and get a discount.
This is a map of Pantai Cenang's location:
---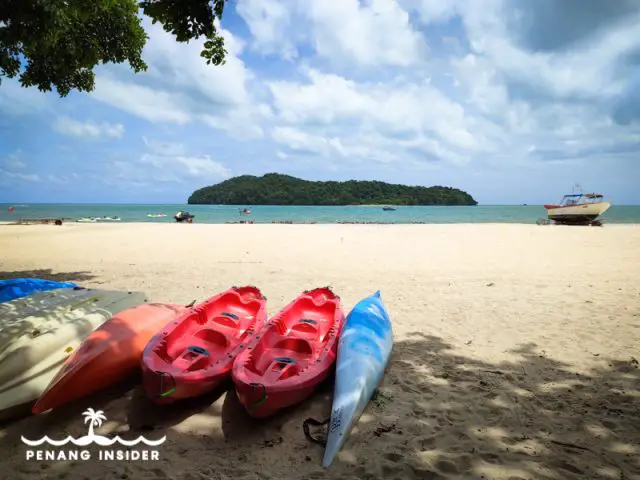 Pantai Tengah is much quieter than Cenang, a perfect location for a great Langkawi beach next to hotels, bars, and restaurants. (image © Kit Yeng Chan)
Even if it could be considered the southern extension of Pantai Cenang, Pantai Tengah, separated by a rocky headland, feels like a slower-paced Langkawi beach. And yet, it's backed by one of the island's most lively bar and hotel districts.

You can come here to enjoy some sun, bars, and food, or go a little further south to Pantai Tengah — a more upper-class version of Cenang, with a crescent of sand tucked at the end of a strip flanked by boutique hotels, resorts, and bars that include one of Langkawi's best bars, the Bam-Boo-Ba.
Here's a map of Pantai Tengah's location:
---
The northwestern corner of Langkawi is draped by the mangroves of Kilim Geoforest Park, one of the four main areas associated with Langkawi Geopark, inscribed by UNESCO in 2006. Needless to say, a visit here is one of the top experiences to have in Langkawi — and we believe that the best way to go experiencing it is by kayak.
READ MORE – Langkawi Mangrove Kayak Tours
You'll get first in a bumboat and then into your own kayak (couples can paddle together, too) to sample first-hand what it means to float in one of Malaysia's oldest and most interesting ecosystems. A guide will escort you around the area, and you'll have lunch at a floating restaurant, where you'll also be able to visit a small fish farm.
Book your Kilim Geoforest Park kayak tour here.
Here is a map of Kilim Geoforest Park's location:
---
Datai Bay is not public, but if one wants to experience a lush getaway on a beautiful private Langkawi beach, then this is the place to splurge on the Andaman Sea.
The Datai Bay belongs to one of Langkawi's best hotels, the Datai Resort. It is a 1.5 kilometers-long and 30 meters wide sliver of the deep ochre beach backed by pristine rainforest that earned the title of one of National Geographic's Top 10 beaches in the world.
One can swim or participate in water sports such as snorkeling, sea kayaking, windsurfing, and sailing. Right across the Datai Beach are the unspoiled islet Pulau Anak Datai and the Thai island of Ko Tarutao, a national park that once was an infamous jail.
Here is a map of Datai Bay's location:
---
5
Pantai Pasir Tengkorak (Sandy Skulls Beach)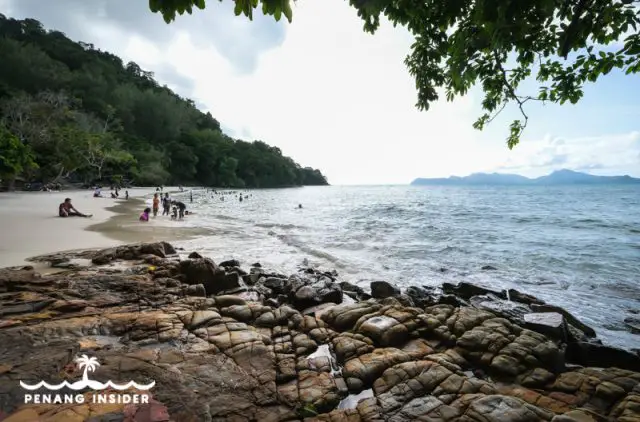 Locals enjoy bathing at Sandy Skulls Beach in Langkawi. The island in the background, Ko Tarutao, is part of Thailand and was once a prison – hence the beach's name. Skulls of those who attempted an escape often washed on the shore. (image © Kit Yeng Chan)
Set on the northwestern side of Langkawi's coast, there's nothing creepy about this "skulls beach." With its attractive crescent of clear sand backed by tall, dense palm trees and tropical vegetation, it's a beautiful place to swim and one of the most popular picnic spots among locals — who, to be fair, could be more careful with their trash.
The name probably comes from the fact that in the past, these once crocodile-infested waters spat bones and skulls on the beach. The reason is the Thai island of Ko Tarutao, floating just about 10km away and visible from Pantai Pasir Tengkorak. The fugitives who escaped from the former Thai prison island often died drowning or being eaten by crocodiles, and their bones would end up washing away on the beach.
Today, there are just people chilling and swimming, a landscaped park with barbecue facilities, and a simple hiking trail that leaves the right hand f the beach and climbs over granite rocks along the coast.
Here is a map of Pantai Pasir Tengkorak's location:
---
6
Pantai Pasir Hitam (Black Sand Beach)
Stretching from the center of Langkawi's northern coast, this beach is famous for its black sand. Don't expect a full-fledged volcanic black sand like in Lovina, Bali, for you'll see mostly speckles of black shades over a large, inviting stretch of sand.
Since Pantai Pasir Hitam has long been a fishing village, a nice thing to see here (and a boon for keen photographers) is the many fishing boats moored along the shore.
Here is a map of Pantai Pasir Hitam's location:
---
North of Air Hangat (the village nearest to the Kilim Geoforest Park) in Langkawi's quietest corner is the long beach promontory of Tanjung Rhu, the island's northeasternmost beach. A long, rugged slab of ochre sand backed by a few charming resorts, it's best visited at sunset. Try to come by 6.45 pm to have time to find a spot on the main square, or have time to walk up and down the beach before it gets dark. There is ample parking spot for a rental car, and motorbikes are free to park everywhere. Did you already book one?
There are several dining options around Tanjung Rhu, or if it's a Friday, you can retrace your step to the Air Hangat roundabout and visit one of Langkawi's cheap and interesting night markets.
Here is a map of Tanjung Rhu's location:
---
8
Teluk Yu (Shark's Bay Beach)
Don't be put off by the name – the only sharks here are made of stone and on display on the promenade.
Set on the northern shore of Langkawi between Pantai Pasir Tengkorark and Pantai Pasir Hitam, Pantai Yu is considered a part of the latter, but to be honest, it does not have black pigmentation.
It's a quiet, long stretch of beach where the waves are not harsh, and swimming is pleasant. One can enter via two main ways: one is coming to the beach from the east towards the west. Look for a colorful low concrete fence, and right before it enters, the passage leads through a park and onto the beach.
The second is from a concrete promenade about one kilometer to the west of the other entry point. This is where there are more car parks and more tourists, who sit in the shaded huts overlooking the beach from the edge of the road.
Here is a map of Teluk Yu's location:
---
9
Dayang Bunting, the Pregnant Maiden Lake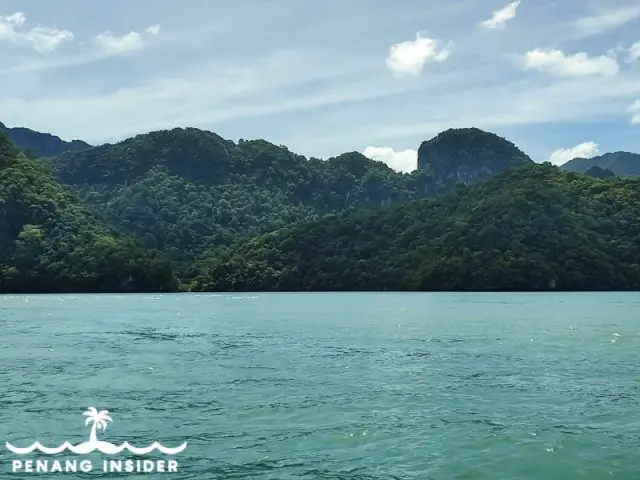 A view of the silhouette of a sleeping pregnant maiden, as believed by Langkawi's locals. (image © Kit Yeng Chan)
The biggest and most popular of Langkawi's islands is Dayang Bunting, home to the beautiful Pregnant Maiden Lake — a speckle of aquamarine water stuck like a blue mirror in the midst of soaring limestone pinnacles.
It's not really a beach per se, but it's popular with island-hopping tourists and the first stop in most Langkawi tours.
The Pregnant Maiden Lake has been largely upholstered after COVID-19 lockdowns, and now tourists are charged a small entry fee and are prohibited from swimming unless they rent a life-jacket. It's available directly on the lake shore, at the end of the staircase leading down to the lake. The same place also rents kayaks and water propellers to aid your underwater explorations.
Here is a map of Dayang Bunting island's location:
---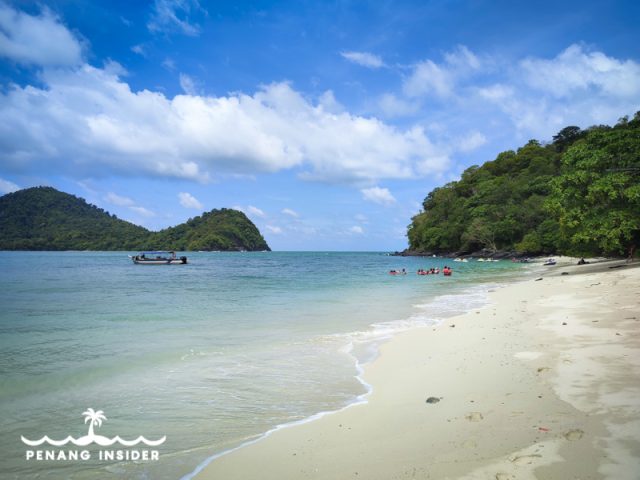 Beautiful white sand at Pulau Beras Basah, one of Langkawi's best tropical beaches. (image © Kit Yeng Chan)
This is one of the biggest islands in Langkawi's southwestern seaboard and the one where most island-hopping tours end their half-day runs. It's a less-developed, small tropical island with a long white beach and sparkling clear water, which, even if it sees quite a bit of tourists, remains a joy to bathe in.
It's possible to snorkel here and enjoy quite a bit of fish life, so much so Beras Bash island it's also one of the places where Langkawi's few dive operations bring their customers.
Here is a map of Pulau Beras Basah's location:
---
Marco is standing on the rocky headland on the northern end of Pulau Kentut Kecil. (image © Kit Yeng Chan)
Believe it or not, the name of this island in Langkawi's southwestern cluster means "little fart" – but the beach is actually quite the opposite of such a description.
Pulau Kentut Kecil has beautiful white sand and turquoise waters, mostly because it's only accessible by private boat tours or jet sky tours and sees a fraction of the traffic of nearby Beras Basah island.
One of the perks of this diminutive islet is the rock formations found on the northern side of the beach. If one hikes for a few minutes to the top, the views are glorious. Try to organize your visit, reserving ample time to stay on this beach and frolic in these waters, some of the most beautiful in the whole of Langkawi's archipelago.
The easiest way to reach Pulau Kentut Kecil and enjoy its beauty is to book a private snorkeling experience on Klook here.
Here is a map of Pulau Kentut Kecil's location:
---
12
Pulau Payar Marine Park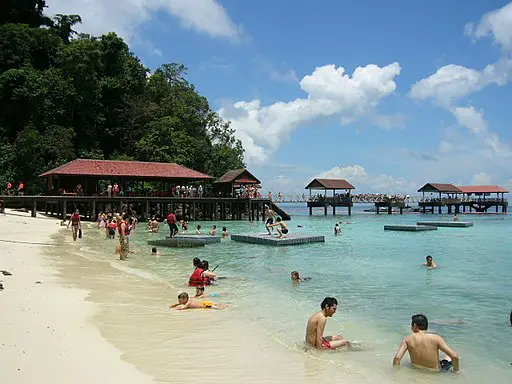 Pulau Payar is popular with tourists who come to snorkel in its crystal-clear waters. (image from Wiki Commons)
Floating between Langkawi and Penang island, the stunning 2 nautical miles of Payar Marine Park consists of four islands ("pulau" in Malay), of whose Payar is the biggest. Pulau Payar is possibly the closest Langkawi comes to paradise sea. It's about 20 kilometers south of Langkawi's main island and is reachable by catamaran from Kuah jetty.
Imagine transparent waters, white sand, well-preserved corals, and the incredible chance to snorkel amidst plenty of baby reef sharks. A reef platform in the middle of the ocean is also perfect for spotting exotic coral gardens and marine species.
Pulau Payar is amazing but comes at a price – only day trips are available. Nobody can overnight in this marine park, which the Fisheries Department of Kedah State strictly regulates.
It's also possible to dive here.
You can get a ticket from Langkawi's Kuah to Pulau Payar and book a diving or snorkeling package on KLOOK.
Here is a map of Pulau Payar Marine Park's location:
---
At last, Pulau Tuba is one of the 5 inhabited islands in Langkawi's archipelago of 99 and a part of the Dayang Bunting Marble Geoforest Park. It's 5 kilometers southwest of Kuah Jetty, only a 20 minutes boat ride away from the Jeti Dato Syed Omar. It costs RM10 per person (non-Malaysian), one way to cross.
Contrary to Langkawi's main island, Pulau Tuba has largely remained off the tourism radar. She boasts a quaint, idyllic rural life made of small kampongs and beautiful, empty beaches.
Pulau Tuba is connected to Pulau Dayang Bunting by a concrete bridge – and that's why many people confuse the two islands, but they both have different villages and chiefs.
The best way to explore the many beaches, nooks, and crannies is to rent a motorbike for the day and make your way around the island. If one cannot ride a bike, there are good chances to find taxis at the jetty and rent them for a sightseeing tour of Pulau Tuba.
The island also has trekking to a permanent rainforest reserve and a trek to the cave, Wang Buluh, which residents used to escape the Japanese troops stationed here during World War II.
There are a few places to stay on Pulau Tuba, so you may as well turn your visit into a relaxing multi-day trip.
Here is a map of Pulau Tuba's location:
---
YOU MIGHT ALSO LIKE
Langkawi 3 Day itinerary
Ultimate Guide to Langkawi's Sunset Cruises
Best Tours in Langkawi
---
And if you liked this, why don't you sign up for our mailing list? We will send you immediately a FREE photographic eBook with some incredible pictures of Penang, and we promise, we will disturb you only about once a month with some good local advice you won't find on the site