On September 16, Langkawi was the first Malaysian destination to reopen tourism after 18 months of closures. As expected, almost ten thousand Malaysians flocked to Langkawi airport and the island just north of our beloved Penang in the first week alone, longing to return to Langkawi's best beaches.
READ MORE – Should you visit Penang or Langkawi?
As social distancing is part of the clear Standard Operating Procedures required to visit, the best idea would be to choose and pre-book between the many Langkawi tours that are available.
Tour operators these days know that Langkawi tours must be conducted following all the required safety measures for health to avoid coronavirus infection — let them do their job, and just relax in Langkawi after so many days of forced lockdowns at home!
This post will break down the main Langkawi tours you can take, giving you direct links to book your chosen activities.
READ MORE – How to catch the Ferry from Kuala Perlis to Langkawi
Blogging transparency: this post contains affiliate links. These are products and services that we personally use and recommend. If you click on one and buy any service, I will get a small commission at no extra cost to you. Consider it a small way to say thanks, and keep Penang Insider going.
---
Advantages of a Langkawi Package
Langkawi is a pretty organized island for tours, and pre-booking a Langkawi package can actually save you time and money. When the island's packed, which is most of the time, having your activities arranged will just help you concentrate on making the best of your time.
READ MORE – A Perfect 3-Day Langkawi Itinerary
Also, consider that some Langkawi packages actually are discounted and offer pretty good value. The following suggestions will help you maintain flexibility in what you choose, and show you some of Langkawi's best package tour deals.
---
Best Langkawi Tour Packages
Once in Langkawi, you have a number of options for great things to do. With popular attractions such as the Langkawi Cable Car and Skybridge, and the chance to explore wild nature and see Malaysian animals, or strike off on kayaking trips out at sea, the possibilities for things to do in Langkawi are endless.
READ MORE Best Hotels in Langkawi
Our word of advice is to take a  guided tour, especially when it comes to watersports and jungle activities — you really need the help of a trained guide to make the best of your trip and stay safe. The following suggestions highlight a few tours that we think you should consider.
COOL TIP: Do you really want to get around Langkawi by yourself? Consider doing it in style, renting a vintage Vespa with a 10RM discount.
---
Langkawi Cable Car and Sky Bridge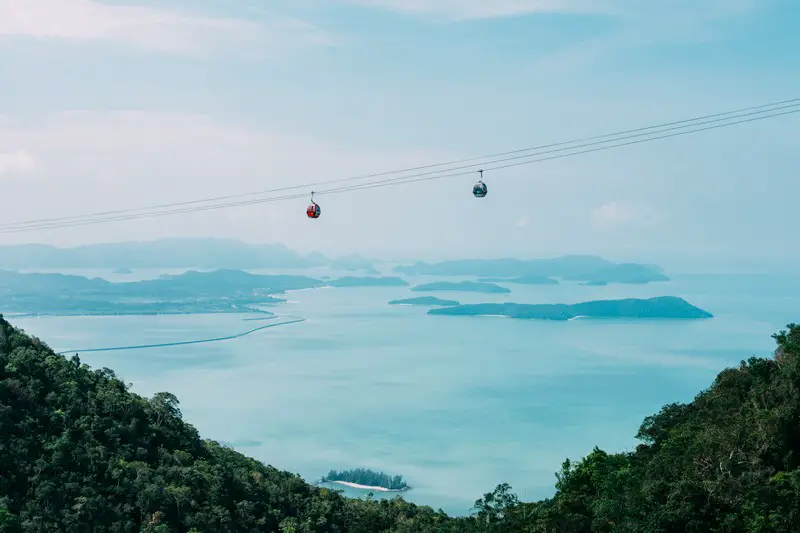 For starters, everyone going to Langkawi wants to ride on the famous Cable Car. One of the steepest and highest in the world, it offers amazing views of the Langkawi archipelago from the top of the Skybridge. Problem is, the line to get your ticket is always long, no matter what time you arrive.
PRO TIP: you can book your ticket in advance and don't waste time standing in line. You came to Langkawi to explore and enjoy, right?
Another option to ride the Cable Car, see Eagle Square, and do some duty-free shopping is taking a full-day private tour of Langkawi with your own English-speaking guide and air-conditioned vehicle. This is a perfect option for families and those who can't get around using motorbikes.
READ MORE – How to get from Kuala Lumpur to Langkawi
---
Langkawi Best Watersports Tours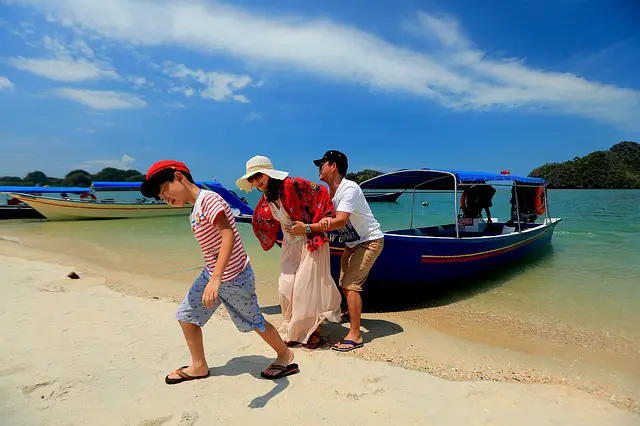 When in Langkawi, not enjoying the island's pristine tropical waters is a big mistake. So get off that sunbed and take part in some fun activities. Again, a guided tour is the way to go — do you really want to spend time trying to charter a boat for the best price? Not recommended, and a waste of time: you also need to make sure that the boatman who takes you is trustworthy.
So take out the guesswork, and let the professionals at Get Your Guide and Klook (two online tour booking services we use to book our own trips when we travel) do this for you.
You can pay with International credit cards, and you'll be able to cancel your bookings free of charge up to 24 hours before the activity starts.
1) First of all, the popular Langkawi island hopping tour (book here for a 10RM discount on each ticket, including pick up from your hotel) is the quintessential way to get off the main island and experience the rest of Langkawi's archipelago. You'll spend a half-day floating on the sea, and you'll witness the famous Langkawi "eagle feeding". The local eagles will fly down from the sky to eat close to your boat… it's popular, but it's something we DO NOT SUPPORT as feeding wildlife is WRONG!
2) Families may opt for a unique 4-hours mangrove safari tour on Langkawi's coast. Depending on season and availability, you may experience mangrove planting, and your guide will tell you all about this important plant.
3) If you want to try something different, getting on a fishing trip with a local is something worth considering. You'll get in a local boat for 3 hours, accompanied by a local angler who knows all the best fishing spots in Langkawi.
4) Try your hand at wakeboarding, which means gliding over waves, or water skiing, off Pantai Cenang, with English-speaking instructors. If you book this wakeboarding and water skiing tour you'll save 10RM.
5) If you want to experience one of Langkawi's famous coastal mangroves, the best is to opt for a tour of Tanjung Rhu. You'll be able to take to the mangroves on a boat and visit some caves. Lunch and transfers are included.
6) Cenang Beach is famous for its adrenaline-pumping parasailing and banana boat rides. You can book your Cenang water activities tour with an RM10 discount here.
READ MORE – How to get from Penang to Langkawi
---
Langkawi Best Cruises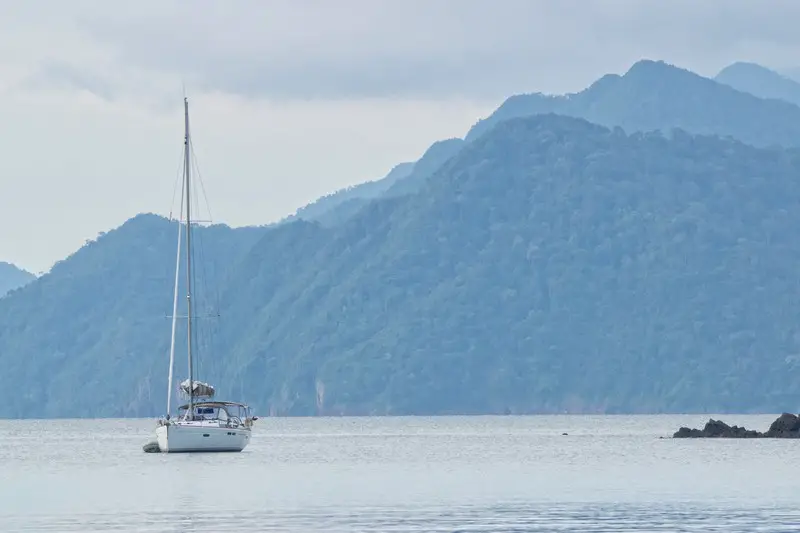 Cruises are another recommended tour option you can take in Langkawi to experience the waters of the Andaman Sea.
7) At sunset, Langkawi is at its most magical, and being able to catch a pink-turning-purple sunset from the vantage point of the sea makes this cruise a perfect choice for that romantic getaway.
A most popular (and fun) sunset tour is definitely hopping on a Langkawi Sunset Cruise. This cruise includes a scrumptious seafood dinner, which is often barbecued to perfection, and a free flow of drinks. Besides drinking, eating and dancing, you'll have a chance to swim and try the "natural jacuzzi".
READ MORE – Ultimate Guide to Langkawi Sunset Cruises
8) To pair a fun boating experience at sunset with nature, we recommend the Flying Foxes & Wetlands Sunset Cruise. You'll cruise from Kilim's Mangrove Forest towards islet Pulau Dangli, where you'll marvel at the flight of the flying foxes, Malaysia's biggest bats, and feed tropical fish. It's a very good choice for families with children.
---
Best Diving & Snorkeling Tours in Langkawi
9) Langkawi has great beaches to swim and snorkeling, but if you want to experience crystal-clear seas and get to do some proper diving, Pulau Payar, an inhabited islet nearby, is a popular tour from Langkawi. You can swim with baby sharks here just jumping into the water! Get your Pulau Payar snorkeling and diving tour here.
---
Best Jet sky tours in Langkawi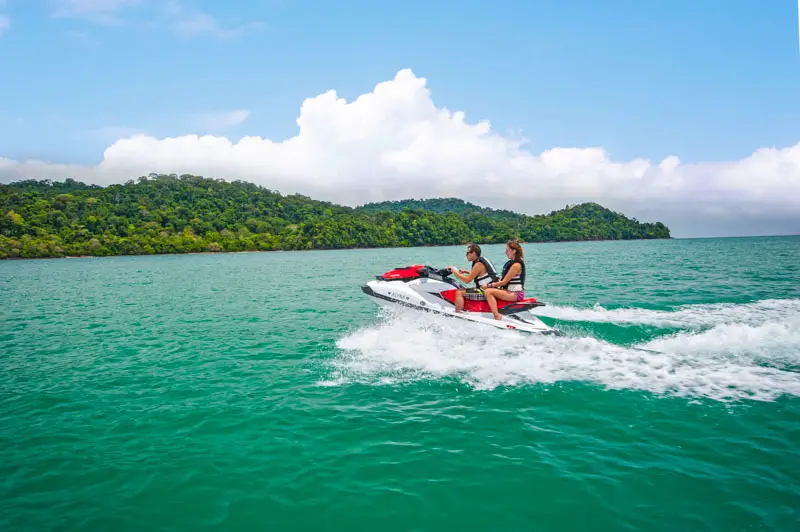 10) Jet skiing in Langkawi is a popular past-time, and if you have never tried it before, this beginner jet ski tour of Pantai Cenang offers a 15 to 30-minute ride supervised by professional and experienced staff.
11) Everyone loves a jet sky tour of Langkawi's archipelago. This 4-hour-long tour is a favorite, as it mixes jet skiing with the exploration of the eight Dayang Bunting islands. You'll swim in the largest freshwater lake in Malaysia, hike in the jungle, and scoot over waves assisted by a trained guide.
12) If you want to head out far on a jet ski, this Island Hopping Tour by Mega Water Sports will take you around Singa Besar, Beras Basah, and Intan Kechil islands. These are some of the most picturesque among Langkawi's 99 islands, and the best thing is, if you book here, you'll have a 250RM discount for the moment being! Book the Island Hopping Tour by Mega Water Sports here.
13) Paradise 101 Magical Islands Tour is another jet ski exploration around Langkawi's southern islands by Paradise 101. You'll discover historical sights like the Pregnant Maiden Lake, limestone formations, and more from a unique advantage point. Buy this tour at a 60RM discount.
---
Best Nature Tours in Langkawi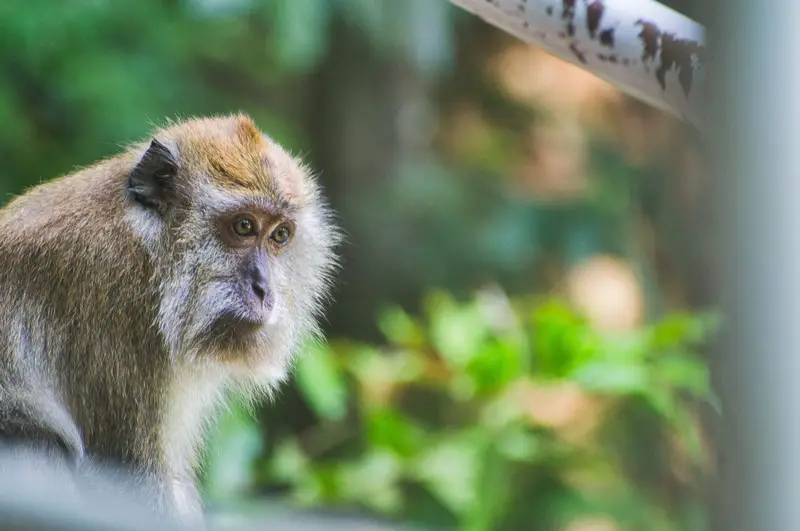 Regardless of its touristic development, Langkawi still has plentiful and beautiful nature. And after the lockdowns brought upon by the coronavirus pandemic, Langkawi's new direction is towards eco-sustainability, as I have written here for the South China Morning Post.

The best way to get to know Langkawi's nature in a safe, exciting, and educative way is to rely on a nature tour led by a professional and licensed tour guide.
14) Experience the rainforest on a guided morning trek through the beautiful landscape of Gunung Raya. You could also combine or hike at night in the Lubuk Semilang park when the insects and fauna are completely different. This is a perfect time to look for rare nocturnal animals like flying lemurs and flying squirrels.
15) Bird lovers should consider an interesting half-day bird-watching tour in a remote area of Langkawi. Your guide will help you spot hornbills, Little and Pond Herons, Egrets, and more local birds. Pick-up and drop-off from your hotel, and transfer in luxury a/c private coach.
16) Nature lovers won't find a better tour than the Kudang Badak River Tour and Swimming, led by an expert guide, with a home-cooked lunch with a local family — another insight into this less-touristed area of Langkawi.

You'll cruise for 3 hours through a beautiful and secluded mangrove forest looking for birds and lizards — including the giant monitor, a lesser cousin of the Komodo Dragon. Before you return to your hotel, you'll have a chance to take a swim in a secluded and untouristed jungle setting.
---
Langkawi Kayaking Tours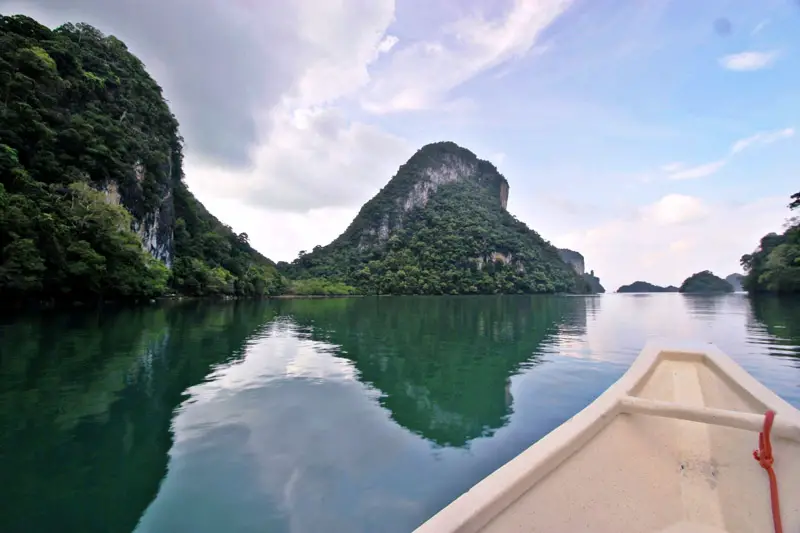 17) Nothing compares to tackling Langkawi's backwaters on a kayak, an experience that's much more intimate for wildlife spotting than a noisy jet sky. You'll spot monkeys, bats, eagles, and fish as you paddle through the beauty of Kilim's Geoforest Park.
READ MORE – How we paddled along Langkawi Mangroves
18) For sporty types, Langkawi also offers interesting kayaking and swimming guided tours. You'll paddle for three hours along the mangrove forest and up some of Langkawi's most hidden nooks and crannies. A perfect tour for adventurous types, families, and team-building activities.
This is a private tour, so the itinerary is fully customizable based on your preferences. Book your Private Mangrove Kayak Tour here, hotel transfers and lunch included.
---
Langkawi Zipline Tours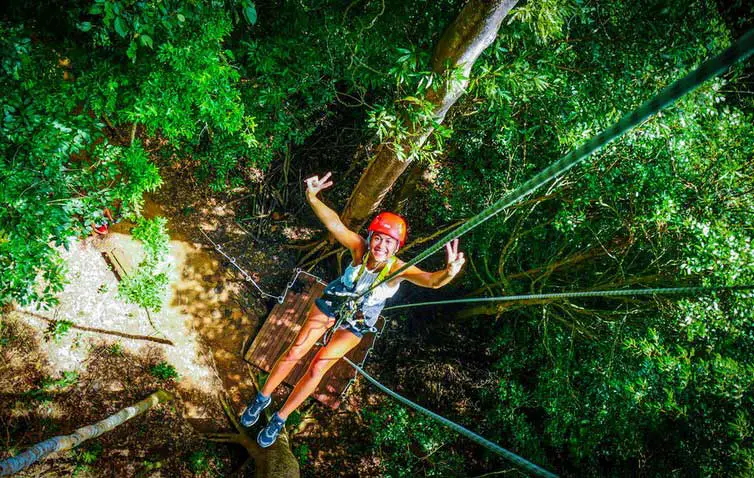 19) Last but not least, adrenaline junkies should try Langkawi's zip line adventure tour over the Machinchang GEO Park. You'll soar above Malaysia's only UNESCO Geopark and the beautiful Seven Wells Waterfalls on one of the longest zip line courses in the whole of Malaysia. This is not for those who suffer vertigo though, as believe us — we tried — some of the jumps are quite long and high. For all the others, it's a great and fun experience for a memorable nature adventure in Langkawi.
YOU MAY ALSO LIKE
Ziplining in Penang at Flight of the Colugo
Best Bars in Langkawi
---
And if you liked this, why don't you sign up for our mailing list? We will send you immediately a FREE photographic eBook with some incredible pictures of Penang, and we promise, we will disturb you only about once a month with some good local advice you won't find on the site
---