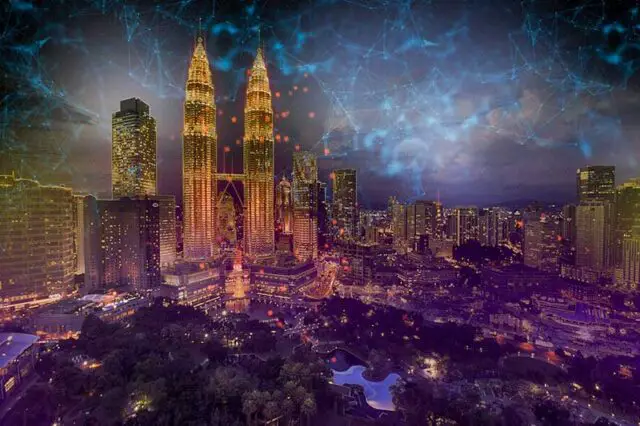 The tropical beaches of Penang, its famous hawker food, multicultural character, Penang street art scene, and laid-back lifestyle are an attractive destination for many expatriates, foreign professionals, and retirees who want an easier life for half the price — or less — than what they can get in their home countries.
"I considered Kuala Lumpur as well as Penang, but I quickly realized that Penang was the best choice for me," says Poul O. G. Hoiness, former Danish ambassador now residing in Penang. "I enjoy George Town with its rich history, its excellent food, its beautiful, untouched nature, and Penang wildlife. The ocean is always near and the lifestyle is rather laid-back. Others may prefer Kuala Lumpur, a much larger city, much busier, with a livelier nightlife… to each his own".
Poul moved long-term to Malaysia with a set of fiscal and tax benefits on The Malaysian My Second Home Visa (MM2H), a residency pass that makes it possible for citizens of most countries around the world to settle in Penang, Kuala Lumpur, smaller towns like Taiping, and the rest of Malaysia with their spouses and families.
With COVID-19 and its lockdowns, however, things have changed quite radically for the MM2H visa, and for a while, many foreigners residing in Malaysia on such visas thought the time had come to pack bags and go home.
This post will tell you all the necessary updates you must know in terms of Malaysia My Second Home visa after the new changes, as suggested by an expert Penang-based immigration lawyer, Sam Choong.
---
So, what happened to MM2H visa in 2021?
When we first wrote about Malaysia's MM2H back in 2020, Malaysia's main long term visa MM2H program, Malaysia My Second Home (MM2H) — which had been very popular amongst retirees and expats seeking a second or even main home from their country of origin — had been put on hold. Its sister program, the Sarawak MM2H (SMM2H) was however still ongoing.

According to Malaysian authorities, the MM2H had been put on hold because it needed "improvement". KPMG Management & Risk Consulting was then appointed to conduct a study to facilitate said improvements.
---
MM2H Visa August 2021 reactivation and the panic it ensued
In August 2021, it was then announced that the MM2H program was to be reactivated with more stringent guidelines. Understandably, the few months that followed were a time of anxiety and uncertainty both for existing MM2H holders and their MM2H advisers, as the Malaysian Home office had initially intended the new harsher financial guidelines to be imposed on all candidates retrospectively.

These proposed revisions attracted widespread opposition as MM2H holders voiced their concerns and industry stakeholders doggedly urged the Home office to reconsider the proposals. The arguments against the changes ranged from the need for consistent guidelines to the potential adverse effects on the Malaysian economy. Fortunately, after weeks of lobbying, the Home office backed down on applying the higher financial criteria retrospectively to existing holders of the MM2H visa.
At the time of writing this article, it has been announced that existing MM2H renewals are subject to the revised fees and the minimum 90 days stay in Malaysia (whether there is any leeway for those owning property or if some members of the family are in Malaysia whilst the main applicant fails to stay the 90 days, for example, because he works abroad, remains to be seen in the detailed SOPs for implementation which has yet to be issued).
---
A 2022 Guide to Malaysia My Second Home Visa
Navigating the MM2H visa scheme seems easy, but it can be instead a lengthy, tricky process, especially after the latest changes. We have contacted a Penang-based immigration lawyer with experience dealing with MM2H visa applications for his clients, Sam Choong. Sam has kindly agreed to give Penang Insider's readers a precise outline of what it means to apply and get a Malaysia My Second Home Visa when Malaysian borders will re-open in 2022.
Sam's advice will be useful to let you decide whether or not you want to apply for an MM2H visa by yourself or hire a Malaysian MM2H agent.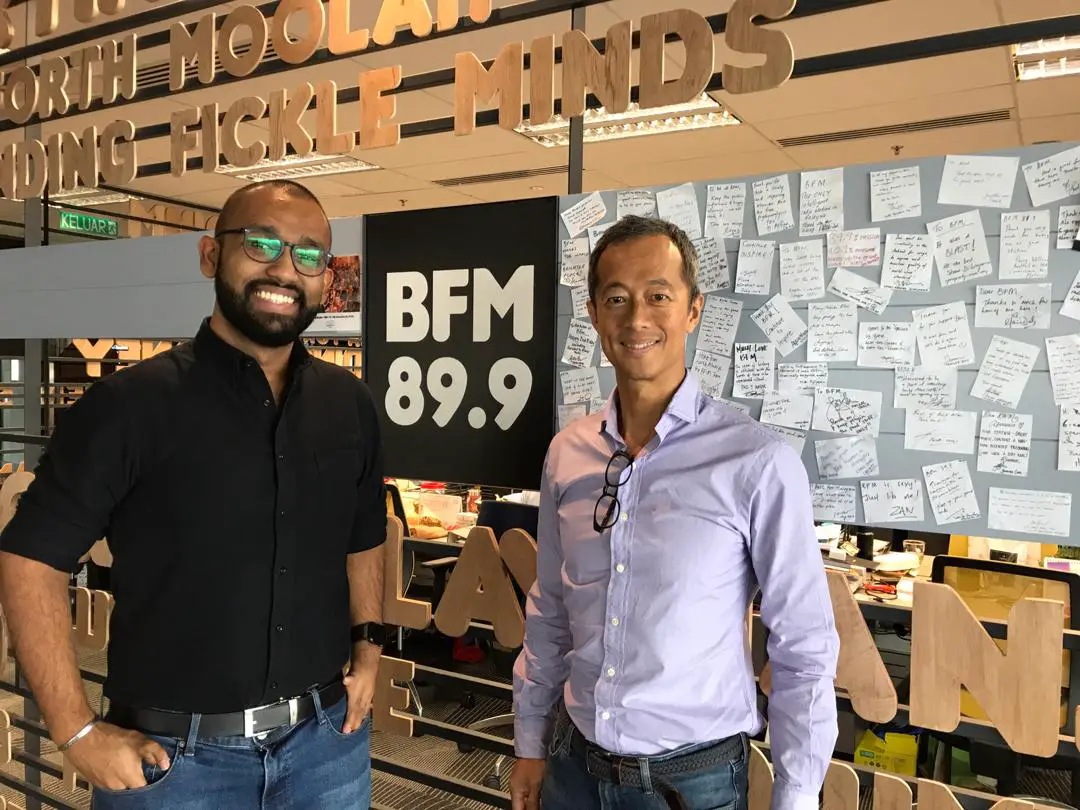 First of all: What is a Malaysia My Second Home Visa?
In a nutshell, Malaysia My Second Home Visa (MM2H) is a long-term visa (up to 5 years) that allows the successful applicant, his spouse, children under 21 years, and parents above 60 years of age multiple entries and exits from Malaysia. MM2H is now overseen by the Home Ministry's Immigration Department.
MM2H Visa Benefits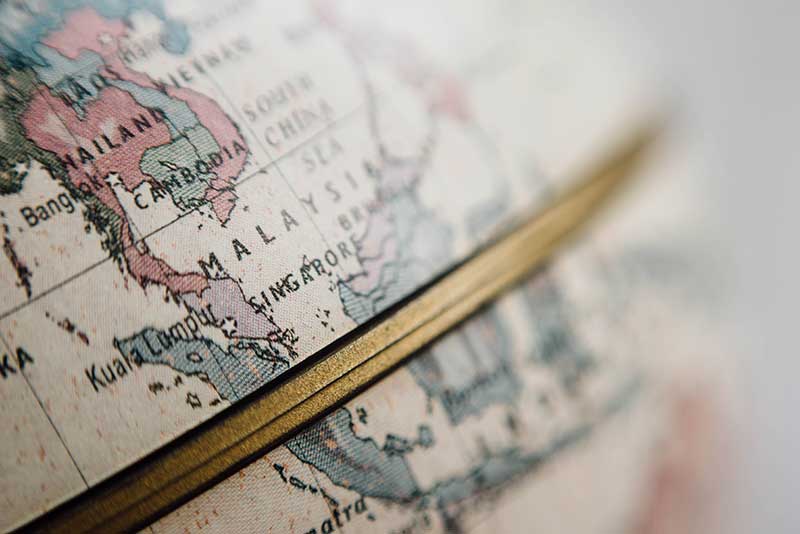 This section will break down the main benefits that come with having a Malaysia My Second Home Visa.
1) For starters, foreigners on an MM2H Visa in Penang state can purchase a residential property priced from RM500,000/- and above. This benefit bypasses the minimum purchase limit price of RM1,000,000/- for any property — except landed housing — on Penang Island (whereby the minimum threshold is RM3,000,000/-). You can read more about what type of properties foreigners can buy in Penang here.
An application to the State Authority is however still required for purchase by foreigners (with a limited purchase of 2 units for each application).
2) Malaysia My Second Home Visa holders can bring in a foreign maid from countries approved by the immigration policy of Malaysia.
3) Malaysia My Second Home Visa holders can invest in Malaysia, subject to existing Government policies, regulations, and guidelines that are in force for the relevant sectors.
4) Foreign spouses of Malaysian nationals are eligible to apply for MM2H, subject to terms and conditions of the MM2H program.
5) Malaysia My Second Home Visa holders can ship their household goods from their current country of residence in one container without being subjected to any tax & duties. There are no limitations of size, as long as the shipment contains household goods and personal effects, and does not contain any prohibited items, or is used for commercial use.
6) Another perk is that MM2H visa holders can easily convert their home country's driving license into a Malaysian one. This doesn't apply to any other category of foreign residents. Read our complete guide on how to get a Malaysian driving license.
---
Mm2h Requirements and Criteria
An MM2H is a coveted visa, but it's not for everybody, especially now that the base costs have been revised and made practically prohibitive. You need to provide a few important documents and proof of financial stability and offshore income. These MM2H requirements are all set per the current criteria set by MM2H Centre which we are breaking down for you in the next paragraph.
---
MM2H New Guidelines applicable from 2022
MM2H is available to new applicants aged 35 years and above and their family (we assume the current guidelines will be adopted ie. Spouse, children under 21 years, and the parents of the main applicant above 60 years) for the duration of 5 years (renewable subject to terms);
At the application stage, the new applicants must show a monthly income of the equivalent of RM40,000/USD9,632 as well as liquid assets of RM1,500,000/USD361,216.50 anywhere in the world;
Upon approval, the successful applicant needs to place RM1,000,000/USD240,811 into a fixed deposit (plus RM50,000/USD120,400 for every dependant) with a bank in Malaysia for the duration of his visa. 50% can be withdrawn for property purchase, children's education, or for health care reasons;
Processing fee of RM5,000/USD1204 for the main applicant, RM2,500/USD600 for each dependent, and RM500/USD120,39 per year levy will be payable;
The successful applicant must stay in Malaysia at least 90 days each year;
Do note the above are broad strokes of the announced guidelines which have been laid out by the Minister of Home Affairs. The detailed standard operating procedures (SOPs) and how the announced guidelines will be implemented have yet to be made known to the Malaysian immigration department.

With new policies, there will no doubt be changes along the way even after the detailed standard operating procedures have been firmed up for implementation by the immigration department.
The reason for this belief is because the Malaysian covid border controls are becoming less stringent. Foreigners including those holding MM2H are finding it easier to return to Malaysia. Malaysians who previously were not allowed to travel abroad for leisure are now permitted to do so if they have been vaccinated and if they follow certain SOPs. In view of these indicators and the most recent announcements of an opening of the border between Malaysia and Singapore, it is now time for us to confidently update the information in this article by giving a suggestion and ray of hope for prospective MM2H applicants who do not meet the current requirements: consider applying for Sarawak MM2H.
---
Sarawak MM2H Visa: a Better alternative for Residing in Malaysia in 2022
As mentioned above, despite the announcements, the Peninsular Malaysia MM2H with its new financial criteria has yet to be activated for applications to be submitted, so I would like to focus on the Sarawak MM2H program which is ongoing.  

The Sarawak immigration has distinguished itself as the standard-bearer in terms of clarity, ease of use, and efficiency for MM2H applicants and peace of mind for Sarawakian MM2H agents depending on MM2H as their rice bowl. Kudos to Sarawak!
How does Sarawak MM2H compare with the new proposed Peninsular Malaysia MM2H?
Malaysia is a federation of 13 states and the two Borneo states of Sabah and Sarawak, also known as East Malaysia, retain a degree of autonomy under this system. One of these areas of autonomy includes the right to regulate the immigration of their respective states — which is why Sabah and Sarawak have their own version of the popular long-stay visa, known as Malaysia My Second Home.
The Sarawak MM2H still remains a viable alternative (from a faster processing timing and lower financial threshold perspective) for foreigners planning their travels as international travel resumes and Malaysia, hopefully, opens her borders to leisure travelers.

Here are the main differences/similarities between the announced West Malaysia MM2H (subject, of course, to the detailed SOPs to be advised once our Home office gets their act together) and the Sarawak MM2H:
Peninsular Malaysia MM2H
Sarawak MM2H


NO separate categories for applicants above or below 50 years
Must show cash of RM1,500,000/- and monthly income of RM40,000/- anywhere in the world prior to the approval and place a fixed deposit of RM1,000,000/- in a Malaysian bank after approval.



Separate categories for applicants above or below 50 years.

50 years and above (married couple): must show either a monthly income of RM10,000/- anywhere in the world OR place a fixed deposit of RM300,000/- in a bank in Sarawak upon application.

50 years and above (single): must show either a monthly income of RM7,000/- anywhere in the world OR place a fixed deposit of RM150,000/- in a bank upon application.

40 to 50 years: can be considered if they have children attending school in Sarawak or are themselves undergoing long term medical treatment in Sarawak or invest in residential property of at least RM600,000/-

30 to 40 years: can be considered if they have children attending school in Sarawak or are themselves undergoing long term medical treatment
 
 
Letter of Good Conduct & Health Insurance
Letter of Good Conduct & Health Insurance
Sponsor or security bond
Sarawakian sponsor required
5-year visa (renewable subject to terms to be announced, including staying a minimum of 90 days per annum in Malaysia).
5-year visa (renewable subject to terms including staying a minimum of 15 days per annum in Sarawak).
No need to be present at the immigration office on the application.

Both spouses need to be present in the country upon approval for endorsement of the visa onto their respective passports.
Both spouses must be present on submission of the application if using a fixed deposit as the financial requirement. No need to be present if using income.

Both spouses must be present on the approval to endorse the visa on their respective passports.
 
No possibility of PR but is currently renewable for a further 5 years subject to terms.
No possibility of PR but is currently renewable for a further 5 years subject to terms.
Part-time work is permissible, on application, if the applicant possesses special skills. Investment in companies in Malaysia is permissible.
Not permitted to work or invest in companies in Malaysia.
Parents over 60 years and children under 21 years can come in as dependents.
Parents above 60 years and children under 21yrs can come in as dependents.
Typically, 8-12 month approval period after submission of the application. Currently suspended.
Approximately 90 working days after submission of the application.
---
MM2H Agent: Shall You Use One or Not?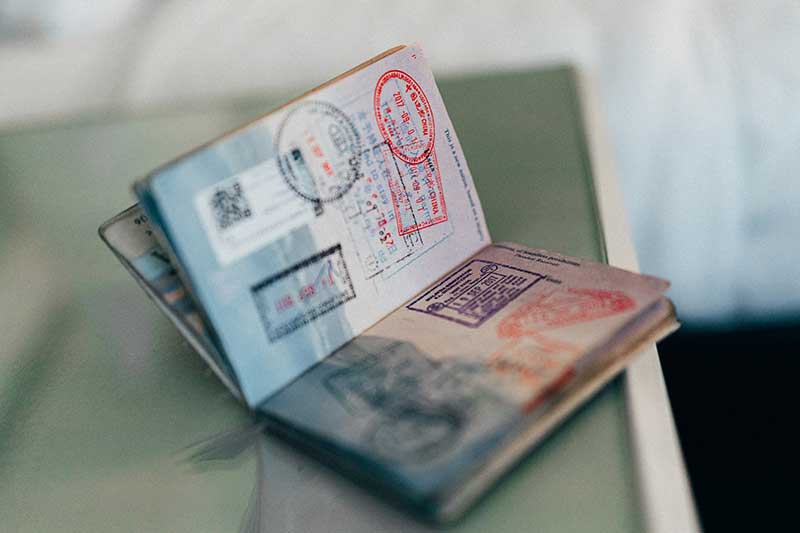 The main issue that most MM2H applicants face is deciding whether they should go DIY or use the help of local professionals. The latter way is choosing between a law firm or an MM2H agent.
Immigration lawyer Sam Choong believes that going with a law firm is better. Why?
Sam Choong explains that mainly, a law firm, contrarily to an MM2H agent, can help you explore other immigration options on top of the MM2H. Rather than solely look at the MM2H visa, a law firm can advise clients about what's most suited to their different needs, as opposed to fitting everyone into the MM2H solution.
"People seek to relocate or migrate to Malaysia for various reasons," says Choong, "which include work, opening a business, children's education, and so on. The MM2H Visa may not be appropriate for all those reasons. There are various other categories of passes, for example, the Guardian pass for one parent of young students, the Tech entrepreneur, the Talent corp for skilled professionals who have previously worked in Malaysia, the employment pass, and the Long term Social Visit Pass, or spouse visa — read our guide to getting a spouse visa in Penang — which have no need to pay up a lot and place a fixed deposit".
Furthermore, the MM2H visa is further divided into MM2H for Peninsular Malaysia, the Sabah MM2H, and the Sarawak MM2H. Most agents will focus on preparing only one of the 3, while law firms are able to study each client's needs and make the recommendation that best suits them.
"Our clients tend to be more discerning, time-poor, high net worth individuals who want to know we have their complete interests looked after," adds Sam Choong. "The conversation is not only about MM2H — Because of our corporate commercial work in Malaysia and abroad (I used to work in Singapore, Hanoi, Ho Chi Minh City, Kuala Lumpur, and have advised clients on acquisitions and disposals of companies around the world) we are able to chat to our clients about international estate planning, tax, setting up companies, legal advice, etc.
"My foreign clients tend to be global citizens with assets all over and may not have relocated to Malaysia to just play golf. Some are still looking at business opportunities: when they work with me, it's like a membership to a club. They can pick up the phone and get me directly on my mobile to pick my brains on anything".
---
MM2H Application: Shall I Do it by Myself or Hire an Agent?
The answer really depends on how one values their time and how confident they are navigating through the guidelines for MM2H. There will obviously be cost savings if you can do the MM2H application by yourself. Basically, you must put in the time, thinking, and heavy lifting to reap the financial benefit. But keep in mind that the process can be slow, some immigration officers won't speak good English, and you'll be bumped around offices for hours on end if you stumble upon the wrong person on a bad hair day.
On the other hand, if you prefer to have a law firm or an MM2H agent guiding you through all this, the benefits are speed and ease. Agents and law firms are at your disposal to answer calls and questions, advice on immigration, as well as other legal advice such as estate planning and wills. The unofficial reason for having a good lawyer or MM2H agent is like having a "local" friend who will hopefully help you out if you have a brush with the authorities, are involved in an accident or refer you to bankers for placing your fixed deposit or introduce you to estate agents for renting/purchasing your home.
MM2H agents will fill in the forms for you, certify the documents, submit and follow up on your application, and will organize the endorsement of your passport.
---
Experiences of MM2H Visa Holders in Penang
Penang is especially popular as a destination for expatriates, who love its tropical climate, laid-back atmosphere, ocean life, and sizable Anglo-American expatriate community. We think there's nothing better than hearing from those who are living in Penang on an MM2H visa to decide if you, too, should make this big leap — and how.
Kirsten and Mark Raccuia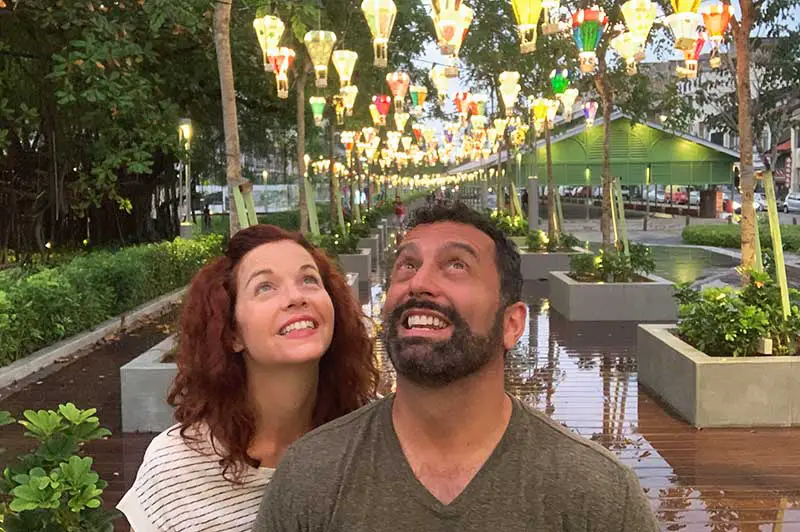 We reached out to former Chicago resident, blogger, and writer Kirsten Blumberg Raccuia, who moved to Penang with her husband Mark in 2013. Seven years in, they are still around and haven't looked back since.
"We started off with a tourist visa and then had a business visa," Kirsten says. "After we shut our business and Mark turned 50, we decided to get the MM2H visa because it made our lives easier. I was constantly questioned every time we came back into the country, and since we planned to stay in Malaysia for a while, it made better sense to go for the 10-year visa".
Kirsten mentions that to her and her husband, the most important thing to decide to get an MM2H visa was to be legit and not worry at every border entry. "It's not cheap," she says, "but the money we put into the bank here gets a higher return than if it were sitting in a US bank. We look at it as a forced savings plan". That's one clever way to put it.
Kirsten and Mark used the services of an MM2H agent. "Actually, I have nothing but good words for our agent. They were professional, kept us informed, and made the whole process easier. I would recommend using an agent simply for peace of mind and because then you know it's done correctly. They also know the ins and outs of the laws. It is worth every penny".
Kirsten suggests to whoever wants to apply for an MM2H visa and live in Penang or Kuala Lumpur that the key is to be patient. "It could take six months or longer to receive the MM2H so plan ahead. Don't show up in Malaysia and expect it to happen because you are in a hurry. I also recommend visiting Malaysia before you decide to move here. No place is perfect – there are many pros and cons of living in Malaysia, so you want to move here with open eyes".
Poul O. G. Hoiness, ambassador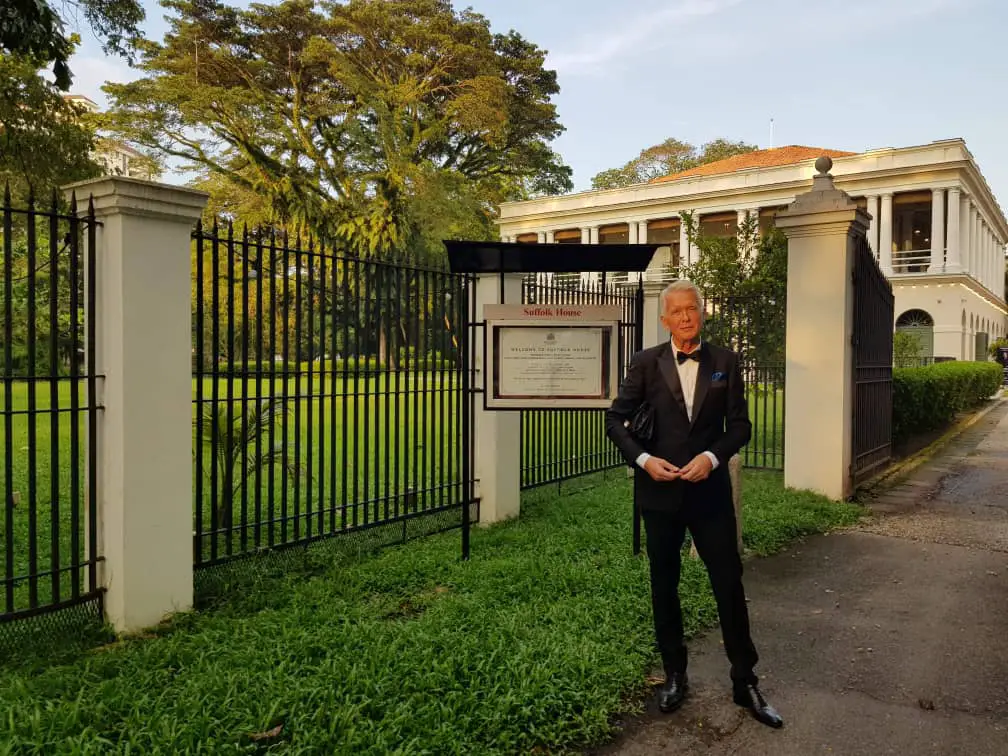 The former ambassador of Denmark lives in Penang and loves it. "I had spent most of my career at overseas postings, in the US, in the Arabian Gulf, and East Asia," says Poul. "When I retired, I decided not to return to Europe, but to settle in Southeast Asia. I looked at a number of alternatives in the region, but I soon started focusing on Malaysia: Some of my friends who had settled here praised the country and pointed to the clear advantages of MM2H. They emphasized the kindness of people, the beautiful nature, the wonderful climate, and the advantageous fiscal conditions of MM2H. They also mentioned the reasonable cost of living, the abundance of quality housing".
Before applying for MM2H, Poul visited Malaysia a few times to form his own impressions of the country. "I came away convinced that this was the place I wanted to live. I have never regretted that decision. Given the many advantages of MM2H, I do not think the deposits, which MM2H members have to make, are unreasonable.
It might be a good idea to provide MM2H members with some form of residence status," he suggests.
Even Poul, who was still busy working at the time, decided to use an MM2H visa agent. "Unfortunately, the agent I used was not particularly efficient. I have subsequently used other agents for MM2H related tasks, and they were, on the contrary, very efficient. Unless you have a lot of time, I would recommend using an agent… But try to get a good one".
---
And if you liked this, why don't you sign up for our mailing list? We will send you immediately a FREE photographic eBook with some incredible pictures of Penang, and we promise, we will disturb you only about once a month with some good local advice you won't find on the site
---