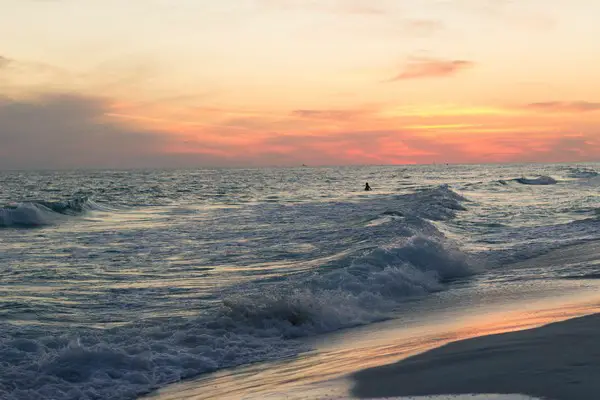 Most people come to Penang for George Town — here's the best you can do in 48 hours, and a complete guide on how to travel from Kuala Lumpur to Penang —, gorge on the amazing food, see Penang street art, whizz up to the Rainbow Skywalk at the top of Komtar, see some of Penang's striking temples, like gigantic Buddhist complex Kek Lok Si in Air Hitam, and enjoy Penang's multi-faceted nightlife or interesting Malaysian animals.
READ MORE 60 Unmissable Things to Do in Penang
But for sure, remember that Penang is an island connected to Malaysia's peninsula via the iconic Penang Ferry: so there must also be some sea, sun and beaches, right? But what are the best Beaches in Penang?
Take a look at any old picture of Penang in the 1970s, and you'll see amazing, beautiful beaches and pristine water with beds of gorgeous corals teeming with tropical fish. Forty years of mad development have unfortunately ruined Penang's bounty of amazing beaches, leaving way too many homes, condos and shopping malls instead of sand.
Today, Penang's water and sand have degraded, that's for sure. But to call Penang beaches a dump is also quite far from the truth: there are indeed many different beaches and islands in and around Penang, each one with different perks and cons. This ultimate guide gives you a low down of the best 20 Penang beaches and islands you should consider visiting.
What is the best beach in Penang?
It really depends on what you are looking for: Penang beaches come in all forms and types, from slab-of-concrete, commercialized drives like Gurney, to pristine stretches of golden sand like the beaches you can find around Penang National Park and the western and southern coast of the island. Here's a list of what beaches we think you should visit, and why.
Ask any former hippie who traveled on the back roads of Asia in the 1970s, and he will mention Batu Ferringhi in Penang as one of the most coveted places to hang out and party.
It's hardly believable today, as this part of Penang's northern coast transformed into a stretch of prime real estate for 5-star Penang beach resorts the likes of the Holiday Inn, Rasa Sayang, and Hard Rock Hotel.
Batu Ferringhi beach is actually still quite nice: with long, soft sand, it is a very good place to take a long walk next to the sea. The problem is, the beach itself is completely sheltered by a barrage of hotels. It's still a free beach and property of Penang State, but many may feel awkward to visit as it's often necessary to walk across the hotel halls to get on the sand. It's also a very popular location for Penang pre wedding photography.
Pros: great sunsets, long and nice to walk
Cons: super touristic, choked with jet ski operators
How to Get There: Rapid Penang Bus 102 to Teluk Bahang stops at various spots along this long beach
READ MORE Best Hotels in Batu Ferringhi
This is another highly developed area of Penang, and yet it shelters decent stretches of beach. One of the most interesting is the beach behind the Thai Pak Koong temple in nearby Tanjung Tokong, a place that's now popular for the quirky Penang Avatar Secret Garden.
Definitely not great for swimming, Tanjung Bunga has however good vantage points to watch the sunset against the skyline of one of Penang's most heavily built expatriate enclaves.
Pros: great sunsets
Cons: not great for swimming
How to Get There: Rapid Penang Bus 102 to Teluk Bahang stops at various spots along the Tanjung Bunga coast.
This stretch of coast between George Town and the First Penang Bridge was conceived as Penang's second urban seafront promenade, after popular Gurney Drive. There's no sandy beach here, just big rocks, and the views aren't great either, as they mostly face the industrialized port of Butterworth, filled with way too many boats floating in the Straits Sea.
But Karpal Singh Drive is a good place to come jogging, cycling, and get a bit of fresh air in the proximity of the city. Locals come to enjoy the many restaurants and cafes that line this well-developed stretch of coast. At night, the installation "Celebration of Our Blue Sky", made out of four blue pillars, it's quite scenic to see.
Pros: happening area without the tourist hordes, a good spot for stargazing
Cons: the beach is not attractive, feels like a residential area
How to Get There: the easiest way is to catch a GrabCar from George Town.
This used to be one of Penang's longest and most beautiful beaches. Some of my senior friends recall how they used to come here to swim when they were young. But today, you'd barely believe you are next to the sea. At current, Gurney Drive is an eyesore of a reclamation land project which will host a park where there was the sea. There's metal fencing along the whole drive, and it kind of look like a prison. Stop aping Singapore, dear Penang: can you be yourself sometimes, please?
But Gurney Drive is where gullible tourists come to have overpriced "authentic" Penang Food, and browse the two huge shopping malls, Gurney and Gurney Paragon. You are welcome to join the crowds.
Pros: the place to be for shopping and western-style entertainment
Cons: touristic, congested and overpriced
How to Get There: Many Rapid Penang Buses ply the Northern coastal route and stop along Gurney Drive or Jalan Kelawai, the parallel avenue.
One of Penang's southernmost beaches is very less known and a very nice place to hang out with friendly local fishermen. The beauty of being here is not much the bay — a more than decent crescent filled with swaying wooden boats — but the village and the local Chinese and Malay communities. There are many seafood restaurants here, where you can enjoy scrumptious seafood while tucking toes in the sand. Don't forget to try the local mee udang, noodles with fresh tiger prawns cooked in Malay style, a real local delicacy.
Pros: authentic local experience, chilled and relaxed
Cons: the beach is quite short during high tide, not much space to swim
How to Get There: Rapid Penang Bus 308 from the Sungai Nibong Bus Terminal stops right in front of Gertak Sanggul beach.
What are the best Penang beaches for swimming?
Penang beaches are nice, but swimming is not always recommended. Why? Water is not-so-clear, and more than anything, the presence of dangerous jellyfish make it hazardous to dip in Penang's seas.
However, we think that the following beaches are cleaner and retain that tropical blissful feel most tourists expect. We recommend caution, but you can definitely have a swim here.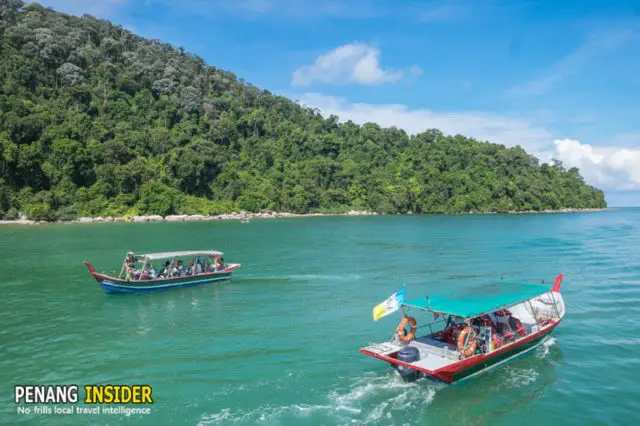 Renting a boat to travel around Penang National Park at Teluk Bahang is a quick and yet very scenic way to hop from one beach to the other (image by Marco Ferrarese)
The first beach within Penang National Park is wide and quiet, and backed by jungle and the marine research center of Universiti Sains Malaysia. It's a short trek from park headquarters, and the easiest beach to reach from Teluk Bahang village. Don't forget to read our complete guide to the best things to do at Teluk Bahang, and enjoy all that Penang National Park has to offer, including the kid-friendly Entopia by Penang Butterfly Farm.
Pros: easy trek, wide beach
Cons: not always clean
How to Get There: Rapid Penang Bus 102 to Teluk Bahang stops at the entrance of Penang National Park. From here, you can reach the beach in about 20 minutes walk.
This is Penang's National Park most famous beach, which now sees a continuous flow of visitors boating in from the park's entrance. It's still a beautiful beach backed by tropical trees and palms but has a growing trash problem, and it's somewhat of a sedated "party spot" during the day. It used to be possible to camp here, but after several cases of attacks towards foreign travelers, it's mandatory to hire a ranger from the park's headquarters. Inquire before you set off on this one/one and a half hour hike.
READ MORE – Ultimate Guide to Visiting MonkeyBeach
Pros: great sunsets, nice trekking along the coast
Cons: quite touristic, increasingly polluted, beach boy vibe that's not always pleasant
How to Get There: Rapid Penang Bus 102 to Teluk Bahang stops at the entrance of Penang National Park. From here, you must start hiking for about 1/1 and a half hours.
This long beach is one of Teluk Bahang's finest. It sits right next to a special meromictic lake (meaning it receives both fresh and seawater that, however, never mix), one of few in the whole world, and has a small turtle sanctuary where you can see baby turtles. It was possible to freely camp here overnight, but now you must go with a ranger. Ask at the Park Headquarters before setting off.
Pros: interesting turtle sanctuary, long and wide beach
Cons: only reachable after hiking or taking a boat transfer
How to Get There: Rapid Penang Bus 102 to Teluk Bahang stops at the entrance of Penang National Park. From here, you must start hiking for 1 and a half/2 hours.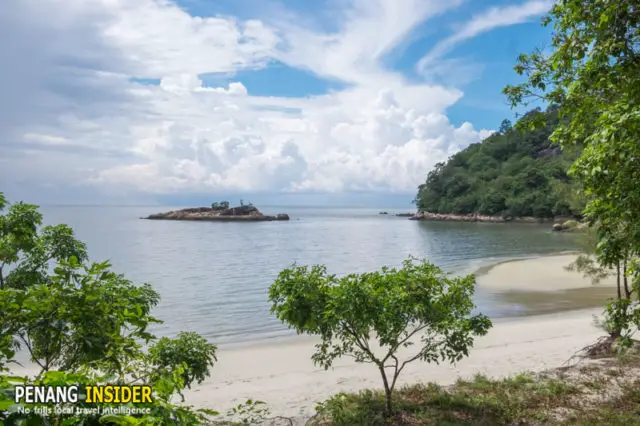 A view of Teluk Kampi beach, one of the best in Taman Negara Teluk Bahang (image by Marco Ferrarese)
One of Penang's National Park most hidden beaches, Teluk Kampi is also the longest in Teluk Bahang. You can reach it after a strenuous 2/3 hour hike, which will be rewarded by perfect natural views. Sunsets here are very stunning, and there are also camping facilities. You may have to hire a guide for the night though as per latest regulations issued by Taman Negara Pulau Pinang. Make sure you ask at headquarters before setting off.
Pros: secluded and truly beautiful
Cons: not accessible to non-hikers and a long trek
How to Get There: Hike towards Pantai Kerachut in Teluk Bahang, and proceed for another hour to Teluk Kampi.
When I first found this beach several years ago I couldn't believe my eyes: long, beautiful golden sand against a backdrop of dense tropical vegetation. The water was clear and warm, a pleasure to swim in. I returned several times until I got stung by a jellyfish on my left wrist. It left a mark on my arm that lasted three long months. Most recently, people have drowned here, and the beach has been declared unsafe for swimming. Watch out, as there's a military camp right behind it, and they control.
Putting these nuisances aside, in my opinion, Pantai Pasir Panjang remains Penang's best beach. It's a pity to see it increasingly dirty with the rubbish that too many callous locals leave behind after their beach picnics. What the hell, Penangites, clean up your act!
Pros: Penang's most beautiful tropical beach setting
Cons: increasingly dirty with picnic rubbish, jellyfish hazard, swimming prohibited
How to Get There: Catch Rapid Penang Bus 401 to Balik Pulau terminal, and change to a Pulau Betong-bound bus. You will have to walk or hitch (there are few cars moving) the last 2 kilometers to the beach.
One of the little secrets of Balik Pulau, Penang's most natural western side, Pantai Malindo stretches at the south of Kuala Sungai Burong. It's a wide and deserted beach, in line with its off-beat location, and sees few visitors. There are good views of Pulau Betong island from the shore. It's just at the end of the road where you find Countryside Stables, a horse riding farm that's one of the best things to do with kids in Penang.
Pros: deserted and offbeat
Cons: hard to reach without your own transport, murky seafront
How to Get There: the best way is to have your own wheels.
Set between Miami Beach and Batu Ferringhi, this nice cove is a favourite for local families who need a place to dip and picnic. It's a very nice bay, with pebbly sand and some interesting rock formations along the beach. It's best to visit after 5 pm, when it's quieter and less hot, nd you can sit down and wait for the great sunsets that are a speciality here.
Pros: postcard-perfect location, easy to reach by public transport
Cons: often filled with locals who come here to picnic, and the sand is not the finest
How to Get There: Rapid Penang Bus 102 to Teluk Bahang stops in front of Tropical Spice Garden, which is right opposite Moonlight Bay
This little cove, halfway between Tanjung Bunga and Batu Ferringhi, is possibly the best sunset spot on Penang's north coast. On every night, deep purples come down from the sky, making the sea and the coast look truly stunning. You can access here via the staircase to Miami Beach cafe', which has chairs and a deck, and charges for drinks if you want to sit around and bask in the sunset. It's swimmable, too, but remember that the access is through a cafe — not the best for privacy and relaxation.
Pros: great sunsets, nice rock boulders
Cons: not very big, and you need to buy drinks to sit here
How to Get There: Rapid Penang Bus 102 to Teluk Bahang stops nearby
This quiet beach is set on the southern coast of Penang near Teluk Kumbar and to the east of Gertak Sanggul. It's another offbeat location where you can have a quiet swim, experience the local fishing community, and gorge on fresh seafood.
Pros: offbeat and authentic, nice cove with a forested backdrop that's fun to explore
Cons: recent property developments are overshadowing the area's rural feel
How to Get There: Rapid Penang Buses 308, 401 and 401E pass along the main Teluk Kumbar intersection. From here you should walk.
Another hidden beach in the south of Penang, Teluk Bayu is a long, white sand beach that's great to relax given its backdrop of Casuarina trees that provide good shade. Equipped with some tables, it's a popular picnic spot for locals, and is rarely on any tourist itinerary. Nearby food options abound, and Sungai Batu and Gertak Sanggul are just a short distance away.
Pros: the perfect spot for gathering and chilling by the sea
Cons: hard to get to without transport
How to Get There: Rapid Penang Bus 308 stops at the main Teluk Kumbar intersection. From there, proceed down Jalan Sungai Batu until the Bayu Bay Seafood Restaurant, where you must follow the coastline going east. Cross a bridge over Sungai Batu's estuary, and you'll find Teluk Bayu.
Penang Best Islands
Penang has many beaches, but also a few very interesting outlying islands. Some have a long history, while others still float in the sea exactly as they have for hundreds of years. Here are the best satellite islands you can visit from Penang.
This small island set between Penang's Second Bridge and the mainland town of Tambun, famous for its seafood restaurants, is Penang's nemesis and one of Seberang Perai main attractions. Car-free, undeveloped, lush and inhabited by 300-odd Malay fishermen who may as well be the descendants of the pirates that once lived on these shores. Pulau Aman's main draw is the few rickety seafood restaurants, famous for their mantis prawns — a delicious giant shrimp.
You can walk (also check out more great hikes in Penang Mainland, which include Cherok Tok Kun in Bukit Mertajam, Bukit Panchor and Bukit Juru) or bike around the island and visit the 1789 Telaga Emas (Golden Well) that never runs dry even in the most serious drought. Nearby twin islet Pulau Gedung is beautiful and pristine and can be reached on foot during low tide.
READ MORE — Best Things to Do (and Eat) in Pulau Aman
Pros: car-free, great seafood, interesting Malay island community life
Cons: hard to get to without your own car
How to Get There: Drive to Bukit Tambun and follow the directions to Pulau Aman jetty. There are several boat departures daily costing 4RM one way.
Everybody sees this island, stuck between Penang bridge and the mainland, but very few get to visit it. Still largely lush and tropical, with a pristine forest that's been protected for the past 400 years, Jerejak was the arrival point of Captain Francis Light, who discovered Penang in 1786. It also served as a leper colony and a jail.
Today, the island boasts an eco-resort and several watersport activities, and there are plans to turn it into Penang's biggest eco-tourism destination… or a theme park, that is. We cross fingers and will wait and see.
Pros: wild nature, incredible history
Cons: expensive to get there and on the verge of development
How to Get There: There is a Jerejak Jetty about one kilometer north of Queensbay Mall. Catch a bus there and proceed to the jetty: transfers cost around 300RM with set departures every 2 to 4 hours, from 6.30 am to 10.30 pm.
This little island lies about a kilometer straight opposite the beach at Gertak Sanggul. It's inhabited and used as an overnight stop by local fishermen who stay here to catch fish. The place was one of the best for snorkeling in Penang, with beautiful corals and tropical fish to match the best island destinations in Thailand and Indonesia. Unfortunately, as of late it seems that the excessive number of day trippers has spoiled the marine eco-system. Still, it's an interesting offbeat trip to do when in southern Penang.
Pros: off the beaten track, good snorkeling
Cons: not as pristine as it used to be
How to Get There: Rapid Penang Bus 308 from Sungai Nibong Bus station (read our guide to catching buses from Penang) stops at Gertak Sanggul beach. From here, it's about 200RM to charter a fishing boat for a maximum of 6 people and makes a 2 to 3-hour trip.
This solitary islet floats off the southwestern end of Penang, directly opposite the fishing village of the same name. It's an inhabited, forested little island that has remained cut off from touristic exploitation, and yet doesn't really offer anything besides a Robinson Crusoe experience. It's popular for fishing and angling, though. You can see it very close from the main access road to Pantai Pasir Panjang, from where it soars from the sea like the back of a giant turtle.
Pros: super secluded, great natural beauty
Cons: not easy to reach
How to Get There: Fishermen at the Pulau Betong village can organize boat transfers to Pulau Betong, but unless you want to go angling, it's probably not worth shelling out to spend just a few hours here.
---
And if you liked this, why don't you sign up for our mailing list? We will send you immediately a FREE photographic eBook with some incredible pictures of Penang, and we promise, we will disturb you only about once a month with some good local advice you won't find on the site