It's no secret that Langkawi (to be precise, the biggest and main island of the 99 that make up this northwestern Malaysian archipelago) attracts plenty of tourists and it's one of the most visited places in Kedah.
Langkawi was the first place in Malaysia to reopen after COVID–19 closures with its airport being the entry of the travel bubble program. that's because Langkawi is a well-developed tropical resort island with more untamed nature and pristine beaches than nearby Penang.
But do you know where to go and what to do when in Langkawi? If the answer is no, don't worry: we have been there many times before and compiled this handy itinerary of what to do in 3 days in Langkawi to help you plan a great holiday in Langkawi.
READ MORE – Best Bars to Party in Langkawi
Blogging transparency: this post contains affiliate links. These are products and services that we personally use and recommend. If you click on one and buy any service, I will get a small commission at no extra cost to you. Consider it a small way to say thanks, and keep Penang Insider going.
---
Best Time to Visit Langkawi
Being a tropical island near the equator, Langkawi can be visited pretty much any time of the year. Yes, there is a rainy season (September to November), but these days you'll get an average of two hours of rain per day — nothing to really worry about. Unlike the islands on Malaysia's East Coast, Langkawi does not experience ferry service disruption during the monsoon.
---
How to get to Langkawi
You can reach Langkawi by direct flight from Penang (30 minutes) or Kuala Lumpur (one hour), or you can use a combination of road, rail and ferry.
Read more in our complete guides for the best ways to get from Penang to Langkawi and from Kuala Lumpur to Langkawi.
We also have a handy guide on how to take a ferry from Kuala Perlis to Langkawi. Remember that these days ferry services are limited, so book your ticket in advance.
---
How many days should I spend in Langkawi?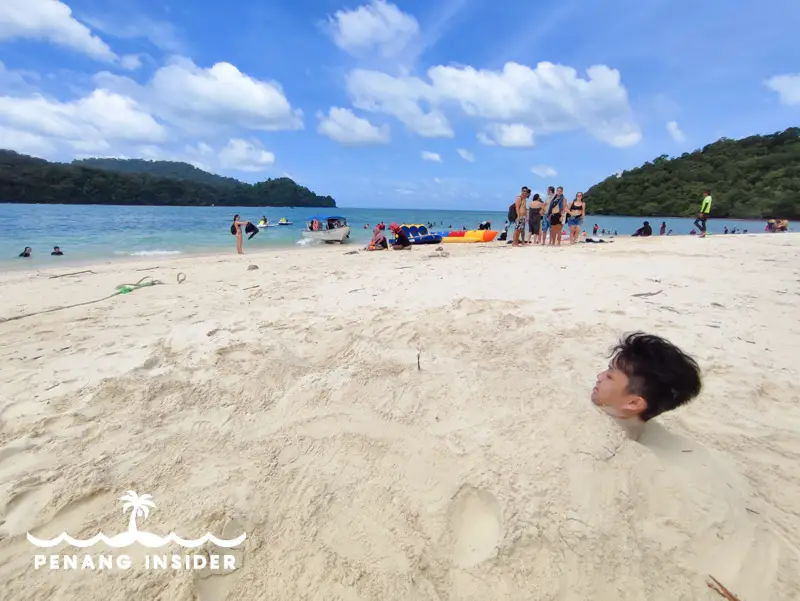 Well, as the title of this Langkawi itinerary suggests, you should spend at least 3 days in Langkawi — excluding the day you'll actually reach the island, unless you arrive early in the morning.
Our Langkawi itinerary however is not prescriptive, and you can easily space out the suggested activities a bit more and spread them over 4 to 5 days, depending on your time and inclination to just stay in your Langkawi hotel and chill.
---
How to get around Langkawi
Mind well that there is no bus service in Langkawi and yes, you can resort to ride-hailing services like GrabCar — but the absolute best way to visit Langkawi is at your leisure on your own wheels.
If you arrive at Kuah jetty, you can pre-book a transfer to your hotel of choice by clicking here.
It's cheaper and definitely more time-effective to rent a car or a motorbike at the airport or the ferry terminal. GrabCar rides from the jetty at Kuah into the popular Pantai Cenang cost almost as much as renting a motorbike for a whole day. Driving in Langkawi is also relatively safe, as roads are quite large and car-free outside of Pantai Cenang.
You can rent motorbikes (RM30/Day) or cars if you travel in a small group (from RM50/Day) directly on arrival at the Kuah jetty or at Langkawi airport.
INSIDER TIP – You can always pre-book your transport on KLOOK. Click here to rent a motorbike. And if you want to ride a vintage Vespa scooter instead, check out this offer and get an RM10 discount.
For those who don't feel like driving, private car charters can be arranged for half or a full day and cover different areas of Langkawi. Have a look and book a car here.
---
Where should I stay in Langkawi?
Most people choose to stay in the thick of the tourist action along the jam-packed Pantai Cenang. It's a good option for partying and being close to many of Langkawi's western-oriented food choices or if you don't want to rent your own wheels.
Otherwise, you are much better off staying elsewhere — consider that most of Langkawi's high-category hotels are scattered along the island's coasts and have either their own bays or private beaches.
This is a list of the best Langkawi hotels we compiled for you.
---
Langkawi Itinerary: 3 Days of Fun, Nature, and Beaches
Three days in Langkawi is the minimum we recommend to have a good feel of the island and Langkawi's best beaches and enjoy different activities without rushing all over the place. We have broken down the following Langkawi itinerary by loose suggestions to fill up your morning, afternoon, and evening each day. Our choice reflects our experience and what we think is the best time to do that specific activity, but feel free to pick and choose.
---
Langkawi Itinerary Day 1: Don't worry and do the touristy stuff first
Langkawi is well-known for its tourist attractions, and even if you may have to battle the crowds, we think a visit to Gunung Machinchang is unmissable.
Oriental Village
You can't miss Langkawi's Oriental Village as it's parked right next to the Gunung Machinchang cable car's entrance. This open-air collection of restaurants, bistros and souvenir shops may sound appalling to some or a real godsend to others, but it's always quick and fun to stroll before hopping in the cable car.
---
Langkawi Cable car and Skybridge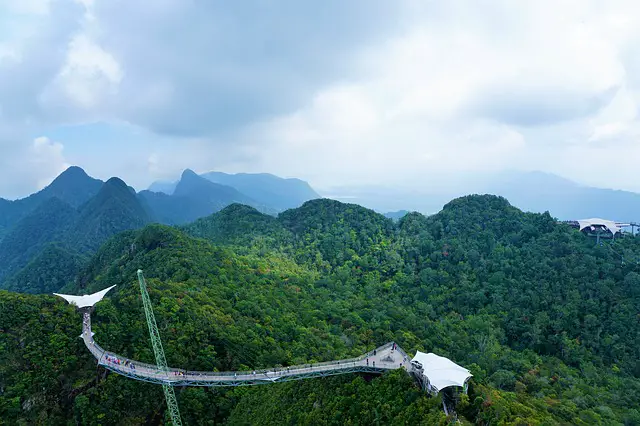 Langkawi's top attraction is the cable car and Skybridge soaring above Malaysia's first UNESCO Geopark, the Cambrian Machinchang.
It's best to come here first thing in the morning to avoid the crowds and long queues – but you better book your tickets in advance, just in case.
The cable car climbs for 2.2km to the top of Gunung Machinchang, soaring above the Seven Wells waterfall and offering beautiful views of the island's green-covered northwestern corner, and even all the way to nearby Thailand and Langkawi's southern islands.
Once on top, a walk on the iconic – and terror of the acrophobic – Skybridge completes the experience.
Get your Langkawi Skybridge and Skycab cable car tickets on Klook HERE.
---
Telaga Tujuh (Seven Wells) Waterfall
Once you get off Machinchang you shouldn't miss a stop at Telaga Tujuh, or the "Seven Wells Waterfall" nearby. It's one of the most beautiful and visited on the island, so again, a mid to late morning visit is recommended.
You'll need to hike a bit from the parking lot in order to reach the waterfall with its seven natural pools and a height of 91 meters. The lowest pool is at the bottom, but you can – and should – take the time to hike up and explore.
Hikers and sports enthusiasts will be happy to know that there are more than 600 steps up to the top of the waterfall. The hike also passes through the rainforest and reaches 480-meters in height. It takes about an hour to reach the top, where the pools are great for a fresh bath.
---
Skytrex Adventure Langkawi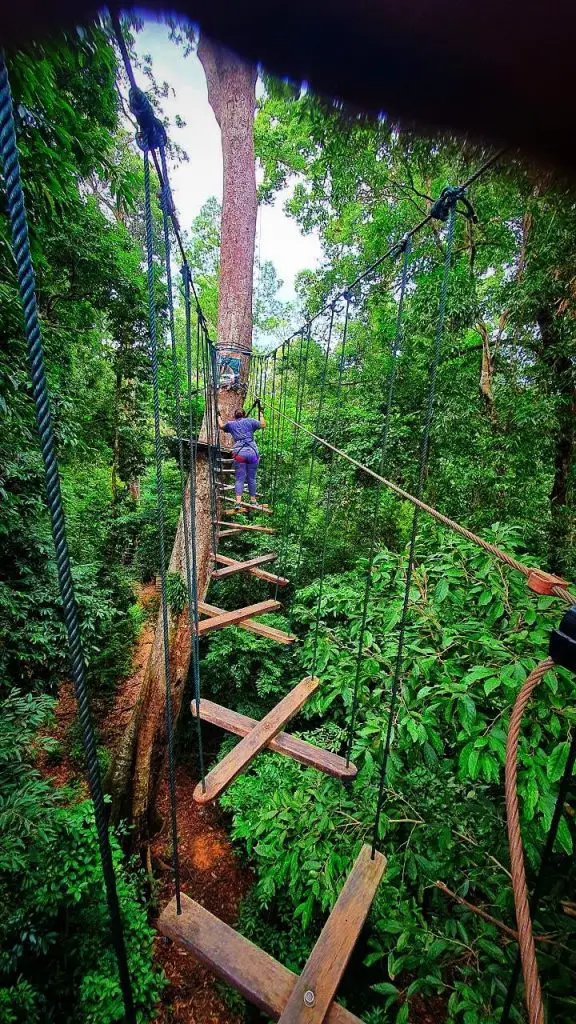 After grabbing lunch by the roadside, a nice thing to kick off your afternoon is seeing Langkawi's rainforest swinging on a zipline. Skytrex Adventure Langkawi is close to the cable car and perfect for an early afternoon trip, hiding from the midday sun inside the rainforest.
There are three different packages that include different obstacle courses and activities, such as suspended swinging bridges and tree-hanging platforms. Remember that the last trip is at 3 pm.
You can buy your Skytrex Adventure Langkawi tickets in advance here.
---
Crocodile Adventure Land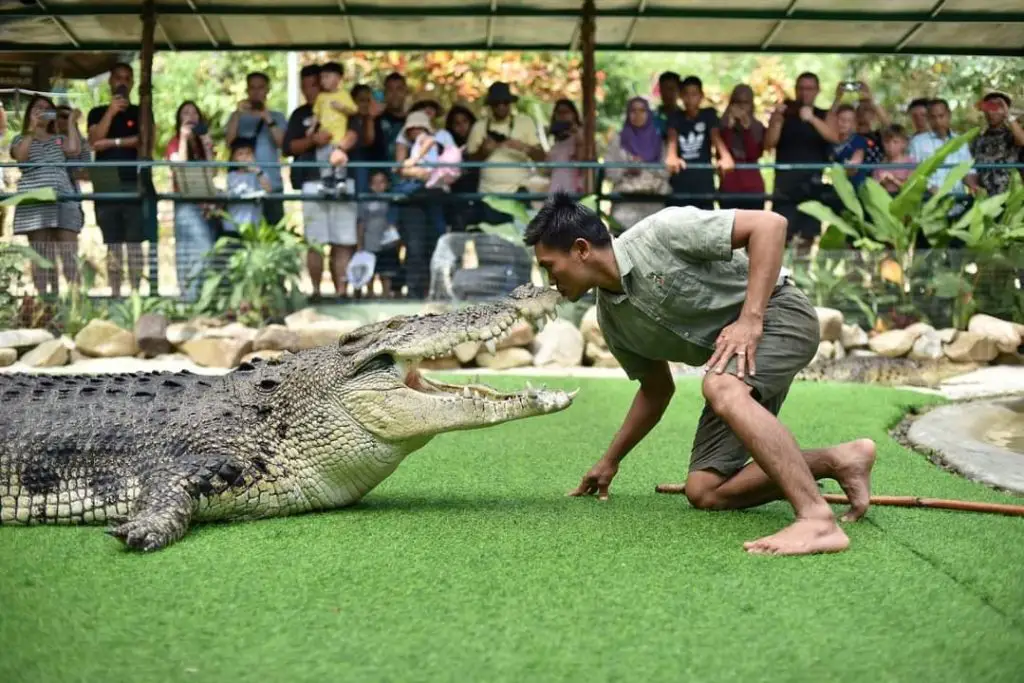 If you have time to kill or children to entertain, there's another attraction in this area that may be of interest if you like dinosaurs and reptiles… a crocodile center!
Yes, there are crocodile shows here, including jumping crocs, crocodile feedings and croc handlers doing stunts for the entertainment of the crowd — you may have your reasons to avoid this place, but it's popular and well managed.
Buy your Crocodile Adventure Land tickets in advance here, get an RM5 discount, and skip the queues.
---
Get on a Langkawi Sunset Cruise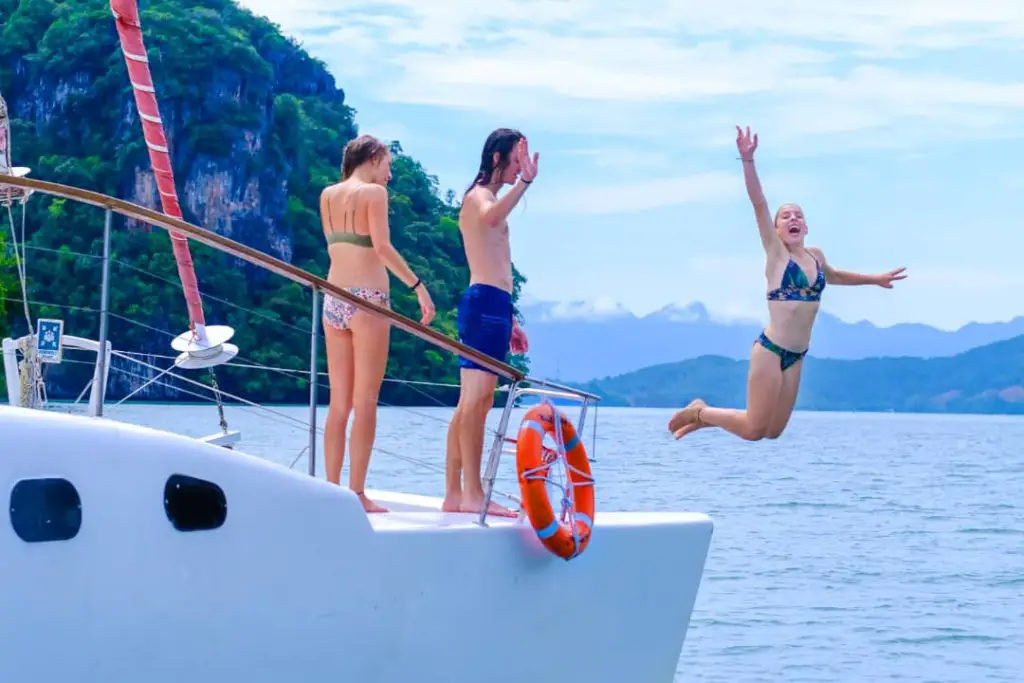 Tired? You bet. So take out the guesswork of deciding what to eat and do, and let the professionals at one of Langkawi Sunset Cruises do it for you.
READ MORE — A to Z guide to Sunset Cruising in Langkawi
Sunset cruises are a nice way to end your first day in Langkawi by watching the sun dip into the ocean and eating some delicious barbecued fish. If you'd like a few mean drinks, these boats are also the best places to do so on a budget. Depending on the guests on board, they can turn into fun floating dance parties.
Book your own sunset cruise ticket at a discounted price here.
---
Langkawi itinerary Day 2: Explore Langkawi's nature
We love Langkawi's nature and believe that coming here and not experiencing any of it is a grave mistake. This second day is then completely tailored to explore Langkawi's greenest pockets, with a bit of stylish dining to spruce things up.
INSIDER TIP
– The absolute best way to move around today is by your own transport. A scooter or small motorbike does it perfectly, otherwise, you may rent a car.
Rent a scooter in advance of your arrival on KLOOK – CLICK HERE. It's easy, fast, and trustworthy. Car charters with drivers are available here.
---
Morning: Kilim Geoforest Park Mangrove kayak exploration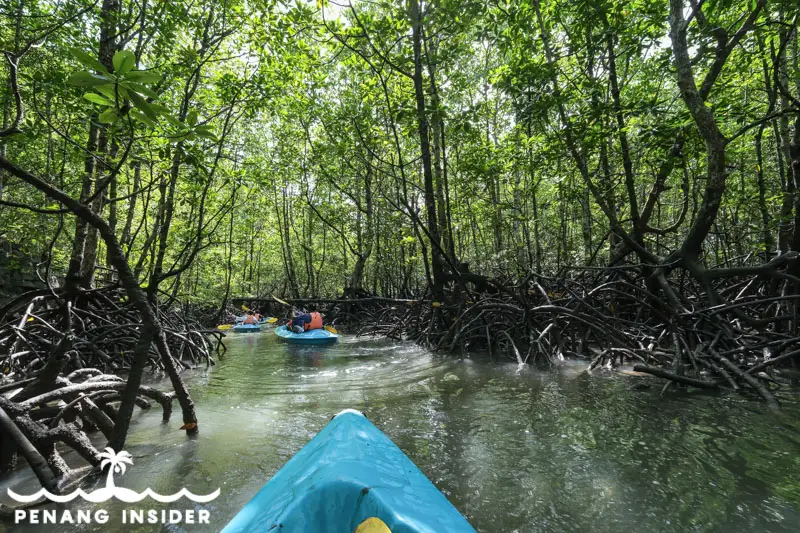 The northwestern corner of Langkawi is draped by the mangroves of Kilim Geoforest Park, one of the three main areas associated with Langkawi Geopark inscribed by UNESCO in 2006. A visit here is one of the top experiences to have in Langkawi — and we believe that the best way to go experiencing it is by kayak.

READ MORE – What to Expect from a Langkawi Mangrove Tour by Kayak
The established eco-friendly tour operator Dev's Adventures run guided kayaking tours of the mangroves and their smaller, inner canals. For four hours, you'll get first in a bumboat, and then into your own kayak (couples can paddle together, too) to sample first-hand what it means to float in one of Malaysia's oldest and most interesting ecosystems. A guide will escort you around the area, and you'll have lunch at a floating restaurant where you'll be also able to visit a small fish farm.
Book your Kilim Geoforest Park kayak tour here.
---
Beach hop along the Northern Coast
Even if most people keep flocking to Pantai Cenang, the reality is that Langkawi's best beaches are on the northern side of the island. The best way to enjoy them at leisure is by driving your bike along the coast after your Kilim Geoforest Park trip.
READ MORE – The Best Beaches in Penang
---
Pantai Pasir Hitam (Black Sand Beach)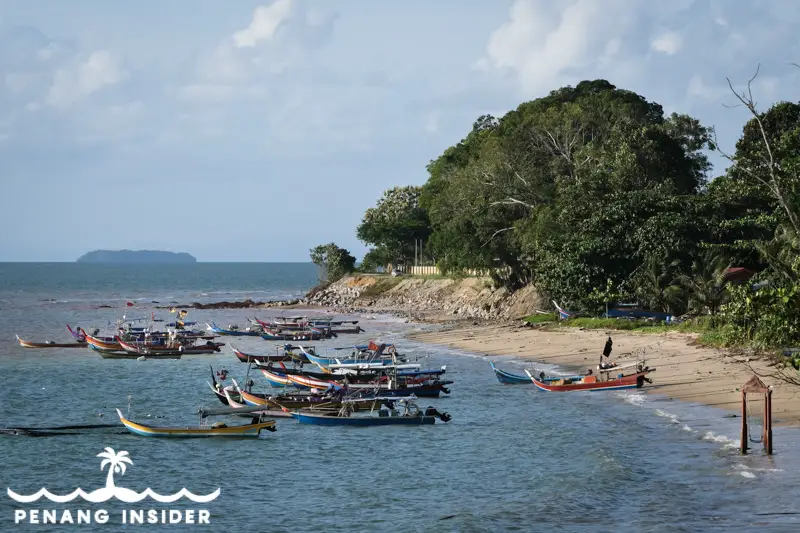 Stretching from the center of Langkawi's northern coast, this beach is famous for its black sand. Don't expect a full-fledged volcanic black sand like in Lovina, Bali, for what you'll see are mostly speckles of black shades over a large, inviting stretch of sand.
Since Pantai Pasir Hitam has long been a fishermen's village, a nice thing to come see here (and a boon for keen photographers) are the many fishing boats moored along the shore.
---
Pantai Pasir Tengkorak (Sandy Skulls Beach)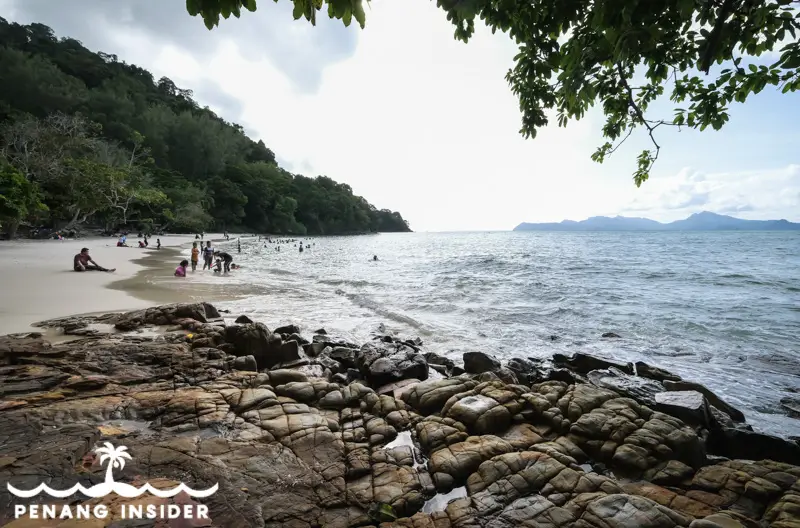 Set on the northwestern side of Langkawi's coast, there's nothing creepy about this skull beach. With its attractive crescent of clear sand backed by tall, dense palm trees and tropical vegetation, it's a beautiful place to swim and one of the most popular picnic spots among locals — who, to be fair, could be more careful with their trash.
The name probably comes from the fact that in the past, these once crocodile-infested waters spat bones and skulls on the beach. The reason is the Thai island of Ko Tarutao, floating just about 10km away, and visible from Pantai Pasir Tengkorak. The fugitives who escaped from the former Thai prison island often died drowning or being eaten by crocodiles, and their bones would end up on the beach.
Today, there are just people chilling and swimming, a landscaped park with barbecue facilities, and a simple hiking trail that leaves the right-hand of the beach and climbs over granite rocks along the coast.
---
Temurun Waterfall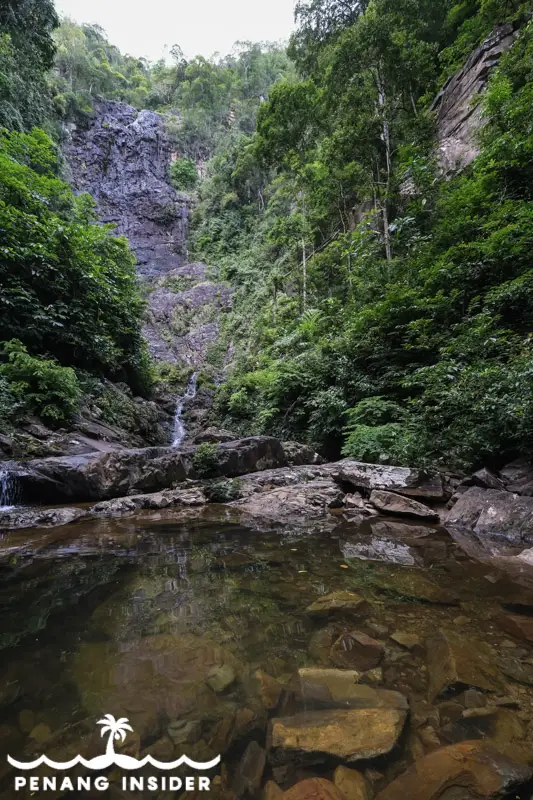 If you have come all the way north, then leave the beach and make a short excursion to the 200-metres-tall Temurun waterfall, the tallest in Langkawi. This cascade of water is at its best after a night of slashing rain, but it's always a good spot for a refreshing dip in the lower pool.
Park your bike at the parking lot and walk for only 5 minutes to the base of the waterfall. You can climb up staircases to the top of the falls for a magnificent view of the surrounding forest and the fall's rocky sides, but even just sitting on a rock and enjoying the main pool below is pretty much rewarding.
---
Have high tea at the Els Club at Teluk Datai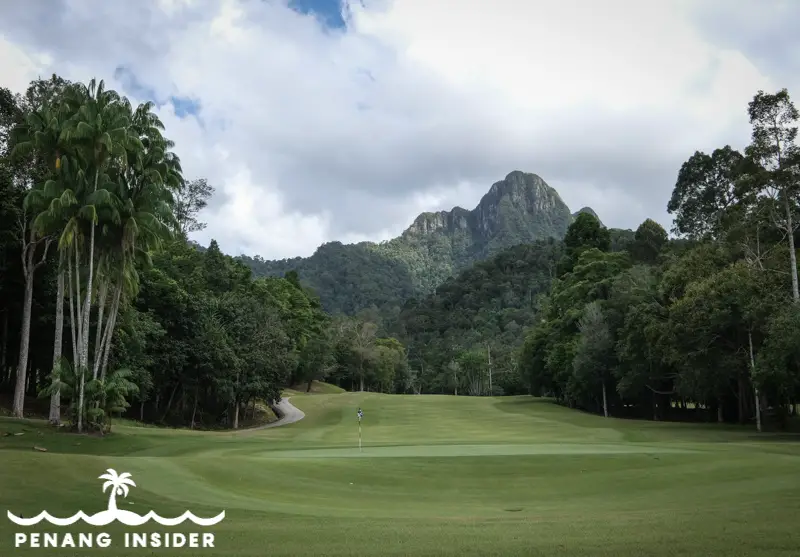 Continue a few kilometres further west from Temurun waterfall to reach the Els Club, possibly one of the few country clubs set in a golf course next to the rainforest.
The club's dining room has a beautiful verandah overlooking the golfing greens and a wall of tall dipterocarp trees where you can sip a cocktail or have a bite of their prime-class Western and Asian fusion menu.
---
Catch the sunset and have dinner at Tanjung Rhu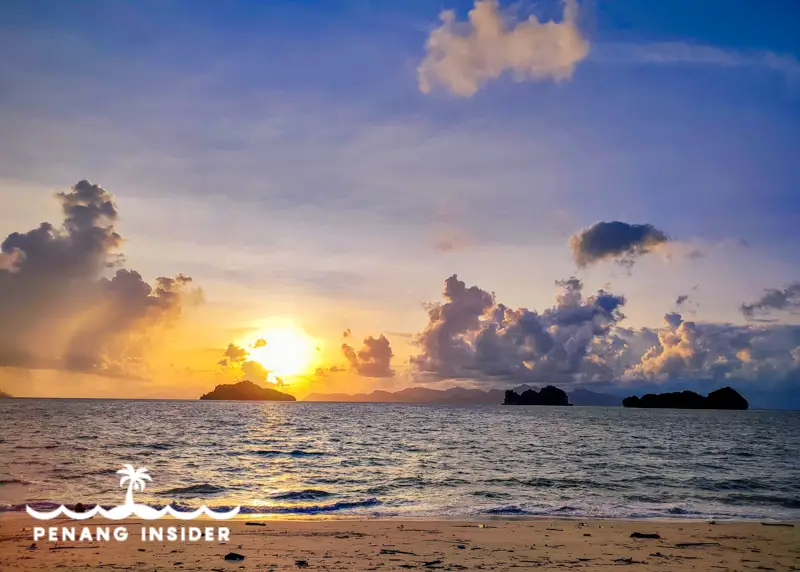 Yes, you'll have to drive all the way back to Air Hangat (almost back to the Kilim Geoforest Park) but the long beach promontory of Tanjung Rhu is best visited at sunset. Try to come by 6.45 pm to have time to find a spot on the main square, or have time to walk up and down the beach before it gets dark.
There are several dining options around Tanjung Rhu, or if it's a Friday, you can retrace your step to the Air Hangat roundabout and visit one of Langkawi's cheap and interesting night markets.
Want to explore more of Tanjung Rhu by striking at sea and meandering in the mangroves? Check this private tour out.
---
Side trip: Durian Perangin waterfall
If you still have time, not far away from Air Hangat is the Durian Perangin waterfall. Rushing down from the northern face of Gunung Raya, Langkawi's central and highest mountain, it's a spectacle of 14-tiers of rocky pools that are easily reachable across a hanging bridge from the car park. Climbing to the top, on the other hand, proves more difficult and should not be attempted late in the day.
---
Langkawi itinerary Day 3: Sea, Sand and Fun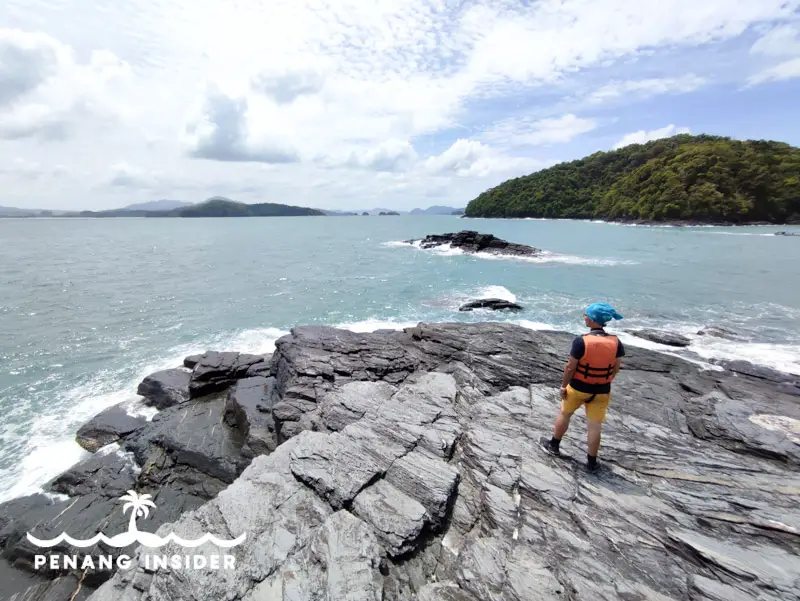 Today you'll concentrate on the southern side of Langkawi, starting with island hopping on the southern side of the archipelago, and then exploring the most popular beaches and attractions.
Choose one of three possible activities for the morning, and then chill in Pantai Cenang or Tengah to close off your Langkawi holiday in peace and quiet.
---
Morning: Get on a Boat Hopping Tour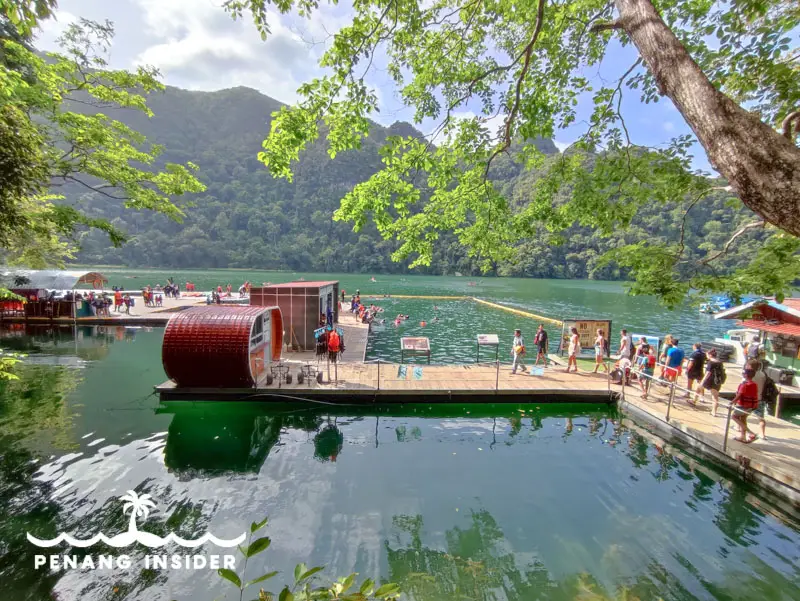 Coming to Langkawi and not getting out to sea to visit its southern islands is a mistake. The biggest and most popular is possibly Dayang Bunting, home to the beautiful Pregnant Maiden Lake — a speckle of aquamarine water stuck like a blue mirror in the midst of soaring limestone pinnacles.
The place has been spruced up and upholstered for tourists, and now there is an entry fee (RM5). The lake has platforms and cordoned areas for visitors to swim. If you want to dip, like it or not it's now compulsory to rent a life jacket from the only shop available on the platform, where you can also rent other equipment for watersports.
Boat hopping tours usually leave Pantai Cenang in the morning, get to Dayang Bunting first, and then go off to some of the other islets — Beras Basah, with its beautiful beaches, is one of the favorites.
Join the masses and book your cheap, shared Langkawi island hopping tour here. Or get your own private boat and go where you want with an RM50 discount by clicking here.
---
The cooler alternative: Island hopping on a Jet Ski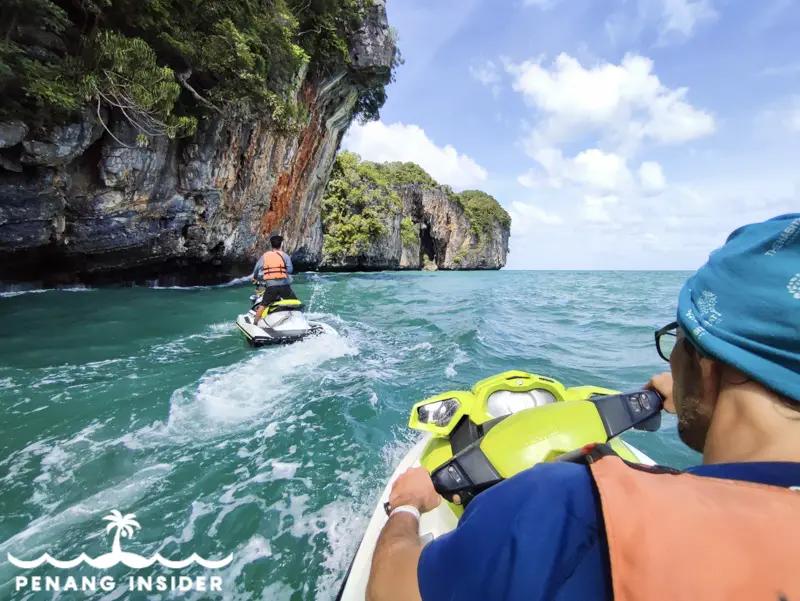 Langkawi's Pantai Cenang is lined with jet skis. It's a pretty cool way to not just play watersports around the beach, but to take a longer exploration trip hopping among some of Langkawi's most beautiful and popular islands.
Yes, jet skis are not perfect for the environment — but as this article suggests, they are not the most terrible either.
One of the best and funniest jet ski tours you can take is with Mega Water Sports, which organizes 2 to 4 hours guided jet sky tours in which, whether you have experience or not, YOU will be your own driver. A fun — sometimes scary if the waves are choppy — experience that includes a visit to the Dayang Bunting Island and the popular Pregnant Maiden Lake, a ride through the sea channel that yachters baptized as "Langkawi fjord", and other lesser islands such as Pulau Singa Besar and the beach-perfect Beras Basah.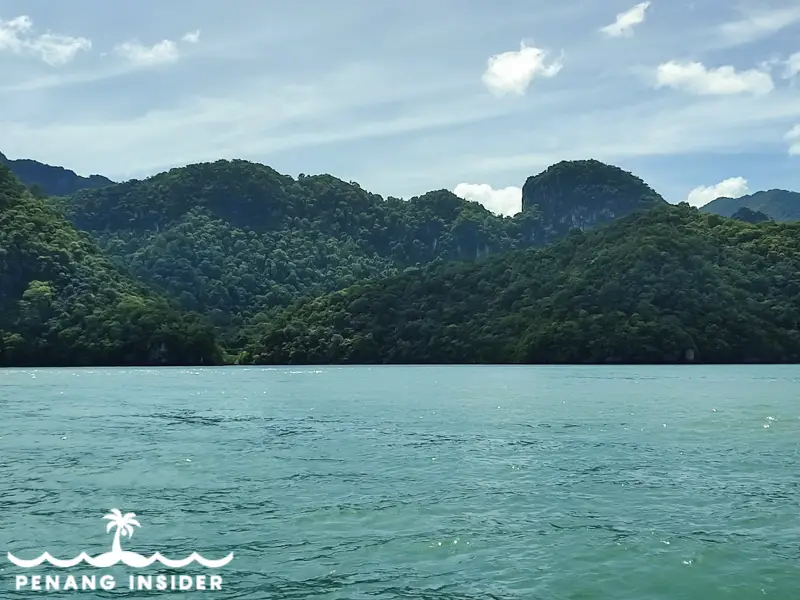 The 4-hour tour is obviously more expensive but will allow you to see SO MUCH more.
Book your jet ski tour with Mega Water Sports by clicking here.
---
Langkawi bicycle village tour at Kampung Raja
An alternative to exploring the southern sea is to travel a bit further north of Langkawi airport along the coast to the village of Kampung Raja, where Dev's Adventures run an interesting cycling tour.
For about three hours, a guide will chaperon you through coastline paths, paddy fields strewn with water buffaloes, alternative views of Gunung Machinchang, and the traditional houses of the ancient Beras Terbakar area of Kampung Raja.
The cycling here is not hard, mostly along flat and paved roads, so consider it more of a cultural tour of a lesser-visited area of Langkawi, rather than a challenge.
You can book your Langkawi cycling tour by contacting Dev's Adventure.
---
Explore Pantai Cenang and Pantai Tengah
Pantai Cenang is Langkawi's busiest and trafficked strip, backed by way too many buildings and concrete, but to be objective, the beach itself is large and still beautiful. It's a very nice spot for sunsets and long strolls — just pay attention to the vehicles that, like it or not, sometimes drive even onto the sand — and the easiest place to dip yourself in Langkawi's sea.
You can come here to enjoy some sun, play watersports, bars and food, or go a little further south to Pantai Tengah — a more upper-class version of Cenang, with a crescent of sand tucked at the end of a strip flanked by boutique hotels, resorts, and bars that include Langkawi's prime club, the Bam-Boo-Ba.
---
Laman Padi
Don't miss this interesting rice museum set at the end of Pantai Cenang. Featuring its own paddy fields equipped with water buffaloes, Laman Padi is the place to drop and learn all about Langkawi's traditional rice farming techniques and history. Perfect for an hour-long stroll with both friends and family.
---
Underwater World Langkawi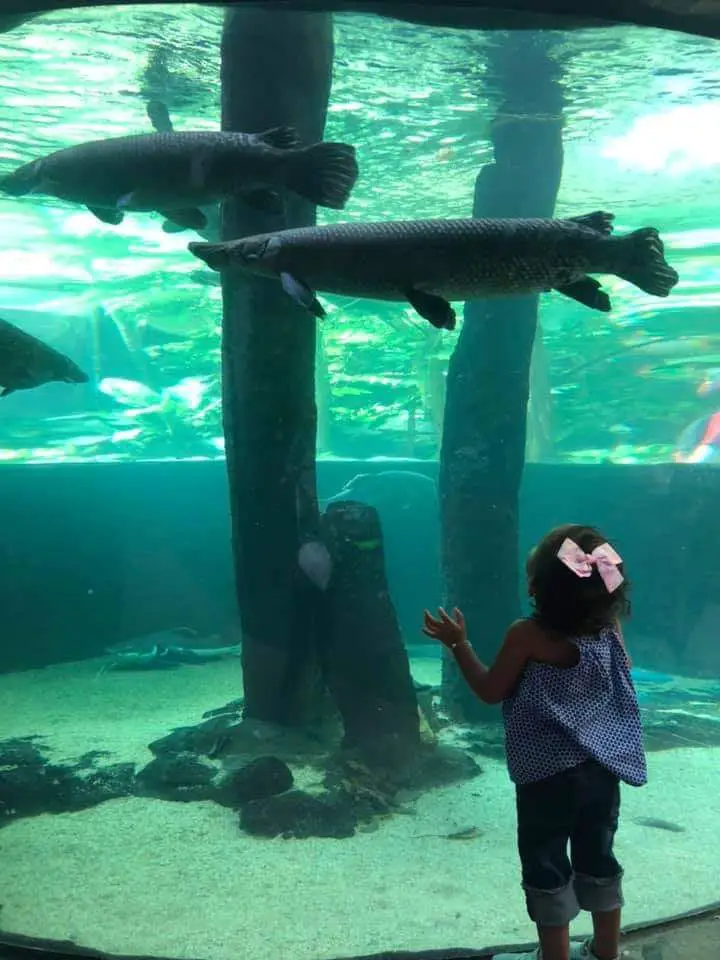 Established in 1995, this is one of Southeast Asia's largest aquariums and marine exhibits and is located at the southern end of Pantai Cenang.
Built with principles of education and conservation in mind, this aquarium is especially good for children and families. There are plenty of chances to see fish and water mammals, but you should drop during feeding sessions to best see seals, African and rockhopper penguins, and walk through the famed underwater tunnel tank – at 3.30 pm daily.
Buy your ticket to Underwater World Langkawi here to skip the queue and get an RM10 discount.
---
End the day at Bon Ton Locale for music, cocktails and art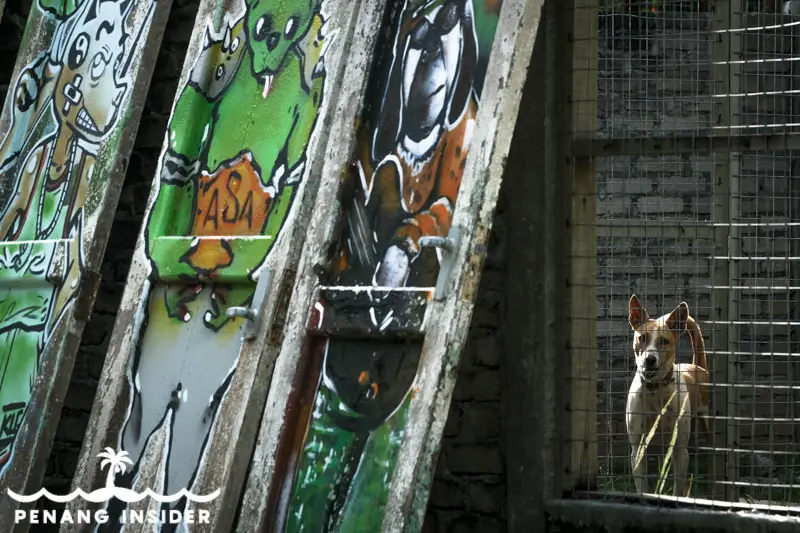 The Bon Ton Resort — a unique collection of upholstered traditional wooden Malay homes founded in the 1990s by Australian hotelier Narelle McMurtrie — has long been the place to go for expats and travelers looking for a special spot to dine and drink. It also harbors Langkawi's one and only cat and dog shelter, which is always in need of long-term volunteers. Get in touch.

Today Bon Ton decided to come back stronger after the pandemic by following more in the steps of McMurtrie's other Penang creations, the hip bar and bistro Chinahouse and Art Lane. That's how Bon Ton became Bon Ton Locale: together with music, it focuses on art and fashion, with the general goal of unleashing tons of creativity all around the resort's grounds as if it had transformed into a self-supporting, thriving artist village. Local and international artists are in fact welcome to come and take up residence here, offering art in exchange for room, board, and a space to exhibit their creations throughout their stays.
Want to stay at one of Bon Ton's beautiful, 100-year-old, exclusive 8 wooden homes? Book a night's accommodation inclusive of breakfast here.
On the back of Bon Ton's accommodation is the newly built Makers Space — a cluster of large, luminous pavilions and old-world wood and thatch houses where the artists conduct their residencies and access to their studios and workrooms. Come and have a look, share a cocktail and have a witty chat with real local artists who are trying to make a difference. And don't miss Bon Ton Locale's Sunday night jam sessions, when musicians from as far as Kuala Lumpur congregate to rock, blues and roll under swaying palm trees. Technophiles will enjoy the DJ sets on other nights.
---
Final Thoughts on this Langkawi 3 Days Itinerary
This Langkawi itinerary is valuable to plan what to do in Langkawi for 3 days. It works well for anyone, from first-timers to seasoned Langkawi travelers who may have missed some of its best bits on earlier trips.
The main advice we'd like to give here is to read through our suggestions, take inspiration, and don't be too prescriptive in how you follow them — although this itinerary is studied to be totally realistic and manageable in three days in Langkawi, you may want to relax more and avoid over packing your days with activities.
Whatever you do, know that we have personally visited each and every one of these places and tours, and we would never recommend any fluff. Enjoy your time in Langkawi!
YOU MAY ALSO LIKE
Best tours in Langkawi
Penang VS Langkawi: Which one is better?
Langkawi Sunset Tour Guide
---
And if you liked this, why don't you sign up for our mailing list? We will send you immediately a FREE photographic eBook with some incredible pictures of Penang, and we promise, we will disturb you only about once a month with some good local advice you won't find on the site