With stunning colors exploding in palettes of purples and oranges over the sea, a sunset cruise in Langkawi is one of the most popular activities visitors can try on this northern Malaysian tourist island. Read about Langkawi's best beaches.
READ MORE – The Best Tours in Langkawi
We have already written guides on Langkawi airport, how to get from Kuala Lumpur to Langkawi, and how to travel from Penang to Langkawi — read our post on choosing between Penang and Langkawi, and don't forget that there any many things to do in Penang — and how to catch the ferry from Kuala Perlis to Langkawi. So we'll skip introductions and get straight to the point of helping you decide if a sunset cruise in Langkawi is for you or not.
This article will tell you:
How to get tickets for a Sunset Cruise in Langkawi
What to expect from a Langkawi Sunset Cruise
What are the nature-based alternatives to a typical Langkawi Sunset Cruise
---
A guide to Langkawi Sunset Cruises
A very popular activity for honeymooners — also check out some ideas for adventurous honeymoons in Asia — bachelor and bachelorette parties and couples, sunset cruises in Langkawi are essentially beautified dinner and boozing experiences.
READ MORE – Best Hotels in Langkawi
Of course, don't think of a Langkawi sunset cruise as a backpacker booze binge cruise like those you can get on in Phi Phi island and Phuket — on the contrary, the atmosphere is much more intimate and upmarket here, and of course, YOU decide how much you drink.
Here's all you need to know about booking your sunset cruise in Langkawi.
Blogging transparency: this post contains affiliate links. These are products and services that we personally use and recommend. If you click on one and buy any service, I will get a small commission at no extra cost to you. Consider it a small way to say thanks, and keep Penang Insider going.
---
How much does a sunset cruise in Langkawi cost?
First of all, expect to pay a minimum of RM150 per person, which includes a BBQ dinner, a free-flow open bar, a buffet dinner, and return hotel transfers. Prices increase up to about RM330 depending on boats and levels of service offered.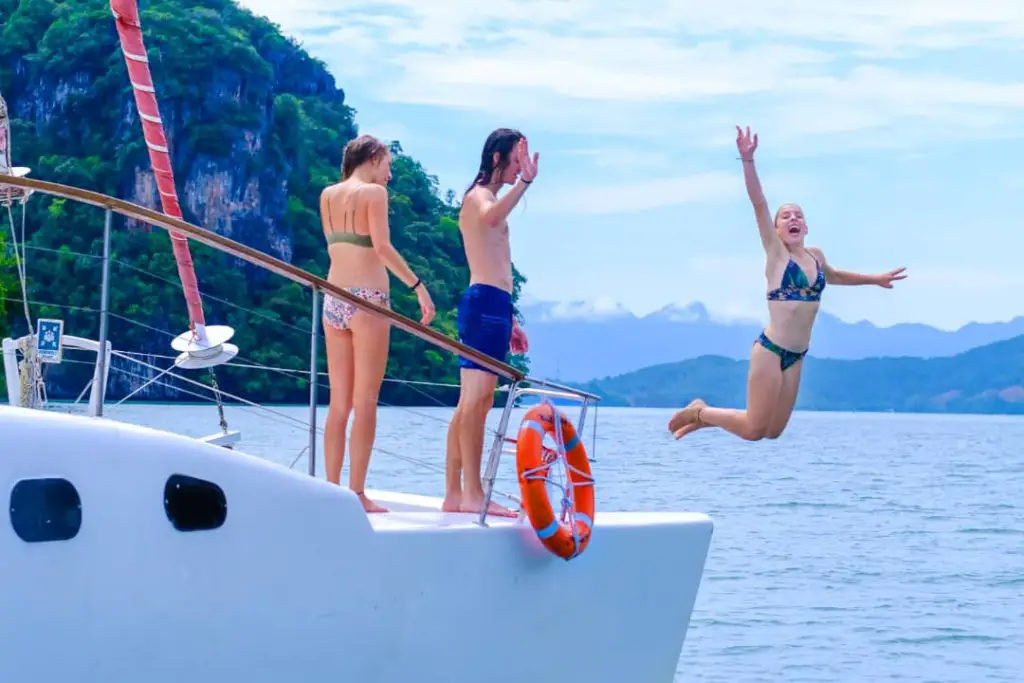 ---
How to get tickets for a Langkawi Sunset Cruise
You can certainly shop around once you are in Langkawi, but the best thing to do is to book your Langkawi sunset cruise in advance for the exact day you need it.
Our partners at Klook and GetYourGuide offer discounted sunset cruise tickets you can purchase in advance to avoid stress.
For the moment, the best option to buy tickets for a Langkawi sunset cruise is here. You can select from a basic package (cheapest at 86RM only, excluding transfer and dinner, so not that appealing IMHO) to a luxury package. Check here for all the details.
PRO TIP
– If you rather strike on Langkawi's seas during the day have a look at these daytime luxury cruises, including hotel transfer, drinks, and a meal for two.
Check out prices and book here.
---
Where to board your boat
In general, the majority of sunset cruise operators in Langkawi depart from the jetty of Resort World Langkawi at 5 pm either using a 76ft schooner or 46ft catamaran.
This is a map of the departure jetty location:
---
What to Expect from a Sunset Cruise in Langkawi
I took a sunset cruise, of course, and I can recommend it especially if you are traveling with your partner or spouse. When we arrived at Kuah's port in Langkawi in the middle of the afternoon, we were transferred to the boat where two padded lounge chairs were waiting for us on the deck of a yacht. We used Tropical Charters, Langkawi's most established sunset cruise operator. We shared the boat with a group of Kiwis on a bachelor's party holiday, and things got a little wild — simply put, more singing and dancing than you'd maybe get with a less party-focused group.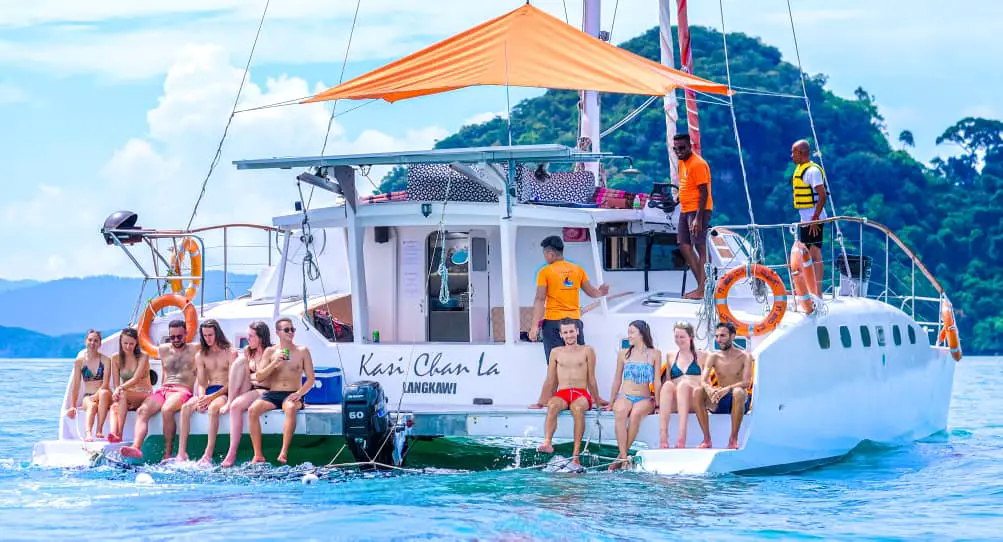 Expect about 3 hours of sailing, eating, sunset-watching, swimming, and fun. The boat will take you around Langkawi's southern islets chasing the tail of the sun.
---
Food on board a Langkawi sunset cruise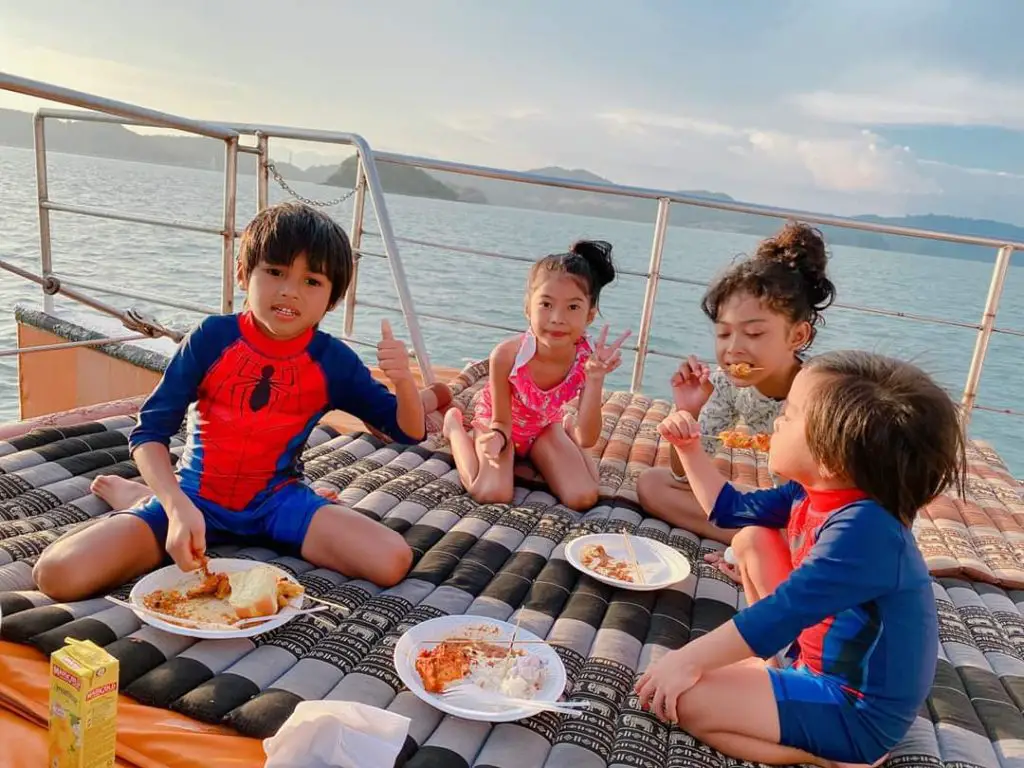 A sumptuous seafood barbecue is provided to all guests. Munching on marinated shrimp and barbecued chicken fresh off the grill is one amazing way to end the day admiring the sun diving into the ocean and leaving a sparkling trail of stars in its wake.
---
Drinks on board a Langkawi Sunset Cruise
A free flow of drinks is included, meaning you can drink as much as you can take. Please be responsible This means you can leave Langkawi's port with piña coladas in hand as you start sailing over peaceful waters and among viridian-covered atolls that emerge from the ocean like the backs of colossal, shy ostriches.
Of course, if you don't feel like getting drunk, each of the bars fitted in the boats also serves mocktails or soft drinks. Just get your pick and enjoy.
READ MORE – The Best Bars in Langkawi
---
Jump in the Salt Water Jacuzzi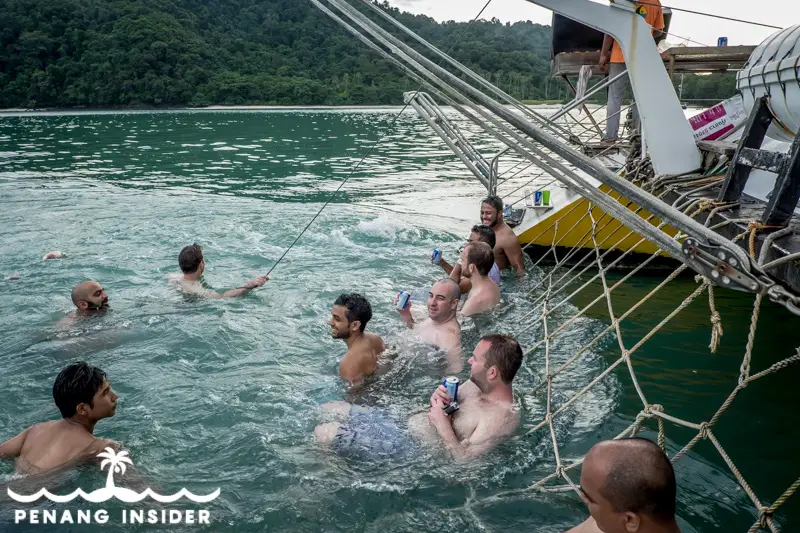 "Ladies and gentlemen, get into your swimming clothes, for our own unique marine Jacuzzi is waiting," a thin but muscular Malay guy in shades and red trunks announced from the upper deck when we took our Langkawi sunset cruise.
The Salt Water Jacuzzi is a unique Langkawi experience: tourists gather at the back of the yacht, where a rope net is slung into the sea. You can sit on the net, and float in the Andaman Sea while having a cocktail or a beer.
It's not uncommon to see the boat staff throw beer cans at the people who are already dangling on the net. Floating in the ocean, one can enjoy a natural whirlpool-like massage on the trail of the yacht, letting the spirits of the drinks blend with those that pull an orange curtain over the horizon.
---
Dance the sunset away
The cruise will return back to port around 8 pm, right after the sun goes down. You'll have most likely some time to enjoy the impromptu dance floor that's organized on deck.
---
Nature-based Sunset Cruises in Langkawi: more options for families and nature lovers
We understand that partying on a boat may not be the perfect choice for families with children, but they don't have to worry. There are other sunset cruises in Langkawi that are more geared towards family tastes — and if you continue to Penang, don't forget to check out our list of things to do in Penang with kids.
To pair a fun boating experience at sunset with nature exploration, we recommend the Flying Foxes & Wetlands Sunset Cruise. You'll cruise from Kilim's Mangrove Forest towards islet Pulau Dangli, where you'll marvel at the flight of the flying foxes, Malaysia's biggest bats, and feed tropical fish. It's a very good choice for families with children.
The sunset mangrove cruise is another very interesting option. It doesn't use a yacht, of course, but just kayaks. It's lesser crowded than other kayak tours because fewer people prefer to do it at night. It's perfect to experience the quieter and more natural side of Langkawi and has dinner included, consumed amid a natural setting. It includes transfers from your hotel, insurance, dinner, and a guide. Book it here.
READ MORE – A Guide to Langkawi Mangrove Tours by Kayak
---
Langkawi Sunset Cruise: the verdict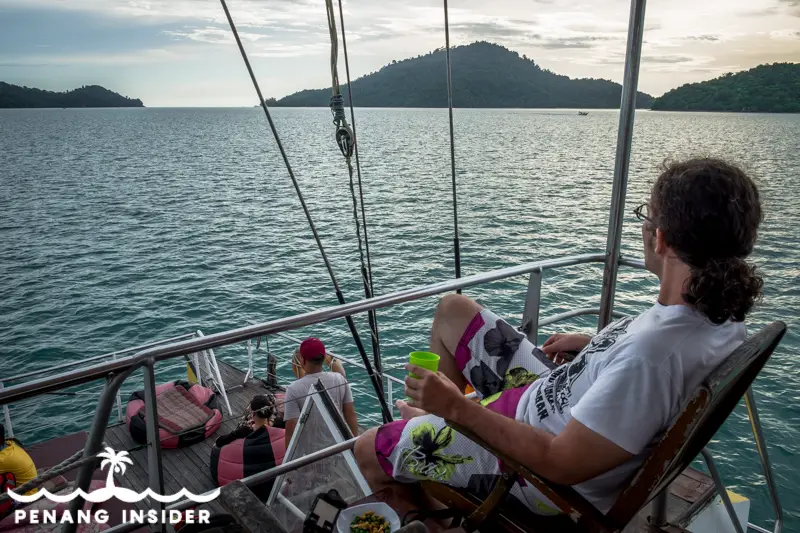 A sunset cruise in Langkawi is a great and not very expensive opportunity to enjoy the island's spectacular sunsets. In our opinion, it's best suited for couples or single people who are looking to meet others and break the ice after a few drinks.
The Salt Water Jacuzzi is a fun way to have a cocktail immersed in water as you see the sunset dip between Langkawi's karts formations.
We don't believe this activity is very well-suited for children, so families with kids would better look at other options for sunset cruises in Langkawi that take into nature and wildlife spotting (the nightly bat exodus is always quite spectacular) which are also widely available and recommended. Most important of all, whatever you decide to do, enjoy your sunset fun!
YOU MAY ALSO LIKE
3 Days Langkawi Itineray
Penang VS Langkawi: Which one is better?
How to catch the Ferry from Kuala Perlis to Langkawi
---
And if you liked this, why don't you sign up for our mailing list? We will send you immediately a FREE photographic eBook with some incredible pictures of Penang, and we promise, we will disturb you only about once a month with some good local advice you won't find on the site
---