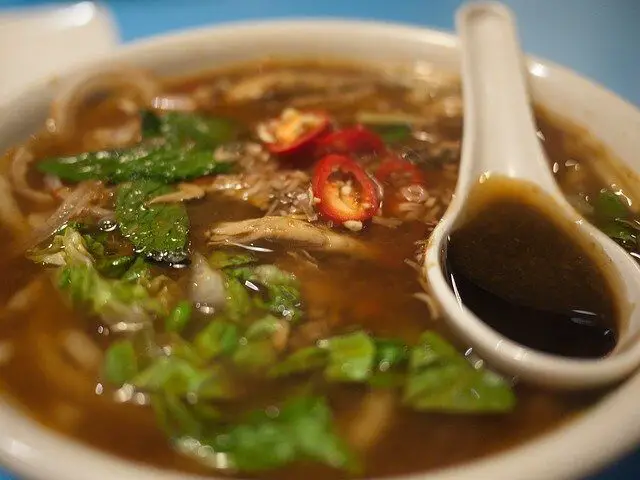 Tangy, fish-scented, heavenly broth served with a web of thick and juicy noodles: together with Nasi Kandar, Penang Laksa may be one of the most characteristic and authentic foods in Penang — don't know where to get started on your food hunt? Check out our list of 26 must-try Penang foods you cannot miss and our guides to breakfast in Penang and Penang's best cafes — and if you have wheels, make the one hour drive to Taiping for more great food.
Keep in mind that there are many places to try Penang Laksa, both in George Town and all around the island. Also, do you want to try Asam Laksa Penang, or Laksa Siam? As there's quite a bit of choice available, we have decided to write this article to help you hunt down the "perfect Penang Laksa" (if even such a thing exists).
To make the selection the best we could we resorted to the help of a local Penang Laksa superstar: we are referring to the one and only Nazlina Hussin, or the "fierce Penang aunty" who not only runs the excellent cooking class Nazlina Spice Station but also wrote one full book dedicated to the best Laksa. You can buy "The Fierce Aunty's No-Nonsense Guide to the Perfect Laksa" in Penang at Areca Books, Gerakbudaya Bookstore, MPH, and shops at attraction sites such as the Habitat, E&O Hotel, Peranakan Mansion, and Tropical Spice Garden.
And since few people know about Penang Laksa better than Nazlina, that's why we are giving her the lead right now.
The Best Penang Laksa as Suggested by Chef and Writer Nazlina Hussin
Since I wrote my Penang Laksa book I was regarded as "the Laksa Queen". Too much honor given, because I simply shared what I knew in that book, and tried to be as detailed as possible. Since then, too many people have asked me for recommendations on where to eat the best laksa in Penang — I will try my best to give you my most honest, current reviews and opinions in this article.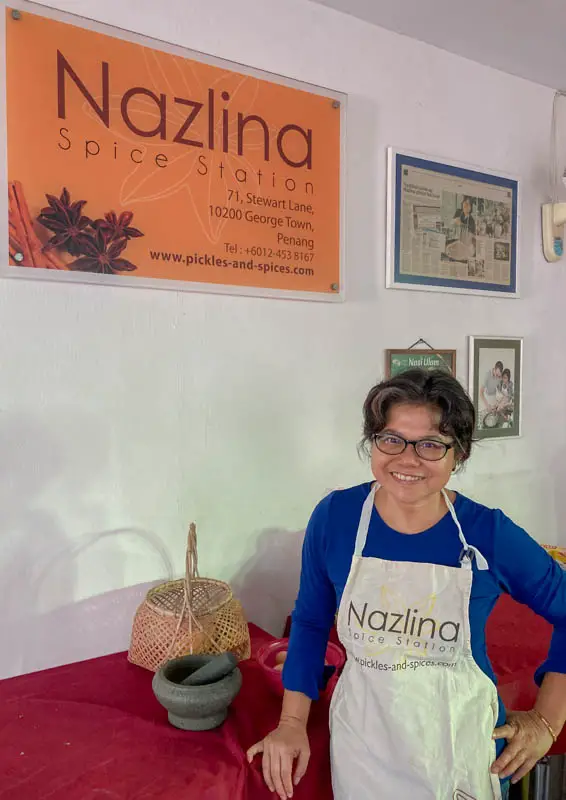 Deciding what is the best Penang Laksa is actually a daunting task, as individual tastes vary, and the fleeting, ever-changing nature of the laksa gravy makes it hard to maintain the same standard each and every time. Laksa gravy thickens when it is being slowly boiled for hours, and it can burn and dries out if you're not careful. On top of that, Penang cooks are known to add in water, salt, and tamarind accordingly to adjust the taste and make it more acceptable. For the reasons above, the same eatery can cook up very nice, thin, too thick, too sour, good, and bad Laksa.
In general, Penang Laksa is served by humble little hawkers' carts on the street, Pasar Malam — which means "night market" in Malay… read our article on the best night markets in Penang — or at food courts. However, some upmarket restaurants do serve Laksa as popular comfort food and you can also choose it from their menus.
This post lists 8 Penang laksa joints that I, Nazlina Hussin, tried over the last 4 weeks during the "semi-lockdown" period as Malaysia's economy was slowly recovering from the threat of COVID–19.
Famous Penang Asam Laksa in Balik Pulau
There are three institutions that are regarded as the popular laksa spots not to be missed when one comes to visit Balik Pulau. As Nazlina lives in Balik Pulau, we will start from there. Don't forget to check out our Penang street art guide to know the beautiful murals of Balik Pulau.
---