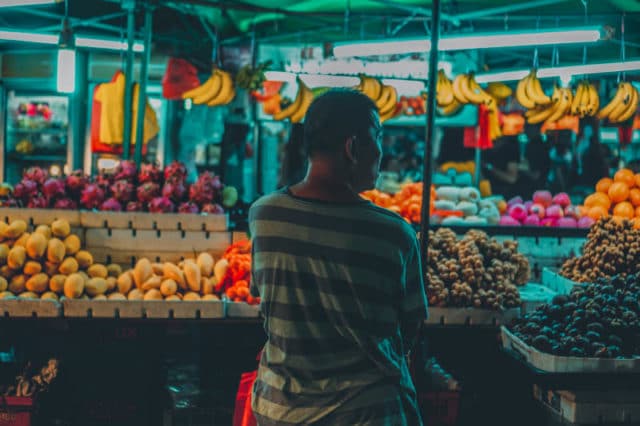 There's a lot of things to do in Penang: from experiencing George Town's vibrant nightlife, chase Penang famous street art, to lazying on at least 20 great beaches, exploring the shops and temples of Penang Little India, or going out in nature at Penang National Park at Teluk Bahang, most tourists have their hands full.
Don't forget all the things to do in Penang with kids, including climbing at the 65th floor of The Top Komtar, with its Rainbow Skywalk.
But what if you wanted to go a little bit more local, avoiding all those Penang Western Food places that many tourists love? We suggest you visit one of Penang Pasar Malam, or "Night Markets". It's something you will cherish if you have a taste for loud, boisterous fun and delicious street food such as the famous Penang laksa. You won't find other things, such as interesting books on Malaysia, here.
Imagine strolling on a balmy evening, the sun is setting, noise, people… lots of people, indeed… smoke and fumes wafting from charred grills churning satay and ayam percik, the local meat delicacies. If what you want is an authentic, scruffy Penang, you can find it all here, at one of Penang Night Markets — don't forget that to some, they are considered the best places to shop in Penang (besides its many shopping malls, grocery stores and alternative boutiques and markets, by the way). The antithesis to the air-conditioned shopping mall experience (where, however, it's easy to get a Tourist SIM Card for Malaysia), Penang night markets are hot, uncomfortable places where you'll find the best bargains and stunning street food (here's our guide to getting started with Penang food, by the way). Penang Night Markets are a must go for tourists and locals alike.
Why Visit Penang Night Markets?
The reason to go to a Penang Pasar Malam? First and foremost, their many stalls offer a very wide variety of bric-a-brac, some legal and some illegal, and plenty of food. What's more, Penang Night Markets are always teeming with people. Do yourself a favour and choose not to come by car, unless you catch a Grab Penang or any of the other e-hailing services available on the island. Take your time and soak it up. There is a lot to take in, and if you take a little bit of trouble to talk to the vendors, it'll make your experience much richer. Here you'll find pure examples of true Penang trade's persons, with their strong characters and passion for what they do. Most stall owners can be found at a different market, on each different day of the week.
We've visited some of the best markets on the island and gave you a day by day, Monday to Sunday, weekend list of the best Penang Night Markets. They all are similar, yet each has a distinctive character that makes it worth visiting… just try them all.
Pasar Malam in Penang for Every Day of the Week