Together with the impressive cave temples of Ipoh, Kek Lok Si temple in Penang is one of Malaysia's most striking religious sites, and one of the biggest Buddhist complexes in Southeast Asia. It's a must thing to do in Penang, together with the Komtar building with its Rainbow Skywalk at The Top Penang and Penang street art. And since it's filled with statues, a tortoise pond and stairs, it's also a perfect place to visit in Penang with children – check our other 32 recommendations for kid-friendly activities in Penang.
Perched on a side of Penang Hill behind the small market township of Air Hitam, midway between George Town, Penang Botanical Gardens and Penang National Park at Teluk Bahang with its Malaysian animals, Kek Lok Si temple is a place you should put on any Penang itinerary, regardless you stay for a day or a month — see our suggestions for what to do in Penang in 3 Days. And if you need a place to stay, here's a list of the best budget hotels in Penang, and some very good value boutique hotels in George Town.
Coming from Kuala Lumpur to Penang? Once you had enough of Penang food, its alternative markets and shops, and have already checked the pulse of Penang's best nightlife and it's time to go spiritual, a trip to Kek Lok Si is a definitive must-do activity while on the island — by the way, did you know that Penang has at least 20 great beaches you can check out for a swim?
This guide to visiting Kek Lok Si Temple will help you make the best of one of Penang's most iconic sites.
How to Get to Kek Lok Si temple in Penang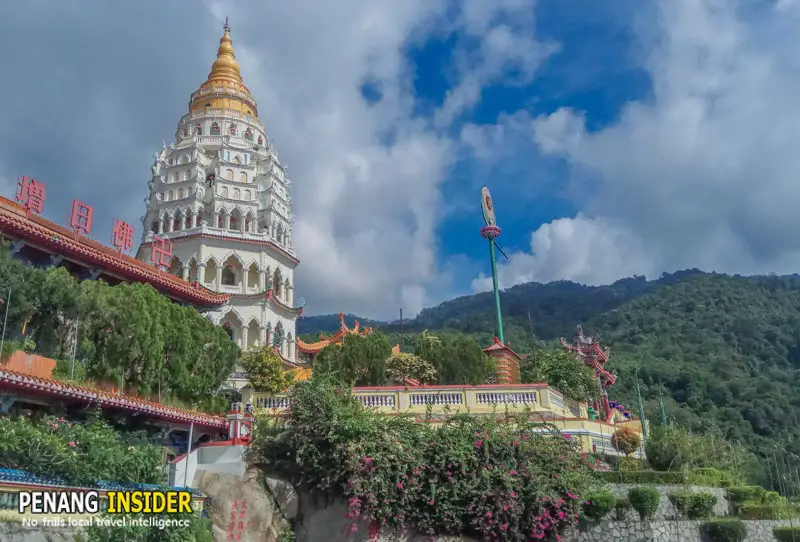 It's fairly easy to get to Kek Lok Si Temple from George Towns's backpacker enclave Chulia Street or the bus terminal at KOMTAR. If you are using public transportation, the Rapid Penang buses 203 and 204 go directly to either Air Itam market or the base of Kek Lok Si Temple itself.
If you are driving your own car, proceed from George Town or other parts of Penang to Air Itam. The road that continues to Paya Terubong crisscrosses the market junction, where you have to turn inside to reach the base of the temple.
Can I park my car at Kek Lok Si Temple?
Of course, you can. There is a modern and large parking lot at the bottom of the Kek Lok Si Temple. It cost RM3 for the first three hours and RM1 extra per additional hour.
You can also drive up the hill to a smaller parking lot that's right below the main Kek Lok Si temple hall on the ground level. Even here, parking costs RM3 per entry, and you can easily proceed on foot from here to the other pavilions.
Visiting Kek Lok Si Temple on a private tour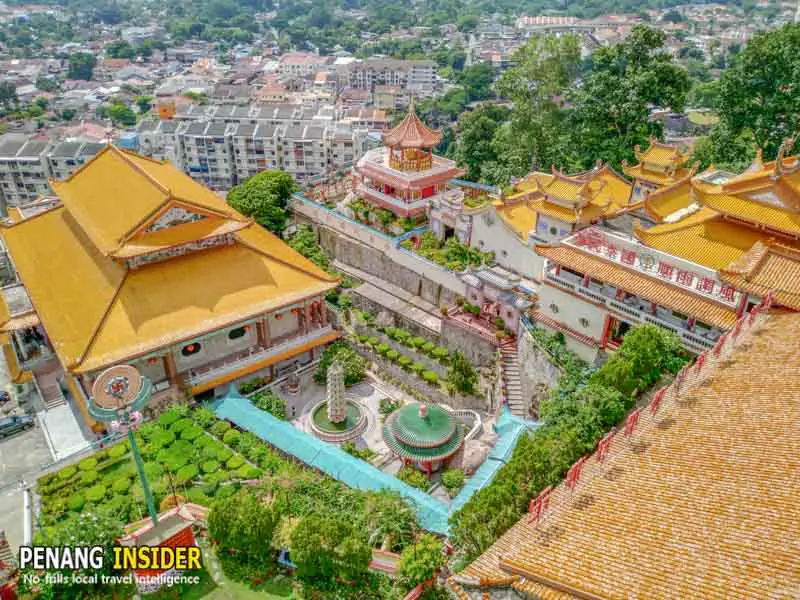 As it's not so close to town and yet not far from Penang Hill, many travelers prefer to combine a trip to both in half-day. There are some interesting private tours you can take directly from your hotel.
We recommend using Klook, an online travel site popular in Malaysia that accepts international credit cards, and that we have used successfully in the past. The Penang Hill and Temple Sightseeing is a very convenient option: you will be picked up at your hotel in George Town, and whisked at Kek Lok Si with a private English speaking driver first. After your visit to the temple, the tour continues to Penang Hill.
This tour is especially recommended to families or those who are not too comfortable using public transport, or want to maximise their visit to both sites in about 4 hours.
Guide to Visiting Kek Lok Si Temple
Kek Lok Si Temple is developed over three levels. You can easily move around on foot following the well-marked and easy to walk staircases.
Kek Lok Si foothill and inclined lift
As of 2016, Kek Lok Si's base changed a lot with the introduction of a new parking lot and a new station for the inclined chairlift that takes visitors to the base of the Kuan Yin statue, one of Kek Lok Si temple's two centrepieces — the other being a beautiful Sino-Thai-Burmese styled pagoda on the opposite side of the structure.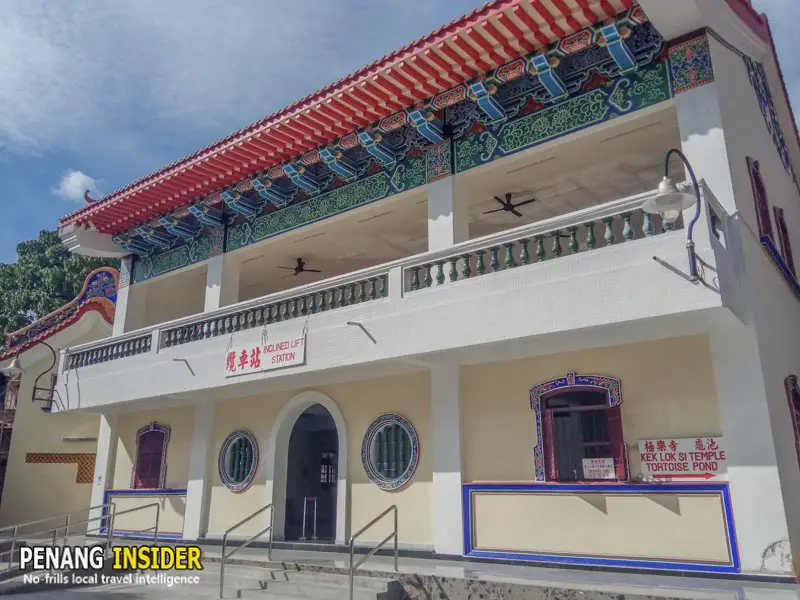 There are four stations, the first at the Foothill Car Park, the second at the Avalokiteshvara Hall, the third at the Main Prayer Hall, and the last at the Kuan Yin Statue.
The trip now costs RM16 for a round-trip, an unnecessary expense we believe, as walking up it's very rewarding, but avoid the middle part of the day when the weather really gets hot.
The Liberation Pond and its Turtles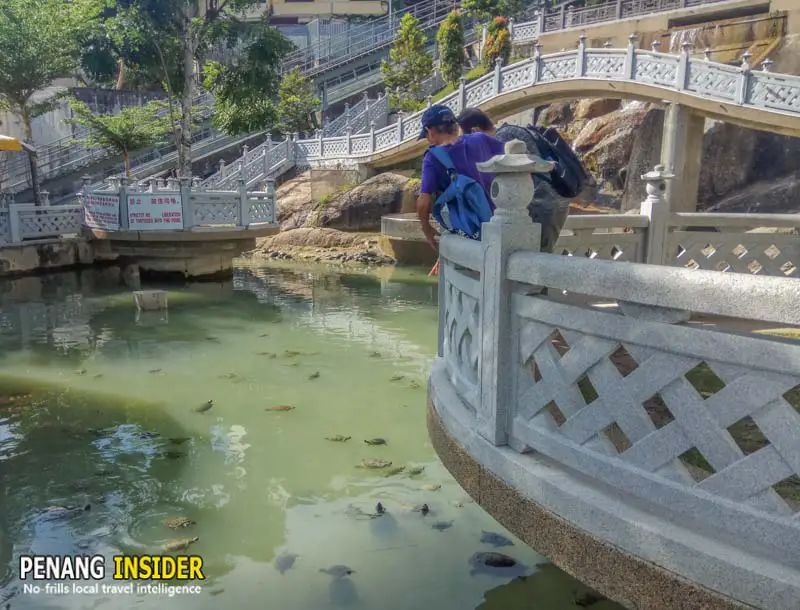 Just next to the chairlift station, accessed by the Foothill Car Park, is the new Liberation Pond, a large pool filled with water and many beautiful tortoises that either swim or rest on a small hillock. The pond is nicely surrounded by Chinese arched bridges and a viewing platform, and it's a must stop on your way up to the first level of the temple.
Kek Lok Si Avalokiteshvara Hall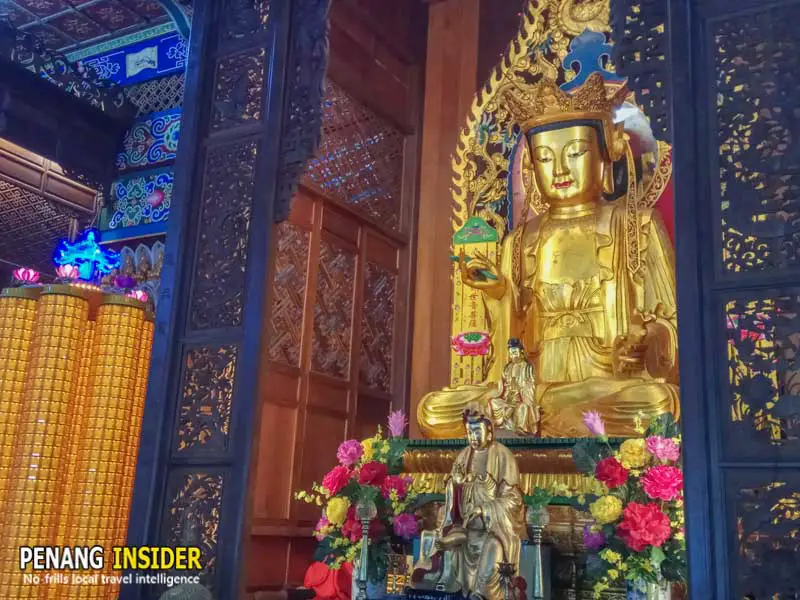 As you proceed east of the Liberation Pond, you will walk up a flight of stairs and then connect with the way to Kek Lok Si's second parking lot. It leads to a huge shrine, the Avalokiteshvara Hall, where three majestic seated Bodhisattva's wait for believers in prayer. The hall itself is adorned by hundreds of small niches where seated Buddha figurines are placed, and there are altars strewn with burning joss sticks and votive offers to the gods.
Right outside this main hall, one can have a good view of Kek Lok Si Pagoda looming up close. This spot is particularly nice during the Chinese New Year celebrations, when Kek Lok Si Temple fires up, illuminated by thousands of multi-coloured LED lights.
Visiting Kek Lok Si's striking Buddha Pavillion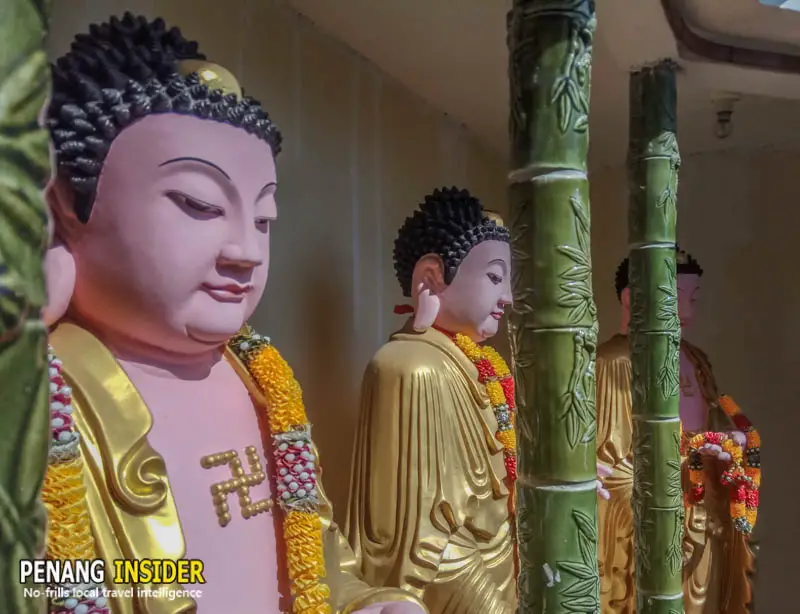 Proceeding up from the Avalokiteshvara Hall, the path leads up through a finely decorated corridor that faces a landscaped garden where another statue of the meditating Buddha sits surrounded by deer. Dodge the many beggars that sit on the staircase and proceed up through an oval door into what I consider one of Kek Lok Si's most beautiful places, the Buddha Pavillion. There are dozens of Buddha statues placed on the perimeter of this landscaped garden, at whose center soars a building with other smaller prayer halls. If you walk across the garden, you'll find a terrace offering grandiose views over the Air Itam valley, with George Town's concrete eating into the horizon.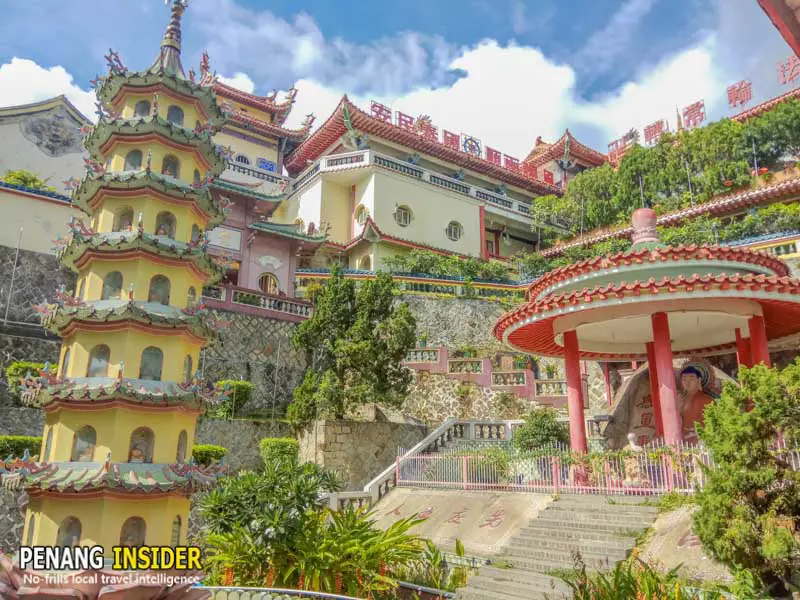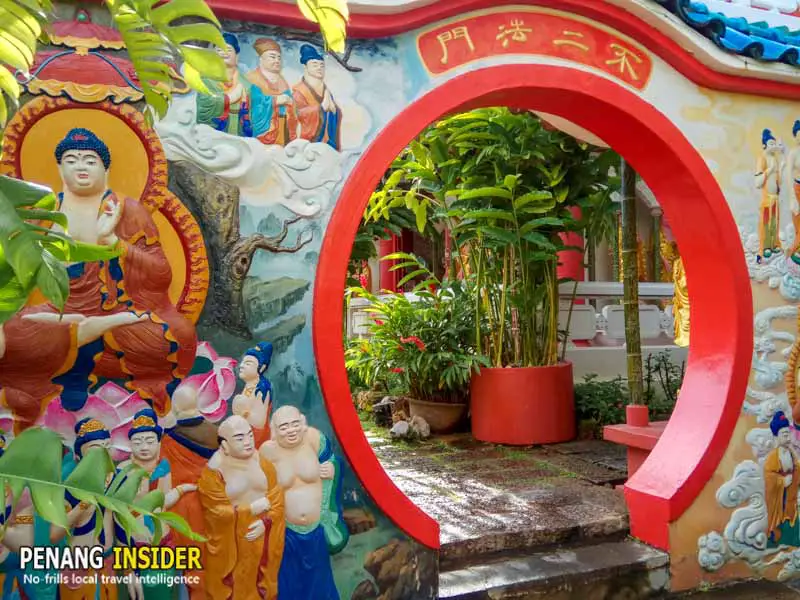 Kek Lok Si's Kuan Yin Statue
After visiting the main Hall of the Devas at the back of the Buddha Pavillion, with its statues of the Four Heavenly Kings, the visitor can choose to either visit the statue of Goddess of Mercy Kuan Yin, or climb Kek Lok Si temples' beautiful Pagoda.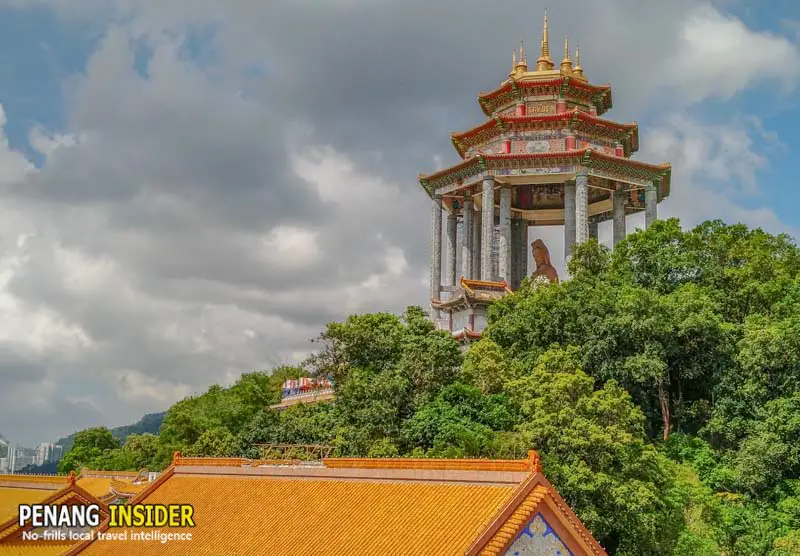 Kuan Yin statue, a 36.5 meter-high bronze goddess, it's certainly a sight to behold. It is sheltered by a huge Chinese-styled roof supported by 16 pillars. To be honest, a trip here is not worth the RM16 train ride, so you better walk up and pay only RM3 to see the statue.
Kek Lok Si's Pagoda (Ban Pho Tar)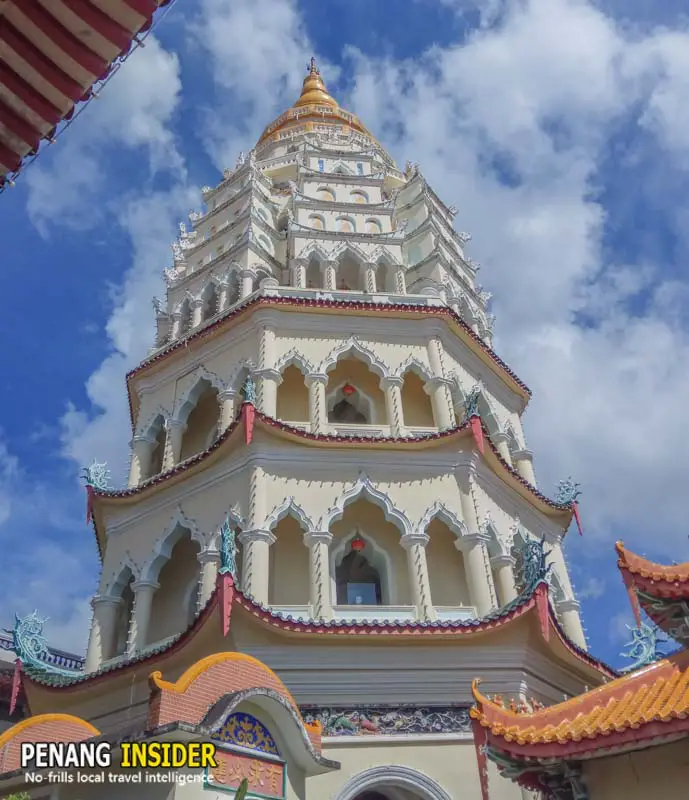 The 30-meter-high Kek Lok Si's Pagoda, also known as Ban Pho Tar, is definitely the complex's highlight. It has an octagonal base and a structure that blends Chinese, Thai and Burmese elements to testify Penang's mixed influences. You have to pay an RM2 entry fee and you'll be allowed into the beautifully landscaped garden that surrounds Ban Pho Tar.
The pagoda has 7 levels, each one housing different jade Buddhas in the Thai and Burmese style, and striking Chinese antiques. We love the ground level hall, with its two life-sized stork statues, aquariums teeming with tropical fish, and beautiful flowers everywhere.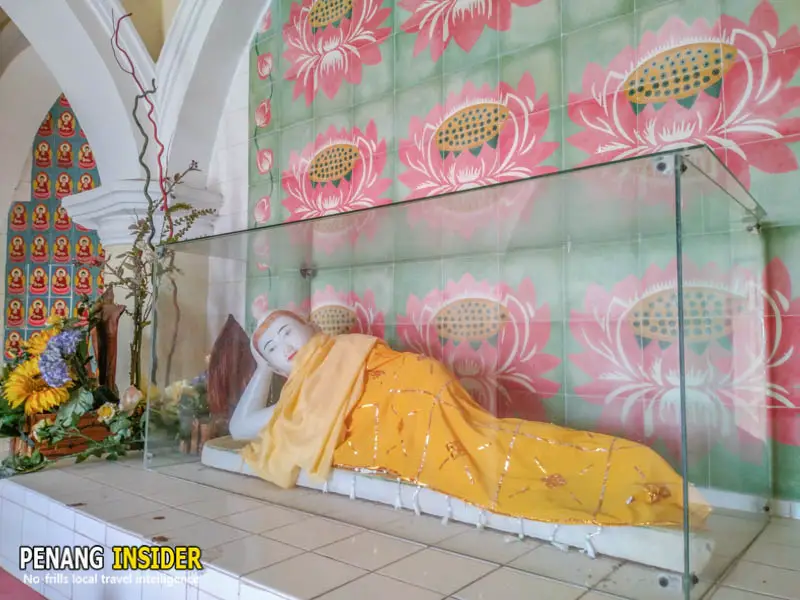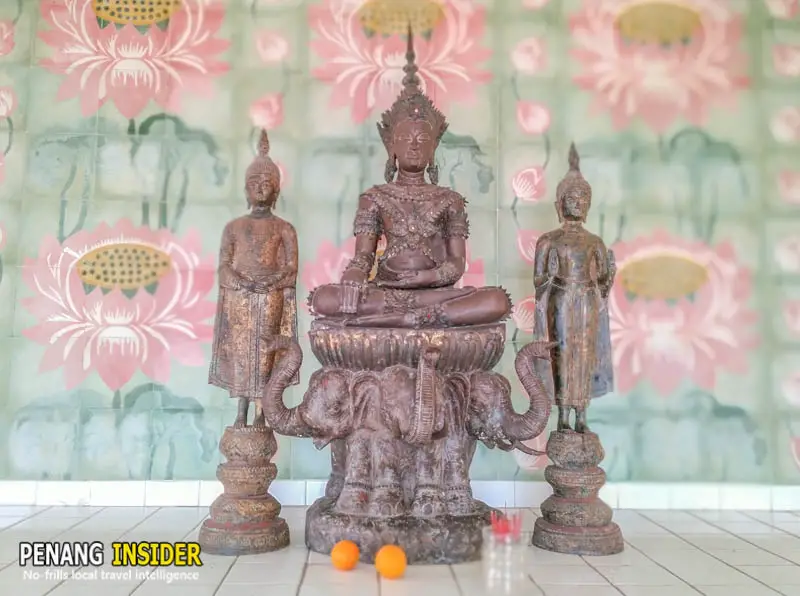 It takes only about 5 minutes to climb to the top level: each progressive floor has a balcony from where the views over the Kek Lok Si temple complex grounds and Penang Hill get more and more striking the more one climbs up. At the top, the fresh air and breathtaking views will keep you busy for a while.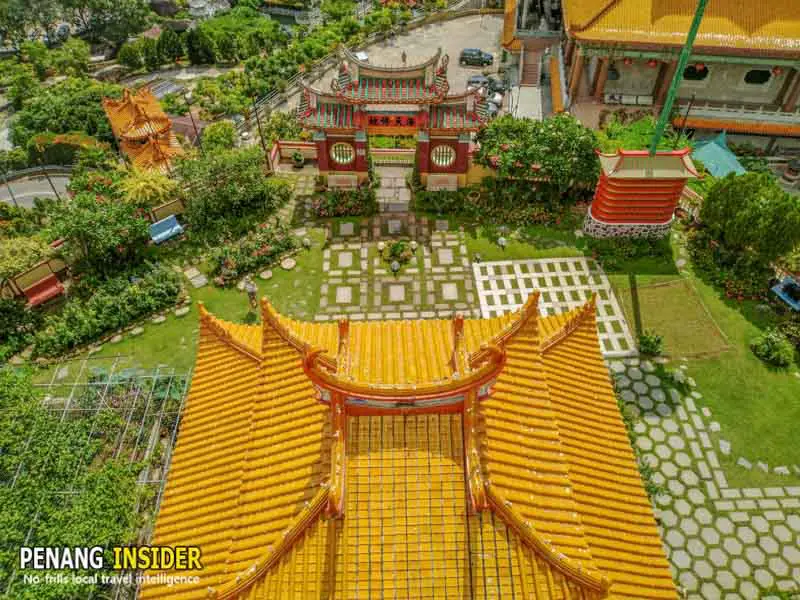 Kek Lok Si opening hours
Kek Lok Si Temple opens to visitors from 8.30 am to 5.30 pm. Once inside, you are allowed to roam within the complex until 6 pm, when you will have to leave.
Best time to visit Kek Lok Si Temple
We think that the best time to visit Kek Lok Si Temple is during Chinese New Year: for a month starting a few days before the Chinese New Year's first day, Kek Lok Si turns into a beautiful fireball of colourful lights. You shouldn't miss a chance to be here on the light-up day, which changes every year according to the Chinese Calendar.
How to photograph Kek Lok Si Temple during Chinese New Year
Kek Lok Si Temple it's a popular spot to take stunning photographs in Penang, and one of the favourites for many local photographers. Our talented landscape photographer friend Pete DeMarco made an interesting video on visiting Penang's largest Buddhist temple and how to take the best photos of Kek Lok Si Temple during the light-up ceremony. Have a look here:
What is Kek Lok Si Temple dress code?
You can come to Kek Lok Si in casual wear and we don't recommend you wear enclosed shoes, because you'll have to walk barefoot in most of the prayer halls. Keep in mind, however, that this temple is not a tourist attraction, but a working monastery, and you should show some respect by covering up and not look like an ugly irresponsible tourist in a singlet and thongs. Thank you for understanding.
What to Eat in Air Itam Market?
Once you return from your Kek Lok Si hike, the bustling Air Hitam market has at least a couple of great Penang dishes (check our list of Penang's 26 unmissable foods)you should try.
Famous Air Itam Laksa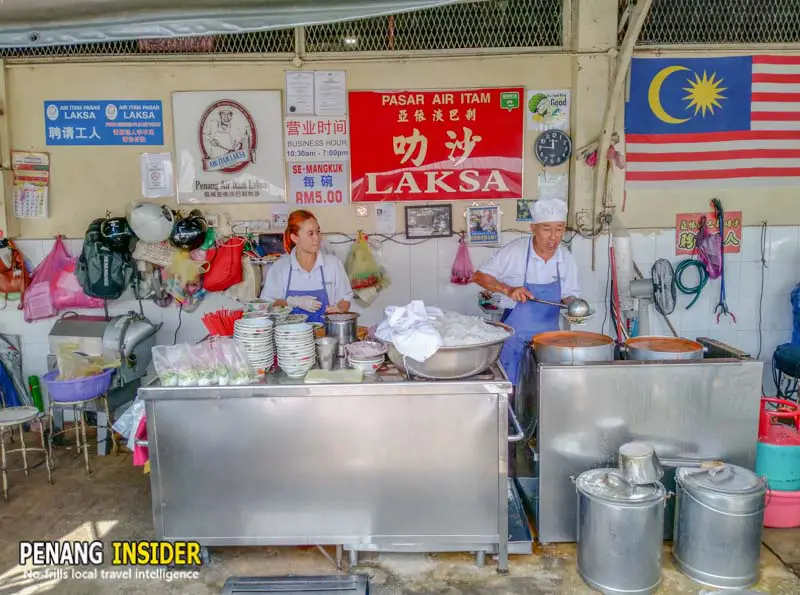 Air Itam market's Assam Laksa is one of Penang's famous foodie spots and one of the best places to try Penang laksa. This uncle has been dishing out the tangy, heavenly broth for decades, and shows no signs of stopping. Each serving only costs RM5 (US$1.2) and it's highly recommended tasting at least once when in Air Itam. Once you arrive at the main Air Hitam junction, walk towards the temple and you'll find this stall on your right-hand side, under a simple wood and metal awning at the side of the road. Take a seat and watch the uncle prepare your laksa fresh in front of your eyes.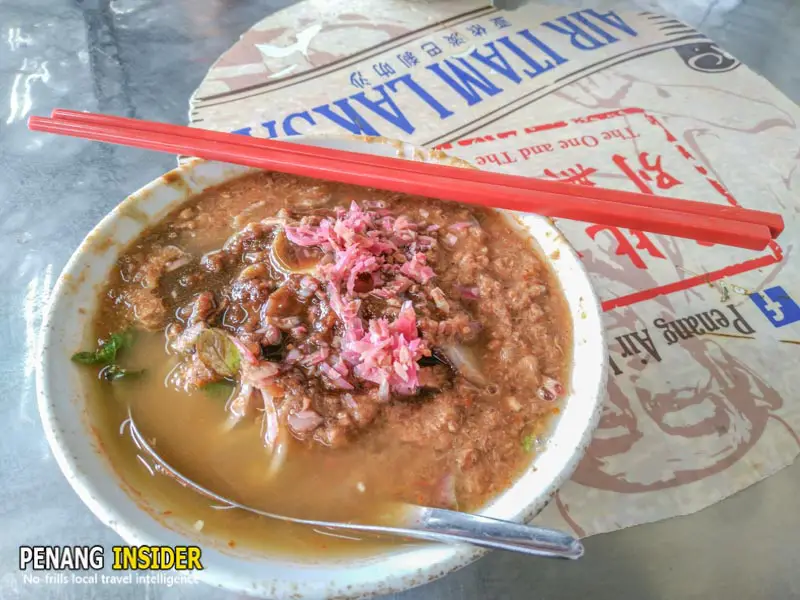 The Sister's Curry Mee
Curry mee is another Malaysian speciality that mixes yellow noodles with fiery curry, mint and cubes of pork blood. There's one stall in Air Itam, manned by two old sisters who have been running the show for decades, that's considered as one of Penang's best curry mee.
How to return to George Town from Kek Lok Si Temple
Going back to George Town from Kek Lok Si Temple is quite straightforward: walk down to the temple Foothill Car Park and follow the main road, keeping the parking lot to your right. The road will turn left, and you'll see another smaller car park here right before the crossing to Air Itam market.
If you continue walking for about 30 meters, you'll see a 7-Eleven shop on your left. This is where buses 203 and 204 stop on their way back to George Town. Consider that some buses don't stop at Chulia Street on their way back, so you may need to get off at KOMTAR and walk from there.
If you have come with your own car, you can proceed down the Air Hitam road and then onto Datuk Keramat avenue, which connects to KOMTAR and George Town. Drive safe and have a great trip to Kek Lok Si temple.
---
And if you liked this, why don't you sign up for our mailing list? We will send you immediately a FREE photographic eBook with some incredible pictures of Penang, and we promise, we will disturb you only about once a month with some good local advice you won't find on the site
---