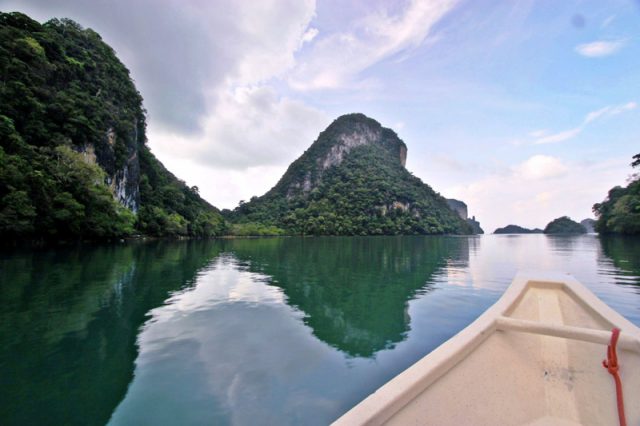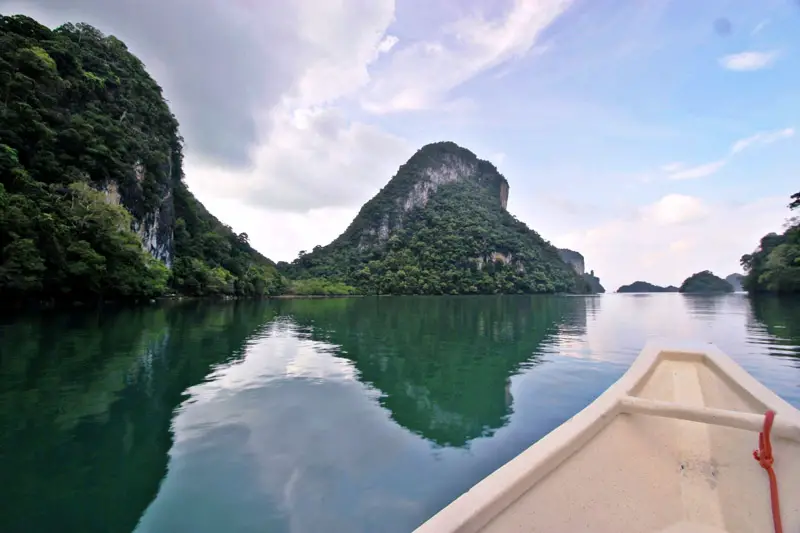 Thinking of the two Malaysian islands of Penang and Langkawi is like looking at the two sides of the same tropical coin. Both have nature, attractions and charm in spades, but which one is the right one for you?
This article will give you a quick lowdown of the differences between Penang and Langkawi and will help you decide where you should spend more, or all your time.
Penang at a Glance
We said two faces of the same coin, right? Well, on one side is Penang: with its historical George Town, a UNESCO World Heritage Site since 2008, the island is steeped in history and has become a haven of creativity. Briefly established as the Fourth Presidency of British India from 1805 to 1830, Penang has always been a very important trading port on the spice route.
Its main settlement of George Town was a crossroads of sailors and cultures — from local Malays to European adventurers and businessmen, not forgetting the Chinese settlers who came to Malaysia looking for fortunes, and the southern Indian peoples who arrived here to work in the rubber estates of the British colonizers.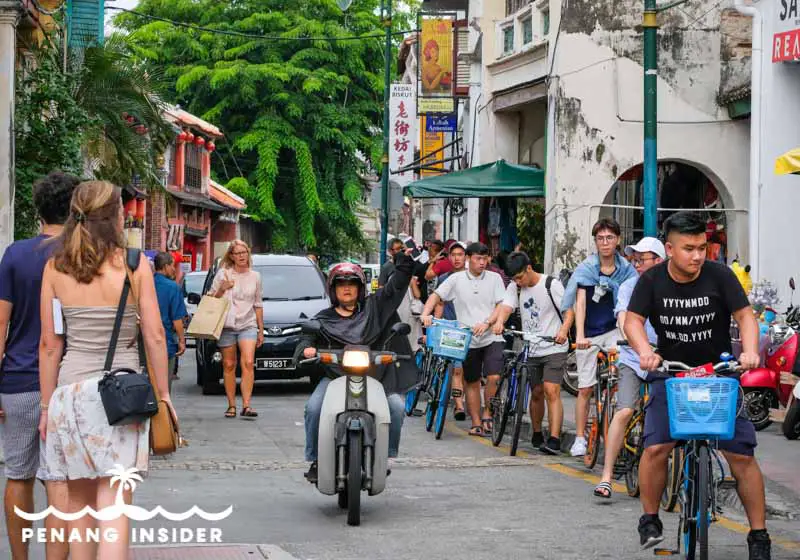 Today, Penang's multicultural past has morphed into a powerfully creative business and artistic hub. Since 2012, the island is very well-known for the mural art and iron-wrought caricatures that dot the streets of George Town.

Important festivals like the George Town Festival and the George Town Literary Festival bring local and international talent to the island every year. And don't forget the dozens of local religious and cultural celebrations, which change every month, and make visiting Penang exciting all year round.
Langkawi at a Glance
Flipping the coin there's Langkawi, which is the most naturally wild and beautiful among the two islands. Truth be told, Langkawi is not an island but an archipelago of 99-odd islets that have maintained a more rural, quaint feel than Penang. Langkawi's coasts, however, have developed into some of Malaysia's best beach holiday destinations. There are dozens of hotels, upmarket resorts, and cool Langkawi bars that have taken up space on the best of Langkawi's pristine bays and beaches.
READ MORE – Best Hotels in Langkawi
Travelers arrive in Langkawi either via its international airport or a ferry from Kuala Perlis. Pantai Cenang is undoubtedly the most developed on the southern end of Langkawi — it's a bit of an unesthetic barrage of properties sheltering the wide crescent of Cenang Beach, whose sand is filled with beach bars, trendy bistros, and restaurants.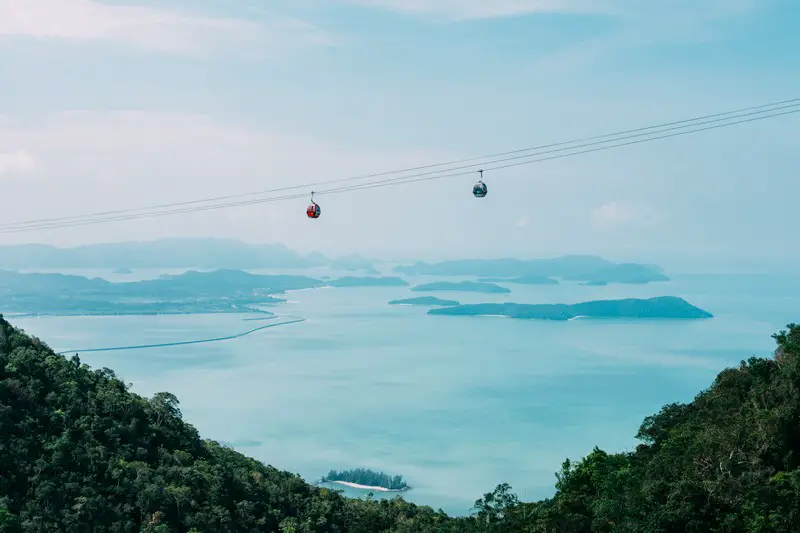 Langkawi's main attraction is the cable car that zips up to the peaks of Gunung Machinchang — part of the Machinchang Geoforest Park protected by UNESCO, and the first in Southeast Asia — where a suspended Skybridge grants unparalleled views of the island and the deep-blue Andaman Sea that rings its shores.
Going to Langkawi? Check out this free 3 Days in Langkawi Itinerary.
---
Go to Penang if you prefer: Heritage, Color and Food
The first thing that most visitors do in Penang is settle in a George Town hotel — there are many exquisite and affordable George Town boutique hotels that use the island's historical heritage to create a well-choreographed ambiance, or swanky Penang 5 star hotels to choose from — and explore their immediate surroundings.
And frankly, there's a lot to do here: lined on the two sides of the main thoroughfare Chulia Street — a travellers' magnet with rows of shops, restaurants and bars — are the enclaves of Chinatown and Little India. You'll see ancient shops that have peddled their trades for the best part of the century rub shoulders with modern hip bistros, ancient Indian and Chinese temples, and Islamic mosques, creating a mix of old and new that's intoxicating and charming for most visitors.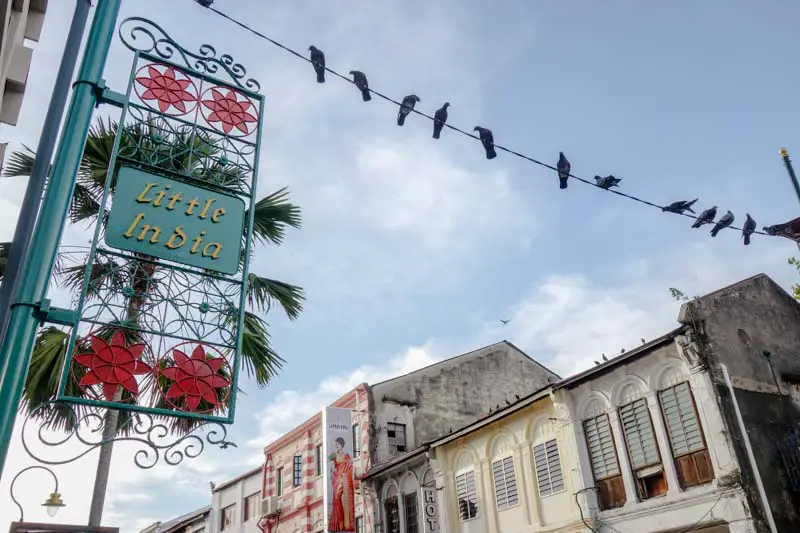 Hawker food sellers complete the scene, whipping up famous local Penang dishes like char koay teow (fried noodles with prawns and egg) and curry and wan tan mee (savoury varieties of local noodles) from their movable metallic stalls.
Since 2012, the maze of little lanes jutting at the sides of Chulia Street has also become the canvas for a series of mural artworks and Penang street art depicting Penang's multicultural past and modern artistic trends. Started by Lithuanian artist Ernest Zacharevic as part of the George Town Festival, the murals soon became an Instagram sensation among locals and have been photographed by millions of tourists over the years.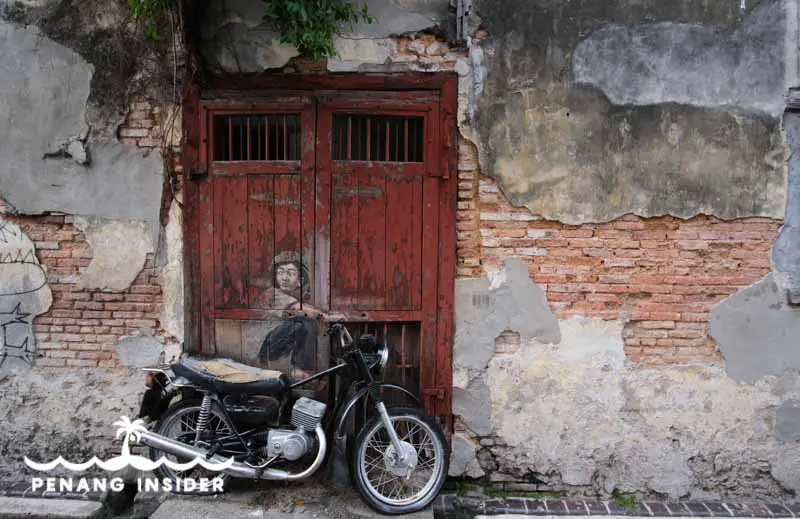 In 2020, the George Town Container Art Festival brought 10-meter-tall giant artworks on the sides of shipping containers set at strategic locations around the island.
It's easy enough to enjoy George Town for more than a day by simply walking around and observing all that this city offers (see our free itineraries to Penang in 2 days and what to do in Penang in 3 days) — a rare coexistence of old local folklore and beautified artistic modernity that attracts many, leaving them out cold, and never wanting to leave. But don't forget that Penang is also an island, with at least 20 nice beaches, not just a (George) town.
You can start exploring near town: in the suburb of Pulau Tikus, the Thai Buddhist temple Wat Chayamangkalaram hosts a large reclined Buddha statue, and right in front of it, the Dhammikarama Burmese Temple is the place to admire more golden statues that include Buddha replicas from all over the world.
Penang's most famous and largest temple — and a perfect spot to watch the sunset over George Town — is Kek Lok Si, perched on a green hill in the suburb of Air Itam. One of Southeast Asia's biggest Buddhist shrines, Kek Lok Si is guarded on one side by a 30-meter-high statue of Goddess of Mercy Kwan Yin, and a beautiful Thai-Chinese multi-tiered pagoda on the other.

The best time to visit Kek Lok Si is during the Chinese Lunar New Year, when thousands of multi-colored lights give it a psychedelic effect, and a show of fireworks celebrates the beginning of a new prosperous year.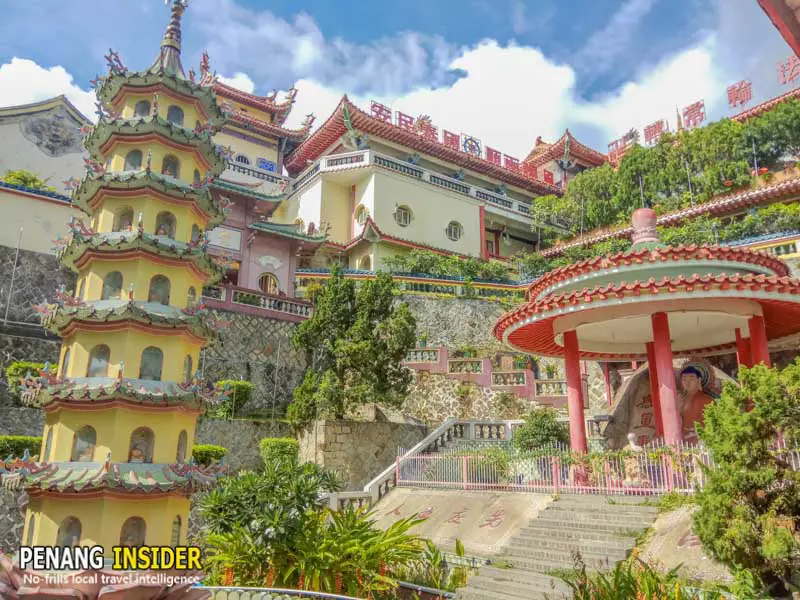 On the northwestern corner of Penang island, near the village of Teluk Bahang, Penang National Park may be the smallest in Malaysia but has hiking trails and beaches such as Monkey Beach and Pantai Kerachut — where there's a small sea turtle hatchery. One can walk or take the frequent boats that shuttle passengers to the different parts of the park.     
On the southwestern side of Penang is Balik Pulau, the least developed and more natural part of the island. Dotted with palm trees and charming Malay wooden houses on stilt, Balik Pulau has beautiful unspoilt beaches like Pantai Pasir Panjang, and is a perfect place for activities like cycling, angling, or just relaxing at one of its quaint seaside villages where not much has changed in decades.
---
Go to Langkawi if you prefer: Beaches, jungles, and tropical comforts
Langkawi is connected to Penang's Swettenham Pier via a daily ferry that roughly takes 3.5 hours to reach Kuah, Langkawi's main port and town. Unfortunately, because of COVID-19 closures, the direct ferry service between Penang and Langkawi is not operating at the moment. The best alternative is to take the ferry from Kuala Perlis to Langkawi, which takes only 1 hour and 20 minutes.
Frequent flights between Penang and Langkawi are also cheap and take under an hour.

If Penang is heavy on culture and urban action, Langkawi, on the contrary, has largely remained a natural paradise. Green-crested hills welcome you as you glance at expanses of paddy fields where peaceful buffaloes graze, and rice plants flutter in the breeze.   Most visitors stay in Pantai Cenang, where tourist facilities and mid-range accommodation abound, and the beach is dense with activities and nightlife. But heading out to the northern and western bays like Pantai Kok and Teluk Datai, the scene becomes quieter, and some of Langkawi's best, most expensive 5-star resorts offer exclusive stays and experiences.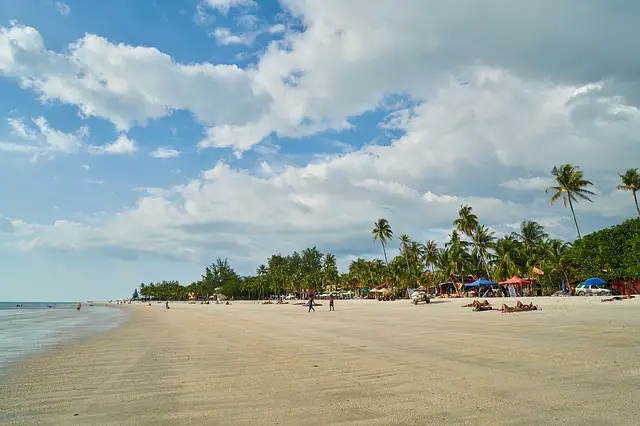 A must-do in Langkawi is certainly taking a trip on the cable car that whizzes up to the top of Gunung Machinchang — but why not try to glide like a monkey above a viridian ocean of trees, floating in mid-air on an adventurous zip line course? Umgawa is the island's most trusted zipline operator: they have several engaging lines, including one of the longest jumps in all of Southeast Asia. Book your Langkawi zipline adventure here.

READ MORE – Ziplining in Penang at Flight of the Colugo
Don't miss a visit to Telaga Tujuh, or "Seven Waterfalls", which slosh down the side of a mountain creating natural pools where it's great to take a refreshing dip.
Of course, no trip to Langkawi is complete without getting in the water. Pantai Cenang has plenty of touristic attractions, like banana boat rides and jet skis, but what one should really try to do is join a sea safari.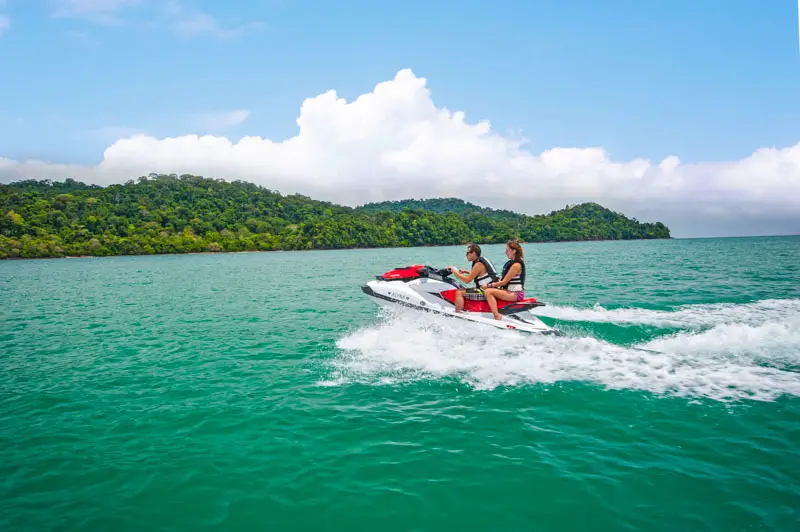 Gliding on the sea, passing soaring limestone karsts and accessing beaches that you'll have all to yourself is the best way to understand that Langkawi's real beauty stays off its most touristy places. Langkawi mangrove tours by kayak are another great way to explore the coast and get a real feel for Langkawi's untamed nature.
One last popular activity — especially for the many bachelors and bachelorettes who choose Langkawi as their honeymoon destination — is taking a Langkawi sunset cruise. Several operators leave daily around 5.30 pm, taking guests for a leisure boat ride that ends with a seafood barbecue dinner as one sits facing the purple sun as it takes an evening dip into the ocean. Don't miss a chance to relax in the water as you laze in the "natural jacuzzi" — a set of ropes tied to the back of every yacht, where guests can hang as the boat slowly moves, creating a soothing water ripple effect.

Interested? Book your discounted Langkawi sunset cruise here.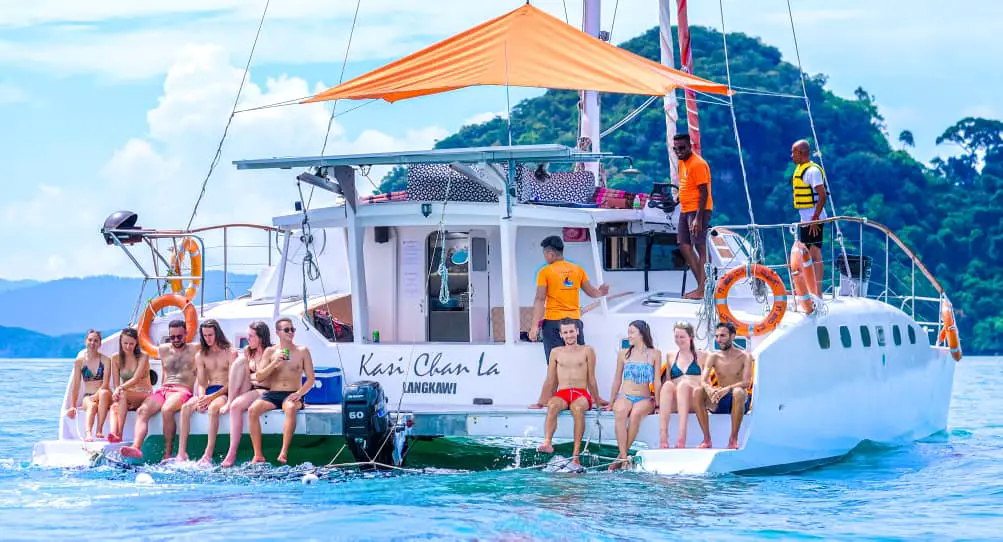 If you have children, a visit to Langkawi Underwater World in Pantai Cenang is also a must. You'll be able to see plenty of marine mammals and tropical fish zooming inside larger-than-life aquariums. Moms, don't forget the nearby duty-free shopping complex — a must to make the best use of that flight baggage allowance.
---
The Verdict: Is Penang or Langkawi Better?
Well, it really depends on what you like but we'd say that both islands are good choices.
We would recommend going to Penang for:

– history and culture
– a wider selection of local and international food
– an island holiday without feeling you are on an island
We would recommend going to Langkawi for:

– larger, better beaches and water quality
– a lesser built-up, more tropical feel, with lesser infrastructure
– an island getaway for families or lovers, as it appeals to both
If you have time, why don't you just visit both? All you need to do really is add about a week, or even just 3 days, to your itinerary.

YOU MAY ALSO LIKE
A Guide to Penang Hill
The Best tours in Langkawi
Best Hotels in Batu Ferringhi Penang
---
And if you liked this, why don't you sign up for our mailing list? We will send you immediately a FREE photographic eBook with some incredible pictures of Penang, and we promise, we will disturb you only about once a month with some good local advice you won't find on the site