The island of Langkawi has one international airport offering a quicker (albeit more carbon-taxing) alternative to the ferry from Kuala Perlis to Langkawi or from Kuala Kedah to Langkawi.
Opened in 1993 on the original site used as an airstrip by the occupying Japanese Armies during World war II, Langkawi International Airport was upgraded in 2018 to receive up to 4 million visitors annually.
Langkawi International Airport was the first to reopen in Malaysia after COVID-19 lockdowns to receive tourists as Langkawi Travel Bubble. Currently, Langkawi island is open to all international tourists and is ready to welcome anyone to its best beaches as before the pandemic.
If you come to Langkawi, read our guides on traveling from Penang to Langkawi or from Kuala Lumpur to Langkawi.
And if you are still planning your trip, don't miss our 3-day Langkawi itinerary and review of the popular Langkawi sunset cruises. And check out our list of the best bars in Langkawi.
READ MORE – Best Tours in Langkawi
---
Where is Langkawi airport?
Langkawi airport is at Padang Matsirat on the western coast of Langkawi, to the north of Pantai Cenang and pretty much midway from Langkawi SkyBridge. Here's a map of the location of Langkawi airport:
---
Where does Langkawi airport fly to?
Langkawi international airport flies domestically in Malaysia to Kuala Lumpur International, Kuala Lumpur Subang, Penang, Johor Bharu, Singapore, and Kuching in Sarawak.
If you need to connect further out in Malaysia or abroad, Langkawi is not a large hub, and you'll have to fly to Kuala Lumpur first.
You can check schedules and prices, and book tickets, on 12Go Asia by clicking here.
---
Which airlines fly to Langkawi airport?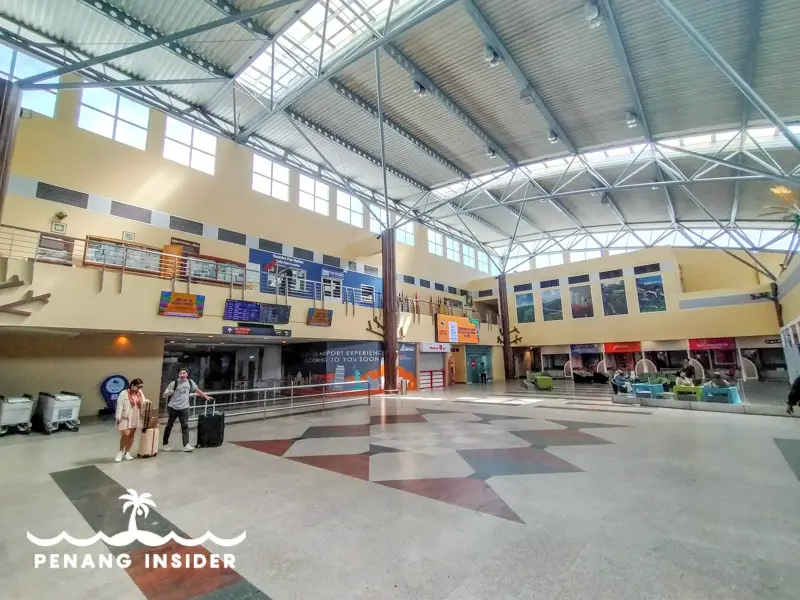 The main airlines flying to and from Langkawi International airport are Air Asia, Firefly, Batik Air Malaysia, Scoot, Malindo Air and Malaysia Airlines.
---
How far is Langkawi airport from Pantai Cenang?
Langkawi airport is 11km away from Pantai Cenang, Langkawi's main tourist beach. It's a 20-minute drive but consider that there is no public transport in Langkawi — you'll have to either call a taxi or, even better, a hail ride service like GrabCar or InDriver.
Some Langkawi hotels organize free pickups from the airport, though, so check with your accommodation.
---
Can I rent a car or a motorbike?
The short answer is yes, you can. We believe that the best way to move around Langkawi is by using your own wheels. Renting a vehicle at Langkawi airport is straightforward: touts will come directly looking for you at the arrival gates as soon as your plane lands, so check their offers and have your pick.
A rule of thumb is to consider a cost of RM35/day per automatic scooter and RM50/day for a compact car. The price of cars, of course, increments the bigger the vehicle you want.
Book your scooter in Langkawi before you fly!
We have rented from these touts for years without a problem — you'll pay in full upon getting your vehicle. It's best to have an international driving permit or a Malaysian driving license, but if truth be told, this is rarely enforced — and police roadblocks are rare in Langkawi, but of course, they do happen [hint: I got bitten once].
If you don't want to deal with private renters, look out on your left as you exit the arrival hall, and you'll see a row of car rental desks, which include some of the world's biggest franchises, such as Hertz. Mind that they'll be sensibly more expensive.
---
Taxis at Langkawi Airport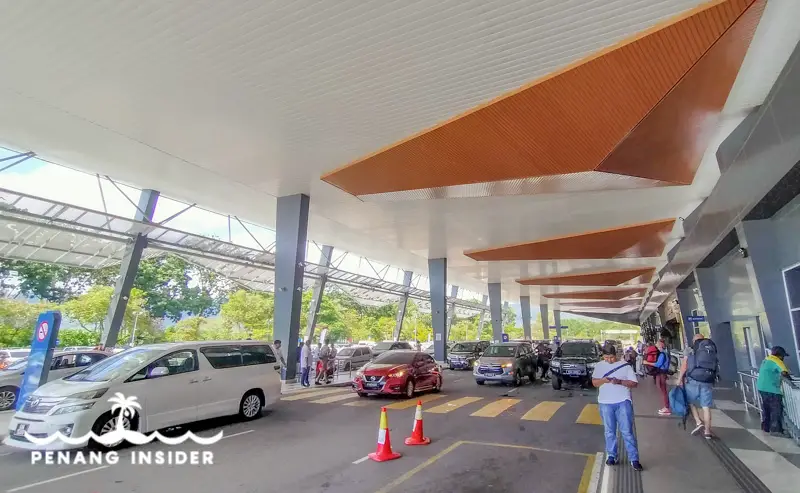 If you prefer to book a taxi using the fixed coupon price (about RM20 for both Pantai Cenang and Pantai Tengah) there are booths both at the baggage claim area and the terminal exit.
---
What to eat at Langkawi International Airport?
Langkawi International Airport is not very well known for its cuisine — please try to eat before you arrive.
If you really have to, besides the ubiquitous Starbucks and KFC, there is one food court called Food Garden with a selection of Asian food — the usual staples like noodles, rice dishes, etcetera. It is overpriced, like any airport, so don't be surprised.
---
Are there any amenities at Langkawi Airport?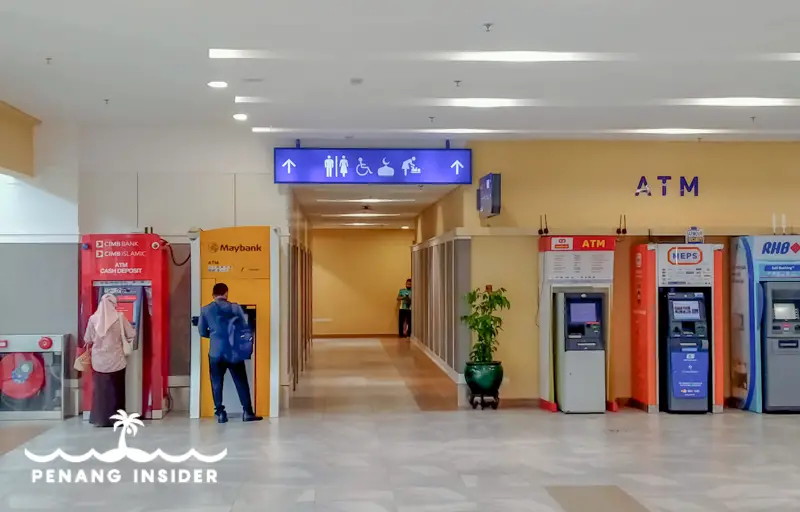 Langkawi airport is not huge but has most of the essential facilities to spend up to a couple of hours.
Besides a little food and beverage outlets, there is a money changer booth and several ATMs from Malaysia's prime banks. There is a prayer room for Muslims, a baby changing station, and electric charging stations.
---
Langkawi Airport: the Verdict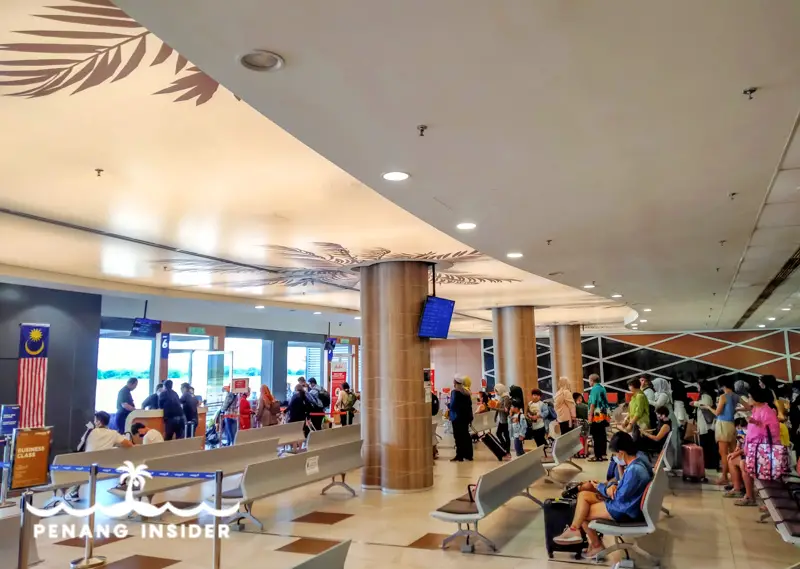 Langkawi airport is an essential international airport that does everything it needs with nothing special. Check-in desks are decently equipped to handle traffic and queues, but we suggest being present at least two hours prior to your flight if you have luggage to check in. If you will only use cabin luggage and have already printed a boarding pass, then reaching an hour earlier is plenty — the airport is small, and the x-ray inspection is quite smooth sailing. Enjoy your flight, but if you are going to Penang, please catch the ferry and help shave off those darn emissions… the world really needs that.
YOU MAY ALSO LIKE
Guide to Langkawi Mangrove Tours
Is Penang or Langkawi better?
Best tours in Langkawi
Great Langkawi Hotels to Stay At

And if you liked this, why don't you sign up for our mailing list? We will send you immediately a FREE photographic eBook with some incredible pictures of Penang, and we promise, we will disturb you only about once a month with some good local advice you won't find on the site