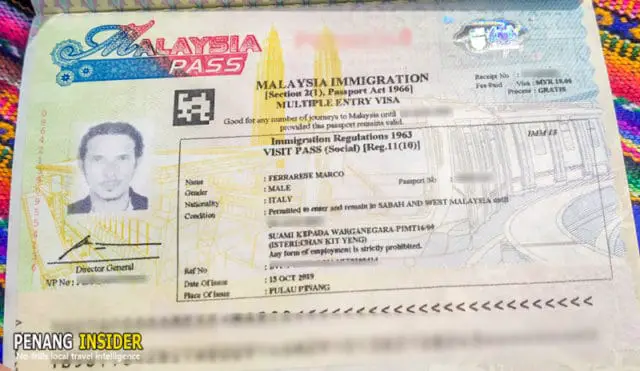 So you finally decided to marry your Malaysian partner and live in Penang, right? Amazing, congratulations. I and Kit Yeng tied the knot back in 2017. Thinking back at it, marrying was great, but getting a Malaysia Spouse Visa was quite a stressful process for us. I wish I had some support and better information available back then, and that's why I am writing this insightful post.
This guide will help everyone have a no-stress marriage registration and settle down as quickly as possible in Malaysia with a proper Malaysia Spouse Visa. Here's all the information we know based on our own experience in 2018.
For more information, check our complete guide on how to transfer a Long Term Social Visit Pass in Penang and get your Malaysia My Second Home MM2H visa. If you want to drive in Malaysia, read our step-by-step guide on getting a Malaysian driving license.
The procedure hasn't changed, but you need to check with the Immigration Department in Seberang Perai near Bukit Mertajam if anything (especially the forms) has changed meanwhile. You can have a quick look at their dedicated page but we suggest, if possible, that you pay a visit to Immigration in person to ask about any last-minute changes — it does happen. If you have time to kill afterwards, you could take a trip to Cherok Tok Kun or any other of Penang Mainland Hiking Trails, including Bukit Panchor or Bukit Juru.
OUR TIP – After our experience, we found a very useful Facebook Group, the Foreign Spouses Support Group Malaysia. You can use it to find people from many nationalities who married all over the country. They offer advice, including legal stuff, and provide very useful information on your Malaysia Spouse Visa application. We really endorse this page and wished we knew it sooner.
First of all: What is a Malaysia Spouse Visa?
A Malaysia Spouse Visa actually doesn't exist. What the spouses of any Malaysian citizens get is a Long Term Social Visit Pass (LTSVP) which carries the name of your husband/wife and is valid between one and five years. In Penang, Immigration officers told that the maximum you can get is a three years-long LTSVP. I can confirm, that's what I got for myself on my second application.
How long does it take to get a Malaysia Spouse Visa?
Unfortunately, whether you marry in Malaysia or abroad, you can't get this pass too quickly. Particularly in Penang, and some other states too, Immigration officers require a 6 months "cooling off period" (yeah, don't ask me what it means) before you can apply for your first LTVSP — which will last only six months.
Let me explain with our example: we married in Italy in June 2017 and returned to Malaysia in July. We re-registered our marriage in Penang on July 17th 2017. We went to Immigration and were told I would not get a LTSVP for another 6 months — I could only apply after January 17 2018. I was very, very mad and had to do two visa runs to Thailand before I could apply for my Malaysia Spouse Visa 6 months later. Once I did, I only received a 6 months-long visa. Frustrated? Yes.
Why Penang immigration doesn't issue Malaysia Spouse Visas before 6 months from the date of marriage registration in Malaysia
Beyond sadism, they want to make sure your marriage is real. Once they'll finally grant you a visa, they will only issue a 6-months-long Malaysia Spouse Visa so that you will lose a total of one year towards application for your Permanent Residency — for this, you'll need to wait for 5 years, and these count from the issuance of your first LTSVP with a validity of at least one year.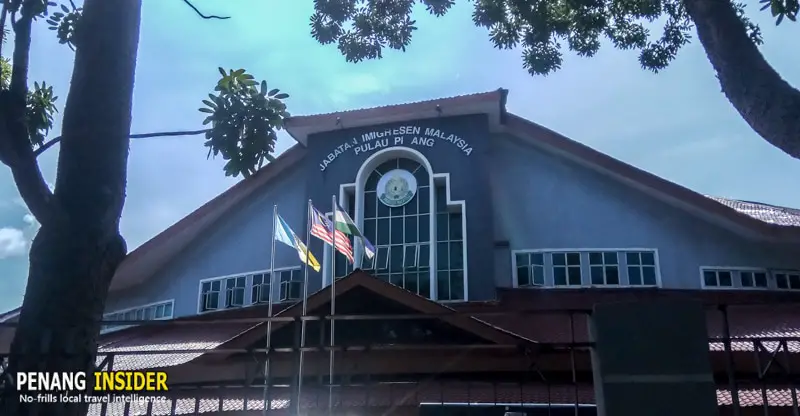 Careful: Prepare for Immigration to visit your home
Consider that immigration will come to inspect the home address you place on your Malaysia Spouse Visa application. In our case, they came after a few months, totally unexpectedly, on the morning we were bound to leave for our first trip to Pakistan.
The officers wanted to see:
Marriage certificate
Our passport and Malaysian IC
The room we sleep in and the cupboard we keep our clothes in
Some proof of my spouse's employment. In our case, my wife is a freelancer, so make sure you have a company registration paper to present if that's your case
Wedding pictures
This is a crucial step, so make sure you'll be around. Both partners must be present to the visit so, if your Malaysian spouse is working, he/she will have to return to your home and show up when Immigration comes. They will call your spouse shortly before arriving. Yes, this is a real pain in the neck.
What documents do I need to bring to Immigration to get my Malaysia Spouse Visa?
You will need a bunch of paperwork which will take a few hours to collect and compile, provided all your documents are in order. Again, check on the immigration website and also in person at Penang Immigration in Seberang Perai (you CAN'T lodge a LTSVP on the island at George Town's Immigration) to make sure there hasn't been any change.
In brief, what you need is:
Your Malaysian Marriage Certificate is enough. Carry the original and one photocopy.
Child's Birth Certificate
This applies only if you already have children. Original and copy. If not, forget about this document.
Statutory Declaration that marriage is still in effect
This is a form you can pick up at Immigration and compile on the spot. Remember that it must be signed and validated by a Commissioner of Oaths at a cost of about 5RM. There are several offices across George Town and Penang State, but you can also use the one in the row of shop-houses right next to Immigration's entrance.
Security Bond which has been stamped with an RM10.00 revenue stamp
In order to get your LTSVP, you have to deposit 1500RM cash in a bank (we used the Maybank branch in front of Sunway Carnival Mall in Seberang Jaya). The bank will apply the RM10.00 revenue stamp. You need of course to have this done and ready before you go to Immigration to submit all the rest of your documents.
Sponsor/spouse identification card
This rule may have changed, but when we applied, we needed a sponsor to support my application. If your wife works and has a stable paycheck, she can be your sponsor. In case she doesn't or has no proof of employment to show, any Malaysian citizen can volunteer as your sponsor. This step only requires a copy of his Malaysian IC. But the next step, for us, proved to be a bit more complicated.
Sponsor/spouse's proof of income
Usually, a copy of your sponsor/spouse's 3-months-old bank statement will be more than enough. When we applied, the person in charge asked to see verifications such as a letter from our sponsor's employer stating the validity of his work position and contract, and further stamps that went beyond the anal level we hope you will NOT go through. Good luck with this — to us, it took one full day away.
REMEMBER — If your sponsor is NOT your wife, he needs to be present in person on the day you apply. Don't make this mistake.
2 passport size photographs of husband and wife
Easy peasy. Don't forget them as otherwise, the shops next to the Immigration office will take your photos at an inflated price.
Sponsor/spouse's passport
A copy of the detail page and the original passport of your spouse or your sponsor
This means a copy of EVERY PASSPORT PAGE, the whole booklet, regardless if you already have other stamps or not. This rule may have changed, but that's what we were asked for.
You need to print out a couple of pictures of your wedding. Why? I don't know. Please remember that Immigrations officers, again, can be quite anal: when we showed a picture of ourselves with my wife holding her flower bouquet, they refused them because they showed us only from the chest up.
We were then required to provide pictures where all our arms and legs were well visible. Oh well… everyone has his own problems, I guess.
If you forget to bring the wedding photographs, you can quickly print one at one of the many shops downstairs, but be ready for very inflated prices.
How to submit the documents to process my Malaysia Spouse Visa?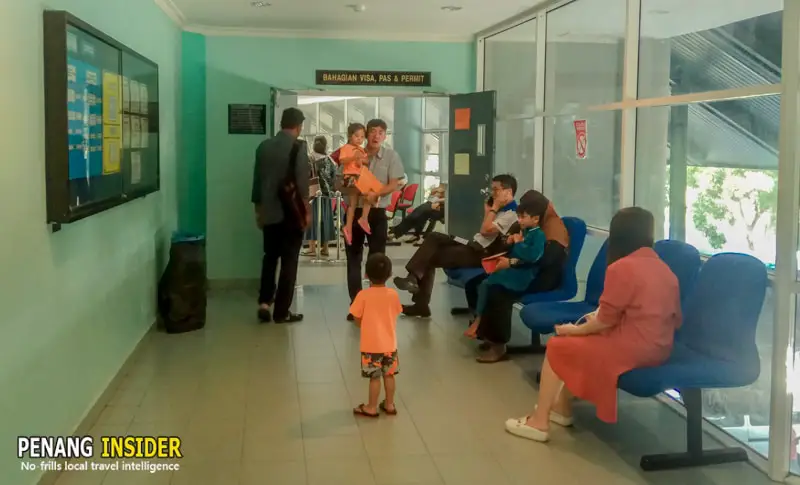 You need to go on the second floor of Immigration Seberang Perai and turn left once you reach the top of the stairs. If you see a queue, that's the right place. It's usually crowded, especially on Mondays — try to avoid and anyhow, come as early as you can. There's a lunch break between 12.30 and 2 pm.
First, you will have to show all your paperwork to an Immigration officer who will review everything, accept it, and give you a number. Then you have to sit down and patiently wait your turn.
In my case, the lady was extremely unfriendly and sent me back and away a couple of times with very odd additional document requests, wasting the best part of our first day. I wish you better luck.
Once they call your number, another officer will go through your application again, page after page. If everything looks good to him, he will accept your application, give you a receipt with a phone number to call for inquires on the status of your application, and you will be good to go. The process can take up to a month.
GOOD TIP – Double check that your phone number is recorded correctly in their system. In my case, the officer wrote down the wrong number, and when I called them 4 weeks later to ask what was up with my application, the person I spoke to asked me why I never picked up the phone, as they couldn't complete it because they missed a document?
When I returned to check, not only I realized that they had written mine and my wife's number wrongly — they had also lost the last 10 pages of my whole passport's copy, and needed to verify my latest entry stamp into Malaysia they couldn't find as it was on the last page.
Do you want your Malaysia Spouse Visa? Please hang in there and be polite. It's all worth it.
How Long does it take to process my Malaysia Spouse Visa?
Penang Immigration has 30 days to process your application and give you an answer. Provided all documents have been accepted, you should be fine. When they will ask you to come again to get your visa sticker, you will have to queue up (go after lunch, as there are far lesser people) and get a number presenting your application's receipt and your passport. You should then get your first 6-months-long LTSVP in less than an hour.
And if you liked this, why don't you sign up for our mailing list? We will send you immediately a FREE photographic eBook with some incredible pictures of Penang, and we promise, we will disturb you only about once a month with some good local advice you won't find on the site