So you want to start driving in Malaysia, but you don't know how? This article has everything you need to know about the Malaysian Driving License and a step by step guide including what you have to do to get one. This information is all based on my own experience of getting a Malaysia driving license in Penang, the beautiful tropical island I call home.
Without further ado, here you have the best article on the Internet about getting a Malaysian Driving License. You will learn:
The type and cost of the most popular Malaysian Driving Licenses.
What you need to know before applying for a Malaysian Driving License.
A step by step guide on what to expect (and what to study) to pass both the theory and practical tests required to obtain a Malaysian Driving License.
What do Foreigners need to do in order to get a Malaysian Driving License.
Ready to dive into this smorgasbord of super useful information? Here you go:
---
Malaysia Driving Licence 101: Quick Overview of Categories and Types
The following is a panoramic of the five different types of driving licences available in Malaysia:
1. Learner's Driving Licence (LDL), or the 'L' plate
This is the very first licence one receives upon registering with a driving school. LDL holders are only permitted to drive a car that has the 'L' plate displayed and the driver must be accompanied by a driving instructor. One cannot drive alone.
This type of license is issued and renewed for a period of 3 to 6 months up to a maximum of 2 years. It is unlikely that it will take you this long to complete your Malaysian Driving Licence, but if you let it expire, then you'll have to re-register with a driving school and restart the entire Malaysian Driving License process.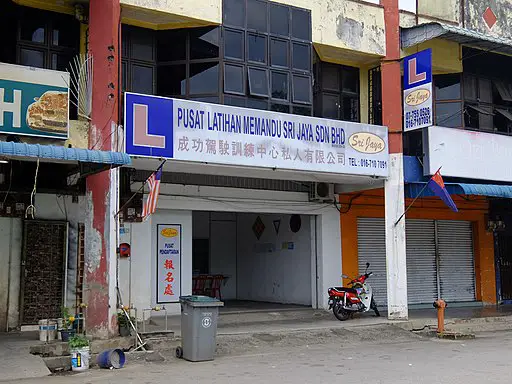 2. Probationary Driving Licence (PDL), or 'P' plate
The Probationary Driving License is issued to any driver upon completing both the theory and practical examinations and is issued by the Road Transport Department of Malaysia (JPJ).
The Probationary Driving License is subjected to a 10-point KEJARA demerit point system, whereupon points will be deducted if you commit traffic offences. The license will be revoked if you lose 10 points or more during the first two years of holding this type of license.
As a Probationary Driving License holder, you are required to display the 'P' plate on the front and backside of your vehicle.
3. Competent Driving Licence (CDL)
This is the full-fledged driving licence that you can obtain after the 2-year Probationary Driving Licence period is over. You will earn an additional 5 points, getting to 15-point KEJARA system before your licence is suspended or revoked.
CDL licenses must be renewed every year (RM30 for Malaysians and RM60 for foreigners) up to a maximum of 5 years for each renewal. You can renew a CDL driving license at the nearest JPJ office by bringing in your ID card and your current driving licence.
4. Vocational Driving Licence (VDL)/Commercial Driving Licence
This is a special driving licence for commercial purposes that include buses and trucks, and it won't be discussed in this article.
5. International Driving Permit (IDP)
This license allows a Malaysian Competent Driving License Holder to drive (and rent a car, in some cases) abroad. Only CDL holders above 18 years of age can apply for it at a cost of RM150 per year.
Different classes of Malaysian Driving Licences
This is a quick recap of the classes of driving licenses you find in Malaysia, and it's focused only on cars and motorcycles — the most common, and those that we will discuss within this article.
B – Motorcycles above 250 cc
B2 – Motorcycles not exceeding 250 cc
D – Manual transmission cars with unloaded weight not exceeding 3500 kg


---
How can I get a driving licence in Malaysia?
To get a Malaysian Driving License you have to register at any Malaysian driving school close to you and pass a series of tests and practical driving lessons. These usually take place in a designated and enclosed driving circuit, and only partly in a real "on the road" driving situation.
The following sections will explain the process in more detail for both car and motorbike Malaysian Driving Licenses.
D License for Driving a car in Malaysia
The Malaysian Driving License "D" is what you need to drive a car in Malaysia.
There are two types of D license: one for manual, and one for automatic cars. It pays to go for a manual driving license, as this will allow you to drive both manual and automatic vehicles in Malaysia — if you only get an automatic car driving license, not only you'll pay more, but you won't be allowed to drive a manual in case you wanted/needed. Don't forget this important point!
B2 and B Licenses for Driving Motorbikes in Malaysia
The "B" category of Malaysian driving licenses is dedicated to motorbikes. The B2, which is what most people have, allows a person to drive motorcycles up to 250cc of horsepower. The B, or "full B" as it's commonly called, allows you to drive any motorbike whose engine is above 500cc — and obviously, below that sort of horsepower. In other words, a B license allows you to dive all kinds of motorbikes, including the smaller ones you can drive with the B2 license.
---
How much does it cost to get a Malaysian Driving License?
The cost of getting a Driving License in Malaysia varies depending on what school you are enrolling with, but to keep it as a general ballpark, costs as of 2021 are:
A B2 motorbike license will cost about RM 600
A B motorbike license will cost about RM 990
A D Manual car license will cost about RM 1200
A D Automatic car license will cost about RM 1800
Remember that you always have to add RM 60 (or RM 120 if you are not Malaysian) for processing fees and the cost of your first Probationary Driving License (more about this later), which is valid for two years.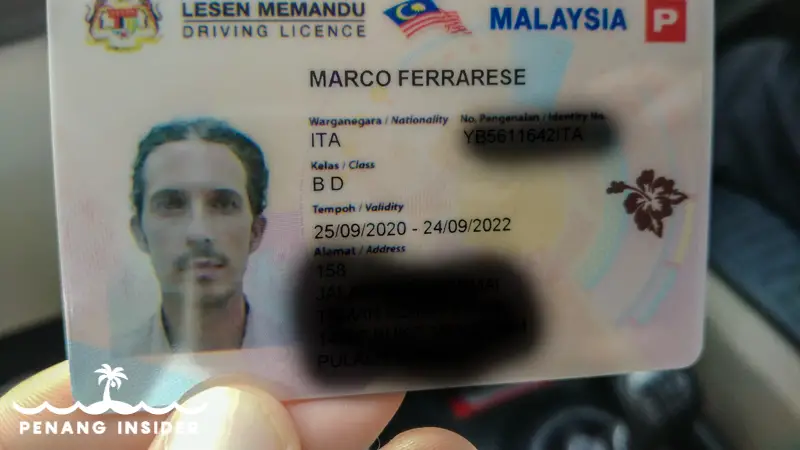 One smart thing to do (and what I did myself) is to get a motorbike and a car license at the same time. In this case, you would only sit for one theory exam (albeit with a bigger number of questions) and save time and money in registration fees.
A B2 plus D motorbike and manual car license will cost you about RM 2300 all-inclusive.
---
Step-by-Step Procedure to Get a Malaysia Driving License
There are essentially four main steps to get a Malaysian Driving License, and these are:
Choose and register with a Malaysian Driving School.
Sit and Pass a theoretical computer examination.
After which you get your Learner's Driving License to start and complete your practical driving lessons.
At last, you obviously have to pass your practical driving test.
All in all, it will take a minimum of one month — that's a requirement — from the moment you enrol to the day you can take your exam. If you pass without problems, the school will help you apply and collect your Malaysian Driving License at the nearest JPJ office.
We will now break down every step of the process to give you the most useful information so that you may breeze through your preparation for getting a Malaysian Driving License.
Register with a Malaysian Driving School
First thing first, you must of course register with a licensed Malaysian driving school. Choose among the many schools you can find browsing on Google — prices may slightly vary in the order of a hundred or so Malaysian Ringgit, but the service does vary, too. It pays to do a bit of research or go visit a few schools to get a better idea of what's required and expected.
I took my Malaysian Driving License in Penang with Soon Lee Driving School, and I had an overall satisfactory experience.
This particular school will ask you if you want to take your classes in Penang island near JPJ in Batu Uban (much stricter examiners, they say), or in Penang Mainland in Seberang Perai at the Taman Melati Driving Range near Bukit Mertajam and Bukit Juru (if you make it all the way here, don't forget the beautiful Cherok Tok Kun, Bukit Panchor State Park, Berapit Market Hill and Frog Hill). The school said that the examination is easier here. I did mine here for both motorbike and manual car and passed on the first time without a fuss.
READ MORE — The Best Hiking Trails in Penang Mainland
You will usually pay the school by instalments: the first upon registration, the second after passing the theory exam, and the third before you do your practical driving test.
Complete the Theory Computer Test
The first exam is a computer test to assess your knowledge of road signs and safety rules of driving conduct.
For both B and D licenses, the test consists of 50 questions, and you must answer at least 42 correctly in order to pass. If you are taking both licenses together as I did, the total of questions is 70, and you'll be required to answer at least 60 questions.
Remember that there are 10 initial questions to assess if you are color blind and able to properly see numbers and symbols that you must get right 100%. If you mistake one of these, your test will be automatically terminated and you'll have to see a doctor who will decide whether or not your eyes are fit to drive. So pay particular attention to that first section!
Before sitting for the computer test you are expected to attend the Kurikulum Pendidikan Memandu (KPP), which is a 6 hours module in the Malay language explaining all about road safety, road signals, and so on. If you are a foreigner who doesn't speak Malay, some of the schools may be able to let you skip this — and no worries, the computer test is both in Malay or English. You get to choose.
The best way to prepare for the computer test is to download some of the smartphone apps that imitate the test. Just get on Google play and digit "KPP Test Malaysia" and you'll find several, both in Malay and English. These are very useful to practice as the questions are directly taken from the KPP Test, and you'll most likely find the same when sitting for it.
Any school will also give you a study book, but it will be in the Malay language. This may be a great time to brush off your Malay language skills — if not, use the applications above. Generally, the questions can be answered using common sense.
Get your Learner's Driving License and complete on the road lessons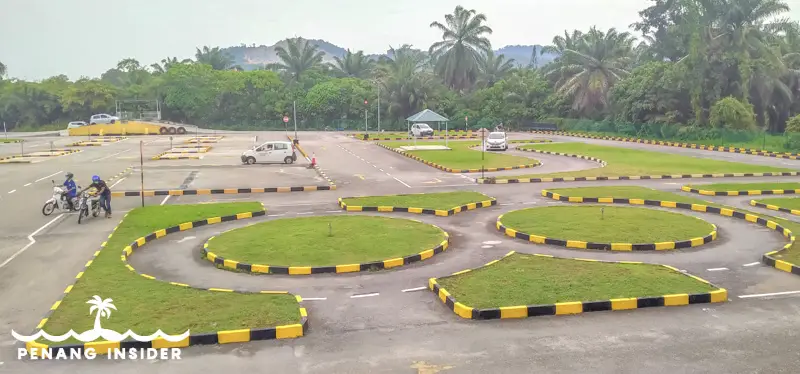 Once you pass your Computer Test, the school will ask you for two passport pictures with a white background which they need to process your Learner's Driving License. Without this, you cannot drive any vehicle not even if an instructor is present.
Important Things to Know about a Learner's Driving License
The Learner's Diving License allows you to drive motorbikes up to 250cc BUT you won't be allowed to carry a pillion, and you will have to display a red "L" emblazoned on a white background sticker on both the front and the back of your bike.
No, you are not allowed to practice in a car alone with a Learner's Driving License — don't get caught, or you can say goodbye to your Malaysian Driving License.
Pass your practical driving test
Ok, a word of advice on this: you are in Asia, and in most Asian societies, what you are expected to do is simply rote learning. This same principle applies to getting a Malaysian Driving License: don't try to be creative as it won't work.
You will be given a clear set of instructions on steps that you are supposed to carry on in order to pass your practical driving test. These differ based on B or D license, and I will explain and show you some very useful videos in the next paragraphs.
D License Car Driving Test: What is Expected to Pass
To pass the D License Car Driving Test you will have to pass three tests:
A basic car parts knowledge and security check.
A driving component inside the driving range, to show you are proficient in 5 basic driving skills.
A real-life driving situation test outside the driving range.
You can see what you need to do to pass the first test in this video:
When you have done this, the next step is getting inside the car and perform correctly the 5 tests required to pass the first driving component. These are:
Driving and stopping uphill, and then proceed downhill. This is where most people fail.
Driving inside a Z-shaped curve.
Driving inside an S-shaped curve.
Side parking inside a yellow box drawn on the ground.
Three-way maneuver to enter and exit a dead end.
You can see an example in this video:
At last, the real-world driving test is conducted on the road outside your driving range. One instructor will seat next to you in the passenger seat and will test you. Remember that there is a set of things to do even before you set off, like, putting on your seat-belt (the first thing to do if you want to avoid failing), use the signal before you drive off, and indicating to your examiners what most of the lights and buttons on the dashboard are for.
This video will help you learn and remember…again, don't try to be creative: rote learning is all you need!
B2 and B License Motorbike Driving Test: What is Expected to Pass
To pass the B2 or B License Motorbike Driving Test you only have to pass two tests:
A basic motorbike parts knowledge and security check.
A driving component inside the driving range, divided into Bahagian B and C.
There is no real life on the road driving assessment.
For starters, you will have to check your motorbike documents, condition of parts, radiator, battery, etcetera. Your instructors will be able to teach you how to do this, which is the first part of the exam you are expected to conduct before a JPJ examiner on your practical test day.
The practical driving test is divided into two parts.
The first, Bahagian B, includes these tasks:
Going over a bridge for at least 7 seconds.
Drive around obstacle cones.
Do an emergency brake stop.
Drive over a bumpy surface.
Drive inside an 8-shaped circuit.
Drive inside a Z-shaped curve.
This video beautifully shows all the steps and what you are supposed to do/ what will make you fail, and includes an example of the check routine you have to perform BEFORE you start driving:
Once you have completed this set, you will need to do the second examination, Bahagian C, which includes these tasks:
Perform checking and security measures before you start.
Drive to a traffic light and perform turning at a 4-way junction.
Return to traffic light, use signals correctly, and turn on the opposite side.
Complete maneuver and stop safely at the end of the circuit.
You can study all the steps in this helpful video produced by Taman Melati in Bukit Mertajam:
---
Probationary Malaysian Driving License: What is It and How do I get it?
If you have arrived this far, congratulations! You have got a Malaysian Driving License!
Whoever passes both the theory and practical driving tests for a Malaysian Driving License needs to first hold a Probationary Malaysian Driving License for a period of two years. The license has a white "P" embedded inside a red square — remember that you will have to display the same symbol on the front and back windows of your car for the whole period of two years, otherwise you may lose points. If you lose 10 or more points during this two years time, your Probationary Malaysian Driving License will be revoked.
It is very important to remember that a Probationary Malaysian Driving License also has a rigid zero-tolerance policy against alcohol, so be very careful when drinking — if the police will stop you and find you even slightly intoxicated, you are at risk of losing all of your 10 points at once.
---
Competent Malaysian Driving License: How Do I Get it?
Every candidate holding a Probationary Malaysian Driving License for two years who hasn't been revoked by accumulating demerit points can apply for a Competent Malaysian Driving License. Visit the nearest JPJ office with your Probationary Driving License, and you will get it upgraded at a cost of RM 30 per year (remember that foreigners pay double at RM 60).
You can go upgrade your Probationary to a Competent Driving License from a minimum of a week before expiry to a maximum of one year after your Probationary License has expired. After this window of time, the period of grace allowed on your Probationary license will expire, and you will have to apply for a Malaysian Driving License all over again! Those who have been out of Malaysia for study or work reasons, however, may apply for an extension. Ask your local JPJ office.
Do foreigners need a driver's license in Malaysia?
If you are only visiting Malaysia as a tourist, you can use an International Driving Permit and your country's license for 90 days, which is the duration of a tourist visa.
Remember that citizens of Commonwealth countries, of which Malaysia is a part, can drive only using their country's license — but not over a 90 days period. Having an international driving license with you however helps to avoid any confusion if meeting any overzealous  police officer.
If you are planning to stay in Malaysia longer than 90 days you will need to get a Malaysia driving license for foreigners. This can be done by either converting your original license into a Malaysian license (not possible for everybody) or sitting for the classes and examinations to get your Malaysian Driving License.
Malaysian Driving License Conversion for MM2H Visa Holders
If you hold a Malaysia My Second Home Visa, remember that starting n 1 November 2019, you can still convert your driving license to a Malaysian one.
The best way to do so is either contact your local JPJ office and ask for the list of documents needed for the conversion (it depends on different countries, but usually a translation for those licenses which are not in English and a letter of endorsement from your embassy or the authority which released your original driving license will suffice), or use an immigration agent who is usually able to settle this for you.
All other categories of foreigners applying for a Malaysian Driving License
All those other foreigners who are on some sort of long-term Malaysian visas like a work visa or a Malaysia long-term social visit pass cannot, unfortunately, convert their foreign driving license, and need to sit for a Malaysian driving license course. Please go back to the top and follow all the step-by-step instructions provided in this post.
---
And if you liked this, why don't you sign up for our mailing list? We will send you immediately a FREE photographic eBook with some incredible pictures of Penang, and we promise, we will disturb you only about once a month with some good local advice you won't find on the site