Penang Ferry opened in 1894 as the only link between Penang island and the railway to Singapore. It's still operating despite the two bridge links connecting Penang island to Seberang Perai — the mainland part of Penang state, where you can find the town of Bukit Mertajam, and beautiful places like Frog Hill, and Bukit Juru — but since January 2021, there have been quite a few major changes.
Penang's iconic double-decker ferries that used to shuttle pedestrians, cars, motorcycles, and bicycles are not currently operational — but the latest news in December 2022 announced they would make a comeback. However, from 1 January 2021, cars are no longer allowed and must use one of Penang's two bridges.
Pedestrians can take the fast catamaran service, while boats for two-wheeled vehicles will not operate until 1 August 2023 — we still believe that any trip on the Penang ferry is one of the essential things to do in Penang.
---
What Changed for the Iconic Penang Ferry in 2021?
Penang Ferry, now under the administration of Penang Port Commission, was a very romantic and old-world way to reach Penang Little India in George Town (see what you can do with 48 hours in George Town and our itinerary for 3 days in Penang). Pedestrians and vehicles would travel all together on the two decks, crossing the Straits Sea on an old-world ferry boat, looking at George Town's skyline get closer as you sail on the sea with the first Penang Bridge on one side and the Butterworth port on the other.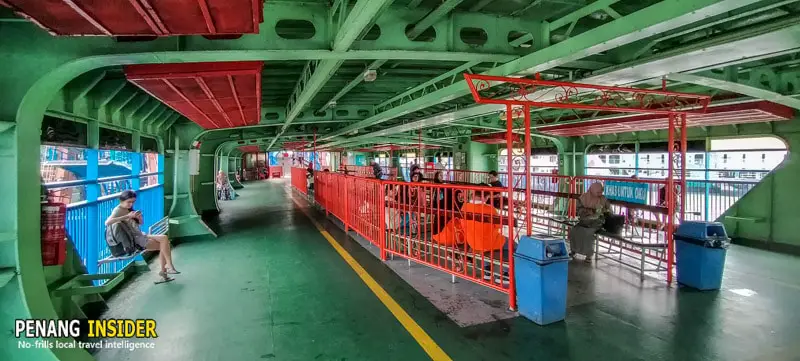 But now, pedestrians have to take the smaller, faster catamarans that land a little further north than the former pier, which was close to most of Penang's best street art, trendy Penang cafes, and some of George Town's best 5-star hotels.
---
So what's happening to the iconic old Penang ferries?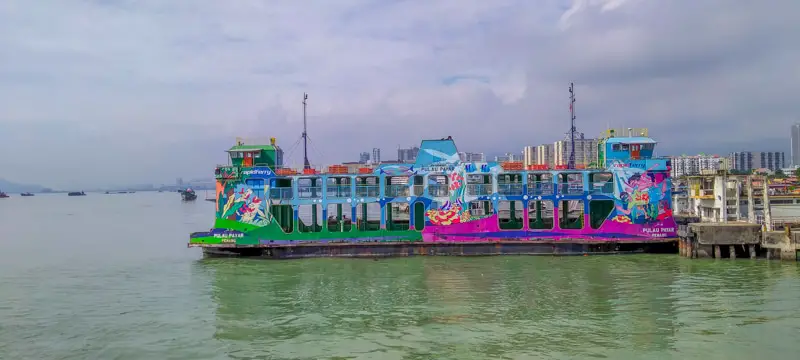 After nearly a century of service, the original iconic Penang Ferries ceased operations on 31 December 2020.
People have been quite concerned with what would happen to an iconic mode of transport like the old Penang Ferries, a genuine part of Penang heritage, after it has shuttled across the Straits Sea for so many years.
A furore ensued when one barge of the original fleet, the Pulau Pinang ferry, was found half-sunk at the Bagan Dalam slipway in Butterworth at the beginning of June 2021. Activists like Khoo Salma Nasution of Penang Heritage Trust said the vessel should have been salvaged immediately before more damage was done.
Finally, at the end of June 2021, the state government announced that five of the iconic Penang ferries would be transformed into floating attractions in the next 3 to 6 months.
The Pulau Pinang will be transformed into a floating Penang Ferry museum. Two other barges, the Pulau Kapas and Pulau Payar will become two floating restaurants, while the Pulau Talang Talang and Pulau Undan will transform into two tourist ferries.

At last, the last ferry, Pulau Angsa, will be taken under the supervision of the tourism branch of the Penang State Government, which will turn it into a floating art space. That's quite good news for the iconic Penang Ferries, which will have a new lease of life in Penang waters.

Unlike what was forecasted, the project is not complete yet as of early 2023.
---
Penang Ferry Schedule and Operating Times (Updated 2023)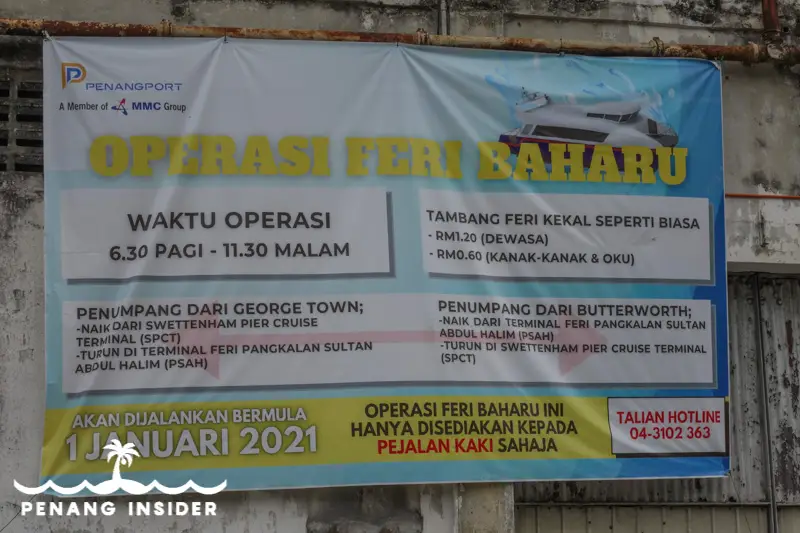 The new catamaran services that substitute the Old Penang Ferries for pedestrians are faster and run almost every hour, connecting George Town and Butterworth from early morning until 9 pm. The service then pauses until 7 in the morning. These are the latest departure times and schedules for the passenger catamaran ferries as of the year 2023: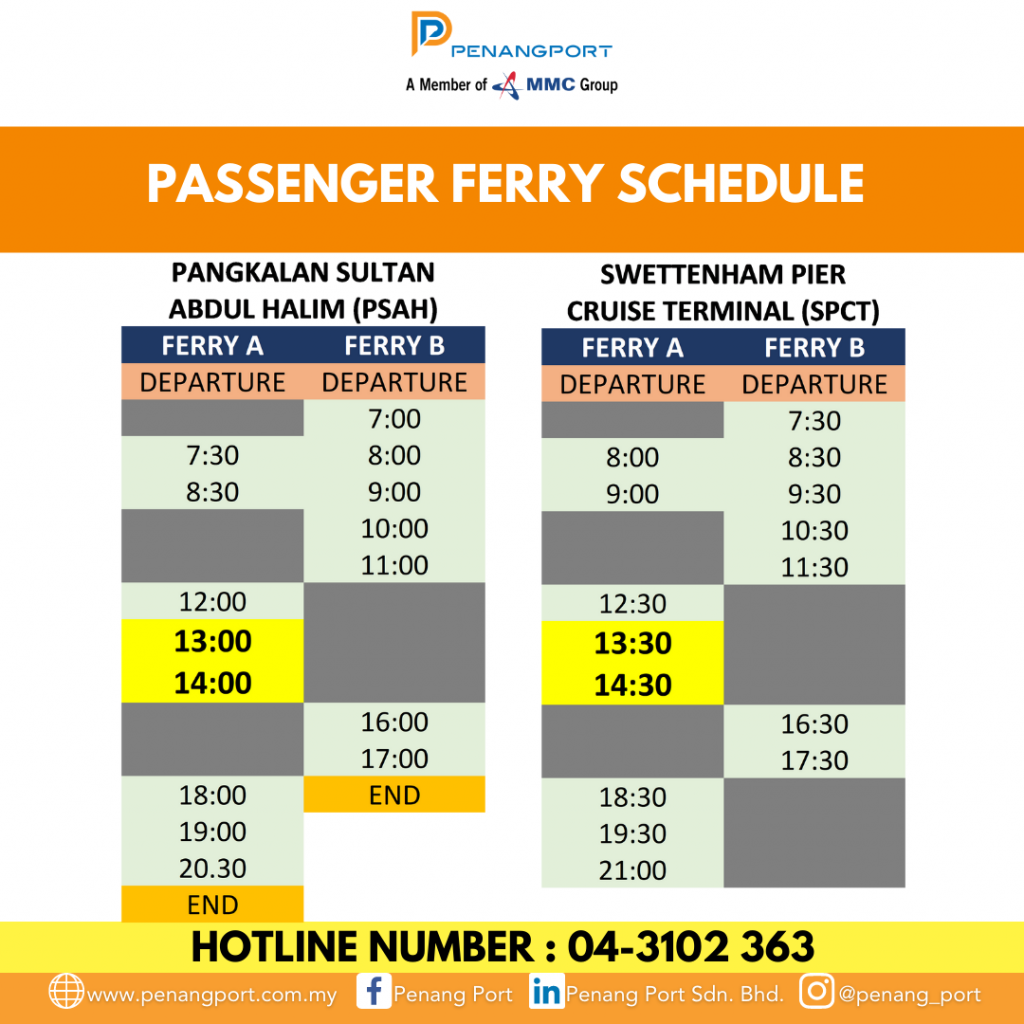 From Butterworth to Penang
First Ferry departs at  07.00 am.
The last ferry departs at 20.30 pm.
From Penang to Butterworth
First Ferry departs at  07.30 am.
The last ferry departs at 9.00 pm.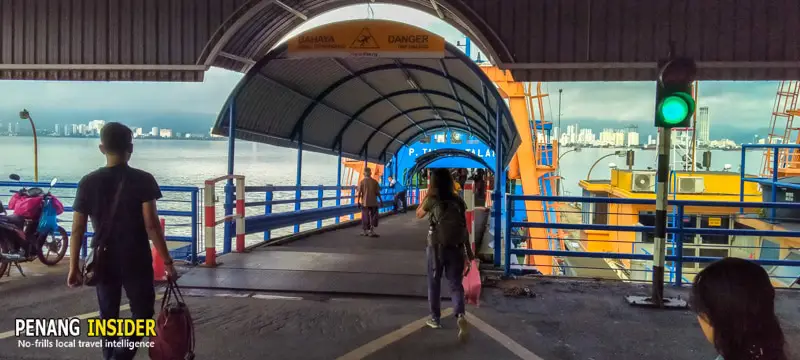 A larger ferry is also dedicated to transporting two-wheeled vehicles (motorbikes and bicycles only) and leaving from the old ferry terminal in Penang (NOT Swettenham Pier).
From Butterworth to Penang
First Ferry departs at  07.30 am.
Other services run at 8.30 am, 9.30 am, 11.30 am, 1.30 pm, 3.30 pm, 4.30 pm, 5.30 pm, and 6.30 pm.
The last ferry departs at 7.30 pm.
From Penang to Butterworth
First Ferry departs at  07.00 am.
Other services run at 8.00 am, 9.00 am, 11.00 am, 1.00 pm, 3.00 pm, 4.00 pm, 5.00 pm, and 6.00 pm.
The last ferry departs at 7.00 pm.
Please note that this ferry service is not available until 1 August 2023.
---
Penang Ferry Telephone Numbers
If you need any information on departures, you can call the hotline at +60 4 3102 363 or any of these numbers:
Penang Side: 04 261 0290 / 210 2363 (duty officer)
Butterworth Side: 04 331 2796 / 310 2377 (duty officer).
---
How much does the Penang Ferry Cost? (Updated 2023)
The prices haven't changed regardless of the upgrade. Remember that you only pay for a ride on Penang Ferry when you travel from Butterworth, the mainland side, to Penang island. The return ticket from Penang island is always free for pedestrians (traveling on the catamarans from Swettenham Pier) and two-wheeled vehicles (traveling from the Pangkalan Raja Tun Uda ferry terminal at the eastern end of popular Chulia Street).
Pedestrian Passengers Penang Ferry Service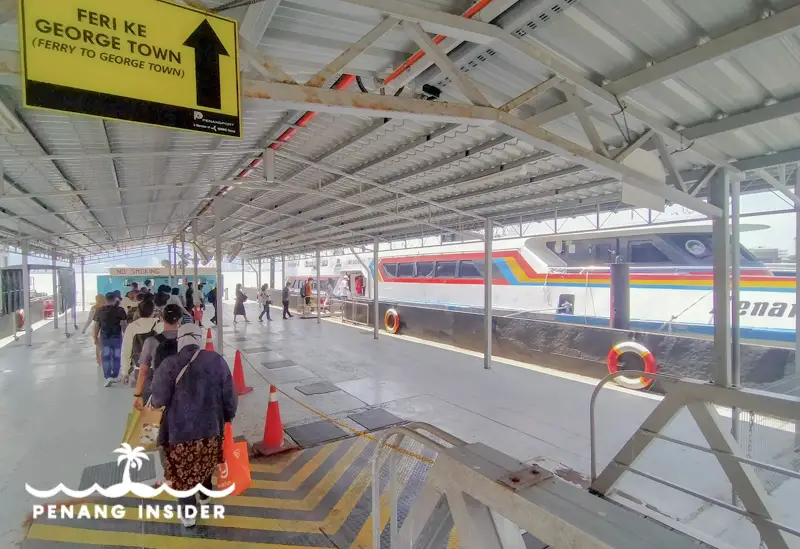 Since January 2021, pedestrians are no longer allowed on the iconic Penang Ferries but on a new fleet of catamarans. Arriving from the mainland, you will board the catamaran at the same location, the Pangkalan Sultan Abdul Halim ferry terminal. This is connected to Penang Sentral, the main bus and transport hub of Penang state and Northwest Malaysia. Read our guide to catching a bus from Penang Sentral.
Follow the directions to the ferry until you will find the ticket vending booths. Queue up and buy your ticket. The fees are:
Adult: RM 1.20
Children (from 5 to 12 years old): RM 0.60
Once you receive your ticket, walk through a turnpike. Scan your ticket over the code-reading machine, and you'll be let through. Ten meters ahead is a waiting area with chairs where you can wait for the next Penang Ferry departure.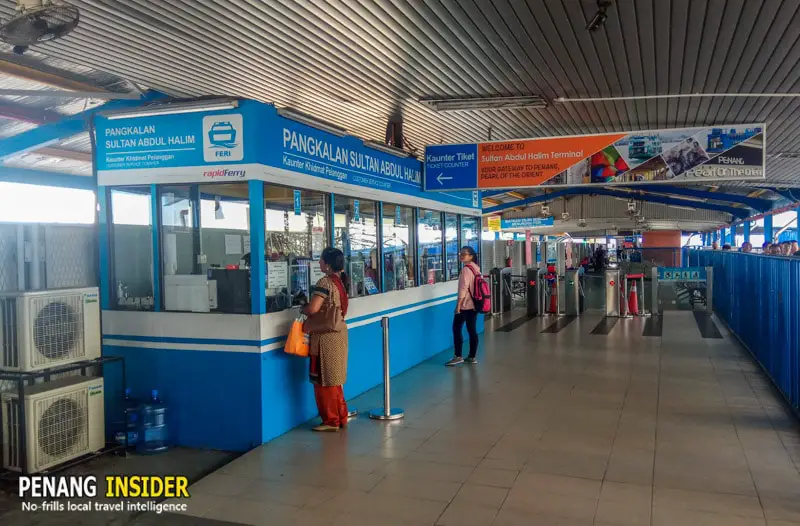 Penang Ferry Service for Two-wheeled Vehicles
NOTE ON SUSPENSION OF SERVICES: From 1 January 2023, the Butterworth terminal for motorcycles and bicycles will be temporarily closed until July 2023 for upgrading work for the new ferries. Ferry service for two-wheeled vehicles will resume on August 1, 2023.
Don't worry: speedboat services for pedestrian passengers will continue as normal.
If you have a motorcycle, 200 free sheltered parking slots are available to motorcyclists (from 6 am to 9 pm daily) at the terminal for easy access to the passenger speedboats.
Passengers can also use the free CAT Bridge bus from Seberang Jaya, which will continue as usual. There will also be free parking slots for motorcyclists (6 am to 9 pm daily) at the godown area in Swettenham Pier.
Additionally, a new free CAT Bridge bus service from BM Summit through Bandar Perda at Bukit Mertajam to Komtar on Penang island will start from 1 January 2023 onwards.

New four-speed ferries are expected to arrive in June next year to replace the current fleet of speedboats.
When things get back to normal, the cost for two-wheeled vehicles should still be paid for a one-way trip as follows.
Bicycle: RM 1.40
Motorbike: RM 2.00
---
How is the new Penang Passenger Ferry?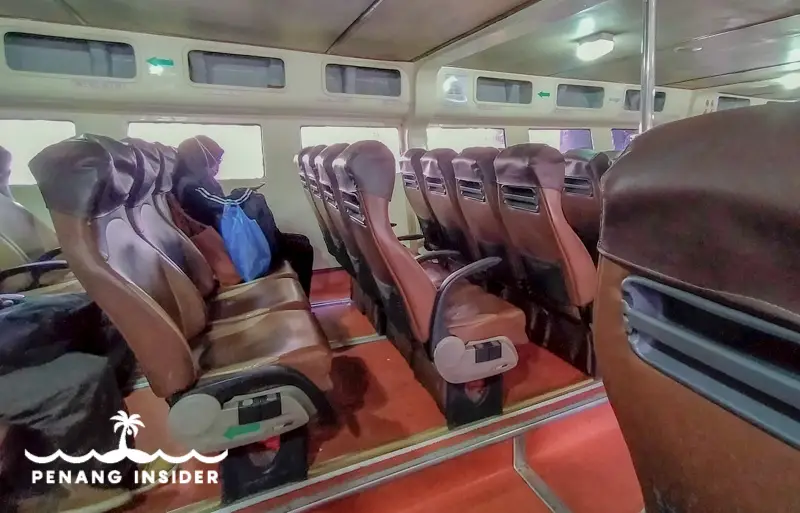 The passenger ferries in Penang are like the fleet of ferries available in Kedah, for example, on the route from Kuala Perlis to Langkawi. You must arrive on both sides and queue up to board the ferry. There is a luggage bay inside where you can store your large bags before taking a seat. It's padded and comfortable, but bring a sweater or a jacket because the air conditioning can be very strong.
Duration of a trip on Penang Pedestrian Ferry
A trip on the Penang Passenger Ferry it's quick and takes around 15 minutes, depending on sea conditions.
---
What happens to cars if they can no longer board the Penang Ferry?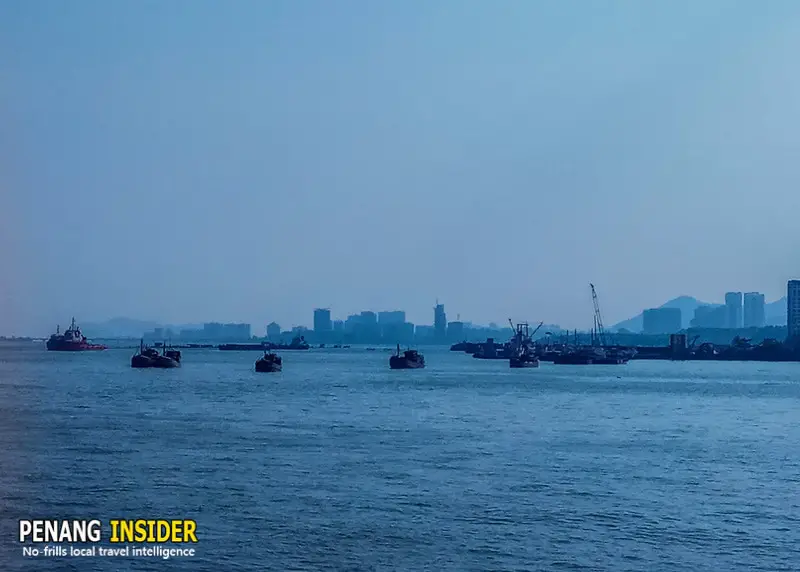 Even when the Penang ferries still shuttled cars, relatively few vehicles were on board. Most of the drivers preferred to get to the mainland faster by using one of the two Penang bridges. Indeed, the whole embarkation process used to take up to one hour, so using the bridges is a faster option — take the first Penang Bridge if you are driving from George Town, as the second is way too far south, near Penang Airport.
---
Location of Penang Ferry on the Butterworth side
The Penang Ferry on the Butterworth side is located behind Penang Sentral, the same location it had before the changes were implemented in January 2021. It's about a kilometre from Butterworth Art Walk, where you would check out if you like murals and Penang Street Art.
Here's a map:
---
Catching trains after disembarking from Penang Ferry
Butterworth is one of the few cities in the world where the ferry, bus terminal, and train station are all interconnected and within walking distance from each other.
Penang's train station is actually in Butterworth and has trains connections to Kuala Lumpur, Ipoh, the Thailand border at Padang Besar (read our guide on how to do a Thailand Visa Run from Penang), Kuala Kangsar, and Taiping.
We have written a handy guide on trains from Penang where you can check more details on all the possible train routes.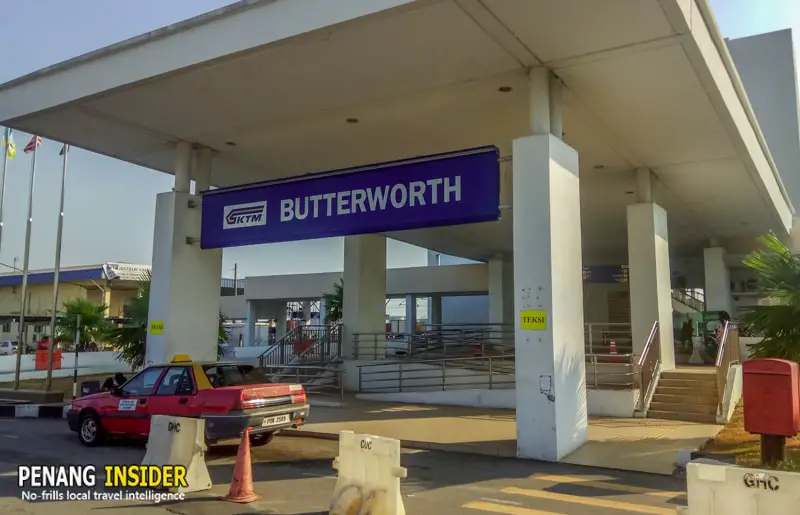 In brief, once you return from Penang to Butterworth by the new Penang Ferry catamaran services, enter Penang Sentral, go to the lower ground floor and follow the directions to Butterworth train station. It takes about 10 minutes to walk.
---
Penang Ferry Location on Penang Island's Side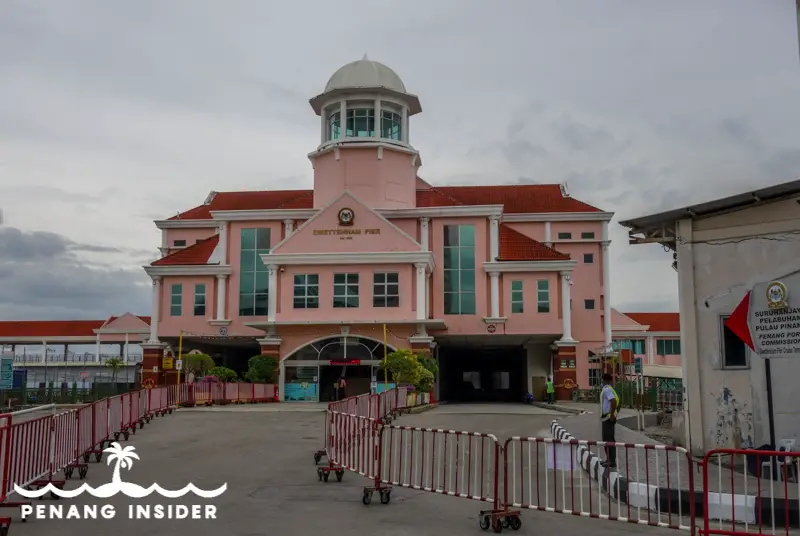 Since January 1st, 2021, pedestrians cannot travel on the old Penang Ferries. They have to use the new catamaran service, which leaves from the Swettenham Pier Ferry Terminal, where boats usually travel from Penang to Langkawi. It is located opposite the Queen Victoria Memorial Clocktower and within walking distance of the upper end of Beach Street. The tourist enclave of Chulia Street is about 500 meters walk away. Here is a map:
---
Where to stay nearby Penang Ferry
Swettenham Pier is near the end of Beach Street and not far away from the old Penang Ferry terminal, which is very close to Chulia Street. Penang's tourist enclave is filled with bars, trendy Penang cafes, restaurants, street stalls, and backpacker heaven. You can read about our guide on backpacker accommodation in Penang or, if you have more cash to splash, our guide on George Town's best boutique hotels, Penang's Best 5-Star Hotels, and budget hotels in Penang. Each of these hotels is within walking distance of Penang Ferry. You can also check our list of the best Penang Airbnbs, as there are several located on Karpal Singh drive close to the Penang Ferry port.
---
Places to stay in George Town near the two Penang ferry terminals
If you want to stay close to Penang Ferry, we recommend one of these three places
BUDGET
Sim City Stay is a hostel set alongside Pengkalan Weld, perfect for backpackers or those who want to stay on a budget. It has dorms and singles on the first floor of a nondescript building. CHECK PRICES AND BOOK
MID-RANGE AND LUXURY
Royale Chulan is just a few hundred meters down Pengakalan Weld, almost straight opposite the Penang Ferry. It's a four-star hotel with large, comfortable rooms inside a restored British colonial building. A perfect option for some pampering without breaking the bank. CHECK PRICES AND BOOK
The Prestige is another luxe option that's very close to Swettenham Pier. Renovated from a large colonial building, it has elegant rooms with flat-screen TVs and Nespresso machines, a restaurant, gym, and infinity pool. CHECK PRICES AND BOOK
If this is not what you are looking for, check many other accommodation options in George Town on Booking.com
Penang to Langkawi Ferry
Penang is connected by ferry also to Langkawi, another beautiful island in Kedah state, from the same Swettenham Pier. Langkawi, different from Penang's cultural vibe, has plenty of nature and beaches and it's a favorite tropical getaway for locals and international tourists. Read our complete guide on how to get from Penang to Langkawi and from Kuala Lumpur to Langkawi.
And if you liked this, why don't you sign up for our mailing list? We will send you immediately a FREE photographic eBook with some incredible pictures of Penang, and we promise, we will disturb you only about once a month with some good local advice you won't find on the site