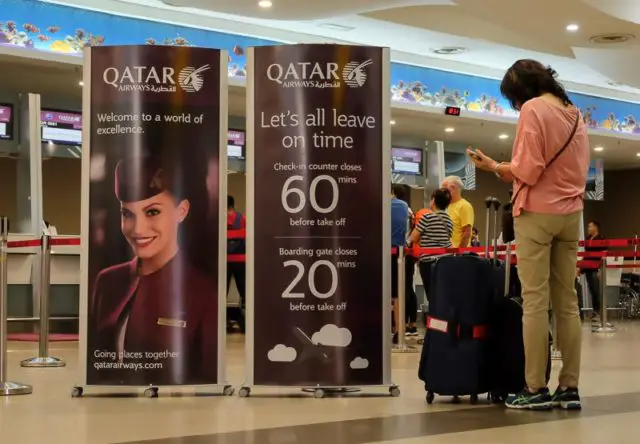 When Qatar Airways opened its route to Penang on the 6th February 2018, their second in Malaysia after Kuala Lumpur, Penang Airport certainly stepped up in terms of importance.
Before then, Penang Airport was already a serious local player and Peninsular Malaysia's second most important hub, with regional connections to countries like Vietnam, China, Hong Kong, Myanmar, Indonesia, Singapore, and others.
But now that there is a direct flight from Penang to Doha, our beloved island is geared to open to a lot more international traffic, with direct flight connections not only with the Middle East but also to Europe, Africa and North America where Qatar Airways flies. Many Malaysians love the UK, and now, for example, it's possible to easily fly Penang to London on Qatar Airways.
We have flown Penang to Doha and onwards to Milan, Italy with Qatar Airways Penang on August 21st, 2018 and had a very pleasant experience.
This post is a step to step guide on how to travel on Qatar Airways' direct flight from Penang to Doha so that you will know exactly what to expect from this direct flight. If you are flying to Penang and need accommodation, check out our list of best budget hotels in Penang and most charming boutique hotels in George Town for 35$/night.
Qatar Airways direct flight from Penang to Doha: Check-in Procedures
It is recommended to arrive at Penang Airport at least 2 hours before check-in time. Qatar Airways' check-in desks (like all other airlines available at Penang Airport) are located on Penang Airport's first floor, at the far right side from the main entry gates. You can get one of the free trolley carts outside and bring your luggage in more comfortably: don't be afraid of carrying loads of stuff with you, as Qatar Airways' direct flight from Penang to Doha has a generous 30kg baggage allowance.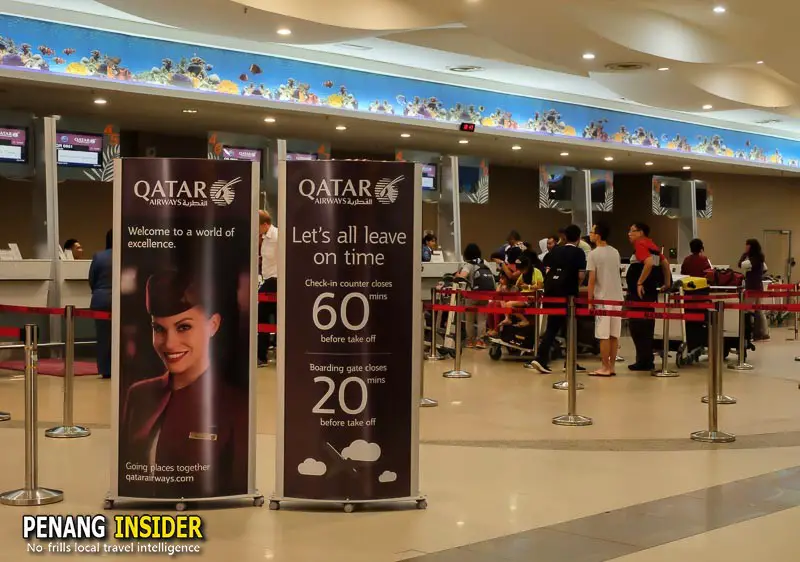 You can also carry a regular-sized trolley bag on board — but remember, it's not allowed to bring spare batteries outside of their electronics.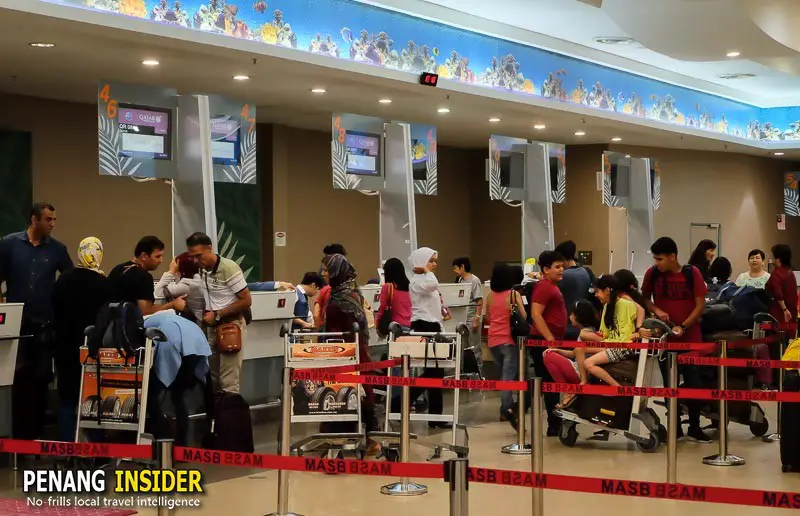 We arrived at about 7.20 p.m., roughly two hours before our scheduled flight at 9.25 p.m, without having done any online check-in. But we flew on a Tuesday night, and as such, there weren't many people queuing up before us.
Check-in procedures were quick and painless: our luggage was weighed, our passports controlled, and that was it. We had our boarding passes in hand within four minutes from approaching the desk. And the ground stewardesses were nice to deal with, too.
Overall, a perfect check-in experience. Which leaves you more time to enjoy what Penang Airport has to offer.
Penang to Doha Flight Time
Qatar Airways direct flight from Penang to Doha takes about 7 hours. And if proceeding to Europe, that's exactly the half of the total journey time.
I liked that: seven hours, a long layover (more about it later), and another 7 hours before we landed in Milan.
Qatar Airways direct flight from Penang to Doha: in-flight experience
Qatar Airways' planes are comfortable and spacious, and the flight attendants very well trained.
If you are used to taking AirAsia planes around Southeast Asia, please forget, reset, and relax: on Qatar Airways' direct flight to Penang, you can actually order whatever drinks you want. Yes, also beer and spirits.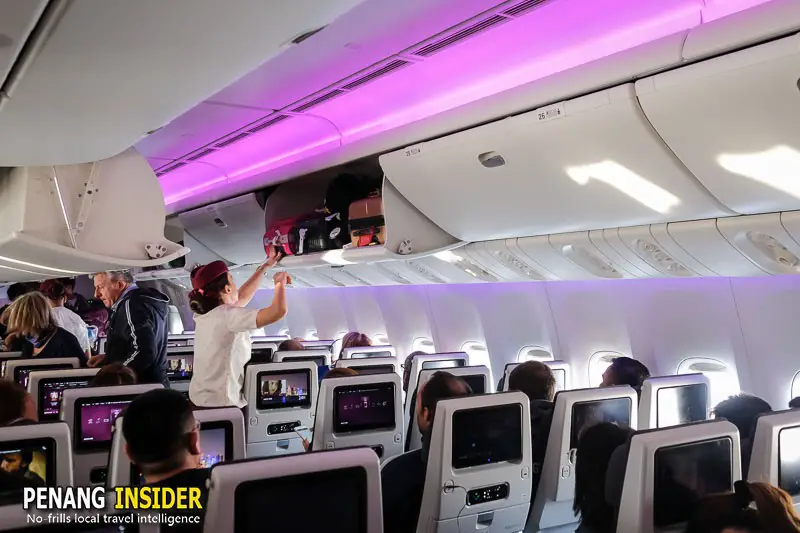 Food aboard Qatar Airways direct flight from Penang to Doha
Pretty good for an airline. We were served dinner even if we boarded the flight in Penang at 9.25 p.m. The trays arrived about 2 hours after takeoff, served by the ever smiling and zealous air stewardesses. They first give menus to all passengers, who can choose between three different mains. When I flew, there was chicken, fish and a vegetarian option available. As an Italian, I appreciated the bolognese sauce and still think that Qatar Airways' may be the best salad with cheese I ever had up in the skies.
READ MORE & GET INSPIRED FOR YOU NEXT TRIP TO PENANG:
In-flight entertainment aboard the direct flight from Penang to Doha
Alright, after food, the next thing I want to do on a flight is watching as many movies as I can, and then doze off. Thankfully, the selection of movies, documentaries and TV Shows aboard Qatar Airways direct flight from Penang to Doha was pretty vast. If I really have to be picky though, it's not as updated with new movies as, for example, Thai Airways' in-flight selection. And it doesn't have much interesting Indian cinema, beyond the classic hero-meets-hot-girl Bollywood stuff — a pity, for contemporary Indian cinema is so good.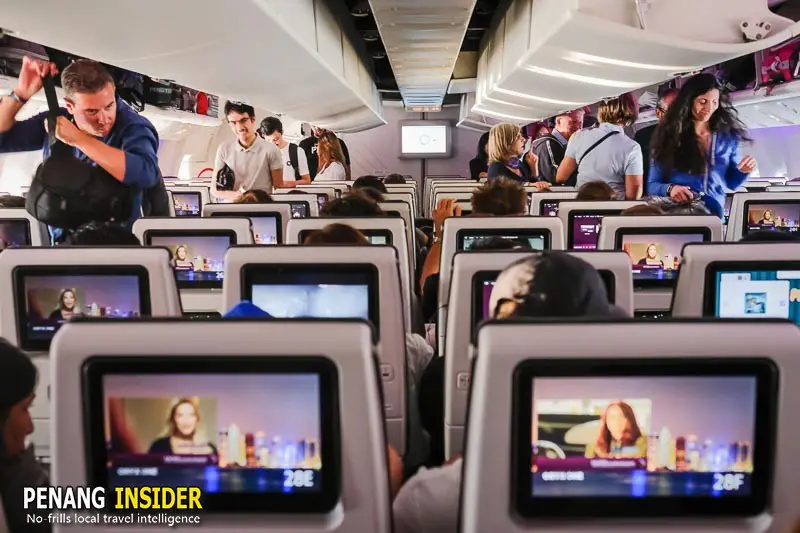 BUT… the selection of movies aboard Qatar is huge and includes many classic. I managed to watch the fantastic Isle of Dogs, a stop-motion animated film about a boy and its quest to rescue his dog on an island where a crazed Japanese politician has confined all the country's dogs. Good stuff.
One note on the music selection: there is a good range of records, unfortunately not much variety in the World Music section (boys, get some Ali Farka Toure and Bombino in there please), but I was surprised by their rock selection. Absolutely the first time I got to listen to some classic AC/DC on a flight, and it was not coming directly from my own Mp3 player. They even had an album by the Blues Pills… Awesome.
Arriving from Penang to Doha: How to tackle long layovers
I don't know about you, but when taking Qatar Airways' direct flight from Penang to Doha, the onward connection from Doha to Milan in Italy is not very convenient. It's a long 7 hours later, and unfortunately also in the middle of the night, as the direct flight from Penang lands in Doha at 23.30pm local time.
Qatar now gives visa-free entry to many nationalities, but even though, whizzing out of the airport at night didn't make much sense.
I had used Qatar Airways another time, flying from Milan to Kuala Lumpur, in 2012. Back then, Doha's Hamad Airport was probably being upgraded: it was small, not quite nice at all. We had to wait for our connection to Malaysia for 3 hours, and we did so in a tiny waiting hall that didn't leave me a very good memory of the place.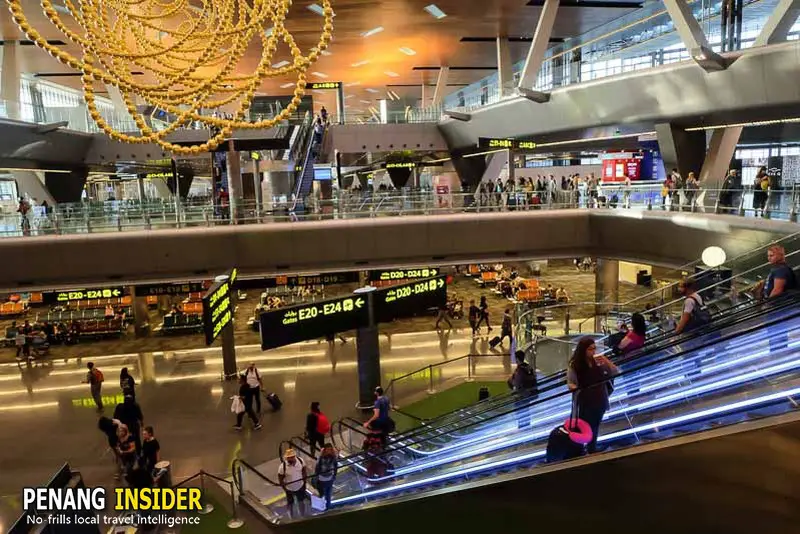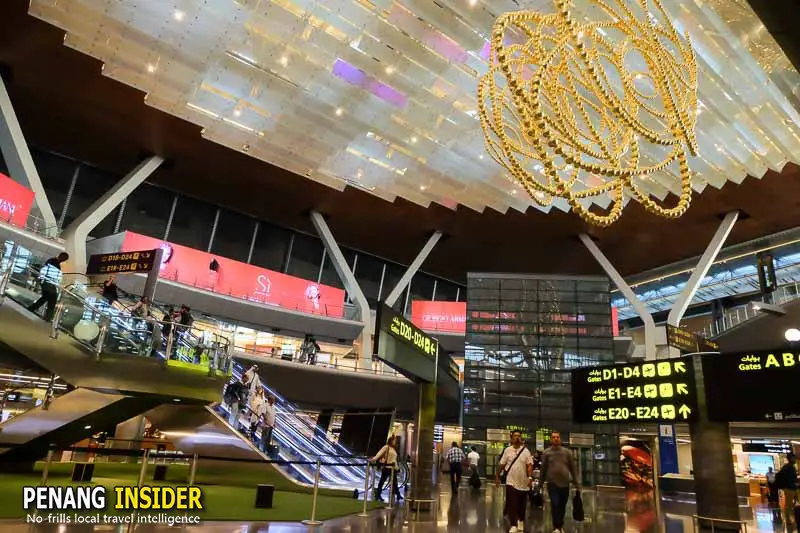 But this time, I was very surprised to find a very different situation when our Qatar Airways' direct flight from Penang landed in Doha. Hamad Airport was re-branded in 2014 and now is a huge, very technological place, and possibly one of the best airports in the world. It's clean and spacious, has plenty of food and beverage facilities, and it looks pretty sleek-cool. It's also furnished with top of the range chairs and has many artworks by international artists decorating the main halls of the terminal.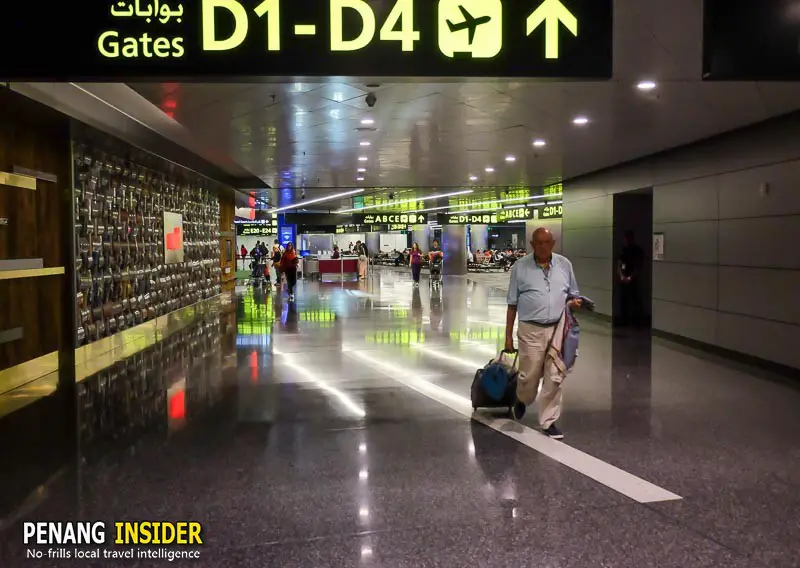 The most impressive artwork we saw was a giant wooden sculpture of a cross between Mickey Mouse and Pinocchio. It stands 32 feet tall, kind of sad, in the midst of the airport's North node, near Concourse E. It's titled "Small Lie" and was created by American artist KEWS, the fourth American artist to join Hamad International Airport's Art Programme. It's not clear if KEWS' Mickeyocchio is sad about the fact you are departing or arriving; but alas, it makes for quite an impressive sight to reach or leave Qatar's first-class airport.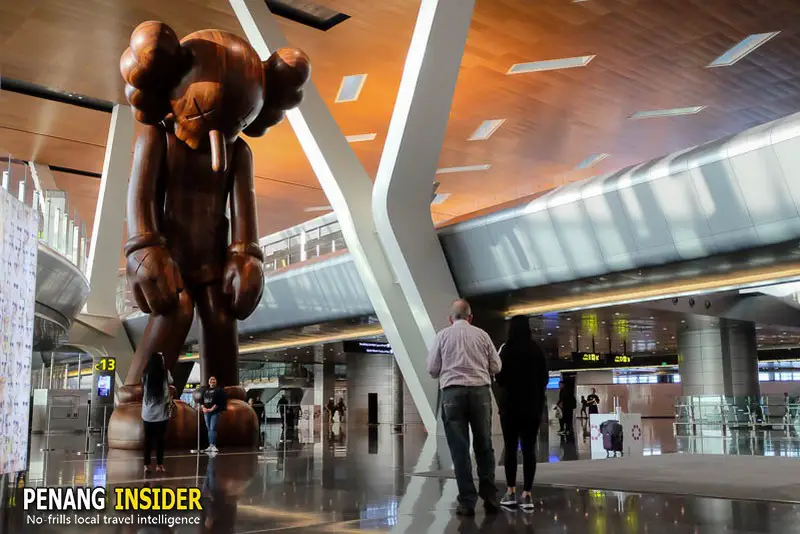 Doha Hamed Airport: how to sleep during long layovers
But the best of the best at Qatar's Hamad International Airport is located at the lower ground floor, where one can find rooms where travelers with long layovers — like us — can get a decent night sleep. We were equipped with comfortable sleeping mats by Naturehike and rolled them on the carpeted floor without any problem. Others without the luxury of a camping mat could anyhow sleep very comfortably on the lounge chairs provided free of charge in the sleeping rooms.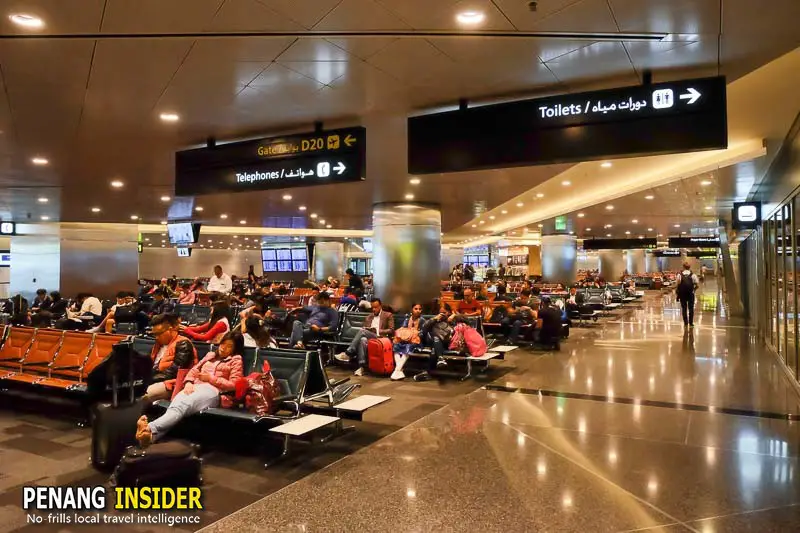 Bathrooms are clean and plentiful, and it's just as easy to freshen up as it is to take a nap in the aforementioned rooms. We didn't try the Al Safwa lounge, which apparently is a luxury airport experience without competitors, but sorry, we didn't fly first-class.
Did any of you tried it, or had a different experience? Let us know about it in the comments below, thank you! And have a safe flight from Penang to Doha!
---
Disclaimer: The content of this post is based on personal experience. Penang Insider cares to precise that this is not a sponsored post, and that we have not received any payment or free travel from Qatar Airways to review their services.
---
And if you liked this, why don't you sign up for our mailing list? We will send you immediately a FREE photographic eBook with some incredible pictures of Penang, and we promise, we will disturb you only about once a month with some good local advice you won't find on the site