Last updated: December 25, 2018 at 10:00 am
Penang is possibly the most exciting place to be in northwest Malaysia, but there's quite a lot happening in the capital  Kuala Lumpur , too. If Penang has more incredible festivals, arts, and a street food scene to impress every palate, Kuala Lumpur certainly has a more vibrant nightlife, plenty of cool bars, events and — last but not least and important to travelers — more embassies and consulates to get onward visas.
But how to travel from Penang to Kuala Lumpur? Excluding flying — read our definitive guide to Penang airport here — or catching a train from Penang to KL, your other option is to catch a bus from Penang to KL.
Using the bus from Penang to Kuala Lumpur is very popular and the cheapest option available. Given there are so many bus companies available, this post will tell you all you need to know to get quickly and effortlessly from Penang to Kuala Lumpur by bus. All based on many years of personal experience traveling between the two cities.
Where to catch a bus from Penang to Kuala Lumpur
Forgive the silly pun, but there is a catch here. Penang State has two main bus stations, one on the island and one on the mainland in Seberang Prai. This causes pretty much a lot of confusion. Let us explain:
Penang First Bus Station: Butterworth Bus Station
Butterworth is the town right opposite George Town on Malaysia's mainland of Seberang Perai. A quiet place and one that most tourists bypass — a pity, for the food is pretty good and there is an interesting art walk alley. But the Butterworth Bus Station is by far the most convenient to arrive at when planning a visit to George Town. Also, there are many more buses from Butterworth to KL.
RELATED: What to Do in Penang in 3 days
                   Best of 48 Hours in Penang
Why? First of all, the Butterworth Bus Station is positioned next to Penang Sentral, the transport hub for northwestern Malaysia. Here you can find the bus station, a KTM Train station and a ferry terminal to Penang island, all in the same spot.
Trust us: we have traveled to 60+ countries around the world, and thus far we have never found such convenience in a single transport hub.
Second, the Butterworth Bus Station is next to the ferry terminal that will get you to Penang's Weld Quay jetty, right opposite the end of Chulia Street, George Town's hotspot and its prime cluster of traveler accommodation, with guesthouses and boutique hotels to suit every need. Free shuttle buses operate from Butterworth station to the ferry terminal every 15 minutes.
TIP: You need to catch one of the FREE SHUTTLE services from Butterworth Bus Station to the Ferry Terminal. Walking is no longer allowed due to final construction works to the new Penang Sentral building, which is set to be fully functional soon.
Ferries run more or less every half hour from 6 am to about 12.30 am and cost only RM 1,20 for a return ticket. So YES, it is possible to arrive at Butterworth Bus Station late at night, and still, make it to George Town without an overnight in Butterworth. Be warned though: like Cinderella, don't come after midnight, or you'll miss the last boat!! It's a 30 minutes scenic ferry ride to Penang island, both by day and by night. The ferry will deposit you in 5 minutes walking distance from George Town's exciting main thoroughfare Chulia Street.
RELATED: 10 Silly First Timer Mistakes You want to avoid in George Town
The third reason to choose Butterworth: a bus ticket from KL to Butterworth is a few ringgit cheaper than one to Penang Sungai Nibong Bus Station.
Penang Second Bus Station: Sungai Nibong Bus Station
Located more or less on the middle of Penang Island's eastern coast, the Sungai Nibong Bus Station is not very convenient for tourists as it is a good 10km south of George Town… and traffic kind of sucks for the best part of the day.
RELATED: How to catch GRAB in Penang
Penangites from the island insist this is the best bus station in Penang, but unless you live somewhere in the center or the south of Penang, it's hard to get to (Rapid Penang Bus #401 and #401E, among a few others, stop here en route between George Town and Penang Airport, but the journey can take up to 45 minutes, and the route is often congested with traffic). What's more, there are many more scheduled departures from Butterworth Bus Station every day.
Last but not least, tickets from Sungai Nibong station on Penang island cost a bit more — currently about RM38.
What is the best bus from Penang to KL?
There's a smorgasbord of choices available, with more companies we can keep track of. But when you are taking a bus from Penang to Kuala Lumpur, the most important thing is to make sure the service is direct.
Indeed, many of the smaller companies don't advertise this and end up stopping in other major cities en route, such as Ipoh, making a 4hr30min trip much longer.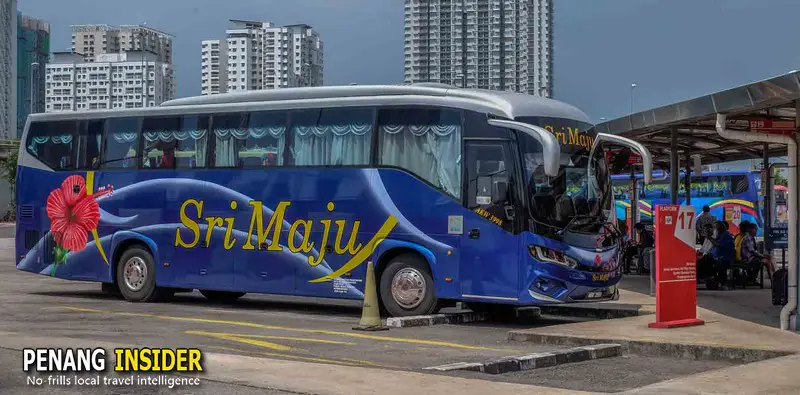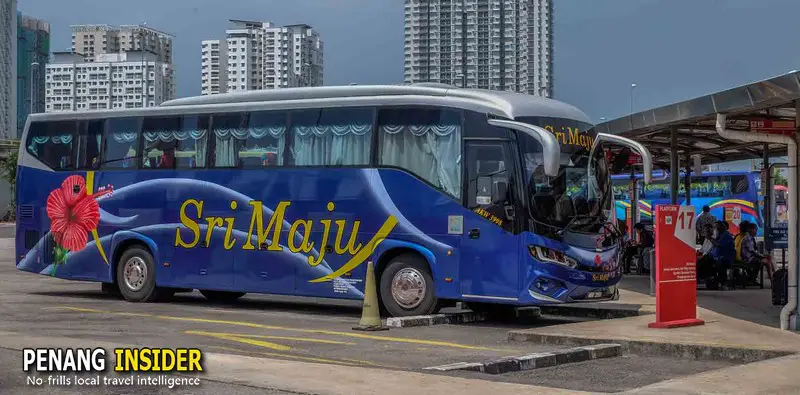 Our choice
We have tried many companies and the two we want to recommend here are Plusliner and KTMB (which was known for years as KONSORTIUM Bus).
Both offer direct services, and Penang to Kuala Lumpur bus departures usually reach the destination in about 4hr 30min. Both companies have fully reclining, ample seats with leg and armrests, and are of course air-conditioned. To be precise and picky, possibly KTMB has larger seats, while Plusliner tries to squeeze a few more passengers in, but is generally faster.
Another perk of KTMB is that many of its buses stop not only at TBS Bus Terminal — Kuala Lumpur's main bus hub, inconveniently located about 12km south of the center, and a real drag if your final destination is somewhere around super-central KL Sentral. Before buying your tickets, it pays to check carefully with the ticket seller where your bus stops.
How much does a bus ticket from Penang to KL cost?
The cost for a bus ticket from Penang (Butterworth station) to KL, at current, is RM34,50 (USD 8,3). From Sungai Nibong is about RM38 (USD 9,10). Sure, when you think in US $ it's peanuts, but again, Sungai Nibong takes longer to reach than the Ferry Terminal to Butteroworth, literally across the road from the end of popular Chulia Street. Some companies cost a little bit more, so investigate before you buy. Both Plusliner and KTMB, our favorite providers, cost RM34,50.
Where do I buy a bus ticket from Penang to KL?
You have two options: in person and online.
Buying a bus ticket from Penang to KL in person
It's easy enough to get to the bus station and get a ticket before you leave, as there are many bus companies, and on such a popular bus route like Penang to KL, no worries as you'll be found by touts as soon as you get to the station.
TIP: Pay attention to touts and what companies they work for. Make sure to ask multiple times to the ticket seller (not the tout) if the bus is direct or not… most times, it will NOT be direct and the journey will end up taking you 6hr++. Stick to our preferred operators as we know they ain't going to rip you off.
To avoid waiting long at the bus station, these days you have a better option for scoring tickets:
Buying your bus ticket from Penang to KL online
Gone are the times in which you had to go to the bus station and queue up for tickets while at the mercy of fast-talking touts that needed to fill up crappy buses.
Now you can check departure times and buy your tickets directly online. We have had no problems using two websites, Catch That Bus and Red Bus. You can pay by credit card and, even better, using Pay Pal (but you must have Malaysian Ringgit balance in your account).
We have used these sites and they do work flawlessly. You will receive a ticket confirmation by email. Print it out, or just show the reservation email to the driver on your smartphone before boarding the bus.
Buying a bus ticket from Penang to KL using travel agents
Many George Town-based tourists still buy their bus tickets from Penang to KL from the many travel agents scattered on Chulia Street or around KOMTAR. There's no harm in doing so, but we recommend you don't. Why? Because these buses most often are just the same departures leaving from Sungai Nibong. Sure, you will be picked up in town — but much before the real bus departure time. You won't exactly know when your bus will be leaving, and WHAT bus company you will be boarding until you get to Sungai Nibong Station. Which leads to the previous BIG concern: you won't know if your bus ticket from Penang to KL is direct or not.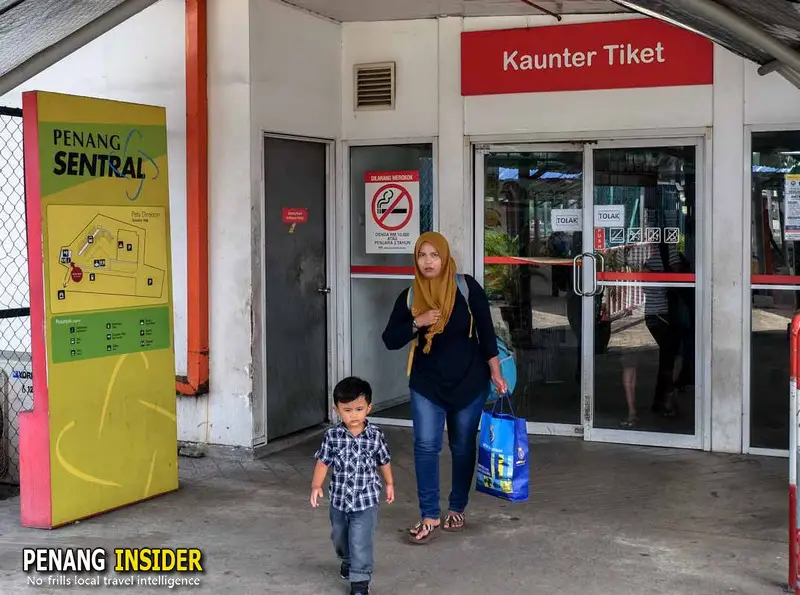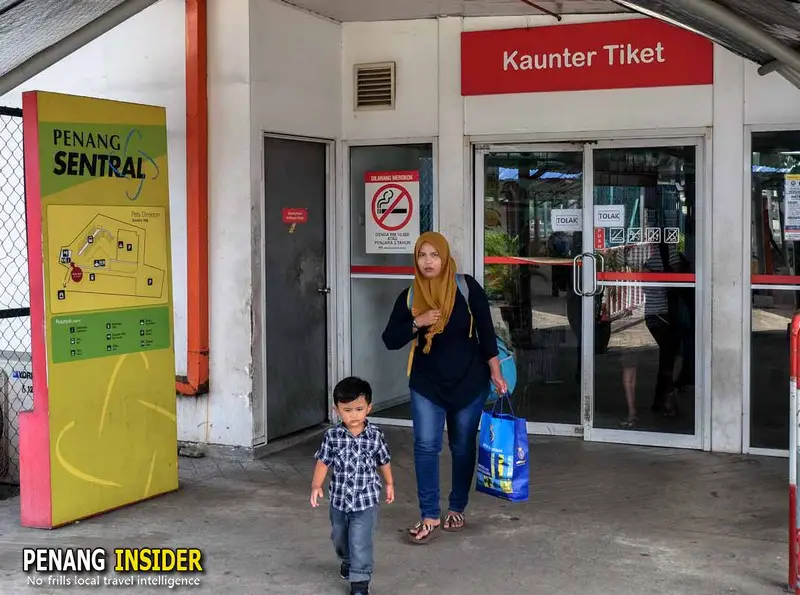 INSIDER TIP: There is no need to rely on others for doing something you can easily do by yourself. You can get across to the Butterworth Bus Station easily (and FREE OF CHARGE) by taking the Penang Rapid Ferry. Otherwise, buses 401, 401E and others from KOMTAR or the Jetty Rapid Penang Bus terminal service Sungai Nibong Bus Station.
DO NOT TAKE A BUS FROM PENANG TO KL BEFORE YOU HAVE TRIED THESE OUT:
Penang to Kuala Lumpur bus trip duration
In normal traffic conditions, and factoring one 20min stop mid-way (which both Plusliner and KTMB do) the bus journey to cover the 380km between Penang and KL takes roughly 4hr30min.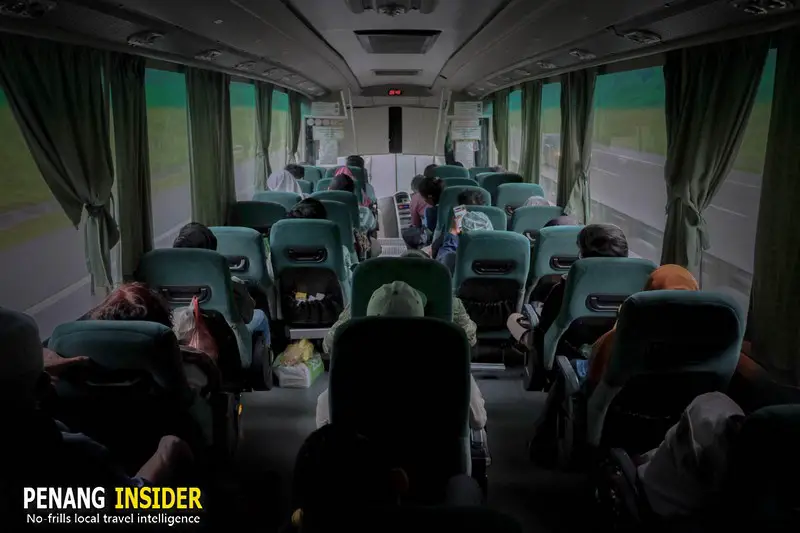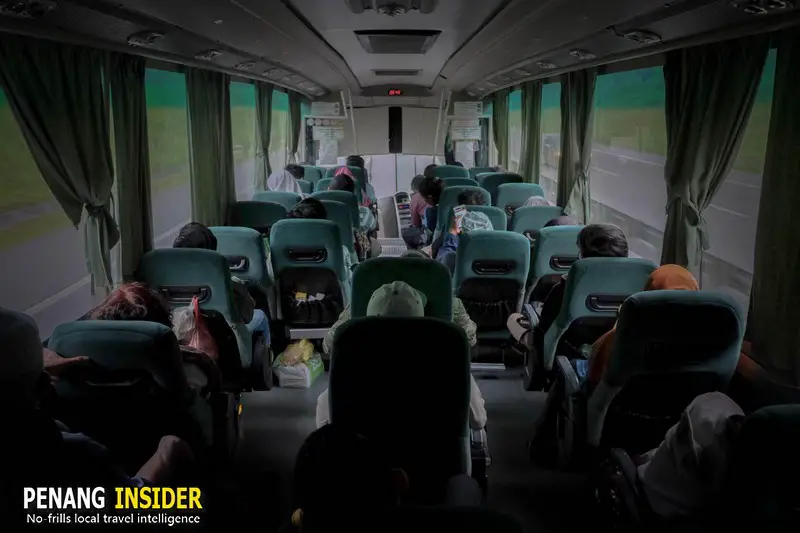 Aeroline bus Penang to KL: what is it?
The Aeroline bus Penang to KL is a luxury bus service. In Penang, it leaves from Queensbay Mall, one of Penang's best shopping malls, arriving in Kuala Lumur at Damansara.
It's more expensive (RM60 one way, more or less like a flight) but has a lot of luxe touches, like individual TV screens behind the seats, blankets provided, and a simple meal. As I mentioned, it's like an in-flight service, but on wheels.
Is it worth? Not sure: for a very similar price and travel time, one can now take a flight from Penang Airport, or one of the ETS train services from Penang.
Going back: How to Catch a bus to Penang from KL
After your visit, you can easily come back catching a bus to Penang from Kuala Lumpur. The main bus terminal in KL is TBS (Terminal Bersepadu Selatan), reachable by Light Rail Transport train, Mass Rapid Transport, airport train link, or Komuter train by alighting at the Bandar Tasik Selatan station.
If you haven't bought your ticket online yet, allow for an hour before your intended departure time because the terminal is big and very busy, and it can take a while to queue up and buy your tickets.
INSIDER TIP

–
BUYING A BUS TICKET TO PENANG FROM KL

If your destination is George Town, is by far quicker to travel by bus from KL to Butterworth Bus Station. 
BUT make sure the bus will not make a stop in Penang first!
Let us explain: with a second bridge at Batu Kawan, connected to the south end of Penang island near the airport (and hence on the way to Ipoh and Kuala Lumpur) certain buses from KL to Penang travel on the island first to make a stop at Sungai Nibong station via the second bridge. Only after a halt there, they reach Butterworth by traveling out of the island from the first bridge. This is a total waste of time (a minimum of 30 minutes). These days buses will not stop in George Town or wherever else you ask because new rules prevent drivers from dropping passengers anywhere but at a proper bus station.
You have been warned: make sure your company of choice travels DIRECT from KL to Butterworth.
Then you may easily proceed to take the ferry to George Town as we explained above.
Once you have your ticket for a bus to Penang from KL in hand, you need to walk from the main lobby area to the departure gates on the lower ground floor. A guard will check and stamp your ticket, and only then you will be allowed in the waiting area. Check monitors frequently, as there are many buses leaving from TBS, and you need to make sure you don't get on the wrong bus. Have a safe return trip by bus to Penang from KL!
---
And if you liked this, why don't you sign up for our mailing list? We will send you immediately a FREE photographic eBook with some incredible pictures of Penang, and we promise, we will disturb you only about once a month with some good local advice you won't find on the site.