Set right in front of the south-eastern corner of Penang island, Batu Kawan is a large area encompassing the namesake town, the fishing village of Bukit Tambun, and the industrial area of Bandar Cassia, right off the entrance to Penang's Second Bridge, and along Malaysia's North-South expressway.
Unlike Balik Pulau, Batu Kawan sees very little foot traffic — and it's a pity because it has a few attractions and things to do that are definitely worth an excursion from George Town or the mainland town of Bukit Mertajam.
If you come here, you may want to also check out the nearby hike at Bukit Juru, one of the attractions of Seberang Perai on Penang Mainland.
---
Best Things to Do in Batu Kawan Penang
Ready? Here are the 10 best things to see and do in Batu Kawan, based on our first-hand experience.
---
1
Hike Batu Kawan Hill (a.k.a Crazy Hill)
This place got the name of "Crazy Hill" from the mountain bikers who discovered it and used it for their vertical dashes. Look for the graffiti on a rock to your right as you approach the telecommunication tower.
This small hill bumps out near the coast in the Bandar Cassia area of Batu Kawan, not far from Penang's second bridge and the cluster of Penang shopping malls such as IKEA. It's a rather easy 20-minutes hike along a concrete trail flanked by thick rainforest (bring mosquito repellent, as the mozzies here really do like human blood) leading all the way up to the summit. The trail starts from the stunning Arulmigu Balathandayuthapani Devasthanam at the bottom of the hill.

MORE HIKING? — Best Hikes in Mainland Penang
You'll reach a telecommunications tower, from where the views of Batu Kawan's coastline and the Second Penang Bridge are really nice on a clear day. A trail snakes from near the telecommunication tower to the back of the hill, where erosion has created an impressive canyon-like collection of rocks and crevices that's definitely worth checking out.

Here's a map of Batu Kawan "Crazy" Hill:
---
2
Visit the Arulmigu Balathandayuthapani Devasthanam Hindu temple and its impressive lotus pond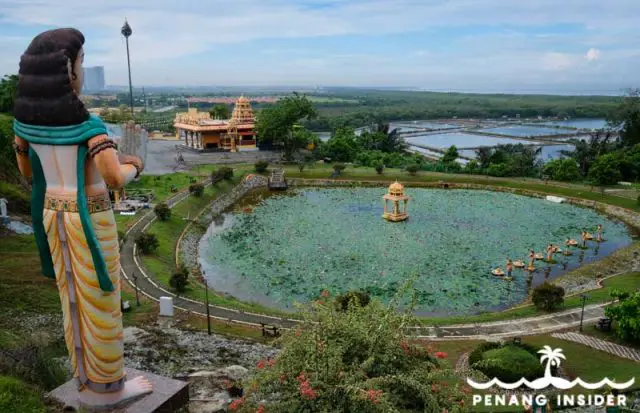 Arulmigu Balathandayuthapani Devasthanam Hindu temple is really something. Make sure to pay a visit. (image © Kit Yeng Chan)
The Arulmigu Balathandayuthapani Devasthanam could be Penang's most impressive Hindu Temple. Set at the foot of Bukit Batu Kawan, it has a beautiful and large pond filled with lotus flowers and guarded by an enormous statue standing right between the water and the forested backdrop of Batu Kawan Hill.

You can walk all around the gardens and climb up a circular road to take in the stunning panoramic views of the area that stretch well beyond the lotus pond to the coastline dotted by fishing farms. If you take a loop around the lake itself, there's a small farm with an aviary at the back, with peacocks, goats, and other birds. No wonder that many Malaysian Hindus come here to pray… it's such a stunning, photogenic location.

Here's a map of Arulmigu Balathandayuthapani Devasthanam Hindu temple:


---
3
Take a trip to Pulau Aman
Batu Kawan is close to the Batu Musang Jetty, the launch point for the 5 minutes boat ride to Pulau Aman, or "island of peace" in Malay.
Pulau Aman does not just have some of Penang's best beaches but is certainly one of the main attractions in Seberang Perai. It is so small and laid-back that even most locals let it slip under their radars. Home to a community of 300 fishermen, its quaint, car-free alleys offer timeless tropical bliss. To catch up with modernity, one must hop on the short bumboat ride (RM8 roundtrip) back to the Batu Musang jetty and the mainland.
Read a complete guide to the best things to do on Pulau Aman.
Here's a map of Pulau Aman:
---
4
Visit secluded Pantai Telok Aman beach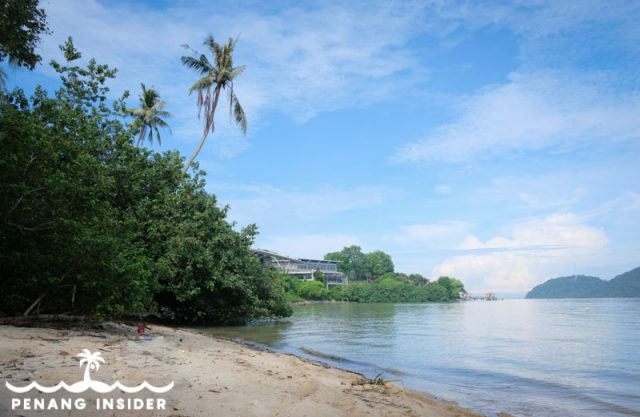 The beach at Pantai Telok Aman. It gets dirty after rain and low tide, so come at the right time. (image © Kit Yeng Chan)
On the way down from Bukit Batu Kawan, look out for the trail that forks down to the right. It's a well-marked descent along a wide trail that leads to Pantai Telok Aman, a secluded beach flanked with mangroves (and trash after a hard rain or high tide, so time your visit when it's been dry for a few days on end) facing Pulau Aman.
The place is quiet and serene, and see some fishermen activity — walk along the path that flanks the water, and don't be afraid to scramble over some of the rocks, and you'll certainly find some.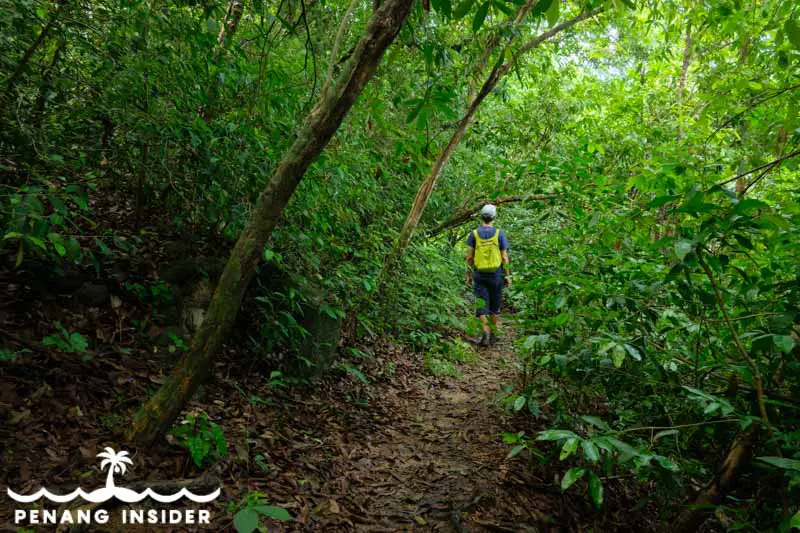 It's a steep climb up to get you back on the main trail that descends to the Hindu temple and the parking lot.
Here's a map of Pantai Telok Aman:
---
5
Check out Bukit Tambun's street art
Bukit Tambun is a pretty riverside village lined with Chinese shophouses that became even more attractive after the Penang Street Art craze arrived here. The themes are not specific and range from famous celebrities, such as Bruce Lee and Marilyn Monroe, to Woody of Toy Story. A few others, like the "carriage breaking through the wall" and the "Fisherman/Dragon in the Sky" hint more at the village's past history.
It's a pretty village to browse anyhow, with some of Penang's most popular seafood restaurants and is certainly one of Malaysia's most offbeat mural art locations. Read our complete guide to what to do and eat in Bukit Tambun.
Here's a map of Bukit Tambun's Street Art area:
---
6
Gorge on seafood at Bukit Tambun
Bukit Tambun is not just famous for street art, but especially for its fresh, yummy seafood – some of the best in Penang, thanks to the mantis prawns that abound in the waters off Pulau nearby Aman.
There are many seafood restaurants here and they are all worth trying (Tambun Prawn Village is a mainstay) as they all get fresh seafood from the same sources. Just drive along Jalan Bukit Tambun, and have your pick of riverside location along Sungai Jawi.
Here's a map of Bukit Tambun's seafood area:
---
7
Visit Central Park Batu Kawan
At the back of Penang's IKEA, Central Park Batu Kawan is the green lung of Aspen Vision City in Bandar Cassia, a community park with lush landscaping and amenities right in the center of Batu Kawan's shopping district.
The best feature is definitely the long arched semi-open tunnel decorated with flowers, the only one of its kind in the state. Different seasons call for different flower colors, and at night, it all lights up in LED-glow.
Here's a map of Central Park Batu Kawan:
---
8
Explore the Nature Walk Japanese Garden
Located at the 12 Waves warehouse in the heart of Batu Kawan, The Nature Walk is a Japanese Garden designed by Japanese landscape gardener Masaki Kumagai. Stretching along 750 meters, it's the longest Japanese Garden in Malaysia.
The concept is to illustrate the cycle that water takes through nature, and the path's entrance is through an ancient-styled wall called Kawaradobei. A series of landscaped gardens, waterfalls, and rocks, and stone lanterns imported from Japan, make this one of Penang's most zen experiences.
It's only open on special occasions, so you better contact the PKT Logistics Group for information.
Here's a map of 12 Waves' Nature Walk Japanese Garden:
---
9
Shop till you drop at Design Village
Batu Kawan's Bandar Cassia, near the Second Penang Bridge, is home to some of Penang's best shopping malls. The clothing outlet Design Village is the place to go get designer brands at cheaper prices. The specialty is the open-air layout, where shops line both sides of a pedestrian walk dotted with a number of trees.
This may be the greenest mall in Malaysia, too. You will find, among others, boutiques by Adidas, Kate Spade, Reebok, Guess, and more. Nearby Aspen Vision City is home to some of Penang's street art.
Here's a map of Batu Kawan's Design Village:
---
10
Get Yourself some IKEA furniture
The Swedish furniture franchise only has two shops in Malaysia, and one is in Batu Kawan's Bandar Cassia.
This huge IKEA shopping mall is just south of the Design Village Outlet Mall. It sells the type of high-quality European-styled Nordic furniture that's famous all over the world. Småland is their indoor playground for kids — a good idea to keep them occupied as you browse for Nordic deals. And if you fancy trying some Swedish food, there's a restaurant where you may do so at decent prices. IKEA Batu Kawan opens from 10 am to 10 pm.
Here's a map of Batu Kawan's IKEA:
---
And if you liked this, why don't you sign up for our mailing list? We will send you immediately a FREE photographic eBook with some incredible pictures of Penang, and we promise, we will disturb you only about once a month with some good local advice you won't find on the site
---