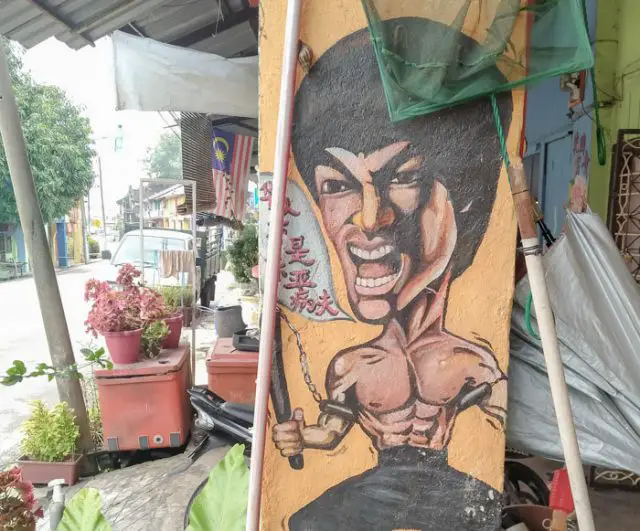 Tucked away in the center of Penang Mainland, Bukit Tambun 's claim to fame is fresh seafood. Most Penangites eagerly make the drive to chill by the riverside and eat some of the state's most famous fish. Bukit Tambun is only a 30-minute drive from all the things to do in Penang island or a 15-minute drive from Bukit Mertajam, Tambun seafood is scrumptious, cheap, and definitely an attraction in itself. Mantis prawn, anyone?
But there's certainly more to do in this village than eating Tambun seafood, and this post will come in handy to all those who are passing by nearby Batu Kawan — after all, it has some of the biggest shopping malls in Penang — to decide if it's worth stopping at Bukit Tambun to check out its charming riverside setting.
---
A short history of Tambun, before it became a seafood heaven
Back in the 19th century, the early Chinese settlers took up residence in Bukit Tambun to plant hectares of the then much sought-after sugarcane. This eventually lead to the birth of Bukit Tambun, whose town center consists of a single road (Jalan Bukit Tambun) even today. That's why all you can see here today is Chinese shophouses and the huge (yet dilapidated) mansions owned by the rich early sugar planters, such as the Khaw and Heah families.
---
Tambun Seafood: the best Tambun seafood restaurants
Fast forward to today, and if you say "Tambun" to any Penangite, after salivating they'll answer "go eat seafood". The reputation has built up since the 1990s when the river-facing restaurants started dishing up fresh catch right off the boats.
Being in close proximity to Pulau Aman — actually, the village was once the sole jetty to that island — Bukit Tambun basks in the same supply of excellent fish, shrimps, and prawns, and has perfected the art of dishing up some of Penang's best seafood.
But Bukit Tambun is also very close to Batu Kawan and its mega shopping malls IKEA and Design Village and has certainly become more popular than it used to — with the consequential steep increase of seafood prices.
By all means, eating seafood at Bukit Tambun is cheaper than on Penang Island and certainly more scenic than sitting in a George Town restaurant. These are some of the best Tambun seafood restaurants we recommend you try.
First of all, this is a map of the end of Jalan Bukit Tambun, where most of the following recommended restaurants are clustered on the riverside.
---
Don't miss this quintessential Tambun seafood restaurant as the main entrance is actually a few steps down the main road. The not-so-glitzy facade here translates however into a sea-facing eating area on stilts – a Tambun classic.
You can find all sorts of seafood here, from meat crabs cooked in sweet and sour sauce (about RM 80) to the curious Curry prawn bread – in other words, a pot of prawns in curry, but made of bread.
---
The New Ghee Seng Restaurant is one of the two last outlets at the very end of Bukit Tambun's main road. It's a simple restaurant housed in an old Chinese wooden home that spills a bare-bone yet charming wooden veranda on stilts on the slow-flowing river. Eating here at night is recommended for that "murky river" dining experience — bring mosquito repellent and be ready for a rustic, yet delicious, seafood dinner.
The Mantis Prawn is a specialty here and comes cooked in many styles such as the delicious butter and salted egg, Nestum oatmeal, Dry Chili, fried pepper and salt, and black pepper among others.
Coming to shell and squid, you can find spiky snail meat or cockles in sambal or dry chili, the delicious deep-fried squid, bamboo clams, Kerabu horseshoe crab, and Lala clams which are served either steamed with lemon, in soup, with ginger and onion, and Doubanjiang sauce.
---
3
Bukit Tambun Jetty Seafood Restaurant (船頭海鮮樓)
Jetty Seafood Restaurant is one of the oldest and among the three most popular Tambun seafood joints, tucked at the very end of the main road. It boasts a very basic yet charming terrace on stilts right on the river and next to the old jetty where you'll see fisherman boats moored.
A recommended specialty here is the Chili crabs served with Chinese fried mantou buns, smothered in thick sweet-sour sauce and laced with egg-white. The Penang mud crabs used are ultra-fresh.
You can order whole fish, like snapper, to go with their "Kam Heong" sauce, a mix of fermented bean paste, oyster sauce, dried shrimps, and local spices.
---
4
Floating Seafood Paradise
Trust the name because this new generation Tambun seafood restaurant really floats… it sits on a man-made fish pond that makes diners feel like they are "rocking" over small artificial waves as they eat.
Gimmicks aside, Floating Seafood Paradise is another good place for seafood, with a great variety on their menu ranging from fresh fish to crustaceans and shellfish. Mantis prawns, crabs (that come at about RM 110 per kg), clams, and steamed fish – try the Penang laksa sauce for a unique local experience – are all available.
---
"Shell Out" is popular among Malay diners and essentially means to serve food without any cutlery, and expect people to "shell out" or "dig into it" with their bare hands. If opening up mussels and clams with your bare hands is something you fancy, Shell Out Daun Pisang is the place to get your fingers sticky in Bukit Tambun.
---
Things to Do in Bukit Tambun (that's not eating seafood)
Bukit Tambun is nothing more than a one-way street, a one-horse town set not far away from the entrance of the highway. But don't let this turn you down, because besides eating great seafood, there's quite a bit of stuff to do in Bukit Tambun.
---
6
Take a look at life on the Jawi River
Bukit Tambun was built on a side of the Junjung River, a tributary of the larger Sungai Jawi that separates Bukit Tambun from Batu Kawan. This means that people have actually built up a fishing community here, and besides seafood, you can see boats moored at the old jetty, that's now sitting next to the New Ghee Seng restaurant.
Don't expect the full-on fishing industry you may expect in other towns like Kuala Kurau and Kuala Sepetang in northern Perak, but pay attention to the murky river: when I visited last, I was lucky enough to see not one but a group of seven HUGE monitor lizards resting on the opposite shore. It felt like I had stumbled on Indonesia's Komodo Island.
---
7
Check out the Chinese enclave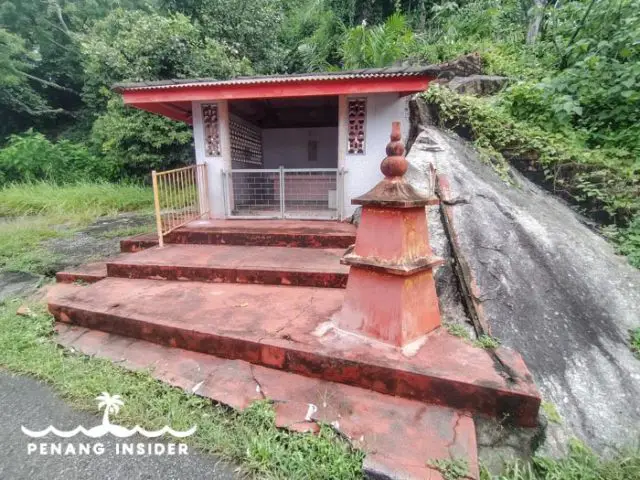 A Chinese Datuk Kong shrine next to a boulder at the far end of Bukit Tambun's main road (image © Marco Ferrarese)
The fishing industry here is mostly in the hands of the local Chinese community. The main drag of the village is lined with Chinese shophouses, and if you proceed towards the end, after New Ghee Seng and Jetty Seafood, you'll come to a Chinese shrine built next to a boulder — well, pretty much partly nestled into it — and more dilapidated Chinese homes that now function as ship docking yards.
---
8
Enjoy Bukit Tambun's murals and street art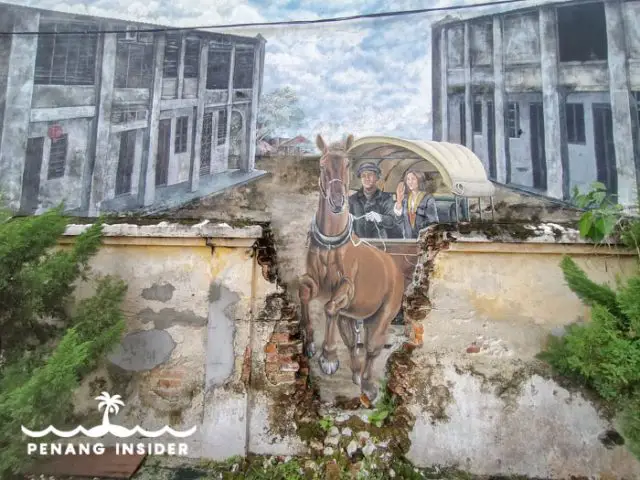 The "carriage breaking through the wall", one of Bukit Tambun's most iconic mural art pieces (image © Marco Ferrarese)
The central part of Bukit Tambun is lined with Chinese shophouses that became even more attractive after the Penang Street Art craze arrived here.
Maybe because they are less visited, or because they are painted on walls that don't see too much direct sunlight, these may as well be some of Penang's best-preserved murals. They range from scenes from the local Chinese community's past — like the "carriage breaking through the wall" and the "Fisherman/Dragon in the Sky" hint more at the village's past history — to portraits of famous celebrities such as Bruce Lee and Marilyn Monroe, painted next to popular characters from Toy Story and Sponge Bob Square Pants.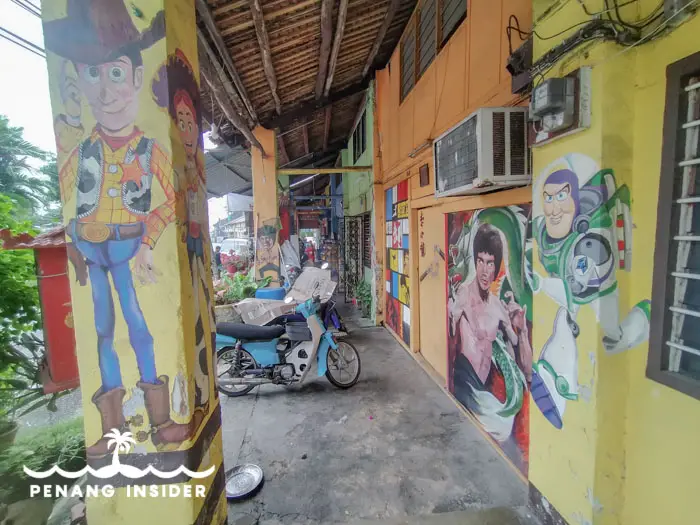 Did you want to take selfies with Penang street art? Well, this is certainly one of Malaysia's most offbeat mural art locations.
---
9
Visit the crumbling Heah Swee Lee's Ancestral Mansion (and witness some of Penang's heritage mismanagement)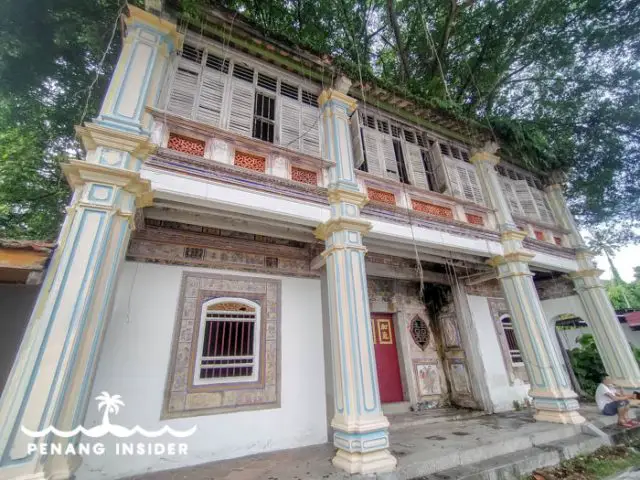 Standing in front of the dilapidated, and yet impressive, Heah Swee Lee's Ancestral Mansion (image © Marco Ferrarese)
Straight in the center of Tambun, right next to the mural of the "carriage breaking through the wall", is an enormous, beautiful, and unfortunately completely disheveled Chinese Clan House that could indeed rival George Town's most famous. It's Heah Swee Lee's Ancestral Mansion, and back in the 19th century, it was home to an important local family. Unfortunately, with all the trees and vines growing all over and inside of it, it looks more like Angkor Wat's Ta Phrom than a clan house.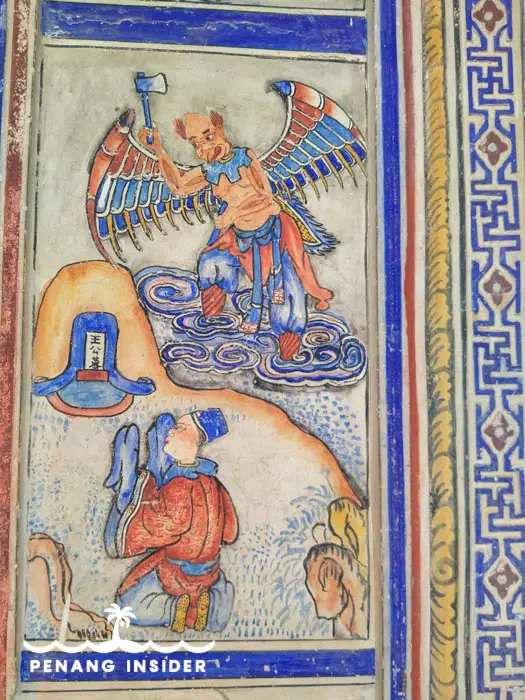 This dilapidated double-story mansion dates back to the 19th century and served as the living quarters of the Heah clan before it was abandoned. The facade is still in good shape though because it received a facelift to become a setting for a local drama series, "The Promise – Keeping the Hundred Year Pact (守 百年 之 约)".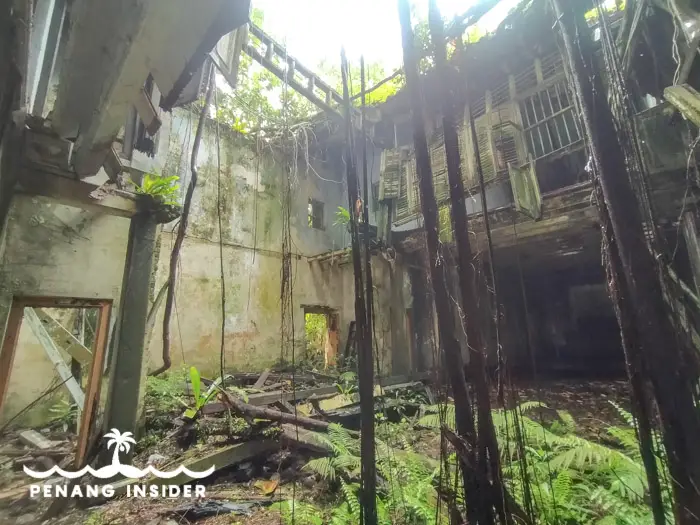 The wooden front door is flanked by two traditional windows with Chinese double-happiness iron window grills, and many of the paintings on the tiles surrounding it are said to depict stories from the "24 Filial Piety Example" of Chinese folklore.

If you dare enter (the door is usually open, just push it) you'll be confronted by the sad state of affairs of this beautiful and yet crumbling building — but you'll have some adventure trying to imagine how living inside of this mansion was like. Such a pity it's been left like this, for this really was a treasure. Why does the focus always have to be on preserving George Town's heritage? Sad.
---
10
Eat the local specialty, Chai Kueh
These steamed vegetable dumplings are typical Chinese snacks and are particularly famous among the Teochew and Hakka people. The skin is soft, translucent, and chewy, and it contains a sweet-sour mix of vegetables. Dip it in spicy sauce, and you have a perfect treat for any time of the day.
Bukit Tambun's restaurants are famous for making scrumptious, handmade Chai Kueh following the local recipe conserved for generations. Don't miss to try some (at RM1 each, they are very cheap) if you swing around here.
HAVE MORE FUN NEARBY
Visit Pulau Aman, Penang's most diminutive island
Hike in Penang Mainland
Visit Bukit Juru
Take a walk at Panchor State Park
Visit Seberang Perai's attractions
---
And if you liked this, why don't you sign up for our mailing list? We will send you immediately a FREE photographic eBook with some incredible pictures of Penang, and we promise, we will disturb you only about once a month with some good local advice you won't find on the site
---