There are so many things to do in Penang that oftentimes the island is what most people ever see. But if you are tired of Penang Street Art, and have quenched your craving for Penang food, then there's a little known secret afloat between Penang and the southern coast of Seberang Perai.
Pulau Aman (translated as "Island of Peace") is not just one of Penang best beaches, but also one of Seberang Perai main attractions. It is so small and laid-back that even most locals let it slip under their radars. Home to a community of 300 fishermen, its quaint, car-free alleys offer timeless tropical bliss. To catch up with modernity, one must hop on the short bumboat ride (RM8 roundtrip) back to the Batu Musang jetty and the mainland.
Comprising of two islets – Pulau Aman and inhabited atoll Pulau Gedung – Pulau Aman was occupied by the Bugis ethnic group of Kedah in 1817 and has been a rural fishing community ever since. The island is relatively small covering 1.2 square kilometres and has a 4-kilometres walking path that snakes all around it.
If you make it all the way here, don't forget that you can spend some time in Bukit Mertajam or trying one of the best hiking trails in Seberang Perai, which include Bukit Juru, the northern flank of Bukit Mertajam Recreational Forest, Bukit Panchor State Park, Frog Hill and Berapit Market Hill.
---
How to get to Pulau Aman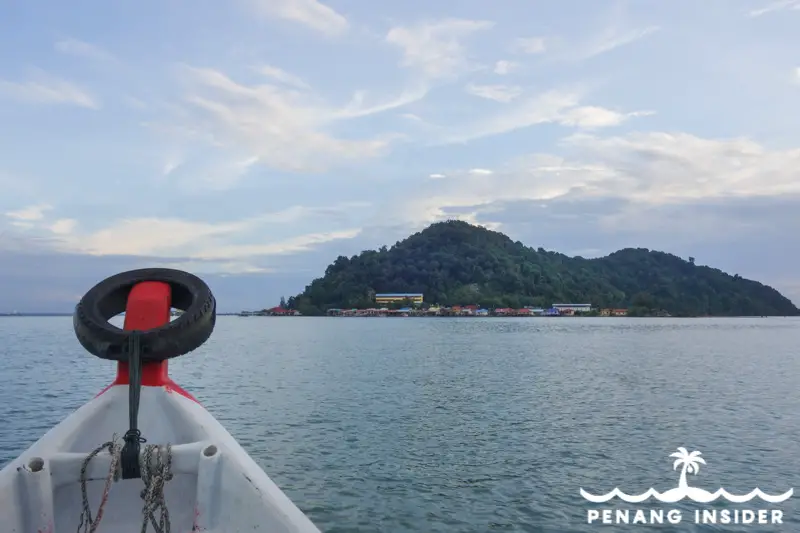 Boats depart almost every hour to Pulau Aman from the Batu Musang Jetty outside of Batu Kawan. As often happens in Malaysia, there is no public transportation to this jetty, and the best way is to come here with your own wheels — either by car, motorbike, or even cycling from Penang or Seberang Perai.
You can arrive easily at the Batu Musang jetty from Bukit Mertajam or from Penang's Second Bridge, as Pulau Aman's jetty is just a few kilometers north of the famous Penang shopping malls IKEA and Design Village. If you go there, you shouldn't forget the scrumptious seafood and street art at nearby Bukit Tambun.
This is a location map of the Batu Musang jetty:
---
Pulau Aman Boat Timings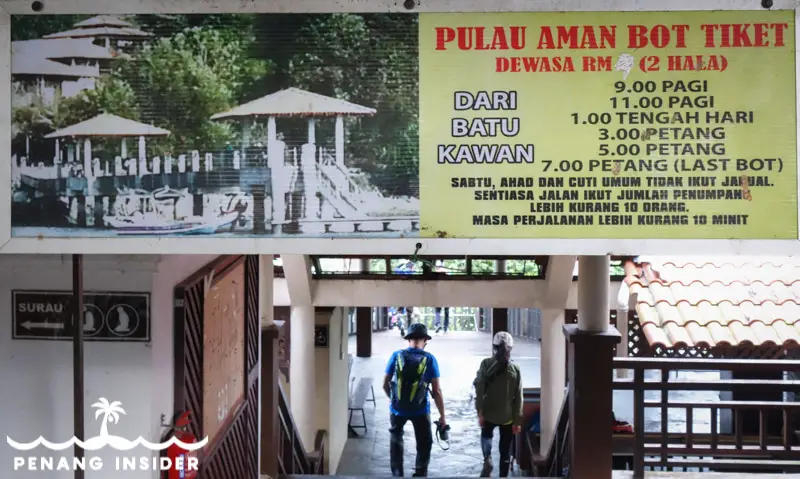 The schedule to travel from the Batu Musang Jeti to Pulau Aman is the following:
9 am / 11 am / 1 pm / 3 pm / 5 pm / 7 pm (last boat)
The schedule to travel from the Pulau Aman jeti to Batu Musang is instead:
8 am/ 10 am/ 12 pm / 2 pm / 4 pm / 6 pm (last boat)
The cost of a return ticket is RM8 per adult and RM4 for children until 12 years of age. Infants travel free.
---
Where to Stay on Pulau Aman
Though most visitors tackle Pulau Aman as a day trip, private chalets and a homestay program are available to stay overnight on the island. Koperasi Pelancongan Pulau Pinang (6 Jalan Kampung Kaka, 10200 George Town, Penang; +60 –4–250 5500) or Pulau Aman Fishermen Association (+60–4–530 7185) can arrange bookings.
Blogging transparency: this post contains affiliate links. These are products and services that we personally use and recommend. If you click on one and buy any service, I will get a small commission at no extra cost to you. Consider it a small way to say thanks, and keep Penang Insider going.
Otherwise, if you want to stay close to the jetty around Batu Kawan, you may check:
Batu Kawan Ultropolis Homestay is a cozy apartment that fits three people. Check prices on BOOKING | AGODA
NO31 Maple Inn is a simple and yet well-appointed mid-range hotel in Simpang Ampat, perfect for a night out before catching an early ferry to Pulau Aman. Check prices on BOOKING | AGODA
Sri Semilang Homestay has larger-than-life rooms inside a modern Malay house in Juru, perfect to also tackle Bukit Juru on your trip. Check prices on BOOKING | AGODA
Not satisfied? Check other accommodation near Batu Kawan and Simpang Ampat.
---
Best Things to Do at Pulau Aman
The compact size and idyllic environment of this islet make it a pleasure to walk or cycle (rental bikes are available at the jetty for RM2 per hour). For nature lovers, a hiking path to the top of a forested hill reveals panoramic views that stretch all the way to Penang island.
And this is a list of interesting things to do you should try when at Pulau Aman:
---
1
Take a boat at Jeti Batu Musang
Your Pulau Aman adventure starts here, and why not enjoy it to the max? The Batu Musang jetty has a large free parking lot where it's safe to leave your vehicle and is a very good spot to see and take photos of Pulau Aman and the coast nearby. If you are lucky, fishermen will be trawling the sea before your eyes.
---
2
Explore the old-world Jeti Pulau Aman
There's no better introduction to how much diminutive Pulau Aman is than its namesake jetty. This is where boats back to the mainland and charter boats to either round-island angling or nearby Pulau Gedung depart from.
Made of wood and floating, Jeti Pulau Aman is the best introduction to this car free island.
---
3
Roam around a traditional Malay Kampung with no cars
Pulau Aman is home to a Malay fishermen community of about 250. They live in a village clustered around the Pulau Aman Jeti. It's an interesting place to come see how coastal Malay culture still exists so close to a developed powerhouse like Penang island. Walk around, and if you speak some Malay, you'll be able to easily strike off conversations — the folks here are laid back and rural, and love a good chat from the odd visitor.
---
4
Try Pulau Aman's scrumptious Mantis Prawns
Mantis Prawns are a prized, delicious specialty, and abound in the waters off Pulau Aman. For years, package tourists have come to this island only to sample the hearty bowls of noodle soup garnished with mantis prawns. And like it or not, this is Pulau Aman's main source of wealth, and the reason why many Malaysian commute to this diminutive island just to have a meal.
---
5
See the Oldest Sukun Tree in Malaysia
You will see many Sukun (Breadfruit) trees all around Pulau Aman. But did you know that the island has Malaysia's first? Start walking from the main village and along the main footpath that snakes around the island to see the first Breadfruit Tree ever planted in Malaysia in 1890. A stone memorial indicates it so you won't miss it.
---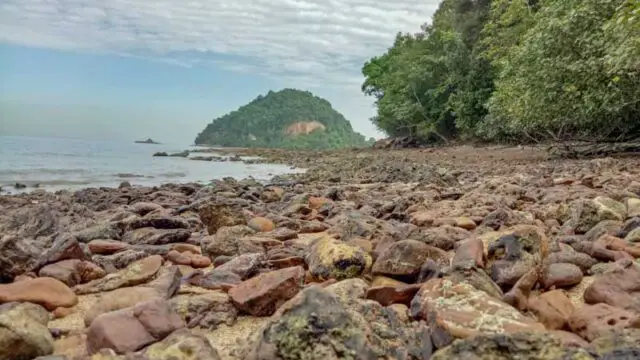 The rugged coastline of Pulau Aman, an islet floating between Penang Island and Seberang Perai (image by Rexy Prakash Chacko)
This beauty of an island is best seen on a hike: start by taking a stroll on the main paved path, which passes by the oldest Sukun Tree and the Golden Well. If it's low tide when you reach, spend some time observing the exposed mudflats on the coast and catch the mudskippers sparring with the fiddler crabs. If you are up for something more challenging, a short but tough trail leads up from the main footpath to the 112-meter-high sandstone peak of Bukit Pulau Aman.
---
7
Visit Pulau Aman's Golden Well (Telaga Emas)
The quirky Golden Well is another worthwhile attraction: dug in 1789, it's a fresh water source next to the sea, and takes its name from the legend of a villager who found a golden vase in it. Besides legends, it is quite important to note that this well was dug here because there's a freshwater spring set right next to the sea… quite odd and still worthwhile to see.
---
8
Take a Trip to Pulau Gedung
If you observe Pulau Aman, it's actually not one, but two islands laid next to each other. Behind Pulau Aman is Pulau Gedung, an uninhabited atoll that generally does not see much activity like Pulau Aman. You can, however, hire a boat from the Batu Musang or the Pulau Aman Jeti to take you there. The Pulau Gedung jetty is long gone because of no maintenance, but just beyond it, you can still an old British Garrison which was probably used to store ammunition.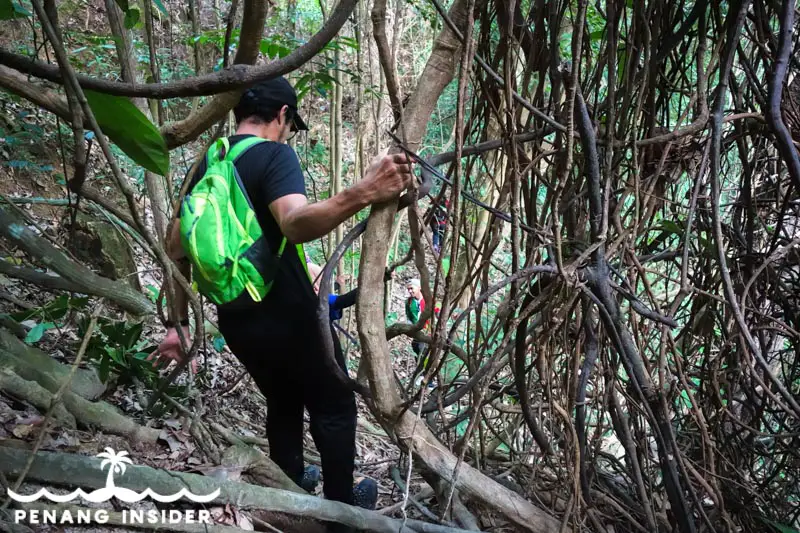 Hiking on Pulau Gedung is possible with a guide from Pulau Aman, but it's tough and not recommended for starters: expect a lot of insect, ants, thick jungle and poisonous trees. We did it together with some friends, and besides some interesting views from the end of the two ridges that make up this long, narrow island, we would not recommend this for the hike alone. Try to organize it if you are a hardy explorer, but there are indeed better places to hike in Penang Mainland.
---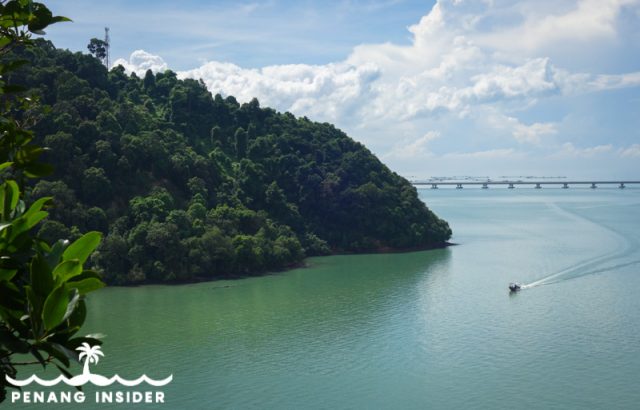 View of Pulau Aman's forested top, where Batu Perompak is, taken from Pulau Gedung (image © Marco Ferrarese)
Back in the day, Pulau Aman was known as a pirate's den: ships sailing along the Strait of Melaka would do pit stops here, striking deals and hiding their bounties. This colorful back story is certainly a thing of the past, but a trace remains at the top of Pulau Gedung central hill: a rock called Batu Perompak (Pirate's Rock), that marks the gravesite of pirate chief Panglima Garang. As the forest on Pulau Gedung is so thick and there's no trail, you must rely on one of the guides from Pulau Aman to take you there. Any trip along Pulau Gedung's ridge offers beautiful views of the pristine sea.
---
Eat Pulau Aman Seafood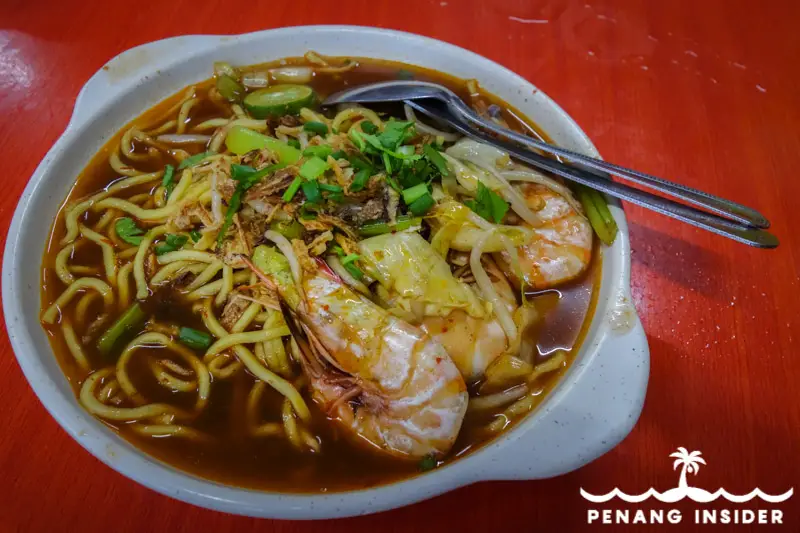 Say Pulau Aman to Penang locals, and you'll have two typical answers: they either won't know what you are talking about, or they'll think of seafood.
We have already mentioned Pulau Aman's plentiful Mantis Prawn population, and these are some of the most famous local restaurants to try the best seafood on Pulau Aman.
The quintessential Pulau Aman experience is to kick back in front of a clear ocean view and savour mouth-watering seafood. With its gracious wooden veranda on stilts overlooking the bay, Restoran Terapung (Tel. +60- 194766125; meals for two from RM20) is the perfect location to unwind. Terapung specializes in prawns served with mee kuah, nasi goreng or fried koay teow (RM8 per serving). Fresh mantis prawns- Pulau Aman's speciality- are also plucked live from tanks and cooked on order.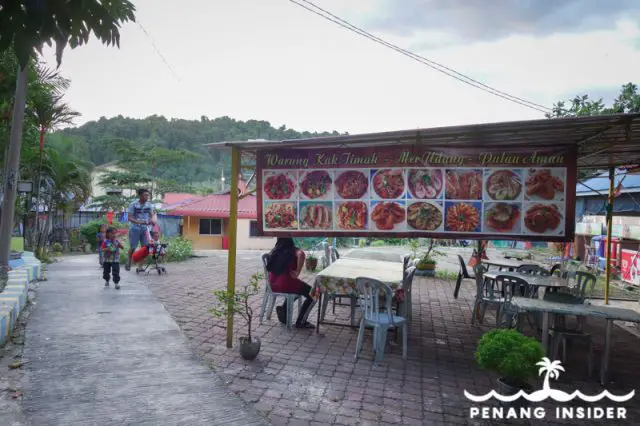 Warung Kak Timah on Pulau Aman serves delicious food such as mee udang and others (image © Marco Ferrarese)
For a choice of Malay dishes served on rice, continue walking along with the island's only coconut tree-shaded alley to Warung Kak Timah (+60 – 134334932; meals for two from RM20), a homely family-run restaurant. You may try the juicy and scrumptious fresh mee or koay teow udang (RM10-12) or nasi goreng udang (RM12).
---
Pulau Aman: Final Verdict
Pulau Aman is a fantastic island getaway for an easy day or half-day trip from Penang. If you love quiet places, take a lazy walk after a nice seafood meal, or dip yourself in some of Penang most quiet waters — Pulau Aman is a great choice that very few tourist visit, and even fewer explore. If you find the pace of this diminutive island too slow and, like most urbanites, prefer shopping, you can visit Pulau Aman in the morning, have lunch, and then return to Batu Musang jetty and drive a few kilometers south to either IKEA or Design Village in Batu Kawan.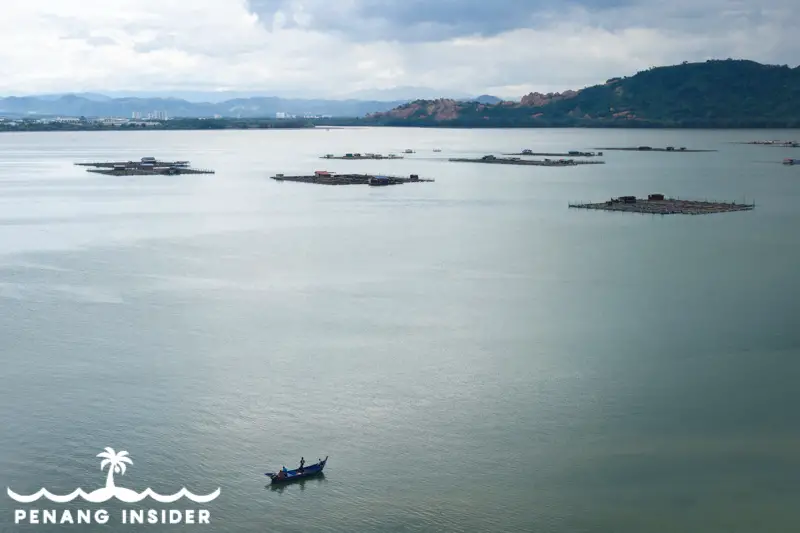 Where next?
Pulau Aman is also a good starting point for a trip further south to northern Perak, where you may visit the fishing villages of Kuala Kurau, mangrove-haven Kuala Sepetang, the bird reserve of Kuala Gula, or go try some of Taiping's best food.
---
And if you liked this, why don't you sign up for our mailing list? We will send you immediately a FREE photographic eBook with some incredible pictures of Penang, and we promise, we will disturb you only about once a month with some good local advice you won't find on the site