If you look anywhere to the sky in George Town, you can't miss Komtar, Penang's tallest building. Built between 1974 and 1989, it soars in the center of George Town like a protective, iconic tower. Together with Penang Ferry and Penang Botanic Gardens, it's one of the island's real landmarks and a favorite spot for pre-wedding photography. Did you know that there are also many fun things to do in Komtar these days?
This article will describe the best things to do in Komtar at The Top Penang, a perfect place to go in Penang with kids, and one of the best things to do in Penang. If you are based in Kuala Lumpur and want to visit, here's how to get from KL to Penang.
And if you need a place to stay, don't forget our list of the best budget hotels in Penang, cozy Penang Airbnbs, swanky Penang 5-star hotels, and most stylish boutique hotels in George Town.
What can I do in Komtar at The Top Penang?
There is more to do in Komtar at The Top Penang than visiting some of Penang most famous shopping malls and trying any of its best Western food outlets, Penang cafes and best bars, or famous Penang laksa. The Kompleks Tun Abdul Razak (Komtar) is George Town's highest and most iconic building and the sixth tallest in Malaysia. It re-branded in 2015 as The Top Penang, the "highest iconic edutainment tower" on the island, adding three floors to the original structure, which now reaches a staggering 249 meters of height. It's within walking distance of Penang best street art — check our itinerary post with map.
Reach your Limits on the Rainbow Skywalk in Penang
On the summit of Komtar Penang is the Rainbow Skywalk, a horseshoe-shaped, transparent glass bridge offering the most thrilling panoramic views of George Town and Penang, stretching all the way to neighboring Kedah state. Always on the 68th floor is Coco Cabana Cafe, a cozy spot to drink a cocktail and have an Asian or Western-inspired meal, and overall, the perfect place to linger for a sundowner while enjoying unique views over the Straits Sea.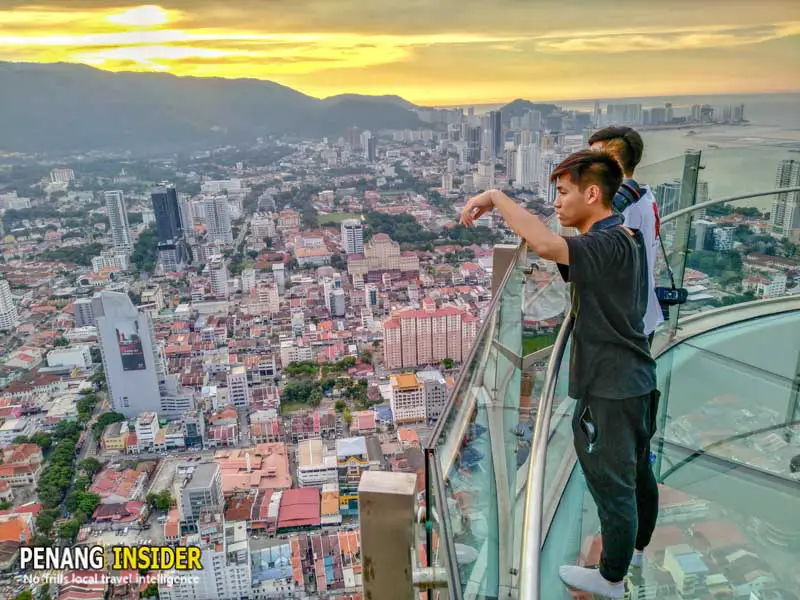 But wait, because there's even more: the Observatory Deck on the 65th floor has floor-to-ceiling walls that warrant a 360-degree view over George Town and Penang island. Those who don't suffer vertigo may even try the Gravityz, a 90-meter-long rope course and zip-line skirting the exterior of the building. Dubbed as the highest rope course in the world, it's definitely not for the squeamish — yes sir, I am one and you'll read more about this below.
For kid-friendly entertainment, you can return down to Komtar 3rd and 5th floor and indulge in attractions such as the 7D Discovery Motion Cinema, the Zombie Outbreak, the Jurassic Research Centre, the Top Boutique Aquarium and the Tech Dome, which mixes science with fun activities.
Price of The Top Penang at Komtar
The best way to see everything that The Top Penang offers in Komtar is purchasing a Fun Pass which allows multiple entries to every attraction except the Augmented Reality Virtual, The Gravityz, Formula One & TOP Capsule. It costs RM78 for MyKad Malaysian holders and RM99 for all other adults, and RM48 for Malaysian children/RM58 for foreign children.
You can skip the queues and buy yourself The Top Komtar tickets online here via our partners at Klook. We always use them when we travel, and we can't recommend them highly enough.
Price of the Rainbow Skywalk at Komtar
If you are only interested in the Komtar Skywalk, it costs RM48 for Malaysians and RM68 for foreigners. Malaysian children pay RM28 and foreign children RM48.
You can skip the queues and buy your Komtar Skywalk tickets online via our partners at Klook. We always use them when we travel, and we can't recommend them highly enough.
The Best Things to Do in Komtar at The Top Penang
Here's a breakdown of the best things you can do at the Top Penang while you visit Komtar.
You can simply proceed to the upper floors by paying RM49 (Malaysian)/RM69 (foreigner) and try the Rainbow Skywalk, but why not consider a Fun Day Pass, which allows you to try not just one, but 14 of the Top attractions in Komtar, for basically the same price? This is a particularly good deal if you are visiting with children — you can easily spend a long, full day of fun here.
Money-Saving Tip:
you can
buy a discounted The Top Penang Fun pass
online through our partners at Klook, a popular and secure website accepting most major debit and credit cards. With this pass you'll skip the queues, especially on weekends and school holidays, whizzing directly to the attractions with your kids or partner.
Komtar Skywalk Penang
1
Window of the Top and Rainbow Skywalk
The Komtar Skywalk is what the Top Penang is most famous for, and a favourite attraction in Penang: The Top's 68th floor, now converted into an open-air cafe and observation deck. The famous Rainbow Skywalk is also here: it's a horseshoe-shaped bridge that will let you stand a soaring 249-meters-high above George Town. Look down, and you will see streets, buildings, and cars reduced to miniatures. Don't look down if, on the contrary, you suffer vertigo as it's definitely not fun. But sunsets are magical up here, no matter what. Seeing the sun going down behind Penang Hill as the Straits Sea colors up in shades of glowing pink is always a magical experience.
You must take your shoes off and queue up to access to the Rainbow Skywalk. Consider that it takes about 20 to 30 minutes to reach the Top from the entrance of Komtar, as you will need to buy tickets, and go through a security check before you can access the first elevator to the 65th floor. There's another elevator taking you up to the 68th floor, where Coco Cabana, the Top Penang's highest restaurant, is waiting for you.
Insider Tip:
Note that if you want to have dinner up here, you just have to make a reservation and you won't have to pay for
the Rainbow Skywalk or The Top Penang's admission tickets
. You will, of course, be able to take a peek and a walk on the deck regardless, so consider bringing your family or date for a meal up here to enjoy the full experience.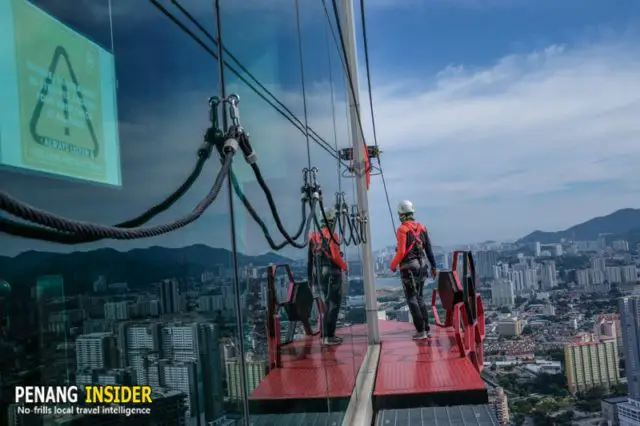 The Gravityz obstacle course, definitely the most blood-chilling activity in Komtar at The Top Penang (image by Kit Yeng Chan)
The Gravityz is the Top Penang latest and most adventurous attraction. It's a 90-metre-long rope course and zip-line attached to the exterior of Komtar's 65th floor, and possibly the highest rope course in the world to date.
You must take the elevator up to the 65th floor, the Observatory Deck, and the Gravityz registration desk will be there waiting for you.
The scope of the Gravityz is to show customers that a bit of adrenaline can go a long way to make you complete some high-altitude challenges (like, putting your leg and arm out into the void while you're hanging with the other arm from a rope connected to the Komtar building) and boost your self-esteem. The attraction uses top of the range ropes and security climbing materials imported from Italy, Switzerland and Sweden, so you should not worry about security. The young staff is well-trained and they'll help you make the best out of this experience in a secure way. However, being up at 239 metres, with the wind blowing against you as you walk on a small platform is NOT for everyone. If you are afraid of heights, this may not be the best thing to do for yourself.
I for one have tried and miserably failed before the second challenge: a bridge suspended over pure nothingness. But my wife Kit, the adventurous soul with no fear of heights, completed the whole course without issues — and even managed to snap some great photos with her Fujifilm XE3 wrapped around her wrist. Good girl.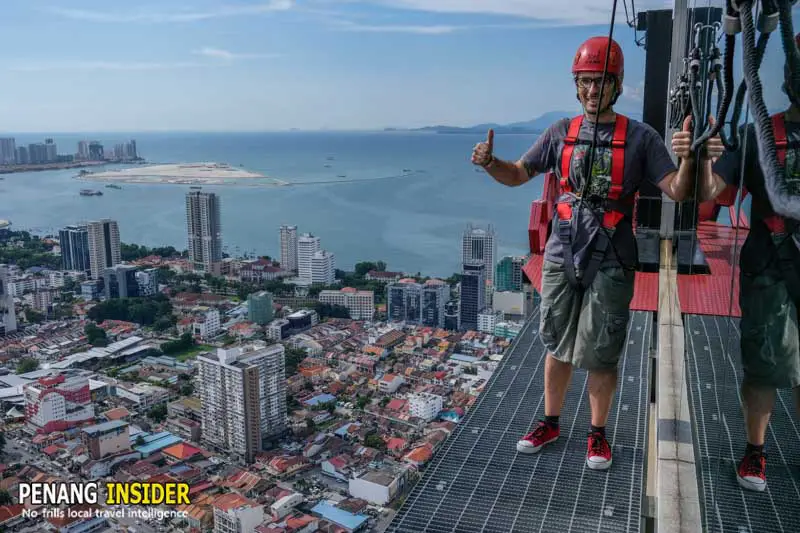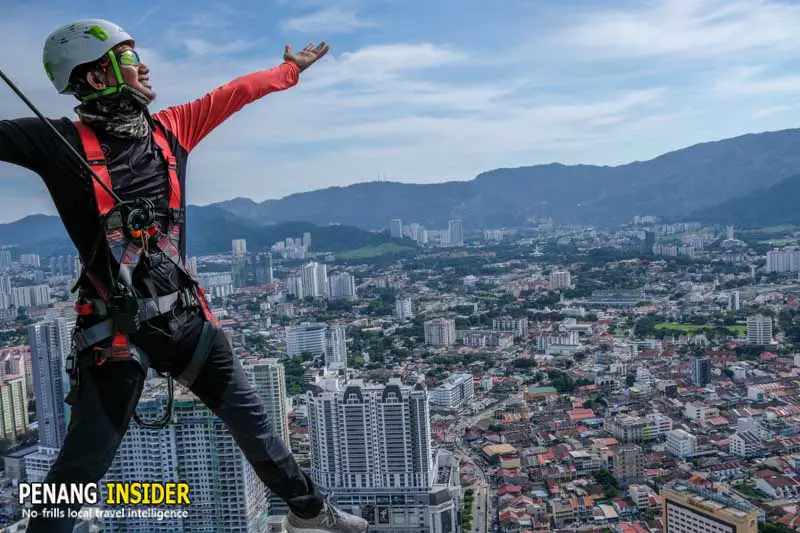 The highlight of the Gravityz is definitely the short zipline jump where you'll literally be flying into thin air over an abyss and George Town, many, many metres below.
The cost for the Gravityz is divided into two tiers and is to be paid additionally to the Fun Pass:
1) For the first two challenges, you pay RM79/single person, RM64/two persons or RM49/four persons. Price is per person, of course.
2) For the full course of 6 challenges, you pay RM179/single person, RM164/two persons or RM149/four persons.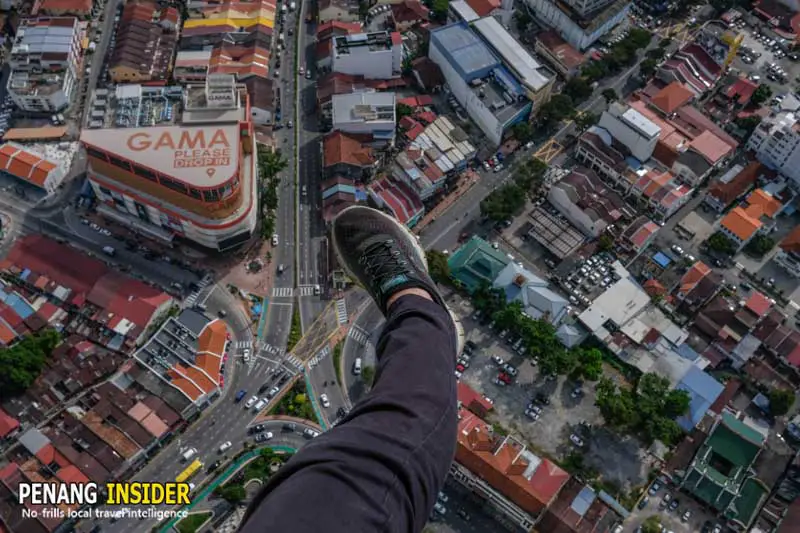 WANT A DISCOUNT?
you can
buy a discounted Gravityz ticket online
through our partners at Klook, a popular and secure website accepting most major debit and credit cards. You'll skip the queues, especially on weekends and school holidays, and you'll whiz to the front of the Gravityz' line with your kids or partner.
3
Komtar Penang Observatory Deck
The Top Penang 65th Floor is now dedicated to a viewing gallery with floor-to-ceiling glass walls from where you'll see Penang and George Town as you've never had. Take your time walking around, as there are several good spots from where you can see, among others, the coastline up to Pearl Hill, the two Penang Bridges and Jerejak Island, Seberang Prai and, of course, get a bird's eye view of miniature George Town.
What are the Best Things to Do in Komtar at the Lower Levels of the Top Penang?
The Top Penang has obviously the most scenic views and attractions, but you should also take your time to visit the lower levels 3 and 5, especially if coming with children, as there are plenty more things you can do at The Top Penang in Komtar.
4
The Top Boutique Aquarium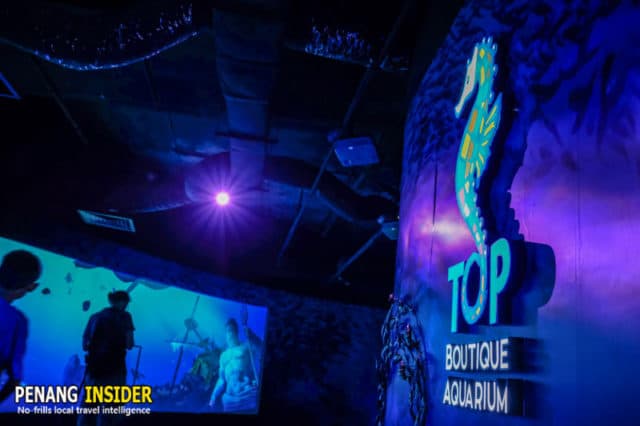 The suggestive entrance to the Top Boutique Aquarium, on Komtar Penang Level 5 (image by Kit Yeng Chan)
This is a very interesting aquarium with about 100 tanks and a similar number of fish species from Southeast Asia, South America and Africa. We really loved how it starts with a Penang-themed corridor: all the fish tanks here are decorated, instead of using rocks, with iconic Penang tools and homeware. For example, you will see old shophouse window shutters, dim sum wooden boxes, food tiffins, an old sewing machine, and old-school aluminium hot water jugs surrounded by fish. One clever and special idea, for sure.
The rest of the aquarium continues with dim lights and decorations that give it a feel of something between a Victorian Mansion and a hidden cave. Among the fish on display, you can see albino knife fish, many species of barbs, red finned cigar sharks, and bigger fish like arowana, kelah fish, jade perch and the huge pirarucu. Don't forget the sharks you can actually pet assisted by the staff and giant lungfish. Also, ask the staff to show you the shark's eggs: yes, believe it or not, they mate also here, in a public aquarium.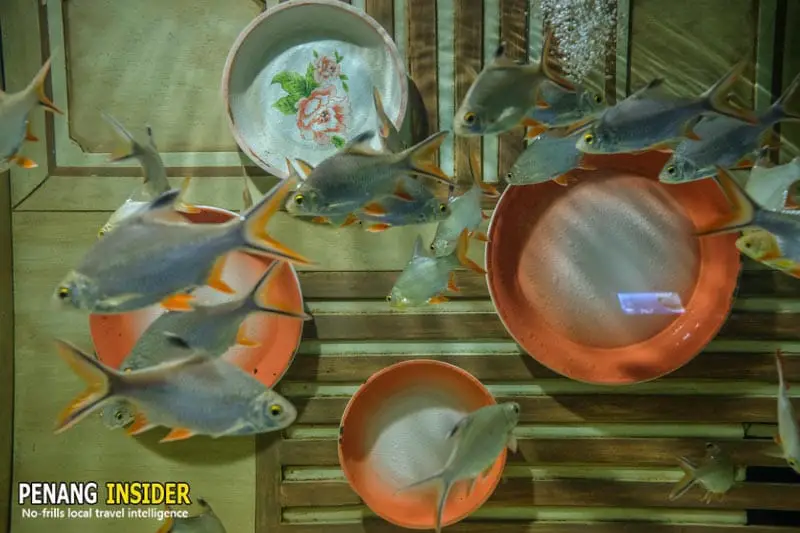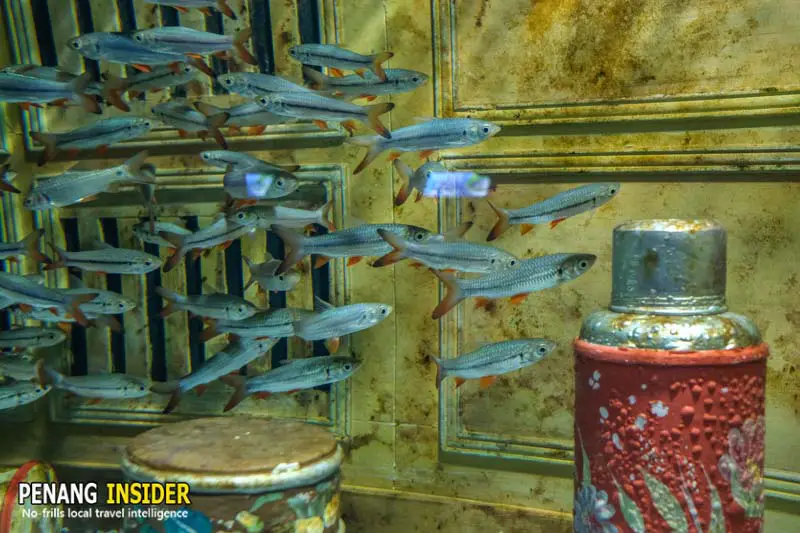 On weekends there are storytelling sessions with mermaids — well, girls dressed as mermaids — to engage children with the mysteries of the underwater world. Very recommended.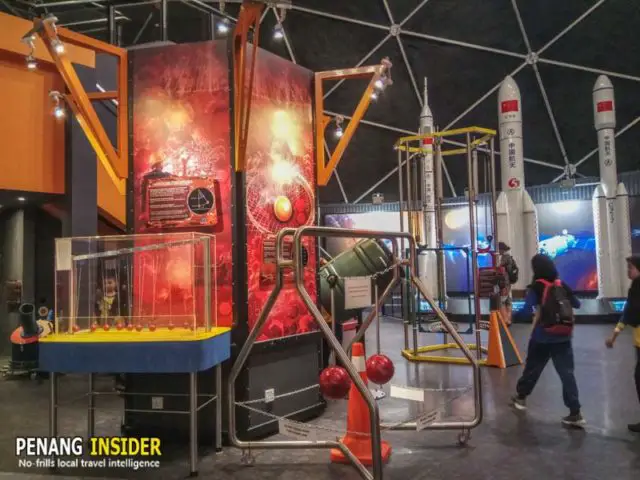 The Tech Dome, an interesting scientific exhibit for kids in Komtar at The Top Penang (image by Kit Yeng Chan)
This pavilion mixes scientific research with real-world examples. Kids can play with several different machines that explain the role of physics and try their hands directly at them to see how stuff works in real life. Straight in the centre is a huge slide attraction that's a real thrill for the kids, but even visiting adults may learn something from browsing the exhibits.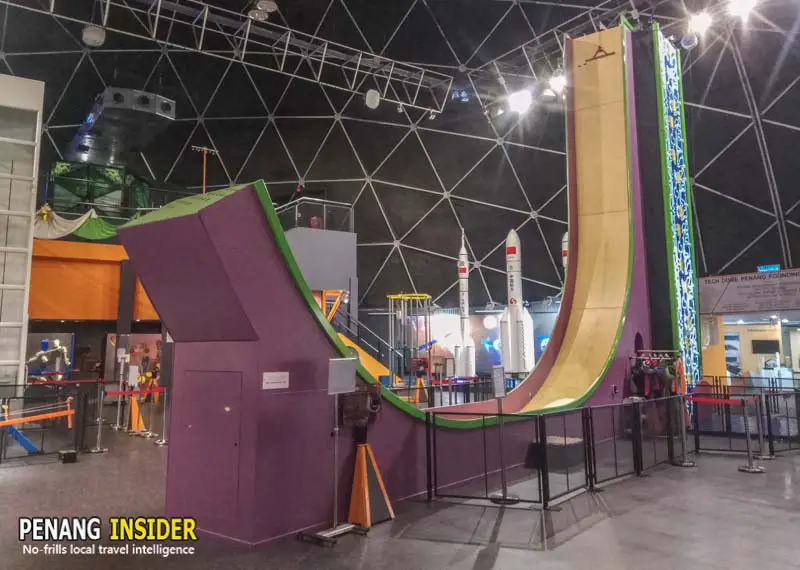 The Tech Dome closes earlier than most other attractions at 6 pm, so time your visit accordingly.
Everyone needs a dodgem car ride, and the Jelly Bump is where to find them inside The Top Penang on Komtar's Level 3. There are two race courses, one for kiddos with apprehensive moms in tow, and one for the "big boys". Choose whichever fits your age range and prowess, and go for it: a simple, old-fashioned way of having some fun… just be careful and keep your back straightened out against the seat.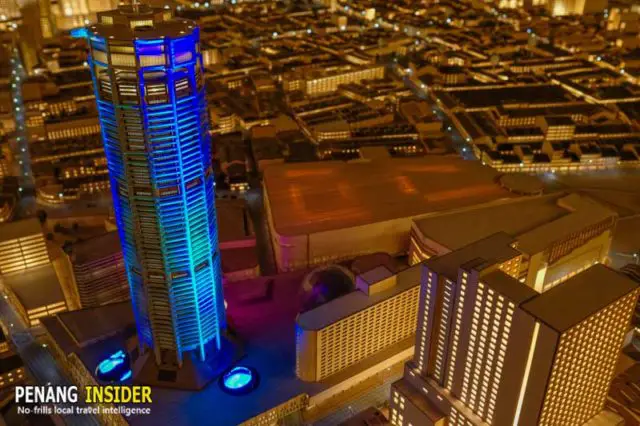 Miniature Penang has a plastic where Komtar building is represented in mini-scale (image by Kit Yeng Chan)
Right up from Komtar main entrance, at the beginning of The Top Penang, is this museum dedicated to the history of Penang island. Believe us, it's pretty interesting for what it offers. The idea is to depict Penang from the Top: you will see miniatures of how the island and the province of Seberang Perai look from the sky, all laid out with great detail and interactive explanations.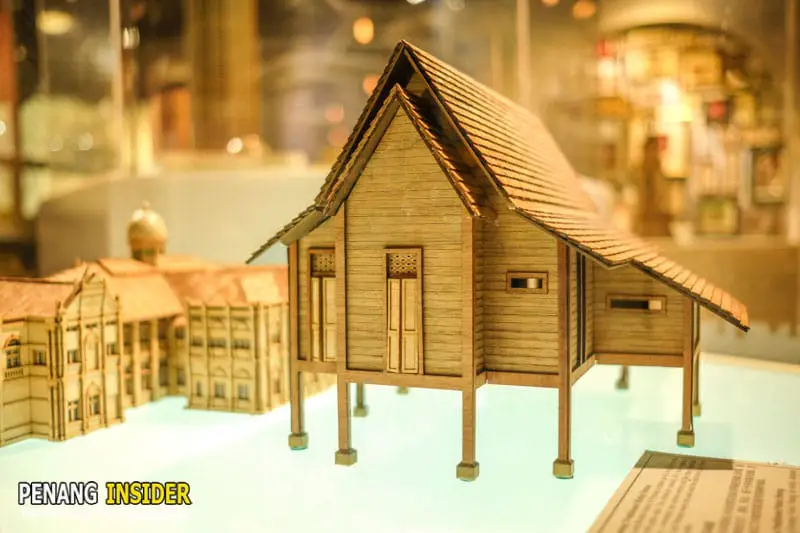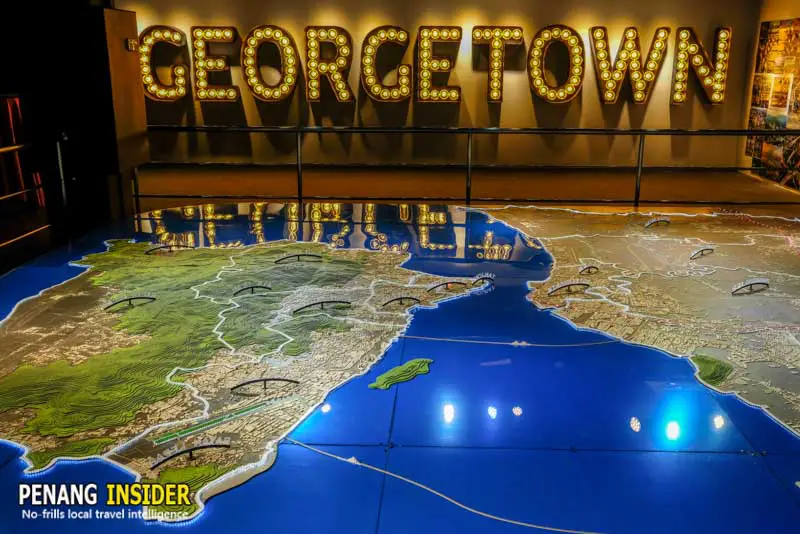 The other rooms have good and to the point exhibits that resume Penang's modes of transport — I learned here that the first car was brought to the island in 1903 —, multicultural festivals, an illustrated timeline of Penang's history from its discovery during colonial times, life-sized replicas of Penang's most famous foods, and a history of the Peranakan of Penang.
There are also, of course, plenty of opportunities to indulge in some Penang-themed selfie-shots in the last couple of rooms.
8
King of Fruit Durian Museum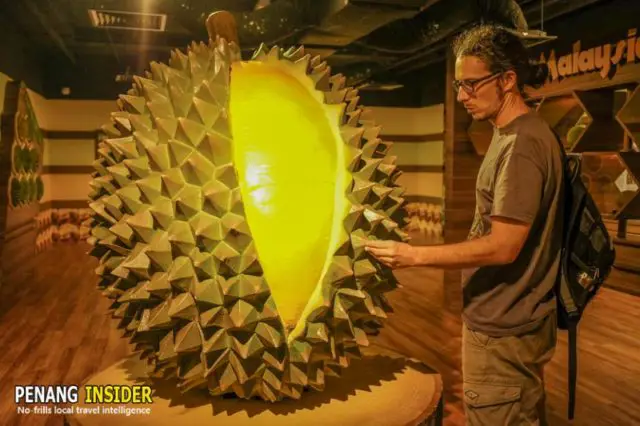 Marco facing the Big Durian at the King of Fruits Museum, The Top Komtar Penang (image by Kit Yeng Chan)
Next to Miniature Penang is this fun museum dedicated to the Durian, the King of Fruits. One could shudder simply at the thought that such an attraction exists, but on the contrary, this museum is quite fun and interactive.
It showcases several giant plastic replicas of durians and other tropical fruits for fun selfie opportunities (you may also climb a reversed coconut tree), but beyond that, there's quite a lot of simple and well-explained information on the different types of durian, the genesis of their names, and their geographical location. This museum also offers an interesting insight into the first historical records of the durian as described by food and travel writers since the times of the early colonization of the Malay Archipelago. Educative and definitely not foul smelling.
9
7D Discovery Motion Theatre, a first in Penang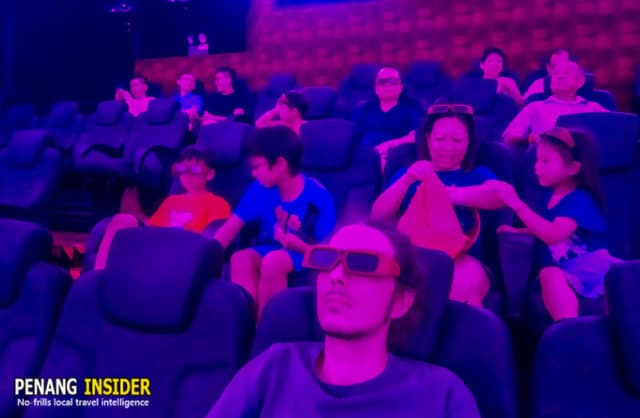 Watching pirates in 7D Discovery Movie Theatre, the only one in Penang, at The Top Komtar (image by Kit Yeng Chan)
You can try a 7D Movie Theatre inside of The Top Penang. The visit is included in the cost of a Fun Pass and offers a 15-minute long interactive movie experience. When we visited, we watched a movie about pirates: guests must wear special 7D glasses and concentrate on the top of the movie room, a dome-shaped roof on which the action is projected.
In the movie we saw, you'll be a "pirate" traveling into a wheeled cart through a tropical environment full of flying birds, exploding rocks and thrilling sounds. The chair moves together with the visuals, giving you a feel of being lured straight into the action. It was my first time trying this type of cinematic experience and I enjoyed it, but I believe the movie was a tad bit short, and I left kinda disappointed as I wanted to experience it a bit more. Hopefully, the next shows will offer longer films, giving guests more of a solid memory of this attraction which, to clarify, is the only one of its kind available in Penang.
10
The Top Penang Jurassic Research Centre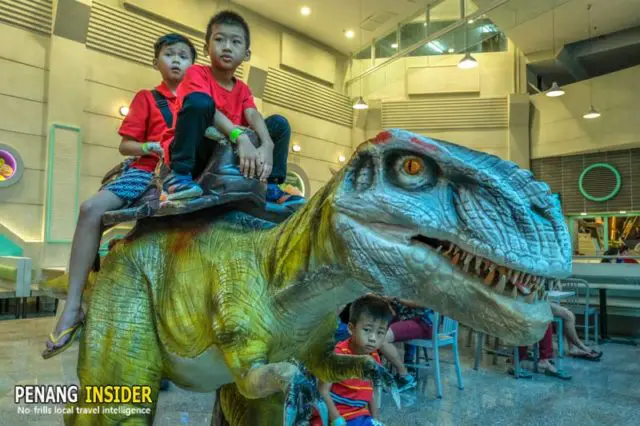 Kids riding a velociraptor wouldn't be normal if not at the Jurassic Research Center, at Level 5 of The Top Komtar Penang (image by Kit Yeng Chan)
This indoor and outdoor gallery is a hit with kids who love seeing the mechanical replicas of their favourite dinosaurs move in a well-choreographed theme park. It's essentially a walk around several rooms and open spaces where the history and habits of dinosaurs are explained and reproduced for the joy of kids and adults.
Outside the main entry gate, children can ride and play on some toy dinosaurs and bring home a few cherished memory shots.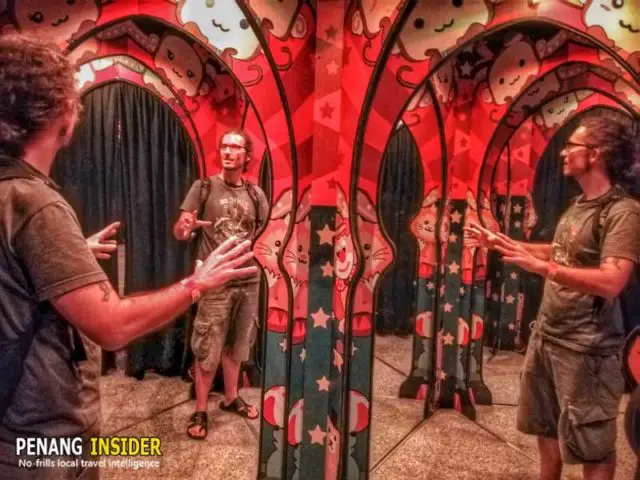 Facing two of my own selves inside Mirror Maze, a fun circus-like game at Penang memorabilia used as aquarium material at The Top Komtar Penang (image by Kit Yeng Chan)
This attraction is a quick and fun throwback to the joys of the circus and theme parks. Guests enter a maze full of mirrors where their perceptions are altered by the multiple reflections. Finding the way out is not that easy: our recommendation is to walk keeping an arm outstretched in front of your face to avoid bumping into a wall you didn't realize was actually there and bring home a bump on your forehead.
A TV screen set over the entrance of this house of horrors shows a film that tells about a terrible radioactive incident that turned the world into a virulent zombie pit. Classic plot for this super classic scare attraction developed around a walk inside a haunted house. Please try to come on weekends, when the attraction is at its most busy, and staff dressed up as flesh-hungry zombies will jump out trying to catch you, adding a good scare to your afternoon. When you don't see them, the place is not that scary indeed.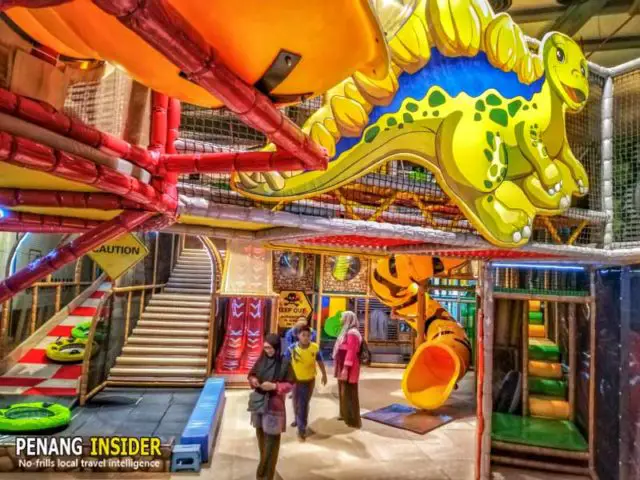 The entrance to the Dino Gym in Komtar: bring your kids to sweat off some calories while at The Top Penang (image by Kit Yeng Chan)
This is one for the kids, with several slides and an indoor playground, but adults can nevertheless have their share of fun using the trampolines outside to jump around a bit and relieve some stress. I personally love trampolines and enjoyed myself quite a bit rocking it up and down here for a good twenty minutes. Remember to bring socks with you as they are mandatory to use this attraction — and also sweat off some calories.
---
Blogging transparency: this post contains affiliate links. These are products and services that we personally use and recommend. If you click on one and buy any service, I will get a small commission at no extra cost to you. Consider it a small way to say thanks, and keep Penang Insider going.
---
And if you liked this, why don't you sign up for our mailing list? We will send you immediately a FREE photographic eBook with some incredible pictures of Penang, and we promise, we will disturb you only about once a month with some good local advice you won't find on the site