There are so many things to do in Penang that oftentimes the island is what most people ever see. But if you are tired of Penang Street Art, have quenched your craving for Penang food, and love nature, this article is going to help you discover the lesser-known Bukit Mertajam Recreational Forest.
We have already discussed in-depth how to enjoy Penang Hill and hiking its trails, which include the short and scenic hike to Station5 via Moongate. And also written a detailed guide on the trails of Bukit Hijau. We even suggested driving to nearby Kedah state to climb Gunung Pulai and Gunung Baling. But this time we'll focus on more of Penang's offbeat nature trails and hikes that you can do in Bukit Mertajam.
The dome-shaped peak, often called Tok Kun or To'Kun Hill by the locals is the tallest point on mainland Penang at 545 meters and one of Seberang Perai's main attractions. It towers over the vast flat plains around it making it a clearly visible landmark from miles away and is home to some of Penang mainland's best hikes — check our in-depth guides to Bukit Juru, Bukit Panchor State Park, Berapit, Batu Kawan and the nearby seafood paradise of Bukit Tambun, and the turquoise pools of Frog Hill. And if you are looking for an offbeat island, don't forget Pulau Aman.

Going back to Bukit Mertajam Recreational Forest: there is a maze of trails running up to the summit which can be done in as little as 1 hour 20 minutes, or as an arduous full-day loop that includes the nearby peaks.
---
How to get to Cherok Tok Kun, Bukit Mertajam Recreational Forest
This is a map of Bukit Mertajam Recreation Forest, or Cherok Tok Kun's location:
The forest reserve is close to the town of Bukit Mertajam along the highway to Kulim. If you are on Penang island, you will need to get to Bukit Mertajam first.
---
How to Get to Bukit Mertajam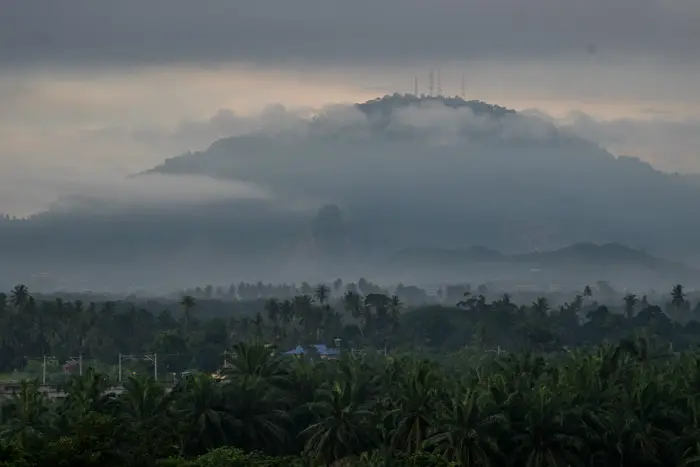 There are several ways to get to Bukit Mertajam, the best of which is by your own wheels. Or you can always get a Grab Car from Penang
Getting to Bukit Mertajam by Bus
If you are coming from George Town, first of all, take the iconic Penang Ferry and get to Penang Sentral. The bus station with departures to Bukit Mertajam is on the lower ground floor.
Rapid Penang Bus 702 travels from Penang Sentral to the terminal Bas Bukit Mertajam on Jalan Aston — 500 meters from Bukit Mertajam's old town.
Getting to Bukit Mertajam by Train
Bukit Mertajam is also an important station on the ETS route between Butterworth, Kuala Lumpur and the Thai Border at Padang Besar.
READ MORE— How to Do a Visa Run from Penang to Thailand
Check our guide to catching trains from Penang to know more about routes. Once in Bukit Mertajam KTM station, Jalan Pasar is 2km away. Catch a Grab Car, as the heat can be unforgiving.
---
Best Hotels in Bukit Mertajam
If you want to stay in Bukit Mertajam to hike at Cherok Tok Kun the next morning, the best place to base yourself is Bukit Mertajam as it's the closest center with something worthwhile to do. You can see our list of the 10 best hotels in Bukit Mertajam or have a look at these places:
Treat Yourself
Iconic Hotel may be the best choice. A part of Icon City, it has an outdoor pool, and dozens of nearby options for dining and entertainment. Check prices on: Booking.com|Agoda
Vangohh Eminent Hotel & Spa looks and feels great, and offers extremely good facilities at a fraction of Western prices. Check prices on: Booking.com|Agoda
The Light is one of the best 5 stars hotels in Penang and deserves all your attention for a stylish stay before or after your visit to Frog Hill. Check prices on: Booking.com|Agoda
Budget Hotels in Bukit Mertajam
Summit Hotel is BM's stalwart, in walking distance from the Old Town. In need of a bit of a brush-up, but that's one of the glorious oldies. Check prices on: Booking.com|Agoda
U Plus Budget Hotel is simple, clean and comfortable, with very adequate rooms for this price range. Check prices on: Booking.com|Agoda
Check here for more BM Hotels and prices
---
Can I park my car at Bukit Mertajam Recreational Forest?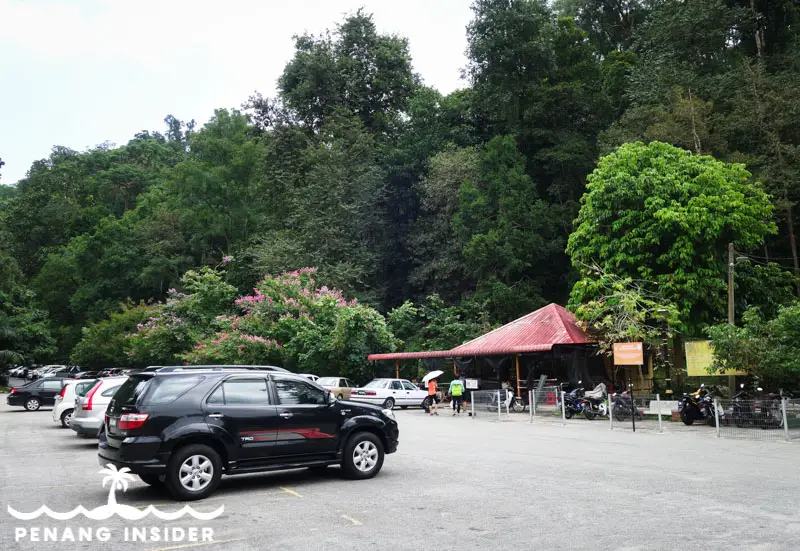 Of course, you can. There are two large car parks, one right after the entry gate, and a second one set a few hundred meters onward, nestled at the bottom of the hill where you'll start hiking.
---
What to Do at Cherok Tok Kun
Well, as Cherok Tok Kun is the green lung of Seberang Perai, hiking is the main activity here. There's a range of different hiking trails that will satisfy those craving for thick jungle scenery — You will see some of the biggest and most beautiful trees found across Penang state here.
Locals usually come here to exercise, and if you arrive in the morning around 8 am, you will be able to join the zumba morning sessions held at Bukit Mertajam Recreational Forest's second car park.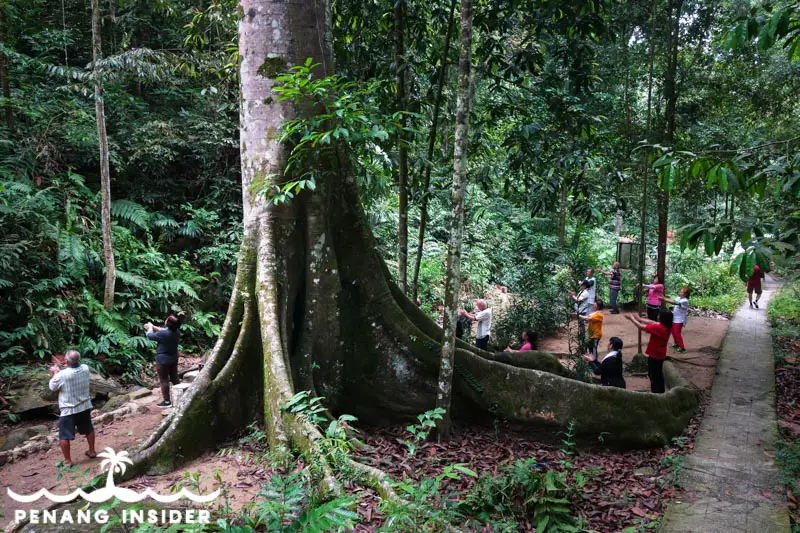 A bit further up along the main path to the summit — just go straight onward from the second parking lot — the local elders gather under a tree to do light exercise. You can join them for some stretching before you continue climbing up.
---
Hiking at Cherok Tok Kun, Bukit Mertajam Recreational Forest
As we just mentioned, Cherok Tok Kun is a place for hiking and immersing yourself in nature. The following are the main trails and viewpoint you can try.
Note on Timings for your Hikes: Please consider that exploring the whole of Cherok Tok Kun in a single day is a long, sweaty pursuit we do not recommend. You should come multiple times, trying to go see the Big Tree and head up to the summit on your first trip — that would make for a very scenic introduction to this park.
A loop from the carpark to Trek 800 and returning from Trek 500 will take around 3/4 hours at a normal pace — something you may consider doing on your next visit.
---
Penang's Biggest Tree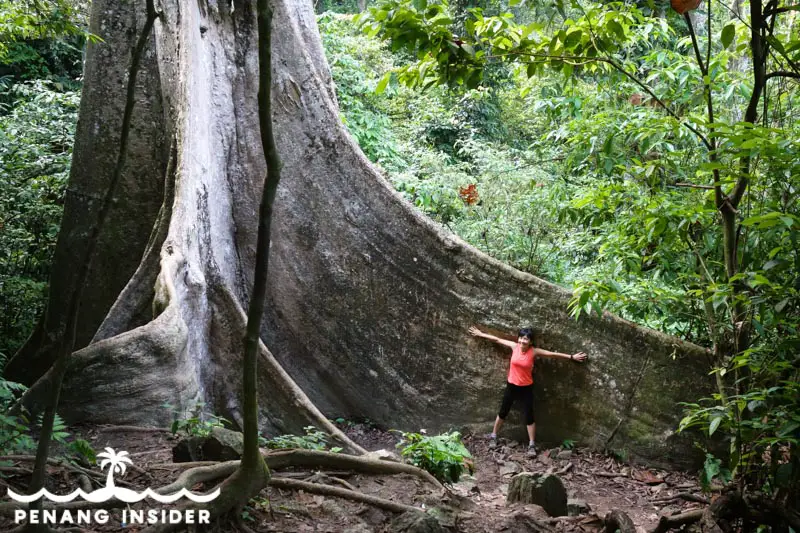 At the foothills of Bukit Mertajam stands one of the marvels of mother nature, a remarkable tree with the largest buttress trunk in Penang. This tree, a Mengkundor (Tetrameles nudiflora), is estimated to be more than a century old with a buttressed trunk which is twice or thrice the height of an average human being.
The hike to The Big Tree is an easy 20-minute walk. Start from the Bukit Mertajam Recreational Forest carpark and follow the Station 2 trail which begins just to the right of the tarred road up to Bukit Mertajam. Follow the paved trail passing a bamboo grove until you see a diversion to the left clearly signposted with the words 'Big Tree'. This is also the way to connect to the trek 150/500 which we will describe later. Be sure to bring a tripod along to take a photo in the shadows of the tree's impressive buttress trunk.
Location of the Largest Tree in Penang:
---
Midway Rest Point Station 2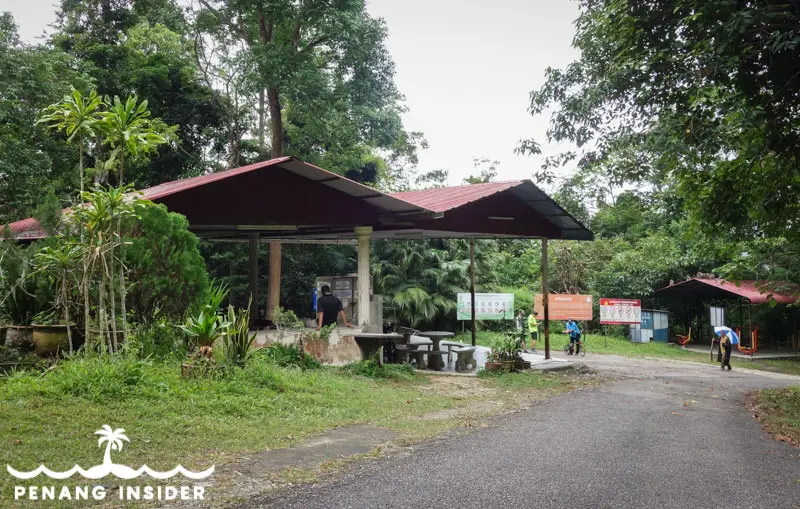 If you continue climbing up at the Big Tree junction, you will follow a well-marked jungle trail up to Station 2, a hikers' rest area midway up to Bukit Mertajam summit.
The trail takes about 40 minutes depending on level of fitness. It's a moderate incline through the forest, with steeper sections that can be negotiated quite easily by most people.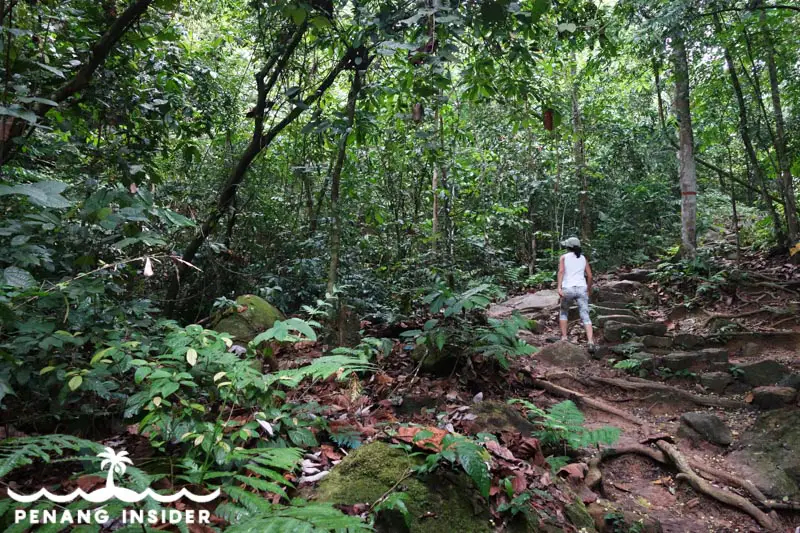 Once you reach Station 2, you can either turn left and follow the tarred road down to Cherok Tok Kun's second car park, or you can continue to the top. Most people proceed along the uninteresting tarred road to a scenic viewpoint and then to the two Telekom Towers that soar from the top of Bukit Mertajam.
But there's a more interesting jungle path right to the left of Station 2 which we recommend taking instead for much better views and the chance to see a few large and interesting trees.
---
Forest Trail to Cherok Tok Kun Summit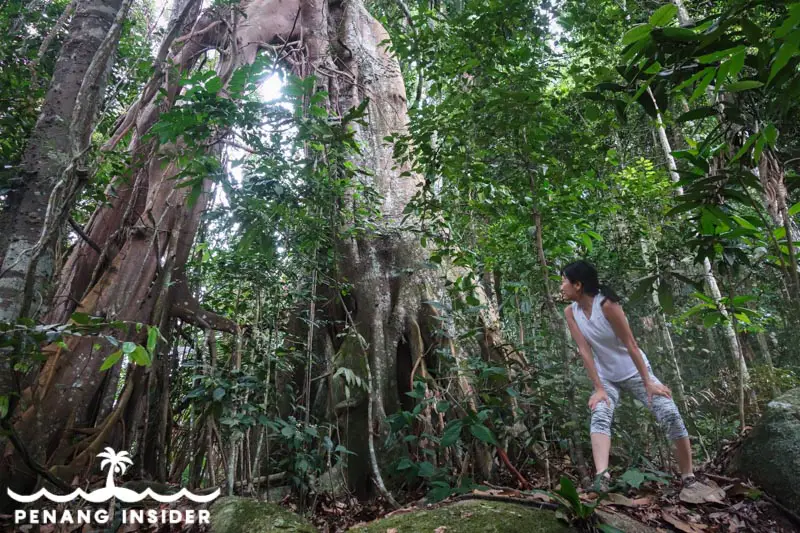 This is by far our favorite way to go from Station 2 to the Teleom Towers at Cherok Tok Kun. Once you leave the Midway Rest Station 2, look at the wall of vegetation following the tarred path on your left until you see a small opening in the thicket.
Follow this way going up a steep incline and make sure to follow the path on the left side — a second track continues forward, but soon enough falters out into deep forest.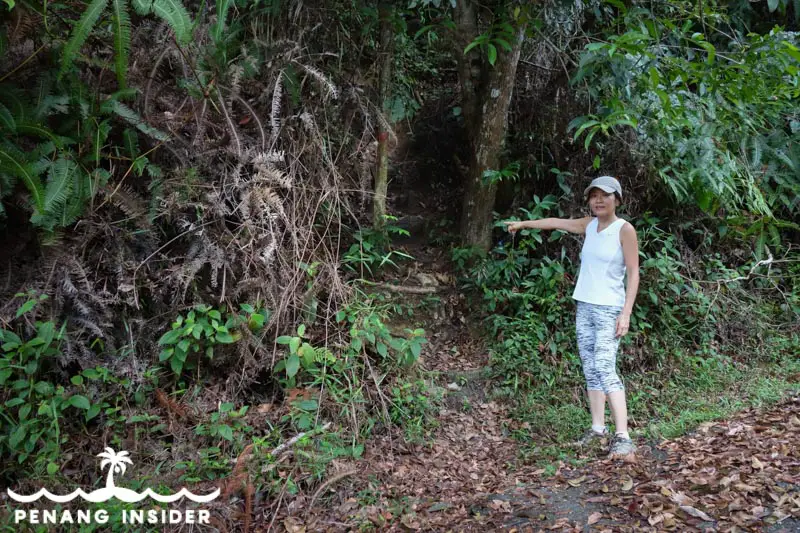 You follow the jungle instead of a tarred path, with the additional bonus of being able to see a few other big trees. Not far from the end of the trail, a tree with a split trunk dominates a boulder and is a nice place to take some cool jungle pictures.
Soon enough, you'll reach the top where you'll bump into the metallic gate of the Telekom Towers enclosure. Keep to the left and proceed until you reach the paved road and the main gate. From here, the way back to the car park is straight downhill.
---
Telekom Towers at Bukit Mertajam's top and Scenic Viewpoint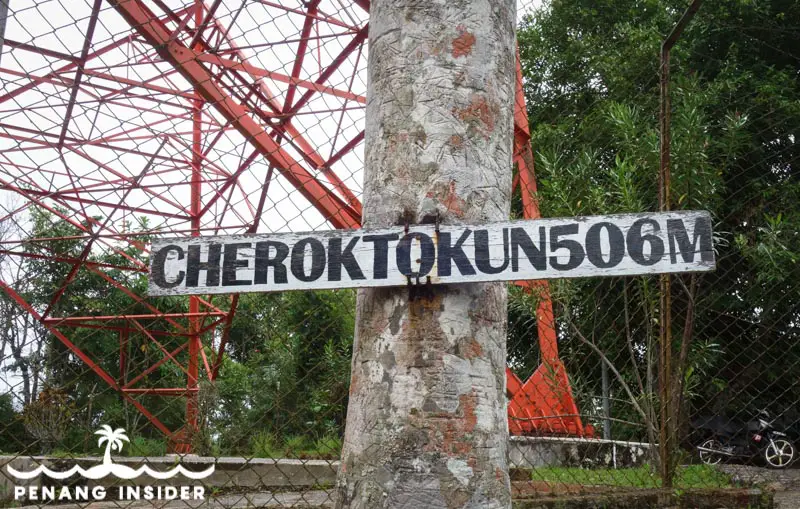 And here you go, you reached the top of 506-meters-high Bukit Mertajam. You'll be right under two big metallic Telekom Towers that serve the area.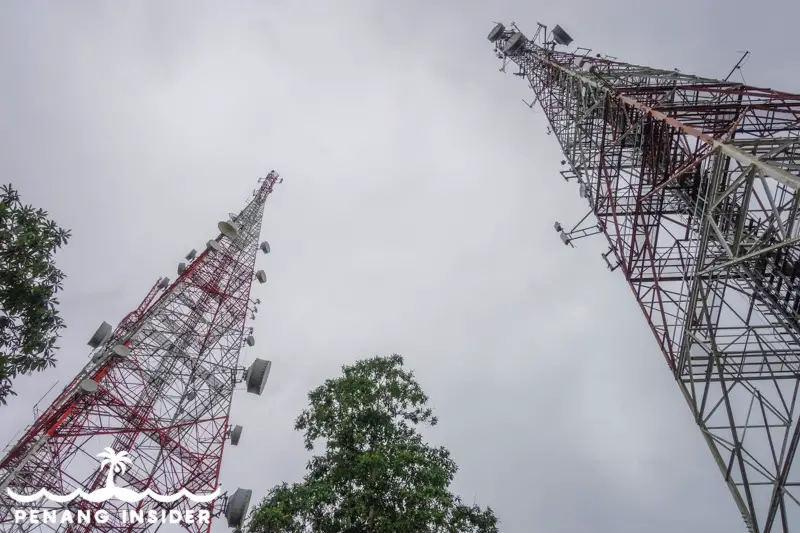 The best views over the Mengkuang Dam and the towns scattered around this area is from a wooden viewing platform perched on the side of the hill about a hundred meters down the road from the towers. It's a beautiful spot in the morning, when often a blanket of clouds flutters above the calm waters of the Mengkuang Dam. A very rewarding view after your hike.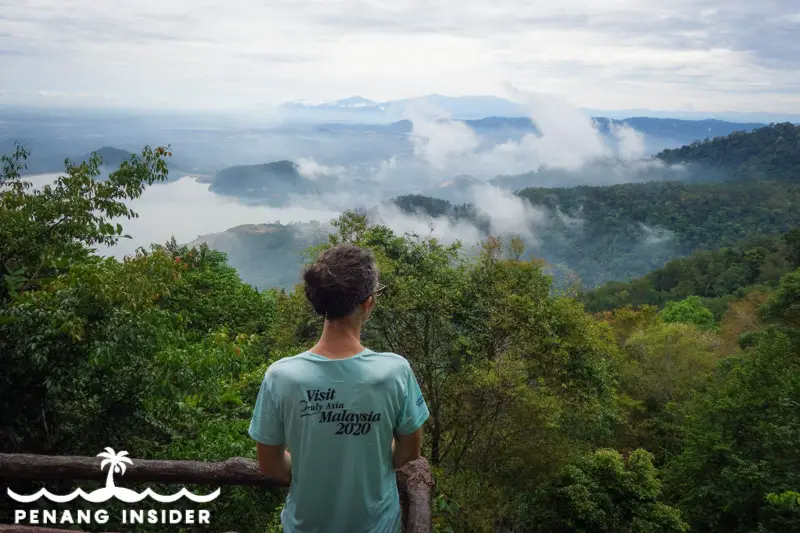 ---
Cherok Tok Kun Summit from the Old Dam
A second trek to the summit also starts from Bukit Mertajam Recreational Forest's second car park. Walk on the opposite side of the fruit shop and take the staircase leading to the impressive 81-year-old Cherok Tokun Dam. The trek soon enters into the jungle, winding its way up along a shaded forested slope to the viewing deck and the peak.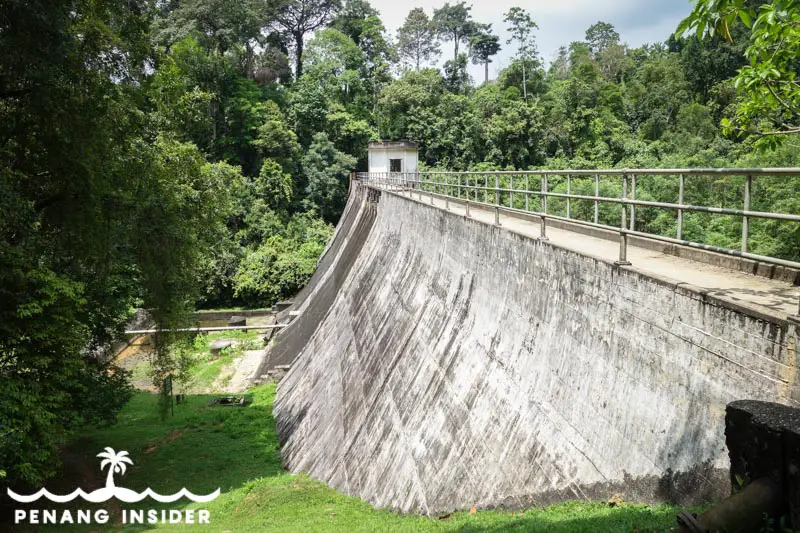 The journey up takes close to 2 hours, but it's a pleasant hike filled with the sight of chirping birds, a little cascade and several rest stops along the way. Along the way up, The Long-Tailed Macaques and the shier Dusky Leaf Monkeys are bound to make a delightful appearance.
---
Cherok Tok Kun Trek 350/700
More expert hikers may want to experience the depths of Cherok Tok Kun's forest by trying a loop to the top starting not far away from the Big Tree. You can either reach this trail by hiking up from the Big Tree, or you'll find a clearly marked diversion along Station 2's main trail. Coming from this direction, you'll soon see a giant rock balancing over a smaller one, and then will proceed into the depths of thick lowland Dipterocarp forest.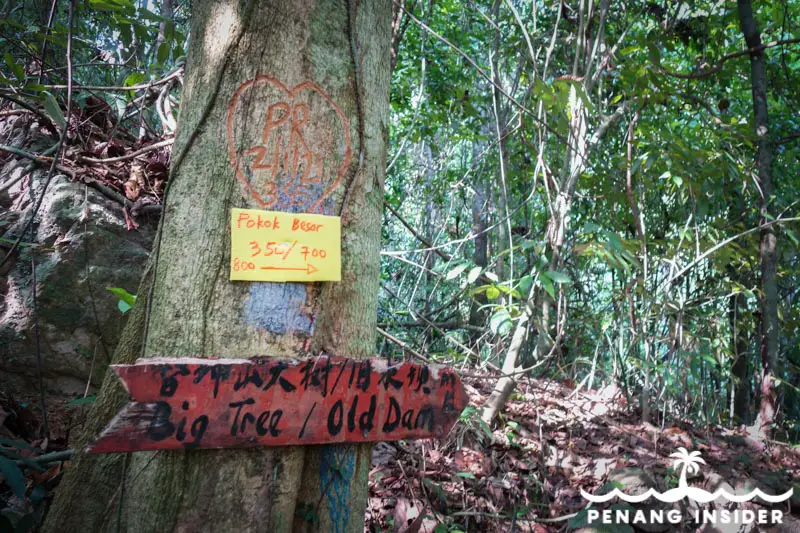 Soon enough you'll find another diversion marked Trek 350/700: if you continue up and to the left, you'll continue over Bukit Mertajam's hillside until Station 2 and the summit. But if you follow the Trek 700 direction on your right, you'll arrive instead to another old dam that connects to a viewpoint over the Mengkuang Dam and joins Trek 800. You may loop back to the car park following this path.
---
Cherok Tok Kun Trek 800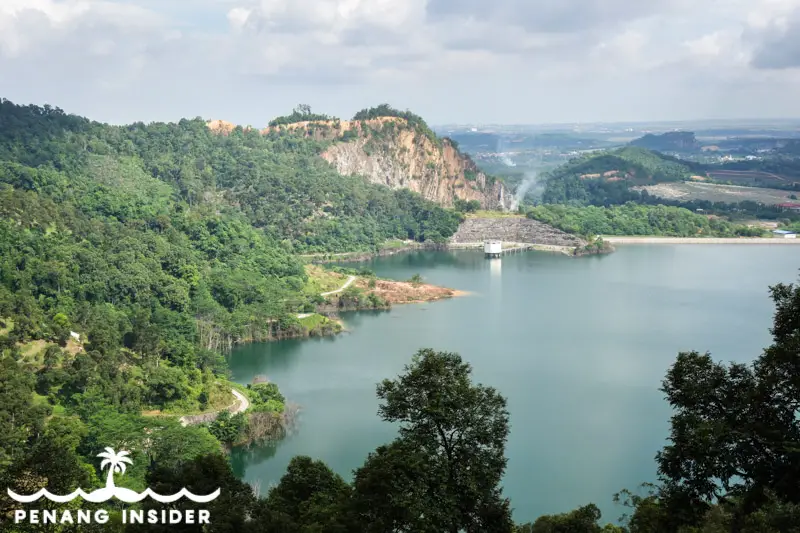 Trek 800 is one of our favorite trails at Cherok Tokun as it goes through nice forest until the Mengkuang Dam viewpoint. It starts right behind the fruit stall at Bukit Mertajam Recreational Forest's second car park. Hike behind it and up through an overgrown path that may initially seem like a wrong route, but soon you'll see it connect to a more clear, wide path that continues to the north after you take a left turn. You'll pass by the remains of an old temple, and from here keep your eyes peeled to the ground in search of strange mushrooms and flowers along the way.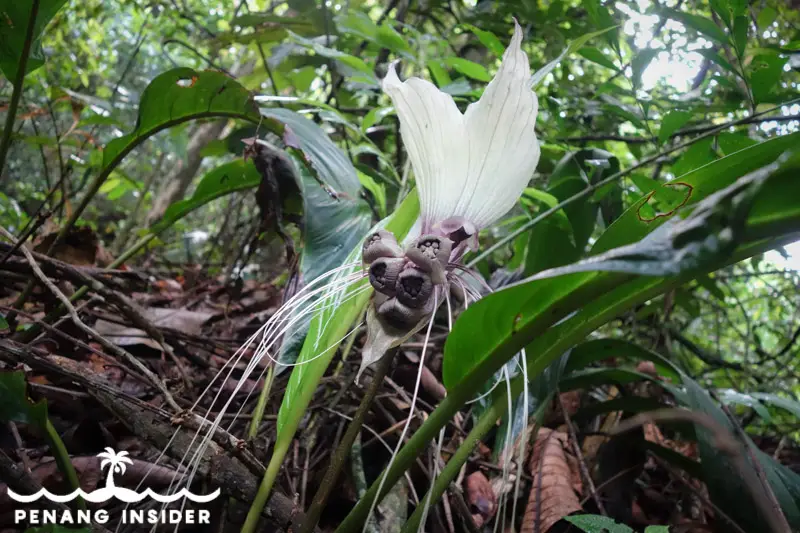 After about a hour, you will find the Trek 800's sign and another junction. If you turn left, you will bypass the Mengkuang Dam's viewpoint and reconnect to Trek 500 near a small waterfall. If you continue straight instead, you'll soon arrive at a clearing above the dam, and you'll have finally conquered the hill. The views from here on a clear day are quite spectacular.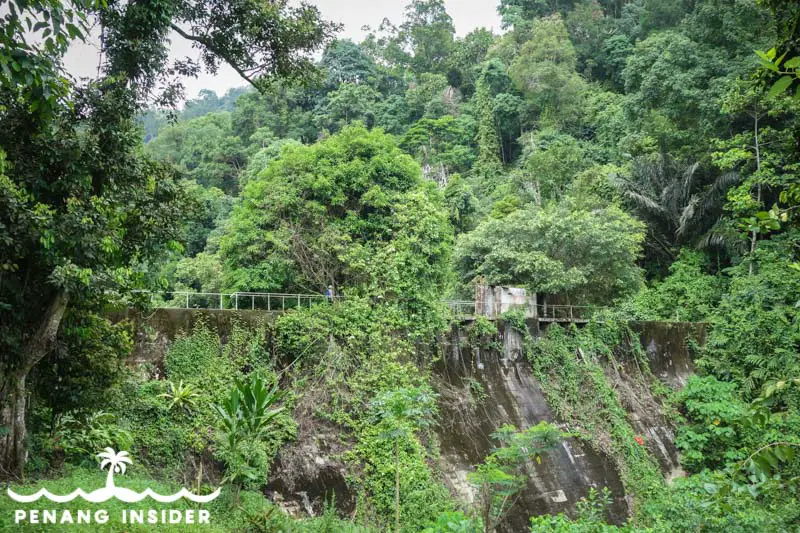 You can then backtrack and turn right over the stone remnants of another old dam, after which you'll proceed again to the left and down to the waterfall.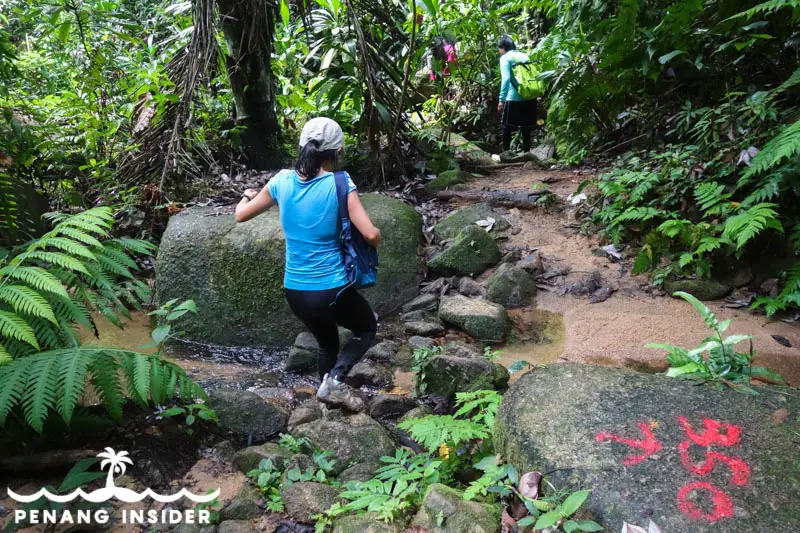 Cross it and keep walking south, eventually reaching the big rock described in the Trek 500 section, where you can either follow the way right to the main Station 2's trail, or going left and down to the Big Tree. Walking a loop of Trek 800 from the car park takes about 3/4 hours one way.
---
Cherok Tok Kun's Verdict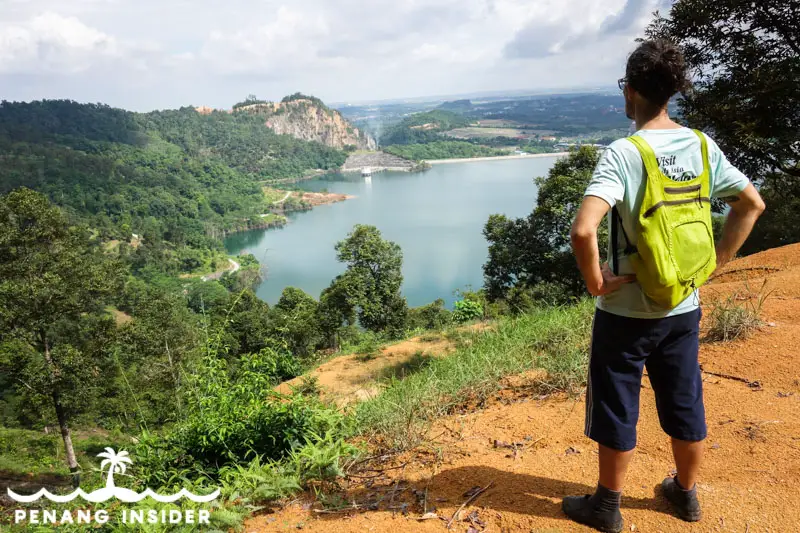 Many go hiking at Penang Hill, but Cherok Tok Kun, or Bukit Mertajam Recreational Forest, is a lesser-known park that offers equal rainforest wonders. If you are not very interested in hiking long distances, the quick 20-minute hike to the Big Tree, the biggest buttress tree in the whole Penang state, is very recommended and a cool thing to do in Penang with kids.
Summiting Bukit Mertajam makes for an interesting hike that also offers a worthwhile viewpoint over the nearby Mengkuang Dam. If you have more time and want to explore deeper in the forest, you may consider either going to the summit using the more challenging Trek 150/500 or explore the western side of the reserve by taking Trek 800. Either way, you'll have hours and hours of hiking fun in one of Seberang Perai's best places to hike.
---
And if you liked this, why don't you sign up for our mailing list? We will send you immediately a FREE photographic eBook with some incredible pictures of Penang, and we promise, we will disturb you only about once a month with some good local advice you won't find on the site
---