The hiking trails of Penang Island have become quite a hit since the country experienced the lockdowns related to Covid–19. While taking a train up to the top of Penang Hill (and hiking in Penang Hill), hiking at Bukit Hijau, or visiting Penang Botanic Gardens is certainly great, there are also many interesting hiking trails in Penang Mainland at Seberang Perai, such as Bukit Juru, the trails at Cherok Tok Kun, Berapit hill temple and Rainbow Staircase, and the scenic Frog Hills. If you are looking for secluded islands, then check Pulau Aman out, not forgetting all the things you can do in nearby Batu Kawan and its street art and seafood heaven, Bukit Tambun.
Tucked in the southeastern corner of South Seberang Perai right on the border with Kedah state (have you hiked Gunung Pulai and Gunung Baling yet?) lies the 446ha Bukit Panchor State Park – Penang's one and only state park, and main South Seberang Perai attraction. It's certainly another hiking place in Penang Mainland of Seberang Perai you should visit.

Originally gazetted as the Bukit Panchor Permanent Forest Reserve in 1963, it was elevated to the status of a state park in 2008 because of its rich biodiversity and potential for recreation activities. The park takes its name from Bukit Panchor, a 416m peak that marks the park's southern border with Kedah. The area is mostly covered in lowland dipterocarp forest, together with large swaths of tembusu, shorea, medang and kapur. The park also has numerous streams flanked by freshwater swamp.

Please keep reading as this post has everything you need to know to make the best of your visit to Bukit Panchor State Park.
---
How to get to Bukit Panchor Forest Reserve
Bukit Panchor is Penang state's only state park tucked in the southeasternmost corner of the state. It's about half an hour drive from the Seberang Perai town of Bukit Mertajam. The park is also just 10km to the south of Jawi and to the east of the township of Nibong Tebal where, among other things, is the engineering campus of Universiti Sains Malaysia.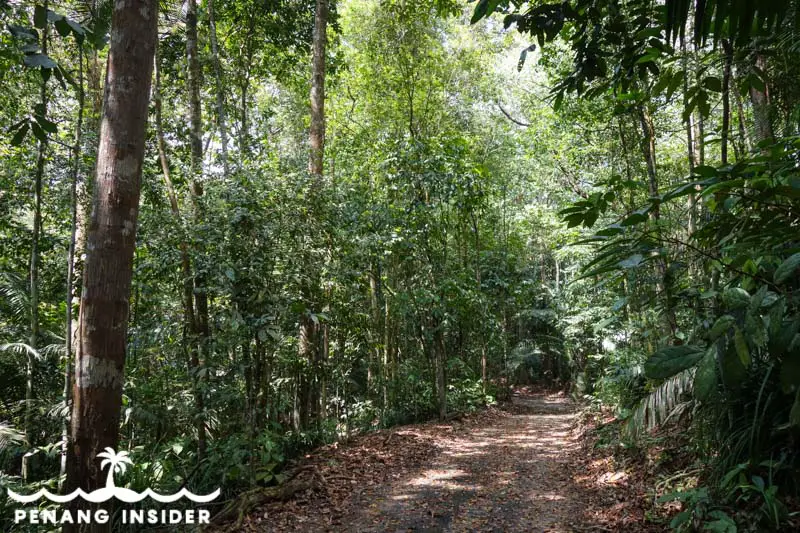 There is no public transport to Bukit Panchor Forest Reserve, so the best thing to do is having or hiring your own set of wheels. If you are driving to Bukit Panchor using a GPS or Google Maps, be careful as the park's location is often confused with the water reserve of the same name that flanks the park. Your best bet is to follow the road signage, which is quite well-displayed. The park is tucked inside a small side road after you pass a small village flanked with traditional homes that function as restaurants — more on this later.
This is a map of Bukit Panchor's location:
The park is also close to some very interesting towns in northern Perak attractions such as Kuala Gula and Kuala Kurau.
And you could certainly use Bukit Panchor as a stop en route to Taiping, where you can visit Maxwell Hill, the beautiful Taiping lake Gardens, and try a lot of delicious Taiping Food.
---
What to Do at Bukit Panchor State Park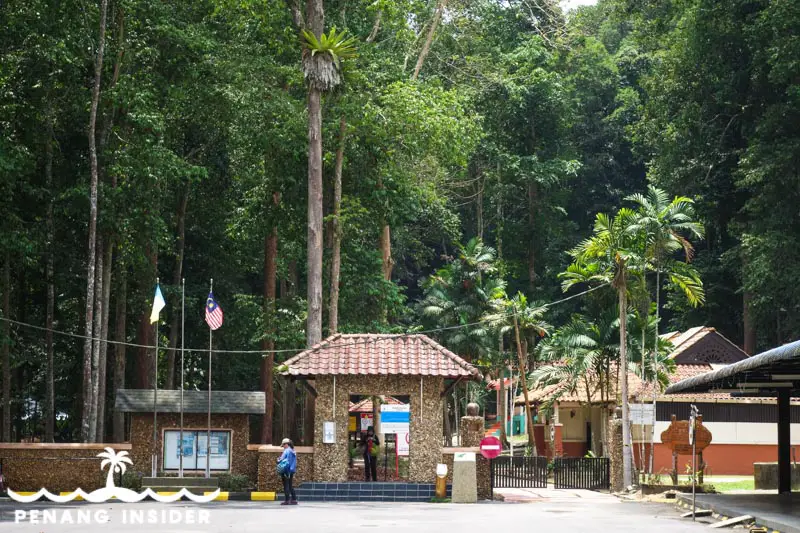 Bukit Panchor State Park is a nice place to come experience some nature in close proximity to Penang island, but far enough to feel like you are a world away. It takes about an hour to drive here from George Town, and this is a quaint area of Malay villages where there's more greenery than Penang shopping malls.
The parks headquarters have a large parking lot that gives way to the main access road to the park. On the left side, you will see a river and a bridge that you can cross to reach a camping area where locals usually go for picnics and relax. On the right side, you will see some chalets used as park accommodation, set right next to the beginning of the paved jeep track that leads into the park. It's about a 40 minutes walk to the junction where a second trail loops to two caves.
---
Can I Hike to the Bat Cave Trail in Bukit Panchor?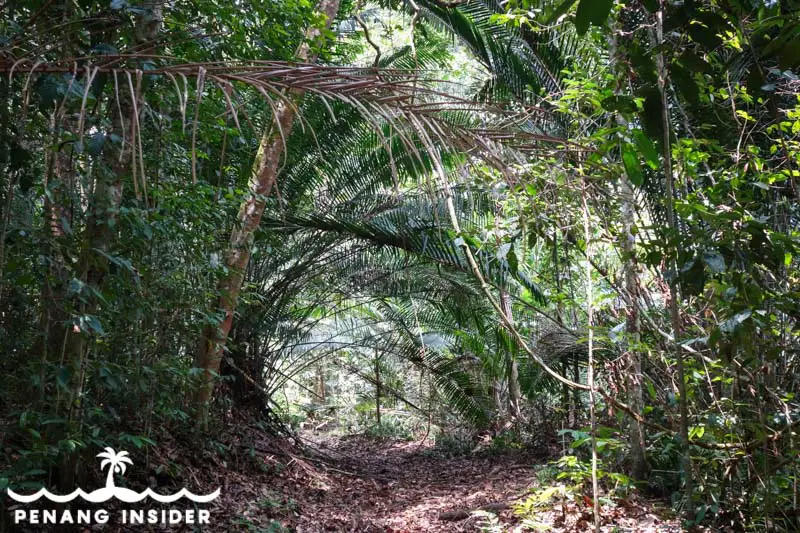 Until recently, the highlight of any visit to Bukit Panchor was to walk inside the forest on a loop leading to two caves, one of which filled with bats.
But at least since the beginning of the movement control order, it's no longer possible to hike this trail by yourself. You now need to inform the rangers and get a permit from the Jabatan Perhutanan in George Town. The office is at the 20th floor of KOMTAR, but you may also call +60 4650 5250 for information about getting a permit and a guide. This is Perhutanan official Bukit Panchor page, but it's not very updated.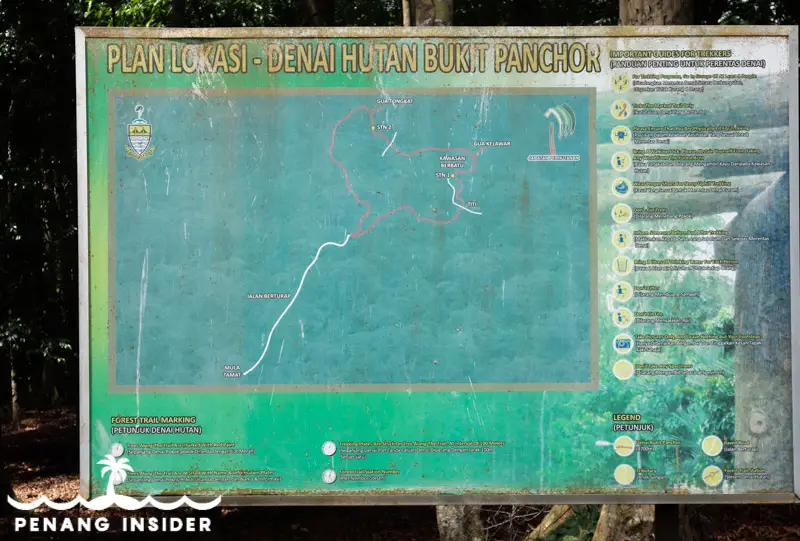 When I called last in February 2021, the permit cost RM5 per person, and a guide was RM80 for a group of up to 5 people. You need of course to book a suitable time and date with them
---
Camping and Accommodation at Bukit Panchor
Even if you can't freely hike the whole park, Bukit Panchor State Park remains a lovely place to get out of it all and relax in nature.
There is a campsite here which can be booked by calling Perhutanan ahead of time, and some chalets for families that are privately owned. You may call one of these people and numbers to book and ask for information (I suppose it's best to speak Malay or have someone who does):
Mohd Iskandar Bin Mansoor, Tel. +6019 430 8686
Faiz Mohd Hadza, Tel. +6017 580 4799
Khairul Azmi, Tel. +6017 234 6627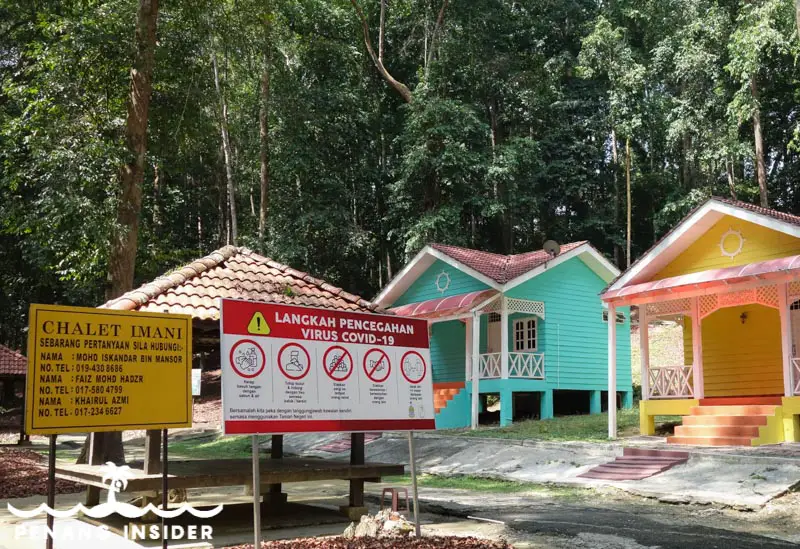 For more accommodation, check out our list of the best hotels in Bukit Mertajam or Boutique Hotels in Penang and Budget Hotels in Penang. If you fancy a Penang 5 star hotel, we have a guide for those too.
---
What to Eat at Bukit Panchor: Amazing RM1 Penang Laksa Seringgit
To be very honest with you, one of the best reasons to come to Bukit Panchor is… eating!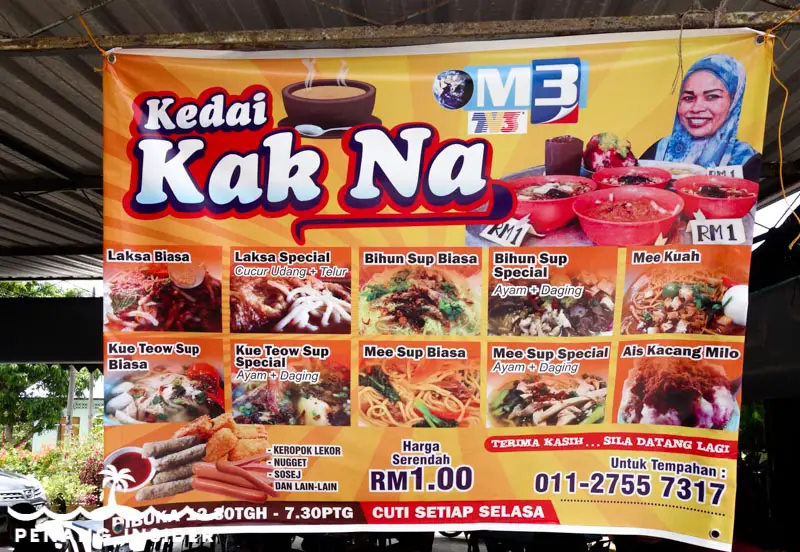 The very own road leading to Bukit Panchor State Park passes through a Malay kampung that has at least two amazing eateries. We tried Kedai Kak Na, a local Malay warung which is very well-known for its Laksa Seringgit (meaning, one-ringgit Laksa), which may be the cheapest Laksa in Penang.
What is a "one-ringgit laksa"? Well, it's a basic plate of the heavenly broth that costs only 1 Ringgit! If this wasn't enough, Kedai Kak Na also has delicious Ais Kacang that at just RM2 is cheaper than any you can find all over Penang-island.
Kedai Kak Na also sells bihun, koay teow soup and fried, and mee. We tried the mee kuah which also comes in different price varieties: add one ringgit, and you get extra ingredients. I bought a mean bowl with beef and a bone for just RM4 (one US$), and it was not just super-filling, it was definitely delicious. You can't find this food at these prices anywhere on Penang island, so make a trip here a priority at least to enjoy the food.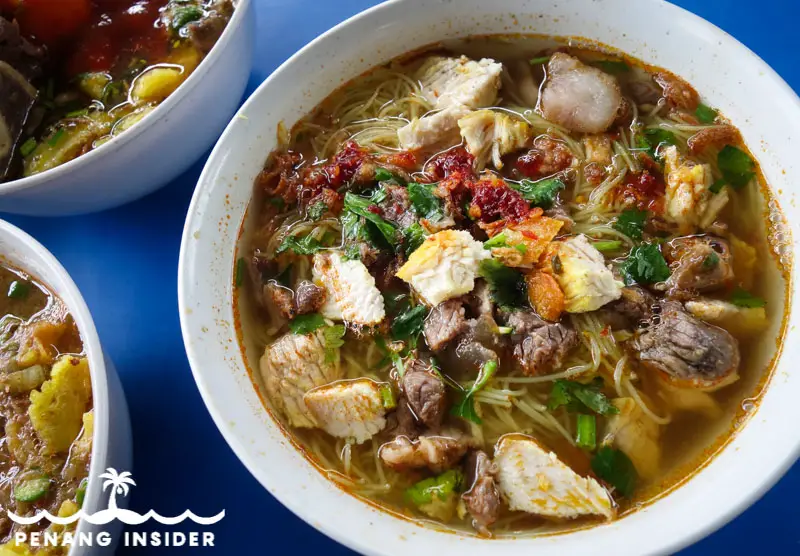 This is a map of Kedai Kak Na:
Just a couple of doors down the road you can have similar delicacies at Kedai Kak Murni Laksa Seringgit… use the map above for location. Which one's the best? Well, for the price, you better try them both.
---
Bukit Panchor's Verdict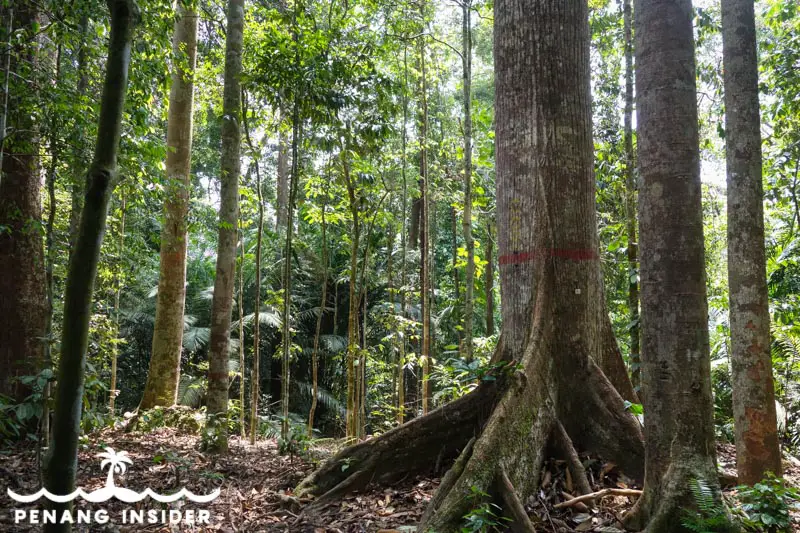 Bukit Panchor is definitely not a difficult park to hike as all it takes is walking up and down a paved road made for Jeeps. Regardless, it's a very nice place to see very tall types of Penang trees, dense dipterocarp forest, and vegetation that's more similar to the national parks in the mainland, such as Taman Negara Pahang, rather than Penang's forests. Bird watchers come here looking for birds, and it's a very good place to get away for a day or two camping in nature or renting out a chalet with your family. You may have a chance to see some wild boars, too.
---
And if you liked this, why don't you sign up for our mailing list? We will send you immediately a FREE photographic eBook with some incredible pictures of Penang, and we promise, we will disturb you only about once a month with some good local advice you won't find on the site