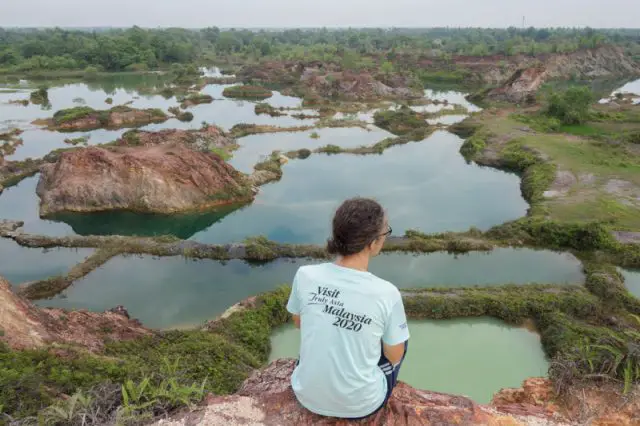 Frog Hill in Penang may be one of the most photographed places in the Mainland of the state, Seberang Perai. The speciality of this place is the many shimmering water pools set in a former quarry site. It's a delight for photographers to come here and shoot at sunrise or sunset — but you can come here to enjoy the views pretty much at any time of the day.
This post focuses on Frog Hill, how to reach it, and how to visit one of Penang's most popular natural attractions on the mainland at Seberang Perai. Frog Hill is a former mining site filled with water that became famous on Instagram when locals started calling it "the Jiuzhaigou of Penang".
Frog Hill Penang is definitely interesting and beautiful, but I would be wary of comparing it to one of Western China's most striking sights. A hike to Frog Hill, however, is perfect for beginners, friends and couples looking for a scenic and quiet place to go on a date or a picnic.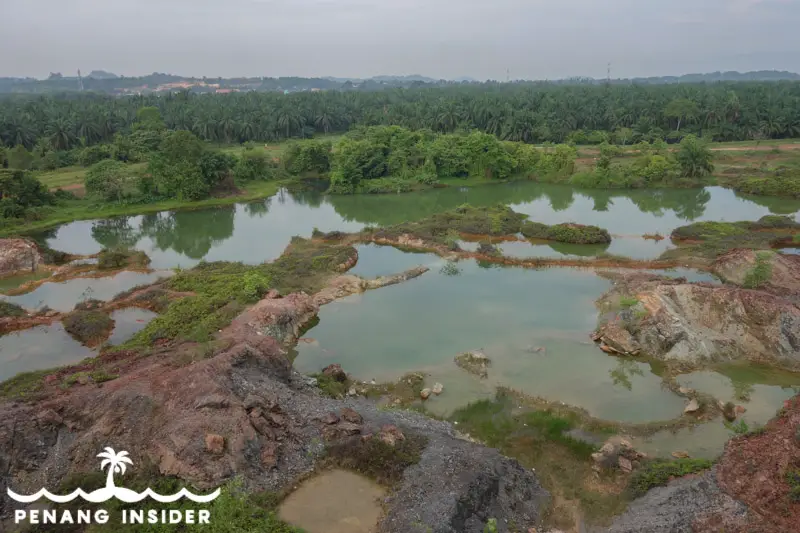 To be precise, Frog Hill is more of a sightseeing spot than one "hiking spot" such as Penang Hill and Bukit Hijau on the island, or the many hiking trails in Penang Mainland, such as nearby Bukit Juru, Cherok Tok Kun, Berapit and Bukit Panchor, for example. And if you are looking for a diminutive island, don't miss Pulau Aman and nearby Batu Kawan.
Rumors report that Frog Hill may soon be closed to continue the mining operations, so make a visit here a priority when you happen to be in Penang's mainland because it may not be open for much longer. We really hope it won't be the case, though.
Here is all you need to know to make the best of your visit to Frog Hill Penang in 2021. We went on a weekday in the morning — the place tends to get crowded with local tourists on weekends — and arrived around 10 am when the weather was still perfect to enjoy the views and see the ponds shine in blue hues.
How to get to Frog Hill Penang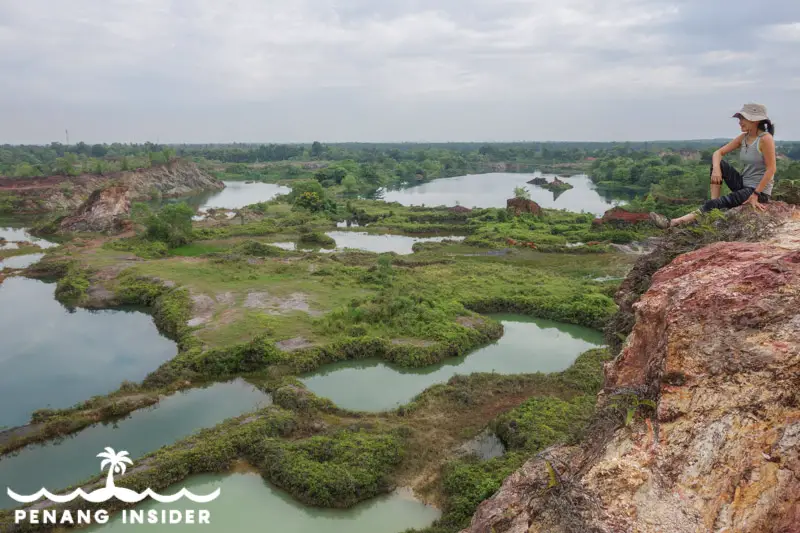 Frog Hill is set off the main road outside Kampung Guar Perahu near Kubang Semang, on the northern side of Seberang Perai. It's about a half-hour drive from the Penang mainland town of Bukit Mertajam. As there is no public transportation to Frog Hill Penang, the best way is to drive your own car or motorbike or catching a Grab Car in Penang.
Driving to Frog Hill
If you drive from Penang, go towards Bukit Mertajam first, and if you have time, stop and check out the many things to do in Bukit Mertajam we recommend.

From here, drive north towards Berapit and turn instead to the left in the direction of Penanti. It's worth making a quick breakfast stop at Penanti's market. Not only the roti canai and Malay kuih on offer here are delicious, but the market stands directly across from a huge Hokkien Cemetery set at the bottom of a hill and strewn with huge trees that reminded us of the African savanna. As they say, Penang seems to have it all 🙂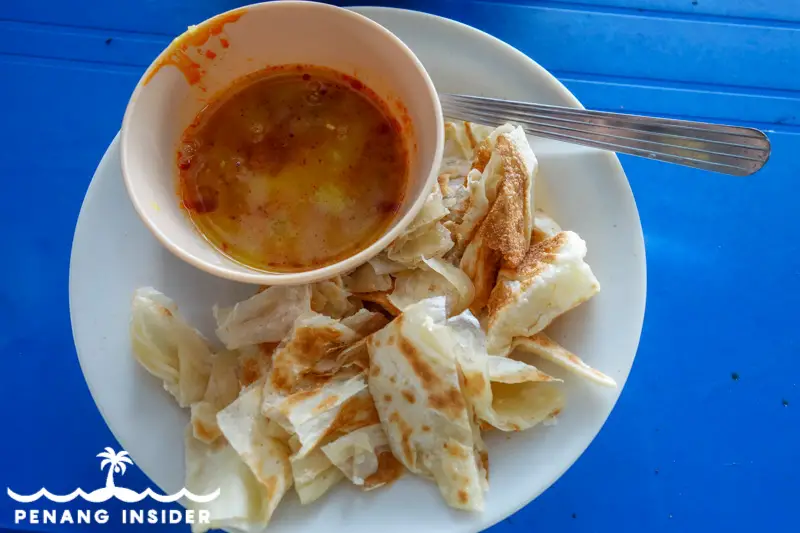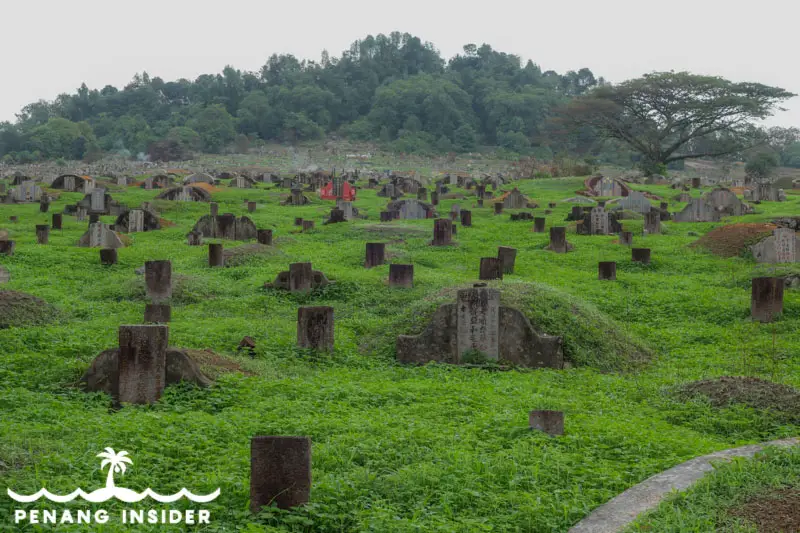 You can then continue north towards Kampung Guar Perahu, where you'll have to turn right onto an unpaved road shortly after reaching Taman Guar Petai. Drive for a kilometer and a half until the base of Frog Hill.
This is a map of Frog Hill Penang's location:
How Much does it cost to visit Frog Hill?
Zero. Nada. Nol. Percuma. Gratis.
Visiting Frog Hill Penang is absolutely FREE of charge. It's a remote place though, so there won't be likely anyone to man it. Be careful as you walk around the cliffs if you come here alone.
Can I park my car at Frog Hill Penang?
The answer is yes. The road ends with a large area where you can safely park your vehicle. It's located just off the start of the climb to the summit of Frog Hill. You may read on other online articles that you have to park far back along the road, near a brick factory that's about 15 minutes away on foot from Frog Hill, but that's not the case.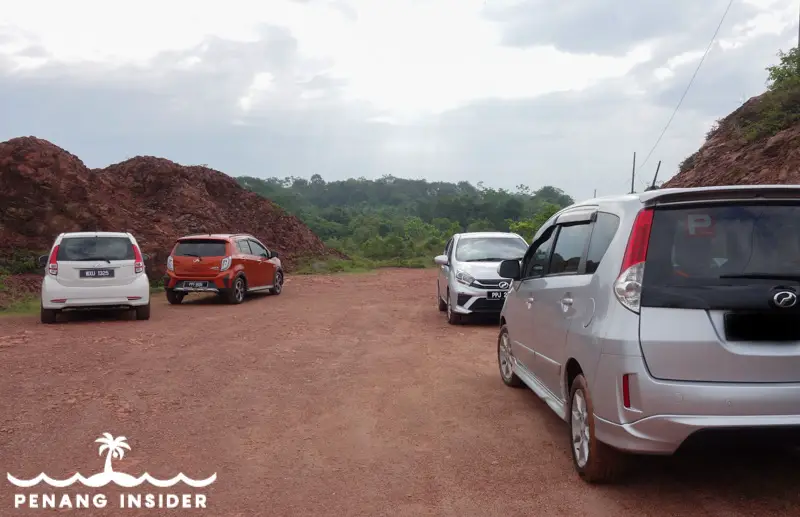 The access road is unpaved and it gets muddy after rains, but any normal car can drive on it. Just keep in mind that your wheels and sides WILL become red because of the tanah merah that's everywhere here. If you are cool with that, please proceed with driving. Otherwise, it's a 30 minutes walk along a flat road flanked by beautiful paddy fields where you'll be able to see a number of egrets and other local birds.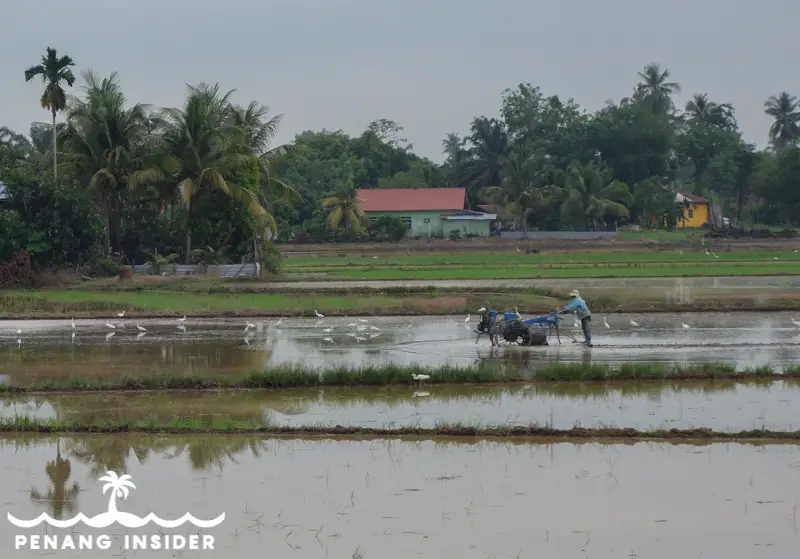 Many cyclists come here on their bikes, so it's really up to you: we drove in and had no issue getting comfortably to the start of the trail and climb up, even if traveling with a 70-year-old person.
Tips for Visiting Frog Hill Penang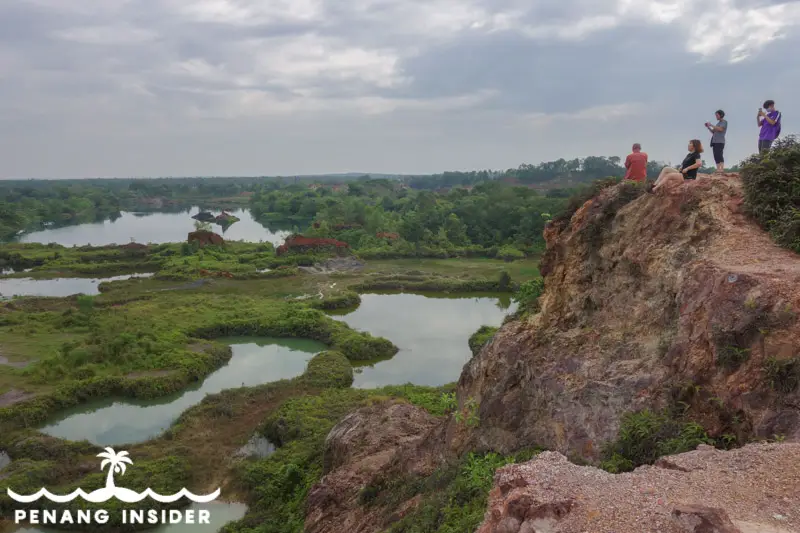 Bring water and a sunhat.

Bring mosquito repellent because they do bite!

If you aren't the type who can relieve herself in the wild, use a toilet BEFORE coming here as there are no facilities around Frog Hill.

As above, think about food. If you plan on coming here around lunchtime (not recommended due to extreme heat and less-than-stellar colors of the water ponds) bring some snacks.

We believe it's absolutely possible to camp here as the top of the panoramic hill is quite wide and flat. However, you must be completely self-reliant as there's nothing here.

Don't believe what you read elsewhere online: getting here is absolutely straightforward when following the unpaved road from the main junction. Google Maps has the track clearly marked (refer to the map above), and to avoid any mistakes, always take the right turns when going in, and the left when coming out.
Hiking to Frog Hill's Summit
"Hiking" is a euphemism here because it's only a five-minute scramble up to the viewing point. The path is rocky on red-clay soil, so it can get slippery after rains, but you just need to exercise normal caution.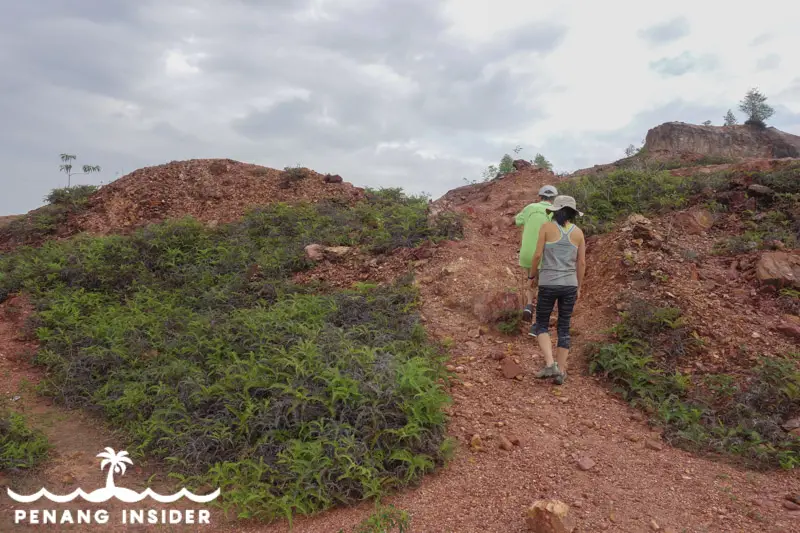 The observatory hill at Frog Hill is surrounded on three sides by the beautiful water pools, with the access path and "parking" area at its back. If you turn around, you'll see a beautiful view of Bukit Mertajam (the hill where the Cherok Tok Kun trails are) soaring from a carpet of palm oil plantations and forest.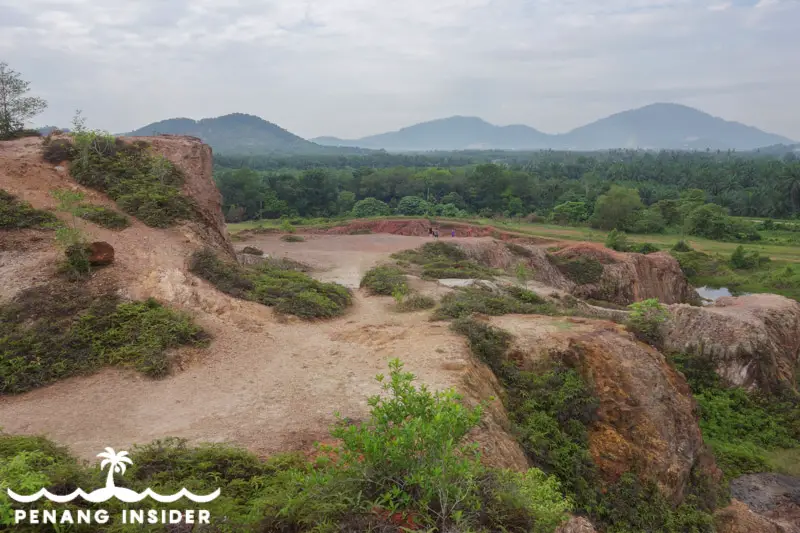 On any clear day, you'll see the water pools turn from dark grey to viridian, aqua, and turquoise colours. The water here is surprisingly clean and makes for a very surreal spectacle. That's no surprise then that Frog Hill is also one of the preferred locations for Penang pre-wedding photoshoots.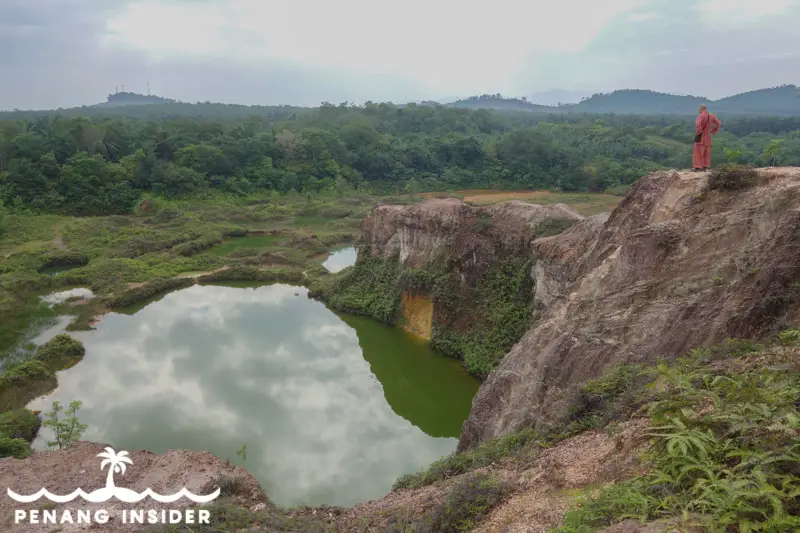 Frog Hill also sits next to a railway track, so you may catch sight of freight trains passing through the greenery, something that's always nice to see.
---
Where to Stay near Frog Hill Penang
Blogging transparency: this post contains affiliate links. These are products and services that we personally use and recommend. If you click on one and buy any service, I will get a small commission at no extra cost to you. Consider it a small way to say thanks, and keep Penang Insider going.
The best place to base yourself is Bukit Mertajam as it's the closest center with something worthwhile to do. You can see our list of the 10 best hotels in Bukit Mertajam or quickly check out these places:
Treat Yourself in a 5 Star Hotel in Bukit Mertajam
Iconic Hotel may be the best choice. A part of Icon City, it has an outdoor pool and dozens of nearby options for dining and entertainment. Check prices on: Booking.com|Agoda
---
Vangohh Eminent Hotel & Spa looks and feels great, and offers extremely good facilities at a fraction of Western prices. Check prices on: Booking.com|Agoda
---
The Light is one of the best 5 stars hotels in Penang and deserves all your attention for a stylish stay before or after your visit to Frog Hill. Check prices on: Booking.com|Agoda
---
Budget Hotels in Bukit Mertajam
Summit Hotel is BM's stalwart, in walking distance from the Old Town. In need of a bit of a brush-up, but that's one of the glorious oldies. Check prices on: Booking.com|Agoda
---
U Plus Budget Hotel is simple, clean and comfortable, with very adequate rooms for this price range. Check prices on: Booking.com|Agoda
Check here for more BM Hotels and prices on Booking.com or Agoda
---
Frog Hill Penang's Verdict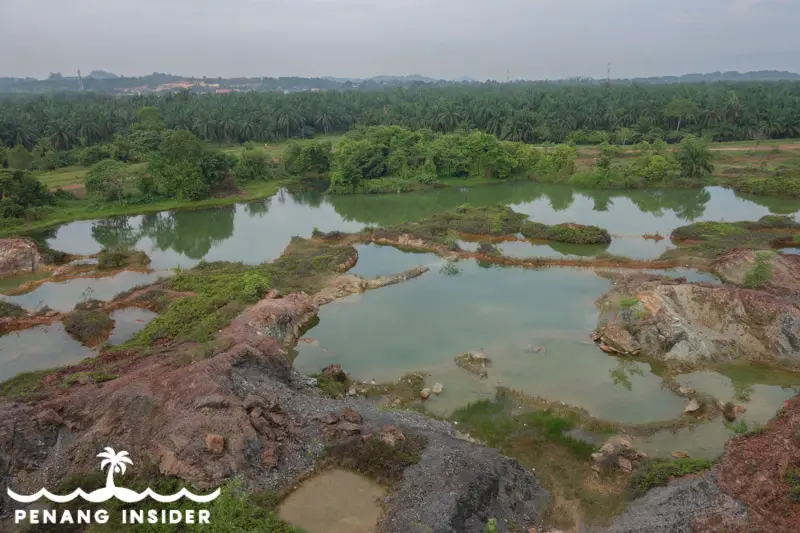 Frog Hill is a very scenic place that's easily reachable with your own wheels. If you don't have them, either charter a Grab from Bukit Mertajam or ask a local friend to take you. All in all, a visit, including driving to and from Bukit Mertajam, will last about two hours — more if you want to shoot many pictures or stop for a picnic.
Frog Hill is also a bit of a wild place, so make sure you come with a spare tire and tools, and be prepared to have poor phone reception. But it's definitely worth visiting at least once, and it's absolutely not as dangerous as locals think it is because of its remote location. We reached the top to find several people even on a Wednesday morning during Malaysia's coronavirus MCO, so you won't certainly end up alone up there. The images you'll bring back are certainly worth it.
---
And if you liked this, why don't you sign up for our mailing list? We will send you immediately a FREE photographic eBook with some incredible pictures of Penang, and we promise, we will disturb you only about once a month with some good local advice you won't find on the site