We have already written about all the things to do in Kuala Kurau, a lovely fishermen's community in the northwestern-most corner of Perak state, right next to Kuala Gula Bird Sanctuary.
It's actually a perfect getaway from all the best things to do in Penang and it sits less than an hour from the mouthwatering food of Taping, its Taiping Lake Gardens, the wide choice of Taiping hotels, and the fantastic Bukit Larut Hill Station.
READ MORE 
Best Perak Attractions
Best Hotels in Ipoh
Kuala Kurau is also pretty similar to the much better-known mangrove sanctuary and fishing village of Kuala Sepetang, but we prefer it because it gets far less tourism — at least for now.
But where to stay once in Kuala Kurau?
This article is a review of our own stay at Kurau Inn Farmstay, one of the best among the few accommodation options in Kuala Kurau. Set in the countryside just a few hundred meters north of Jalan Pantai, the town's main thoroughfare, Kurau Inn Farmstay is a Malay home set next to hectares of wide open paddy fields that, when we visited in December, were a shimmering sea of green.
If you are looking for a quaint and peaceful place to stay, one that caters perfectly to both families, couples on a romantic getaway, and even large groups traveling together, then Kurau Inn Farmstay is an option you should really consider.
CHECK PRICES AND BOOK KURAU INN ON
Agoda
|
Booking.com
---
Kurau Inn Farmstay: What you Should Expect
Tucked between a large expanse of viridian paddy fields where migratory birds fly and frogs sing through the day and the night, Kurau Inn Farmstay is one of a kind eco-friendly accommodation in Northern Malaysia, as it is based on the model of Italian agriturismo.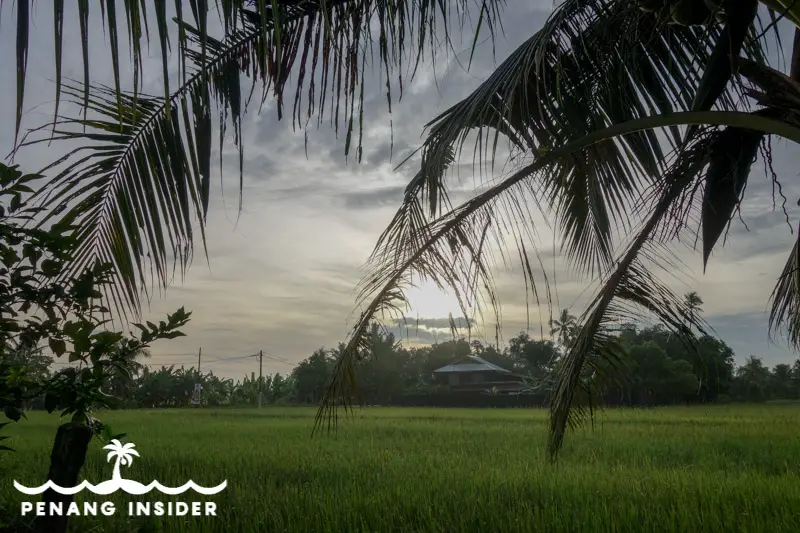 This said, you won't find horses trotting and cattle grazing here, but a nicely arranged Malay home with a backyard garden and a small swimming pool to soak in during the hottest days. You may pluck a fresh mango straight from the tree, or collect fresh pegaga leaves from the garden, and make your own cooling drink with a dash of local calamansi.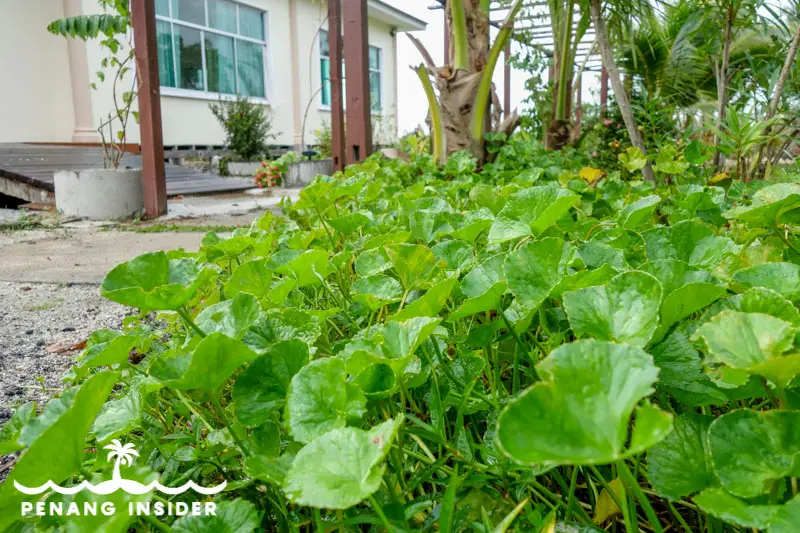 Rooms are of a very high standard, and given that they cater to larger groups of people, are also very good value for their price. Read on for a detailed description.
---
Kurau Inn Farmstay's Room Overview
You'll feel at home in a modern Malay countryside house at Kurau Inn Farmstay. All rooms are large and designed to accommodate more than two people — ours, for example, had two double beds in it, a dining table and a writing desk, a small kitchenette equipped with a kettle and microwave, and there was also plenty of anteroom space and a couch to lounge on.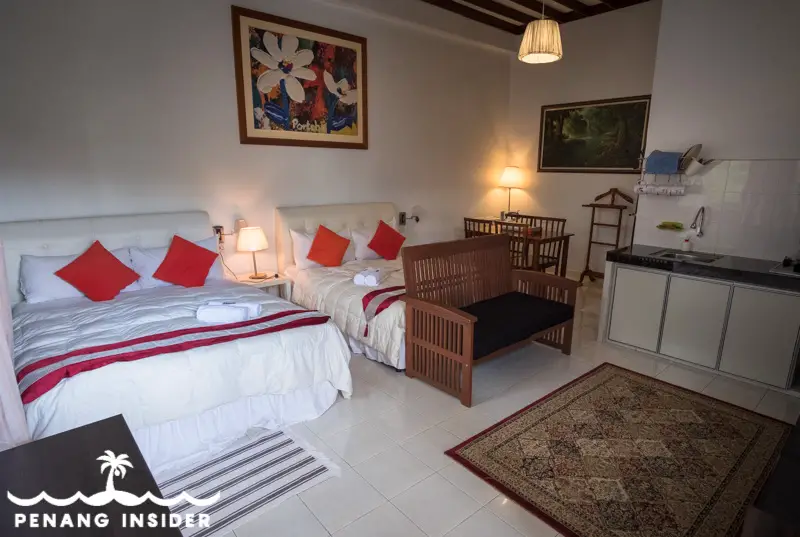 The beds are also definitely of a very high standard. Mattresses are super comfortable, and the feather pillows add a classy touch. I slept like a king, helped of course by the quiet of the surroundings — a lullaby of insect sounds.
The bathrooms are equipped with rain showers and also buckets to store water — choose whatever mandi style you prefer.
When we visited, the owners were also about to start renting out a smaller Rumah Kayu (a traditional Malay wooden house). That's a very attractive place to stay for couples on a romantic holiday.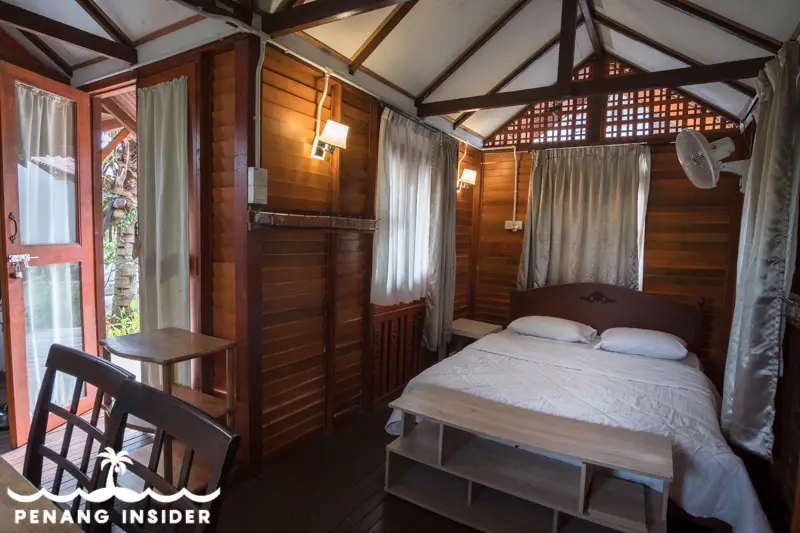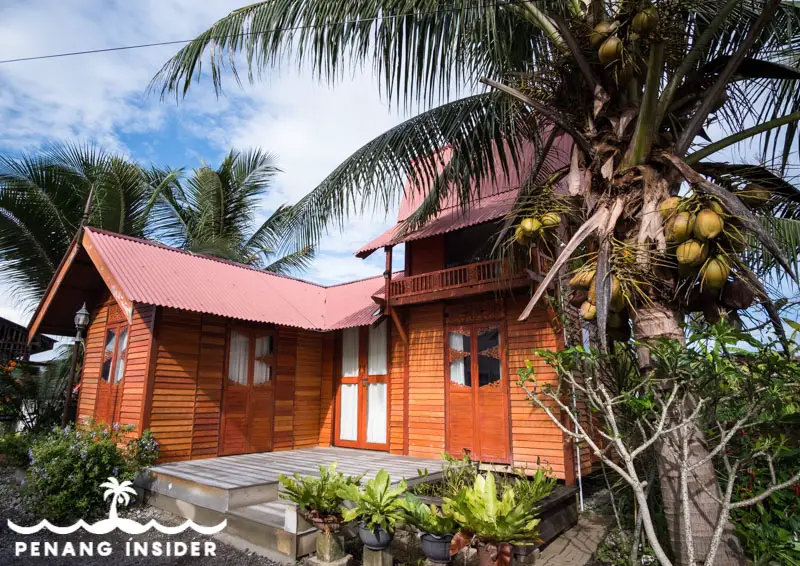 ---
Eating at Kurau Inn Farmstay: Incredible Homemade Cucur Udang
Kurau Inn Farmstay doesn't serve lunch or dinner directly, but you can order from the menu of a nearby Malay restaurant that's very modestly priced (dishes start at RM5/6) and doesn't charge for delivery.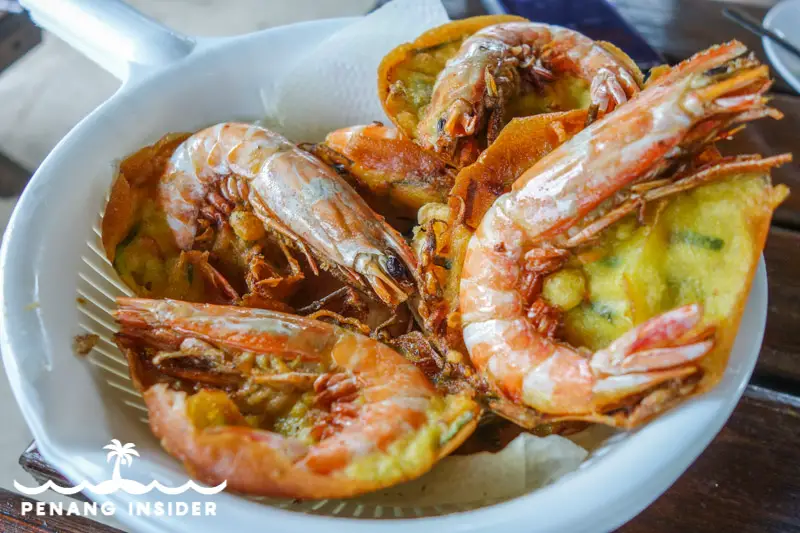 One thing that they do at the Inn, though, is prepare some zesty homemade cucur udang (traditional Malay prawn fritters, a Kuala Kurau specialty) that's really, really good. The first reason is because of the local prawns: they are always fresh from the sea, as big as fingers, juicy and scrumptious. Unlike the cucur udang you can get at many places around town, Kurau Inn's is "king size" — meaning you won't just get some tiny chopped pieces of prawn mixed with the fried batter, but one WHOLE tiger prawn set on top of every piece of cracker.
Considering that they sell 4 pieces for RM10, this is considered an awesome seafood snack deal. Remember that it is made to order, so contact Kurau Inn Farmstay before coming.
---
Kurau Inn Farmstay: The Verdict
If you are looking for a secluded type of accommodation offering middle-range facilities and large, home-like rooms, then look no further than Kurau Inn Farmstay. The location is extremely scenic and quiet and gives guests a real insight into the daily life of Kuala Kurau's Malay community.
The hosts Rabain and Laila lived abroad in New Zealand and speak both English and Malay. They are always happy to have a friendly chat and recommend the best things to see and do in Kuala Kurau. They can also, of course, organize excursions and boat trips both on the Kurau River and the nearby Kuala Gula Bird Sanctuary.
The only downside is, the place is not too close to the town center if you are on foot — but if you don't mind walking for 10 to 15 minutes, then this should be no issue — and they have bicycles for rent for just RM10/day if you wish to explore more. They are working on organizing a private shuttle service from the farm stay to the Parit Buntar KTM station, which is frequently served by trains from Butterworth.
Convinced?
Then please check Kurau Inn's Farmstay latest prices and room availability on
Agoda
or
Booking.com
---
BLOGGING TRANSPARENCY — Kurau Inn Farmstay sponsored our two-night stay, but all the opinions expressed in this article are our own. We would not endorse any place we wouldn't be happy to pay for ourselves, or which doesn't align with our vision of sustainable, low impact, and eco-friendly tourism. Don't trust us? So go and see for yourself.
---
And if you liked this, why don't you sign up for our mailing list? We will send you immediately a FREE photographic eBook with some incredible pictures of Penang, and we promise, we will disturb you only about once a month with some good local advice you won't find on the site
---