Whenever people ask me about a good bird watching site in northwestern Malaysia, I do not usually recommend anything in Penang but point them to nearby Perak state, where the Kuala Gula Bird Sanctuary near the quaint town of Kuala Kurau offers one of Southeast Asia's best Important Bird & Biodiversity Areas (IBAs).
Well, I was wrong, and I found out only as of late: near Penaga in Seberang Perai Utara is Teluk Air Tawar, a place that very few people seem to know, and yet, harbours an incredible bird diversity.
This post focuses on promoting Teluk Air Tawar to both unsuspecting Penang locals, and domestic and international tourists, with the hope that more visitors may help turn these Penang IBAs into the protected area it needs and urge to be.
---
Teluk Air Tawar: one of Malaysia's least-known Important Bird & Biodiversity Areas
Teluk Air Tawar is one of the most important bird landing sites for migratory waterbirds on the East Asian-Australasian Flyway, one of the world's eight major migratory routes, connecting breeding grounds in northeast Asia, east Russia and North America with warmer wintering grounds in Southeast Asia, Australia and New Zealand.
So unbeknown to many who think that Penang is just Penang street art, shopping malls and Penang food, it turns out that we also do have a world-class birding site that has been pushed to become a protected forest area and a RAMSAR site for the best part of 15 years — and regardless of a positive acknowledgement in 2016 during Seberang Perai International Conference on Ecotourism and Conservation Efforts, it's still not.
---
5 Reasons why Teluk Air Tawar is so important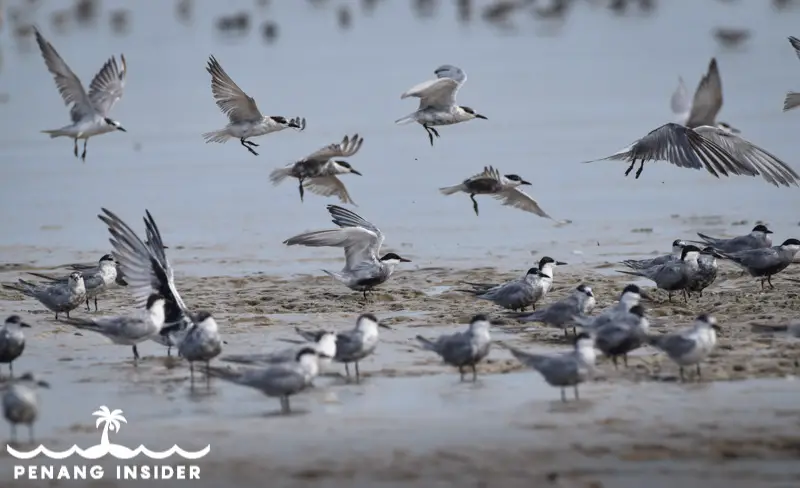 Teluk Air Tawar supports more than 200 bird species that depend on the coastal mudflats, mangroves and immediate inland area.

Teluk Air Tawar hosts thousands of migratory birds every year from October to March.

At least six globally threatened waterbird species find shelter and food at Teluk Air Tawar.

The Spoon-billed Sandpiper — a Critically Endangered bird species of which less than 400 mature individuals are estimated to be found around the world today — was spotted at Teluk Air Tawar at least twice.

Hosts the largest wintering population of the Nordmann's Greenshank (at least 60 individuals of about 670 estimated in the whole world) among any known site in the world.
---
Main threats to the Teluk Air Tawar – Kuala Muda coast
The main threat is the proposed coastal fisheries that, by themselves, are not sustainable enterprises in the long term. A site for migratory waterbirds' landings, with all its related opportunities for eco and sustainable tourism, on the other hand, definitely IS.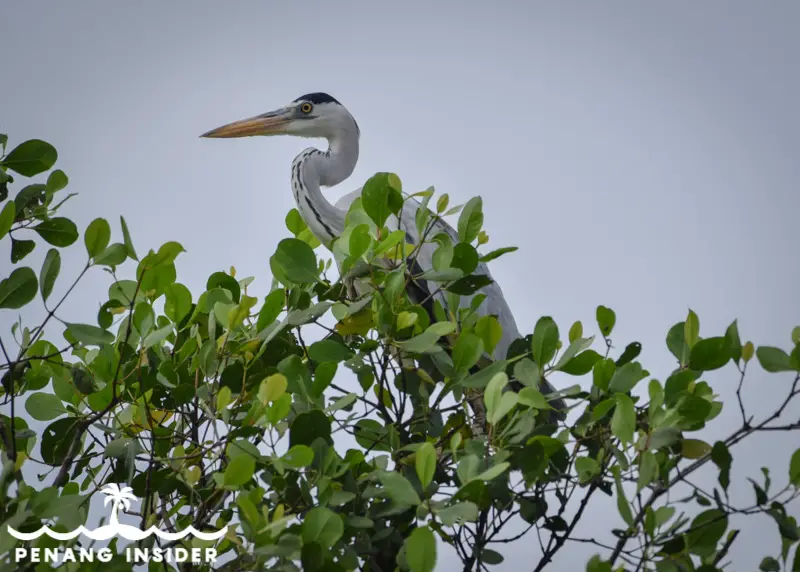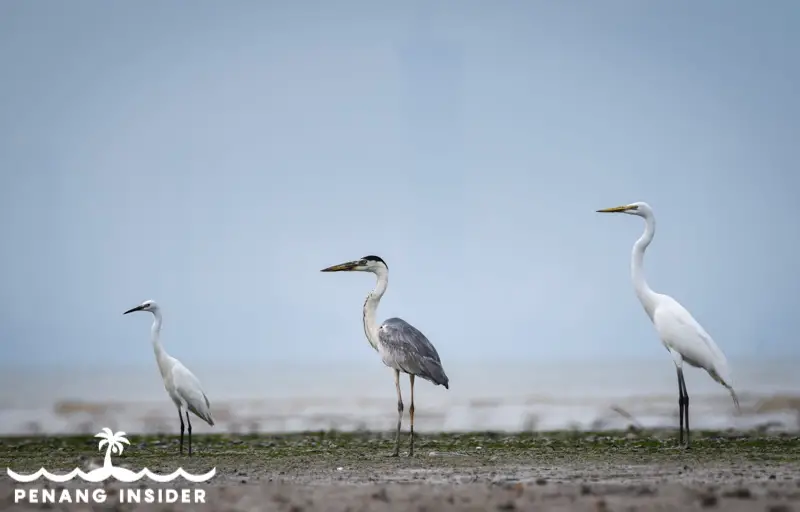 Also, development in nearby areas can have a serious impact on the area's loss of habitat. Until the Teluk Air Tawar – Kuala Muda coast won't receive proper protection, it will always be subjected to risks until a proper buffer zone won't limit its encroachment by land conversion or housing development along the coast.
---
How to get to Teluk Air Tawar
The area of Teluk Air Tawar extends along the northwestern coast of Penang State from Kuala Muda on the Kedah state border in the north to Teluk Air Tawar to the south, just about 20 minutes drive north of Butterworth and near Penaga — a place many know for its touristy attraction, Kampung Agong.
READ MORE — Butterworth Street Art Walk
If you look from the coast of Tanjung Bungah on Penang island, the stretch of land facing directly is Teluk Air Tawar. But probably you'd never guessed how many birds it could shelter. This coastal mangrove belt is only interrupted by a few small river mouths, connected to the land via the mudflats where birds love to dwell looking for food and a warm place to rest.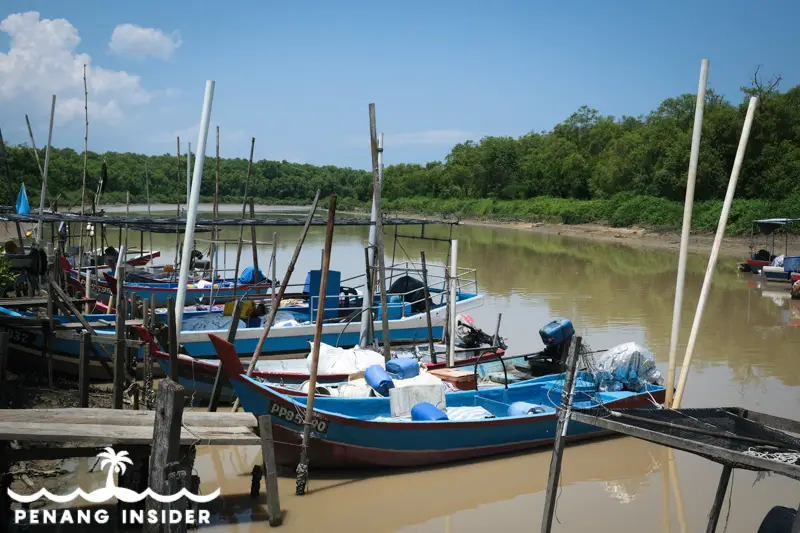 This is a map of Teluk Air Tawar's central area:
---
Can I visit Teluk Air Tawar by myself?
Yes, you can, but unless you own a boat or have a friend who does, you should hire a guide or a boatman.
It doesn't take long to get out on the mudflats and see plenty of birds — when Penang Insider went at the end of March 2022, or the end of the migratory season, we still saw at least 3,000 birds onshore — but you can't walk either.
The point here is to come equipped with long and expensive zoom camera lenses and binoculars — stuff that you don't want to get wet and spoiled in saltwater.
There are a number of fishing jetties along the Kuala Muda- Teluk Air Tawar coast where you can hire boats to take you out to give a closer look.
There are chances to see some burds from the estuary of Sungai Abdul, but of course, getting out at sea is far more recommended.
Contact the Penang branch of the Malaysian Nature Society for more details and information. They can also be reached at [email protected] and called at +60 13 453 7992 and +60 19 448 4344.
Penang Malaysian Nature Society also recommends getting in touch with these people to organize trips to Teluk Air Tawar's mudflats:
---
Best time to visit Teluk Air Tawar
The best time to visit Teluk Air Tawar is obviously during the bird migration season, which starts in September with the first bird landings, and continues well into March when the last birds make their way back up north.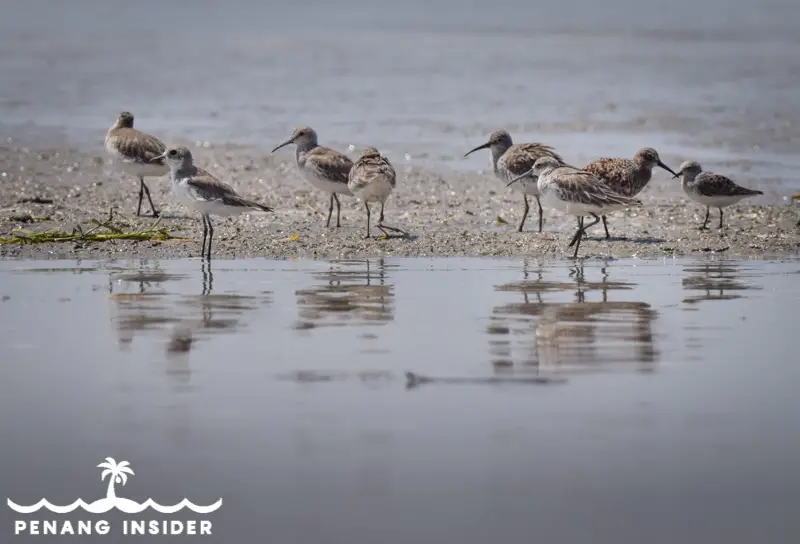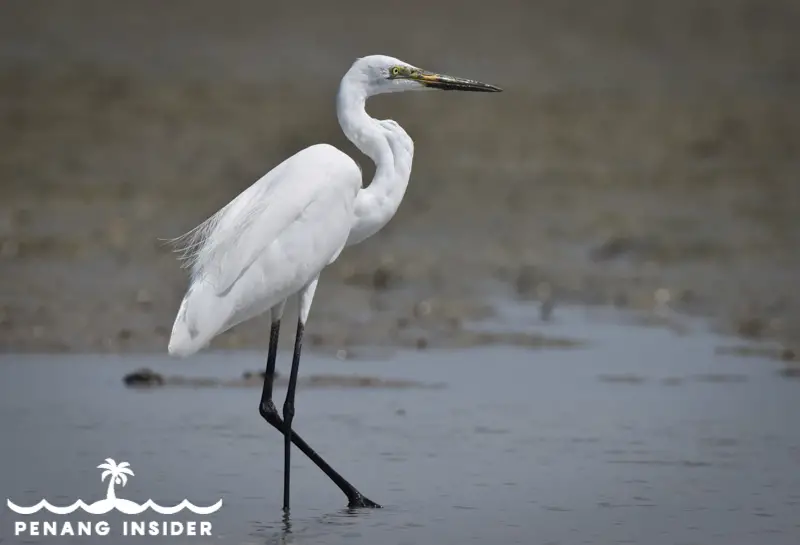 The best time of the day to see and photograph the birds is when there's an incoming tide and they group closer together after feeding on the mudflats during low tide.
---
Staying at Teluk Air Tawar
Hotel Seri Malaysia Kepala Batas is probably the closest and better option to Penaga. Check Prices on BOOKING.COM|AGODA

Hotel Kamelia is a comfortable budget option in close distance to the site. Check Prices on AGODA
For other very good, clean hotels within a maximum 30-minutes drive from Teluk Air Tawar please consider:
The Light in Seberang Jaya is a very modern hotel with 303 excellent rooms decorated in wood, floor carpets and pastel hues that make for a welcoming homey feeling. Check Prices on BOOKING.COM|AGODA

Vangohh Eminent Hotel offers a 5-star experience in Bukit Mertajam. Check Prices on BOOKING.COM|AGODA

Summit Hotel in Bukit Mertajam is the city's stalwart, rising in walking distance from the best of the Old Town. Check Prices on BOOKING.COM|AGODA
---
Teluk Air Tawar – Kuala Muda wetlands Verdict
Teluk Air Tawar should be on the top of your list if seeing and hearing thousands of migratory waterbirds is on your bucket list. Being out among them on the mudflats is a unique experience.
When we went at the end of March 2022 at the end of the migratory season we still managed to see at least 3,000 birds spread along the coast — including two exemplars of the rare Lesser Adjutant, one of the biggest birds found in Malaysia, with its bald, scary head and long beak.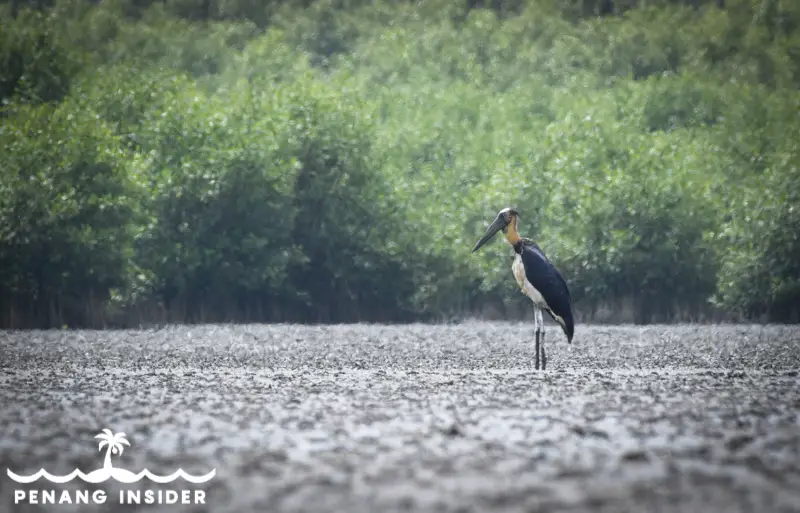 We also believe that it's ABSOLUTELY IMPORTANT that you visit to put more pressure on Seberang Perai and Penang Councils and relevant authorities so that they gazette and protect the Teluk Air Tawar – Kuala Muda wetlands as soon as possible. We at Penang Insider certainly think that after 15 years and a global pandemic, the priority should be to protect Penang's (and the world's) environment better.

---
And if you liked this, why don't you sign up for our mailing list? We will send you immediately a FREE photographic eBook with some incredible pictures of Penang, and we promise, we will disturb you only about once a month with some good local advice you won't find on the site