Tucked in an undiscovered corner of northern Perak is Kuala Gula, a fishing village that's very close to the fantastic Kuala Kurau, and sits on the coast that extends to the south into the more famous mangroves of Kuala Sepetang.
Regardless of its stunning location, Kuala Gula's main claim to fame is the Kuala Gula Bird Sanctuary, a large area of the river estuary and mangrove swamps that empty into the sea. This place is not only inhabited by the local fishermen who get out at sea daily looking for prawns, but also by a staggering amount of migratory birds. They favor Kuala Gula's warm tropical climate and its mangroves which are rich in nutrients like prawns, small fish, and snakes.
READ MORE — Best Perak Attractions
This post will tell you all you need to know to visit Kuala Gula and have a great time, and more specifically will focus on:
How to get to Kuala Gula
Where to stay in Kuala Gula
What are the best things to do and eat in Kuala Gula
Don't forget that Kuala Gula is very close to Taiping and its amazing food, where you will also be able to hike up the former British Hill Station of Bukit Larut and stroll around the lush Taiping Lake Gardens. They deserve time to be explored, so check yourself into one of Taiping's Best Hotels.
And if you are continuing to Ipoh, don't forget to take a trip to the impressive Ipoh cave temples (check the best hotels in Ipoh and some nice Airbnb to stay in Ipoh) or consider a diversion to white-water rafting and caving capital Gopeng, or the blissful Pangkor island with its Kali Amman temple.
---
How to Get to Kuala Gula
Kuala Gula is best reached with your own wheels. If coming from Penang, drive on the Old Road 1 to Bagan Serai, and then take Road 75 all the way to Kuala Kurau town. If you arrive on the E1 Highway, the closest exit is Bandar Baharu, from where you'll have to reach Parit Buntar and proceed again south to Bagan Serai to connect on Road 75.
In Kuala Kurau, cross the main bridge above the Kurau River and continue straight for about one kilometer until you'll find the turnoff to Kuala Gula.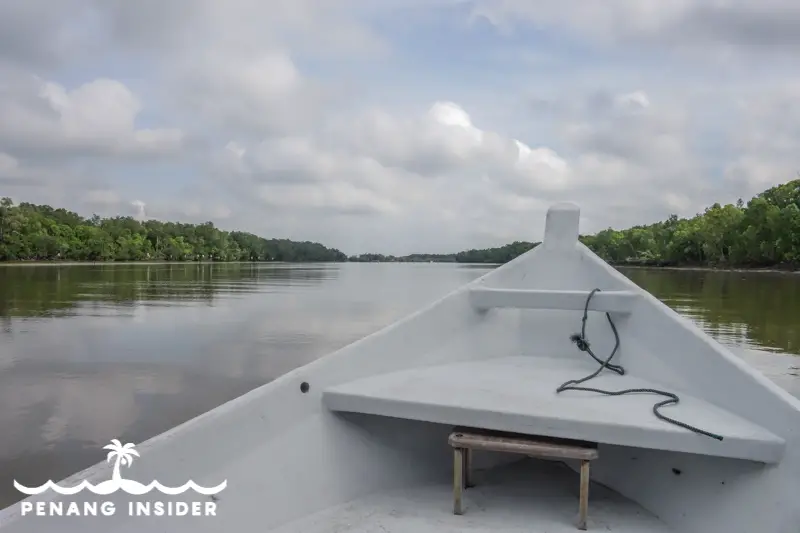 The route can certainly be cycled in less than three hours, something to consider if you are looking for another destination to check out from Penang state. In this case, try to stick to the coastal road and get off Old Road 1 as soon as you can.
Alternatively, if coming from Taiping and Ipoh/Kuala Lumpur, exit at the Taiping Utara toll and proceed to Simpang Empat Semanggol, where you can take a left turn onto A100 and reach Kuala Kurau from the south. Kuala Gula is at the end of the left turn-off before the bridge on the Kurau river.
---
Where to Stay in Kuala Gula
To be frank, there isn't good quality accommodation in Kuala Gula, and the nearest and best places to stay are all in Kuala Kurau, about 13 kilometers away. Kuala Kurau has enough charm to be a pleasant overnight stopover, especially if you like your seafood cheap and zesty. Otherwise, you will have to overnight further away in Taiping or Kuala Sepetang — but why, when Kuala Kurau is so near and full of things to see and do? Read our guide to Kuala Kurau.
Best Hotels in Kuala Kurau
The best option in town is the Kurau Inn Farmstay, just outside of town near the northern access to the Kuala Kurau bridge, and surrounded by quaint paddies and countryside. The rooms are top-notch for the price and include a small swimming pool. A perfect place to stay for families and small groups of friends. Check prices and book on Booking.com.
---
Kuala Gula Best Attractions and Things to Do
The main reason to come to Kuala Gula is the Kuala Gula Bird Sanctuary, but there are a few other things to do and places to eat you shouldn't miss. Follow our suggestions hereinafter.