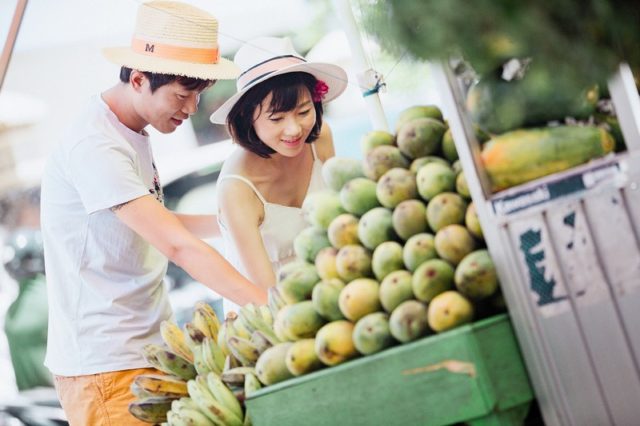 Penang, the foodie heaven with an exciting nightlife, an incredible Buddhist temple complex, and, for those living in north Malaysia, a real shopping magnet — do you already know what are the best malls in Penang?.
With so many shopping malls and alternative markets, it's just logical that the island is also a perfect place to shop for good, healthy food. Local food like Penang curry mee, Penang laksa, and the many iconic breakfasts in Penang are certainly great, but they can seriously damage your stomach in the long run. If you live in Penang, you need to cook sometimes, and you are lucky because most, if not all, big supermarket chains can be found on the island.
READ MORE – Best Restaurants in Penang
But what about grocery stores in Penang? There are some very interesting independent food shops carrying great quality foods for all those residents and expats who care about healthy living — don't forget that Penang also has several interesting yoga and health centers you should check out.
Let us highlight the best places where you can shop for groceries in Penang.
The new kid on the block is a food shopper's wet dream. They have everything here, imported from every corner of the globe. I believe you can judge a good supermarket by their selection of fresh produce, and the people of Jaya Grocer have lifted the benchmark in Penang significantly. It's worth noting that you can find plenty of locally grown produce here. The other shelves have plenty of good stuff too, offering many choices of any particular product you may be looking for. We also spotted original Japanese Strawberries at a teary-eyed price of RM 168 per packet. So, be careful of what you take, or bring a well-loaded credit card.
Address:
Lot LG 26, 26A, 27, Gurney Paragon Mall,
Persiaran Gurney, 10250 George Town, Pulau Pinang
This is the grand dame of the supermarket chains, and a very popular option for the many expat residents in the Gurney Drive and Batu Ferringhi area (do you know Penang well? You can always check out our guide to the best places to stay in Penang). They've been around for long, and are still a very reliable source for tasty ingredients, offering a very good and well-stocked selection of imported goods from specific countries, in particular, Japan. They do offer their own freshly baked bread, and prepare a mean roasted chicken: just take it with some crispy salad leaves and a good relish from the shelf, and your dinner will be sorted as easily as that.
Address:
Outlet 1: 170-B1–15, Gurney Plaza, Pesiaran Gurney, 10250, Penang
Outlet 2: Lower Ground Floor, IP Tower Island Plaza, No. 118, Jalan Tanjung Tokong, 10470, Penang
This place definitely has a scope and a role in the world of Penang food shopping, but you won't come here to source amazing products. It's a bright, uninspiring huge space stocked with all that you could wish for, including oranges and ripe tomatoes that could be good substitutes for tennis balls — unfortunately, that's the kind of standard you can expect here. But on the positive side, it's a very convenient place where you can load your trolley to the brim and wheel it right to your car's trunk, without any problems. The place is built with shoppers' convenience in mind and is pretty cost-friendly, but again, don't expect stellar quality produce here.
Address:
Outlet 1: No.1, Lebuh Tengku Kudin 1, Bandar Jelutong, 11700 Pulau Pinang
Outlet 2: No. 1, Jalan Seri Tanjung Pinang, Tanjong Tokong, 10470 Pulau Pinang
Speciality Grocery Stores in Penang
Organic shops in Penang are aplenty, but Zenxin is quite different with their own homegrown produce that's reasonably priced and with a huge variety of organic vegetables for Malaysia. Zenxin's Penang organic shops are always manned by very friendly people who can help you select the right things should you be confused. You can also find fantastic noodles in all kinds of flavours, such as beetroot, pumpkin, and also the less common mulberry leaf. Look closely on the shelves, and you'll come across some interesting products from artisans producers of Penang.
Address:
Outlet 1- 98-G–19, Jalan Fettes, Bandar Tanjong Tokong, 11200, Pulau Pinang.
Outlet 2- 5-G–16, The Promenade, Persiaran Mahluri, 11950 Bayan Baru, Penang
5
Cilantro Magnus 'Farmers Market'
Cilantro has always been known for being a great source of quality vegetables, fruits, and herbs. For a while now they've been operating a shop right next to Tanjung Bungah's wet market. The area is very busy in the morning, but in the afternoon it's blissful, and finding car parking is much easier. Do you want to organize a BBQ? Come here: they have great quality meats and plenty of fancy ingredients to make your chargrilled dinner much more special. You should talk to the staff to find out if they have anything new and exciting that just came in, as they're always on the hunt for new products to bring to Penang's sunny shores.
Address:
589-G–07, Menara Asas, Jalan Tanjung Bungah, Tanjong Tokong, Pulau Pinang 11200
To some, this bakery produces the best sourdough bread on Penang island. Indeed, the usual sourdough loaves of bread one can find in most Penang bakeries are crusty, chewy, and not very friendly to your jam because it's peppered with big holes. But Yin's is different: the distinctive sourness is subtly present, and the bread's texture is soft. And most importantly, you won't need to worry about dropping your toppings of choice through the bread's holes. The passionate people behind Yin's Sourdough Bakery are very friendly and eager to recommend and offer you their best stuff. Have a look at their wide range of jams, kaya, and nut butter, all made in-house from — whenever possible — locally sourced produce.
Address:
Outlet 1 – 11 Pesara Claimant, 10100, George Town, Penang, Malaysia
Outlet 2 – 5-G–17, Promenade Persiaran Mahsuri, Bayan Lepas 11950
The open-air wet markets of Penang are an absolute must on anyone's list of places to go to for grocery and ingredient shopping. Here you can find the real deal: chickens slaughtered to order, fresh fish and seafood that was caught the night before, and tables loaded with fresh produce — including all the kinds of stuff you won't find anywhere else. Where the homogeneous, brightly lit supermarkets and malls play the role of convenience, Penang's local markets are places for real people. Your success in getting the right ingredients, at the right price, depends on how you approach the stall operator. A smile makes a difference; asking about what's good makes a difference, as much as being loyal to them, which makes a huge difference. Wet markets make you connect with the real source of Penang food. Parking around these areas, however, is usually a real nightmare, and the markets themselves are mostly a crowded, smelly affair. But there's a good reason why you'll find all the local aunties and uncles doing their daily food shopping here: it's the best island-wide.
We'd like to highlight two specific markets, which are Pulau Tikus' and the Chowrasta Market in George Town. Pulau Tikus market is well known to be the priciest, but you'll pay for higher quality. The produce here just has that extra touch and ripeness you won't find elsewhere island-wide. Highlights here are the food stalls, the localized traiteur. There's a mean Nyonya food stall where you'll find the best fish acar and salads, and you should also watch out for a couple of stalls selling amazing fried snacks.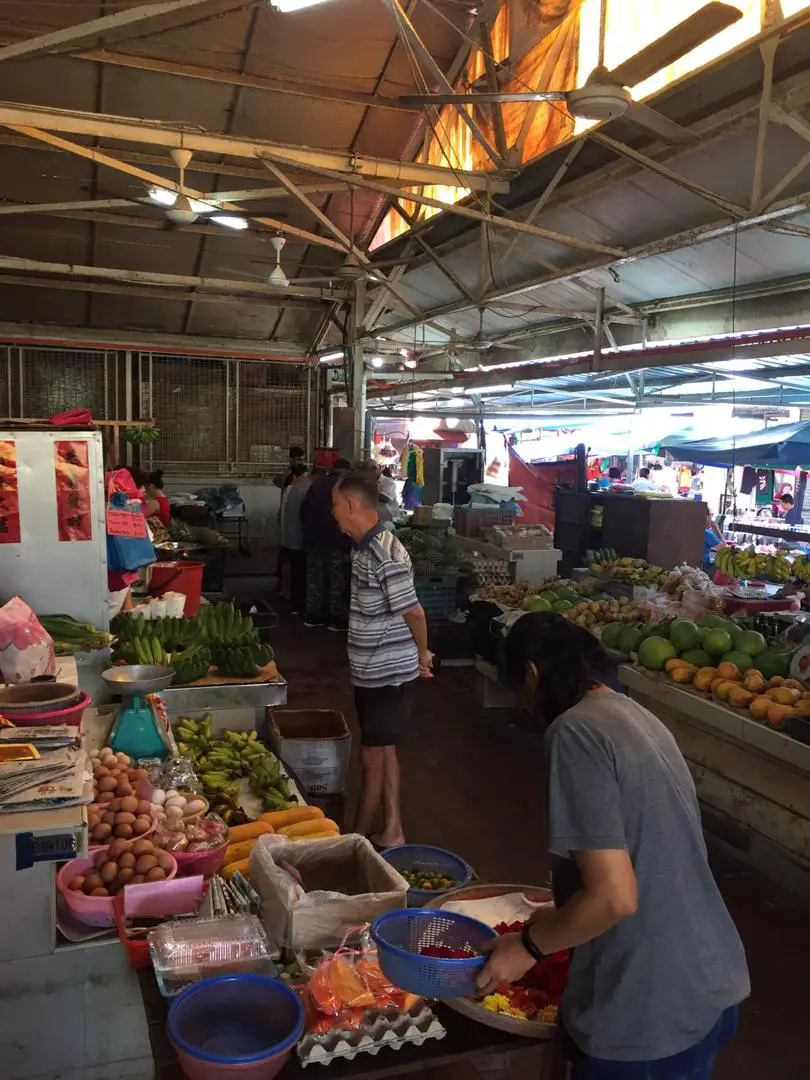 The Chowrasta market has been refurbished into a new modern building and is a popular spot. The produce here is good enough, and there are always some hidden gems. Look around the maze of streets surrounding the main market, as you'll be able to find shops selling a wide variety of pickles in all kinds of colours and shapes. There are also a couple of places selling the endemic and delicious nutmeg fruit. You should learn what you can do with this rock-hard, unattractive fruit because you can turn it into one of the most amazingly, fragrantly cooked fruits.
Address:
– Pulau Tikus market 3, Jalan Pasar, Pulau Tikus, 10350 George Town, Pulau Pinang
– Chowrasta Market 1–33, Jalan Chowrasta, George Town, 10200 George Town, Pulau Pinang
---
And if you liked this, why don't you sign up for our mailing list? We will send you immediately a FREE photographic eBook with some incredible pictures of Penang, and we promise, we will disturb you only about once a month with some good local advice you won't find on the site