Penang is a perfect spot for a Thailand visa run: it's very close to Southern Thailand and has one of the most efficient Royal Thai Consulates in Malaysia (not forgetting, a lot of great Western restaurants that foreign visa-runners love). No wonder then that for well over a decade, Penang island, with its smorgasbord of delicious food and a vibrant nightlife, has been an easy option for most visa runners, especially those living in the south, looking to stay long-term in Thailand.
READ MORE – A Guide to Photographing Thailand
Since I arrived in Penang in 2008, there has always been a constant flux of white travelers shuttling between Penang Ferry terminal and the guesthouses and bars of Chulia Street and Love Lane. Their mission: waiting for their Thai visas. Back then, it was still pretty easy to border hop between the two countries multiple times in one year, without worrying too much about immigration formalities.
But in 2017, the situation slightly changed: people still come to Penang to get their 60-days and Non-Immigrant B's Thai visas, but unfortunately, it's now much harder to just hop back and forth on both sides of the border. Especially in Thailand, immigration has become stricter, less friendly, and definitely rigid towards European and Anglo-American foreigners. So keep this in mind before thinking of doing a border hop south to renew your Thai visa, and then return to some of Thailand's famous island, such as Koh Phi Phi.
The information in this post is based on my personal experience crossing from Padang Besar to Hat Yay in October 2017. At current, you should not take lightly any overland crossing from Penang into Thailand. Flying still seems to be alright, without the same rigid rules and screenings. If you want to reach the border by train, check our guide on train travel from Penang/Butterworth.
And if you have time to kill in the area, our ultimate guide to Bukit Mertajam and the best hikes in Penang Mainland will come in handy. They include Cherok Tok Kun Recreational Forest, Bukit Juru, Bukit Pachor State Park and the scenic Frog Hill. Also, refer to this guide if you need a Tourist SIM Card for Malaysia.
READ MORE: Best Budget Hotels in Penang
What Borders are Open for Penang Thailand Visa Runs, and How to Get there
There are three main border crossings between Kedah and the Hat Yay region of Southern Thailand.
1. The most trafficked is Bukit Kayu Hitam/Changloon, at the end of the North-South Expressway, and used mostly by tourist mini-vans plying the Penang-Butterworth-Hat Yay route.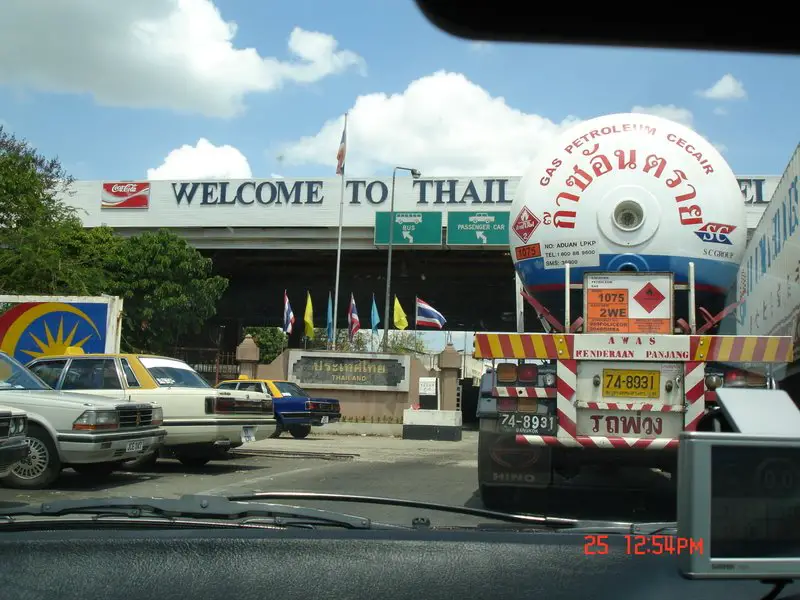 This border used to be pretty straightforward: vans would park on the Malaysian side, passengers would queue up at Thai immigration and get their passport stamped in, and then would get back in their vehicle to proceed on the other side. Without your private car or public transport, however, it's hard to get here and cross.
2.The second choice is Padang Besar, a Perlis town that straddles both the Malaysian and the Thai sides of the border. This crossing is ever-popular with train travellers, as it sits directly on the Malaysia-Thai train link.
Customs is in the train station, where passengers disembark, walk through the immigration booth on one side, get stamped in/out on the other, and resume their journeys by catching another train to Hat Yay — from where there are many daily connections to Bangkok and other Thai cities — or south to Butterworth. Read our guide to how to get to Padang Besar from Penang, and what other train services you can take from Butterworth.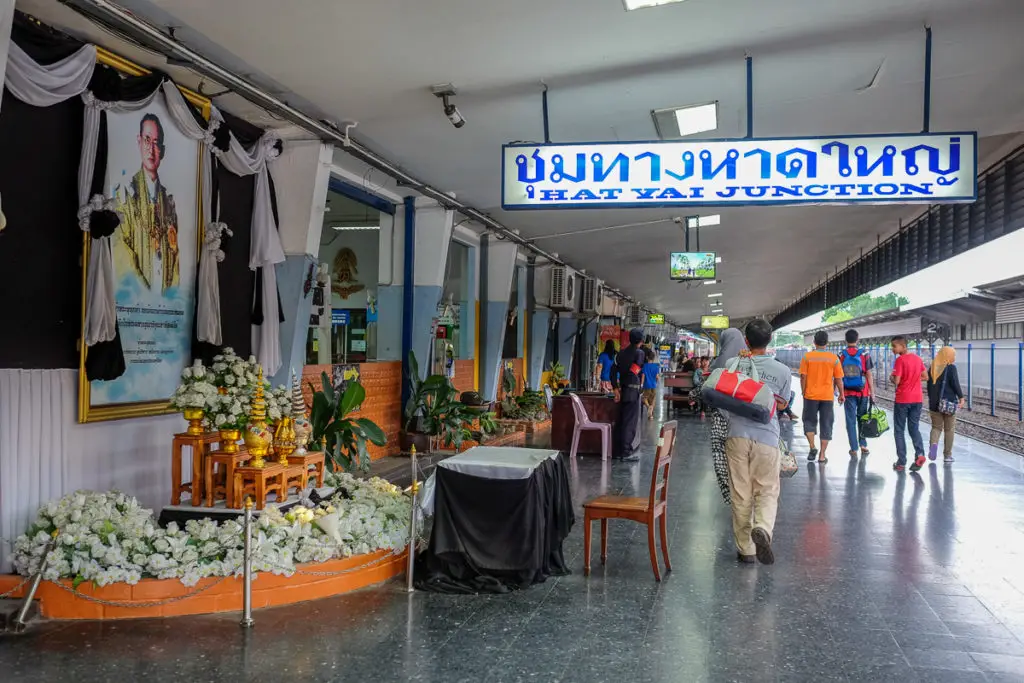 3. The third, less known and extremely less used (but more scenic) border crossing is also in Perlis, at Wang Kelian. This checkpoint sits right after a mountain pass in a once-thriving border town that's literally dead after the police found the mass graves of Rohingya migrant workers, and it's the fastest way to reach Satun in Thailand.
Being a rarely visited backwater, immigration personnel here tends to be more relaxed and open to foreigners — but without your own transport, it's pretty hard to get here, unless you charter a taxi in the nearby village of Kaki Bukit — make sure you visit interesting Gua Kelam if headed this way.
Difficult Overland Entry into Thailand
Entering Thailand by land it's not as easy as it used to be. It's a pity, because Thailand is not only an easy country to travel to but also one offering many incredible photography opportunities. In a bet to crack down on visa runners suspected to work illegally in the country, Thai immigration is enforcing strict control of travelers' personal finances. In other words, once you cross overland into Thailand you may — and you will, as I was — be asked to produce at least 10,000 Thai Bath in cash in order to be allowed into the country.
That's not all, folks: there's also a limit of only two overland entries per year that is rigorously checked upon your entry. Mind your entries, people!
At last, what was previously a common form of institutionalized border bribery inflicted to Malaysian nationals has actually become the law. If arriving at the border outside of normal working hours (roughly outside of 8 am—12 pm, and 2 pm—5 pm), one is obliged to pay the immigration officer an "overtime fee" of 25 Thai Baht.
Apparently, all these hassles are not carried out if you enter Thailand by plane. However, they are a problem for those long-term North Malaysian residents and PR-holders who were well-used to crossing the border to go shopping in Hat Yay at weekends. Well, now you must either fly or limit your visits to two per year. And be prepared to show a lil' wad of cash on your way in, too.
Land of Smiles? Well… more clenched teeth, at the moment.
The Padang Besar border in Malaysia is stiffening up, too
Malaysia, fortunately, does not have the same hard restrictions of Thailand, but it's also stiffening up. If you don't have a Malaysian Long Term Social Visit Pass or MM2H Visa and think of crossing the border, turn on your heels and returning on the same day, that's not the best of ideas, especially if you have other expired 90-days Malaysian Social Visit stamps in your passport.
Indeed, Malaysian immigration is equally afraid of people coming into the country to work illegally. They will ask what is your purpose of staying in Malaysia, especially if your passport will reveal evidence of previous lengthy sojourns in the country.
Some sound advice is to actually spend some time in Thailand, at least a couple of nights, and bring a flight ticket out of the country with you when you re-enter.
---
We hope that the above information will be useful for those attempting one of these three border crossings, and help them avoid being turned back.
If you have crossed any of these three borders recently and you can report on any changes, please contact us or leave a comment below.
We aim to maintain this page as updated as possible to inform travellers about the nuisances and risks they can face when going overland between Penang and Thailand.
---
And if you liked this, why don't you sign up for our mailing list? We will send you immediately a FREE photographic eBook with some incredible pictures of Penang, and we promise, we will disturb you only about once a month with some good local advice you won't find on the site