Kuala Sepetang is another beautiful place to visit in Perak, like the unmissable attractions of the capital Ipoh, such as Ipoh Cave temples (see where to base yourself at these cool Ipoh Airbnbs), serene Pangkor Island with its Kali Amman Temple, the quaint river town of Kuala Kurau, the bird sanctuary of Kuala Gula, and adventure capital Gopeng.
Set on the estuary of the Sepetang and the Sangga Besar rivers, it's very close to Penang and makes for a perfect day trip, especially if you are interested in exploring the mangrove ecosystem that is the real backbone of this fishing community.
This article is our ultimate guide to visiting Kuala Sepetang and you will find information on:
Where to stay in Kuala Sepetang
The Best Things to Do in Kuala Sepetang
The Best Food in Kuala Sepetang
And if you come here, don't forget to explore all of Taiping best Food, serene Taiping Lake Gardens, and the Hill Resort of Bukit Larut, both less than half an hour's drive away. You can also check yourself into one of Taiping's Best Hotels.
How to Get to Kuala Sepetang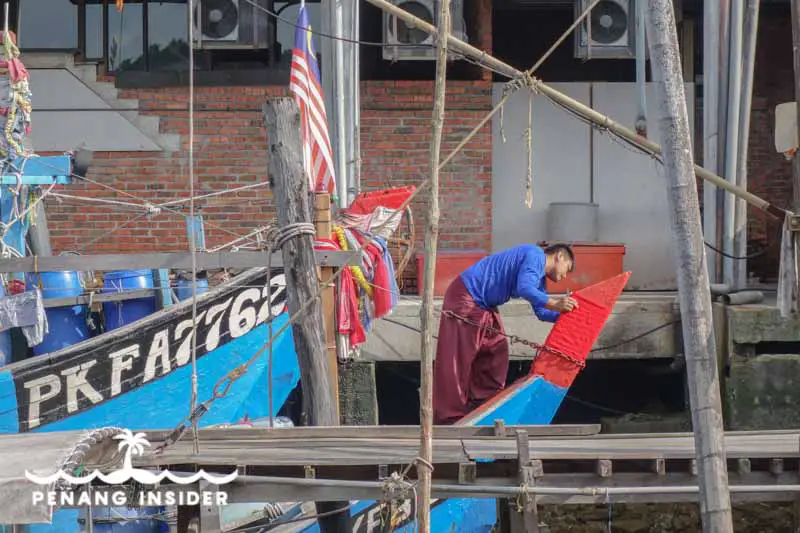 Kuala Sepetang is about 15km west of Taiping and an easy half or full-day trip. The best way to come here is to drive from Taiping, but there's also a bus, number 77, that shuttles between the Taiping bus station in the Old Town and Kuala Sepetang.
Where to Stay in Kuala Sepetang
Kuala Sepetang has a few good accommodation options, but after the sun goes down, also has very less things to do. If you have wheels, you could consider visiting during the day and then stay in nearby Taiping, which has more choice of accommodation and a slightly more vibrant nightlife — but remember, Penang nightlife is impossible to find here.
Best Kuala Sepetang Hotels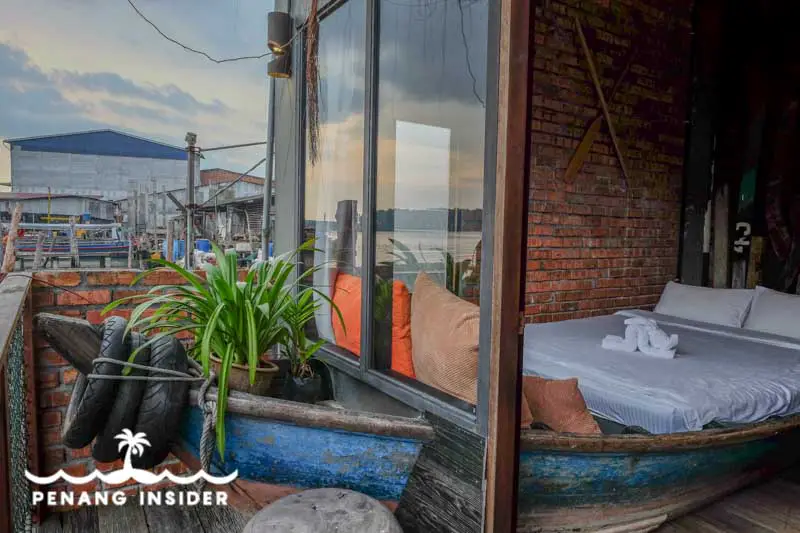 The best option to stay in Kuala Sepetang is certainly the Happy 8 Boutique Hotel. This is a modern hotel with cozy and upmarket rooms that are tucked right over the river, with balconies made with old fishermen's nets and boat parts that add a lot of charm to the most luxurious place to stay in Kuala Sepetang. Still, prices are definitely on the affordable side. Check and book on Agoda.


---

KS Homestay is a very good option right inside the Chinese village. The place is clean with smart rooms decorated with little murals that the kids will love. There's also a balcony from where you can observe the local boats float lazily above the Sepetang River, and it's in 15 minutes walk from the Charcoal Factory and the Matang Mangrove Forest Reserve. A perfect place for an overnight on a budget. Check prices and book here.


---

CK Homestay Kuala Sepetang has rooms housed inside a modern and tall building. It's all clean and handy, but a bit less personalized than KS Homestay, for a slightly higher price and less nice views. Check prices and book here.


---
Otherwise, if you have a car you can stay in Taiping, where there are a larger choice of Taiping hotels and of course more food and entertainment choices.
Some recommended hotels and homestays in Taiping are:
---
Kuala Sepetang Best Attractions and Things to Do
So you followed our suggestions and arrived in Kuala Sepetang, found yourself a cozy accommodation, and now want to know what to do in town, correct? Here are what we think are Kuala Sepetang's best attractions.
1
Visit the Matang Mangrove Reserve
Kuala Sepetang is famous for its mangrove coastal system that stretches all the way north until the charming fishing village of Kuala Kurau. The best way to see this incredible ecosystem on foot and without getting your feet in the mud is at the Matang Mangrove Reserve, a boardwalk that goes through thick mangroves, giving you a chance to observe these trees and their roots up close. You'll certainly also have chances to see the local birds and other creatures like the mudskippers, a common inhabitant of these mangroves.
Opening Hours: 8 am to 7 pm Daily
Entrance Fee: RM15 per person
Contact Number: +6012–514 5023
2
Visit Kuala Sepetang Charcoal Factories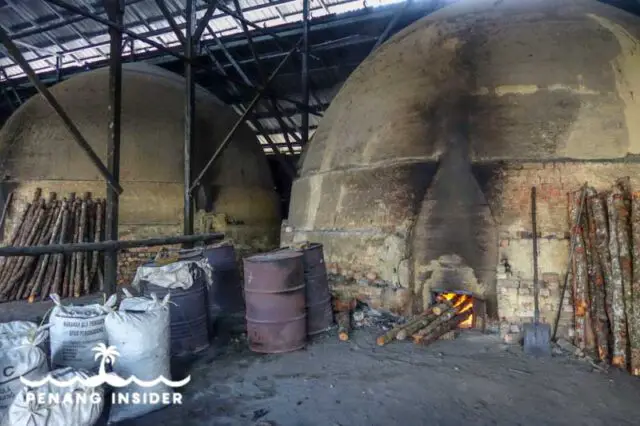 Kilns for charcoal-making are one of the main attractions in Kuala Sepetang (image © Marco Ferrarese)
Kuala Sepetang is one of Malaysia's biggest charcoal-producing areas. The mangroves provide perfect wood to be cut and made into charcoal, and roughly 1000 hectares of local mangroves are cut every year to produce it. The same amount is replanted in a cycle that takes 30 years to grow back — it's all managed by Malaysia's Forestry Department to keep it sustainable.
Just outside of town you should stop at the Khay Hor Holdings charcoal factory that has been passed down by generations and today belongs to Mr Chuah. Visitors can enter the factory on free tours that take them in front of the giant brick kilns where the different processes of charcoal-making, from drying to burning, are exemplified. You'll see rows of chopped mangrove woods waiting to be thrown into the kilns. If you come at the right time, you may be lucky and see the workers hauling more logs into the factory.
Opening Hours: 9 am to 5 pm Daily
Entrance Fee: Entry is free, but it's RM5 per person for a tour
Contact Number: +6012–428 6098
3
Stand above Kuala Sepetang's Port Weld bridge
Once you arrive in Kuala Sepetang from Taiping, you won't realize how close you are to the water until you walk up this famous bridge that crosses Sungai Reba, a smaller tributary of Sungai Sepetang. This is possibly Kuala Sepetang's most scenic spot, a perfect vantage point from where you can observe how the local homes nestle near the water, where dozens of blue, red, and yellow fishing boats are moored like floating cars — and well, they most often are a local family's only means of transport.
Port Weld bridge is now covered by a roof of corrugated iron, so it's OK to come here at any time of the day, but you'll get the best views at sunrise and sunset. Wait for a fishing boat to drive below you, and snap that special picture.
4
Visit Kuala Sepetang's charming Chinese village, Kampung Seberang
The Port Weld bridge takes you down into Kampung Seberang or the Chinese part of Kuala Sepetang. It's a very scenic maze of small alleys that can be only navigated on foot or by motorbike. Old homes, most of which are still entirely made of wood, sit next to each other on the waterfront, alternated by the occasional Chinese shrine. Some houses are on stilts, and some of those have been converted into charming homestays.
The beauty here is to roam around, observe the local Chinese elders rest on their porches and go about their simple daily lives, and sit around for a coffee or a bowl of noodles at one of the many homes turned into coffee shops. At a minimum, you'll spend a happy hour strolling around these back lanes, but it could be much longer, especially if you can speak Chinese and communicate with the locals who are always curious about those who take the time to talk to them.
5
Visit the old Port Weld Railway (十八丁铁路碑)
Kuala Sepetang was once the important Port Weld during British Colonial Times and was the end of the line of the Taiping-Port Weld railway line opened in 1885, the first in Malaya.
Today, the old railway station sign, written in English, Malay, Tamil, and Chinese, is still standing right in the center of town. You can still see parts of the railway track, too. There's nothing much else left, but it's one important historical memory to check out while in Kuala Sepetang.
Closer to Kuala Sepetang's main jetty is the wooden Koperasi Nelayan Kuala Sepetang, which was the former Port Weld train station warehouse from 1885, and you can still visit today.
6
Explore Malay village life at Kampung Menteri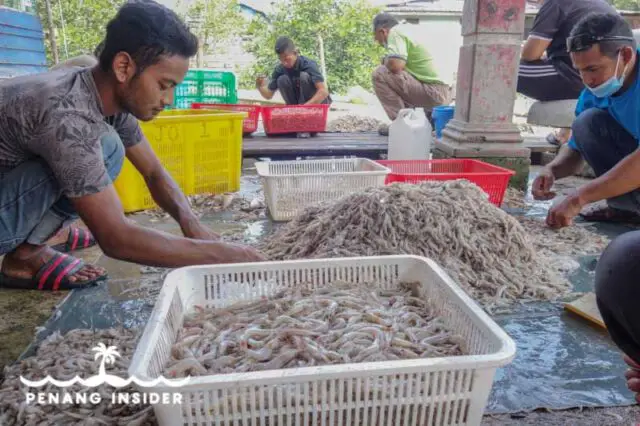 Collecting prawns from the river at Kampung Menteri, the Malay side of Kuala Sepetang (image © Marco Ferrarese)
As the Chinese have their area after the Port Weld bridge, the Malays set up their kampung slightly out of the main town, in the area called Kampung Menteri. Developed right next to a bend of the estuary, where egrets and other birds come fishing near the mangroves, Kampung Menteri is lined with Malay homes and is the main point for prawn fishing and collecting. You can come here to observe the fishermen at work with their catch of the day — you may buy fresh prawns from them at very competitive prices, too.
The main activity at Kuala Sepetang is to take one of the various boat tours on offer. Most go out on the Sepetang River for a standard tour that takes in the main sites that Kuala Sepetang boasts on the water.
Each boat carries a minimum of six people and costs RM28 each for the signature two-hour tour that includes visits to a floating fish farm, watch the eagle feeding, and a drive up and down the coastal mangrove area. But if you have your own group, you can also talk to the boatmen and customize your experience.
If you have never come to Kuala Sepetang before, one of these boat tours is very much worth as it really gives you a chance to understand the water dimension of this place and get a feeling for the mangroves that surround the area.
8
Visit Pulau Sangga, a remote island without running water
One of the most remote and interesting destinations you can visit on a boat tour is Kuala Sangga, the main settlement on Pulau Sangga. This remote estuary island is one of two remaining islands in Malaysia that still have no electricity and running water. The village is scenic, solar-powered, and if you go to the one and only Kopitiam here, you'll be served drinks made out of rainwater.
This island is very special because it was born as a Chinese Catholic settlement, and there's still a church dedicated to Saint Anne. Since then, all the Catholics have gone, and St. Anne is now worshiped as if she were a Chinese goddess, and she's said to have protected the island from many calamities, among which was the disastrous 2004 Tsunami. Certainly an interesting anthropological find.
Usually, people visit Kuala Sangga as part of a longer boat trip from Kuala Sepetang, but at the time of research, a new eco-tourism project was starting to offer homestays on this island — a special experience, for sure.
9
Visit the Muzium Matang at Kota Ngah Ibrahim
If you come to Kuala Sepetang by car from Taiping, don't miss a chance to stop and visit this museum built by Ngah Ibrahim, who carried the title Orang Kaya Menteri Paduka Tuan. The exhibitions are heavy on the history of Taiping town and Kuala Sepetang, with an emphasis on politics before the British colonization of Malaya.
Entrance is free, so you are encouraged to visit and get your basics right before you keep exploring the area.
Opening Hours: Daily 9 am — 5 pm, closed on national holidays
Kuala Sepetang is one of the few places on the West coast of Malaysia where you can spot fireflies. To be honest, the number has dwindled considerably because of the degradation of the mangrove environment, and you won't see the yellow clumps of lights as it used to be earlier. Still, coming to Kuala Sepetang and not stay for sunset and a firefly cruise is a big mistake.
Try to get a boat tour that leaves around 6.30 pm, visit a fish farm and see the mangroves for about an hour, and then go for a firefly hunt from 7.30 pm when it gets dark. It's an experience you won't regret and a good reason to stay in Kuala Sepetang overnight.
11
Eagle Watching and Feeding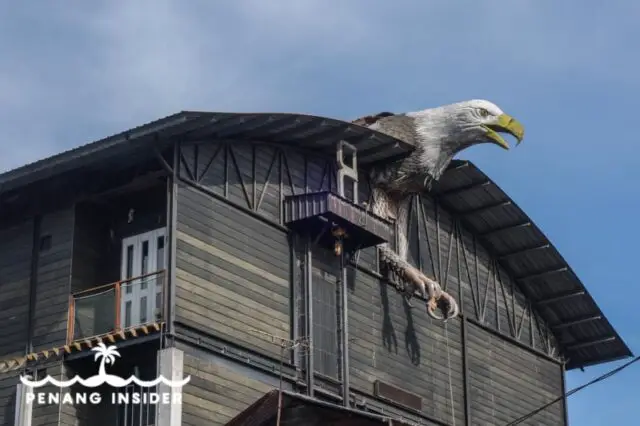 Eagles are so popular in Kuala Sepetang that even the Happy8 Hotel has built one into its roof …but you do the RIGHT THING (image © Marco Ferrarese)
Every boat tour in Kuala Sepetang includes a bit of this past-time called "eagle feeding": a boon for wildlife photographers, it essentially entails boatmen who feed local eagles with chicken skin they throw on the water surface to attract the birds. This is not what we call a sustainable tourism activity, but it happens, and it's popular so we must acknowledge it. Eagles are obviously not hurt in the process, but end up developing a cannibalistic appetite for chicken meat that makes them dependent upon unscrupulous boatmen. You'll certainly get great shots, but be very aware of the implications of what you are doing.
12
Take a Tour of Wonder Farm Mushroom
This organic mushroom farm near Kuala Sepetang has been producing different types of fungi for the past 30 years and is a good place to learn about mushroom cultivation. Tours are extensive and interesting, and kids will especially enjoy learning about organic mushroom farming. Call ahead of time if possible (+60 16 531 8161) and organize your visit.
Opening Hours: Daily 9 am — 4.30 pm
13
Take a Dolphin spotting tour
The waters off Kuala Sepetang are a very good place to see Indo-Pacific Humpback dolphins. The best time to see them is at sunrise, so don't believe those tour operators who tell you otherwise.
The best way to see the dolphins is to stay at one of the accommodation options we recommended above for the night, and take a tour in the early morning.
Experienced local guide Khairul of Kuala Sepetang Ecotourism is recommended. His tour costs RM450 for a minimum of 3 and a maximum of 10 people (RM150 per person, inclusive of the boat)
Where to Eat Kuala Sepetang's Best Food and Seafood
Once in Kuala Sepetang, you can't dismiss the food, in particular the fresh seafood that's caught daily from the estuary. Prawns are particularly plentiful, and tasty, around these parts.
14
Have some of Kuala Sepetang fresh seafood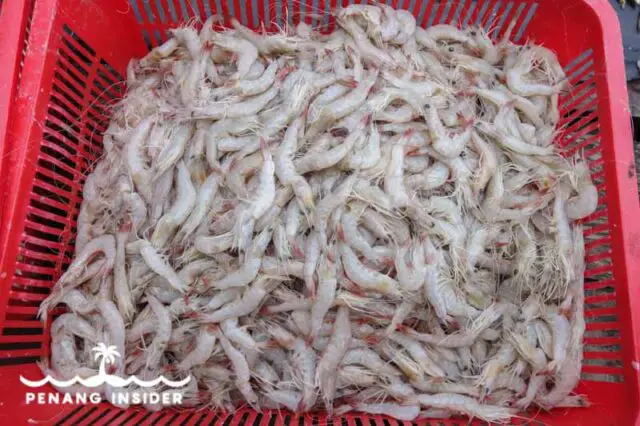 Fresh catch of the day: the reason why Kuala Sepetang Mee Udang is so good (image © Marco Ferrarese)
Kuala Sepetang has a few established seafood restaurants that line the shore right next to the main tourist jetty.
Kuala Sepetang Fish Village Restaurant has been around long enough and is quite popular with locals and tourists. Call +6012–500 5325 for bookings.


---

Restoran Di Tepi Sungai (+6010–549 6433) is another established place with a terrace offering beautiful views of the estuary. You can have fresh crabs, baby octopus, and delicious curry prawns here.


---

Kang Kao Riverside Restaurant is yet another popular place set inside the Happy 8 building (look for the tall construction with an eagle's head popping out of it). A specialty here is the curry prawns cooked inside a bread loaf — quite a unique concoction to try.


---
Try the famous Mee Udang Kuala Sepetang
Kuala Sepetang is famous all over Perak for its juicy and scrumptious Mee Udang — noodles served with giant river prawns. It's a local staple and something you really shouldn't miss once in town. These are the best places to try this dish.
15
Restoran Mee Udang Mak Jah
This may be by far the most famous Mee Udang place in Kuala Sepetang. The dish is served both in soup or fried mee version — the latter preferred by many customers. The prawns are scrumptious and as big as fingers, so don't miss this place.
Opening Hours: 12 pm to 10 pm (Closed on Wednesdays)
Phone Number: +605–858 1400
This place, a cluster of tables set under a metallic roof strewn with fluorescent lights, has been dishing up the heavenly mee udang since 1956 and, some say, it's even better than Mak Jah. Go and try for yourself.
Opening Hours: 7 am to 7 pm (Closed on Fridays)
Phone Number: +6012–571 9372
17
Kuala Sepetang Curry Mee
Prawns are also an important ingredient to make great curry mee, and you can certainly find some worthwhile bowls in Kuala Sepetang. Once in Penang, see our guide on where you can have the best Penang curry mee.
Ah Tai, a popular stall set close to the Port Weld railway sign on the way to Kuala Sepetang's market, is popular and has scrumptious curry mee, some of the town's most popular. Don't miss their special sardine asam laksa — something quite different from the Penang laksa we are used to.
Last time we were in town, however, we tried another curry mee that we really want to recommend. I am referring to the simple stall operated at the entrance of Ah Huat fishery Curry Mee. You can't miss it as it's along the same main road that leads to the Port Weld sign.
For just RM4, I was served a huge bowl filled to the brim with richly textured gravy topped with very fresh prawns, short green beans, pieces of fried beancurd, and slices of fishcake. The cook even added more curry to my soup halfway through my meal to let me enjoy the taste more. If you come to eat here, you can walk to the back of the building where the family has its own private jetty and boats, and visit the fishery itself. Please support them as they opened only in August. They are closed on Wednesdays and Thursdays.
---
And if you liked this, why don't you sign up for our mailing list? We will send you immediately a FREE photographic eBook with some incredible pictures of Penang, and we promise, we will disturb you only about once a month with some good local advice you won't find on the site
---
Blogging transparency: this post contains affiliate links. These are products and services that we personally use and recommend. If you click on one and buy any service, I will get a small commission at no extra cost to you. Consider it a small way to say thanks, and keep Penang Insider going.
---