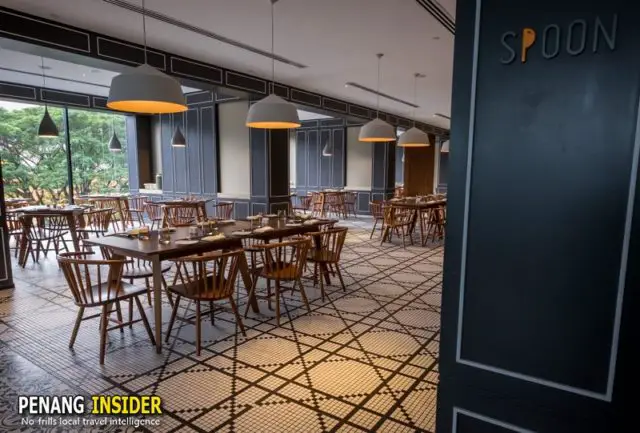 There are hundreds of food choices in Penang. Beside hawker food, an array of restaurants keeps evolving and improving, offering all sorts of mouthwatering dishes from cuisines all over the world. See our list of the best Western food restaurants in Penang.
At lunch, however, people either set for food courts or easy and quick restaurants. But have you ever thought of having buffet in Penang? With a bit of time on your hands, or on a day off, going for a good Penang hotel buffet can be convenient and cheap. And what if we told you that it can be a bit luxurious, too?
There are several Penang hotel buffet options, and several come up with pretty good promotions. Did you know, for example, that the G Hotel Kelawai, well-known for its excellent buffet dinner in Penang, also has a fancy and very affordable 4-course lunch special? 
G Hotel Kelawai: Not Just Buffet Dinner in Penang
The second branch of one of Penang's most iconic 5-star hotels is no great news, as it opened 3 years ago. A sleek, industrial-chic building set on the upper end of Kelawai road, in close proximity to Penang Botanical Gardens and next to some of Penang's best shopping malls, and a good hi-end choice for a stay on the island.
But it's their restaurant Spoon, tucked on the first floor, that we'd like to talk about: a cozy, loft-like hall mixing futuristic industrial-chic design — check the spider-like lamp hanging over the big table for functions — and old Penang traditions, with black and white, Peranakan-retro-styled tiles. For dinner, Spoon serves some of the best buffets in Penang.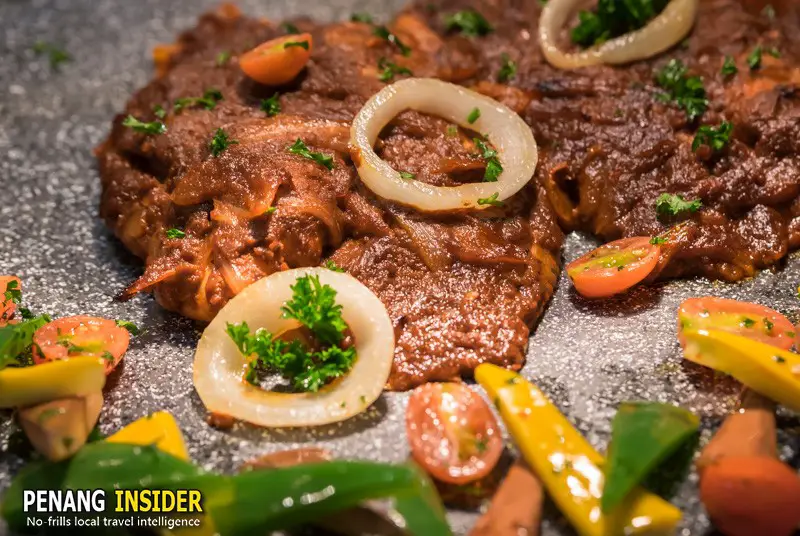 From Sunday to Thursday, you can gorge on a serious array of international foods ranging from beef and chicken satays, Honey Pineapple Smoked Duck, Lamb Curry with Potatoes and a selection of REAL cheeses, cakes, and tarts for a special price of RM75 (RM105 on Fri and Sat).
But wait a minute. Did you know that G Hotel Kelawai also has a lunch special?
And it only costs RM25/pax for a 4-Course Set Lunch that can actually fill your stomach for good, and make you taste some "haute-cousine" at a very modest price.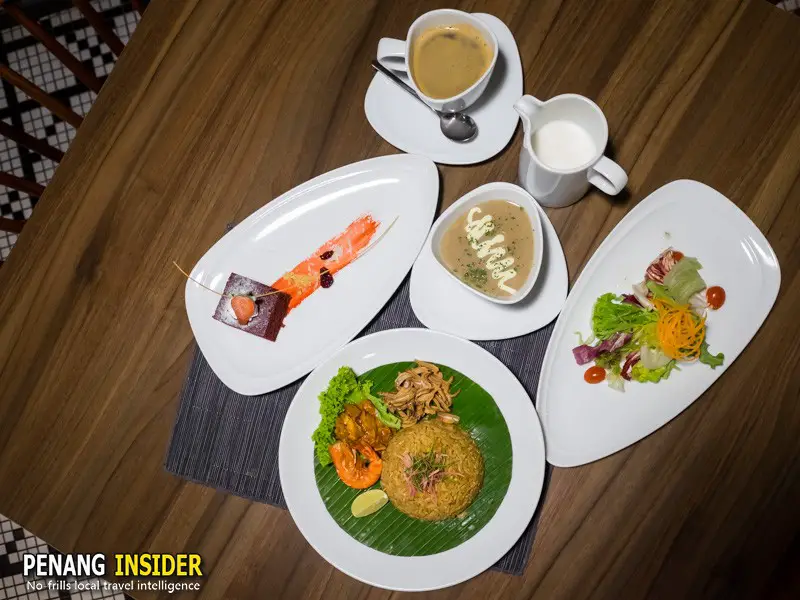 Lunch Special at G Hotel Kelawai: the Lowdown
If you are after a stylish experience at a bargain price, look no further: Spoon is not only one of the best places to have buffet dinner in Penang, but also the ideal spot to bring a date for lunch, or impress a business client without burning a hole in your pocket.
The lunch Special runs daily from 12 pm to 3 pm. Until the end of 2018, you can have 5 different menus that rotate weekly — return and enjoy a different selection every week.
First course
The meal starts with an appetizer, Our Chef's Creation: it's usually a mesclun salad. The one we had was properly presented and tasty. We probably would have preferred a larger selection of dressings to go with it, but hey, I am Italian — you can't always have your balsamic vinegar and Olio d'Oliva in Asia.
Second Course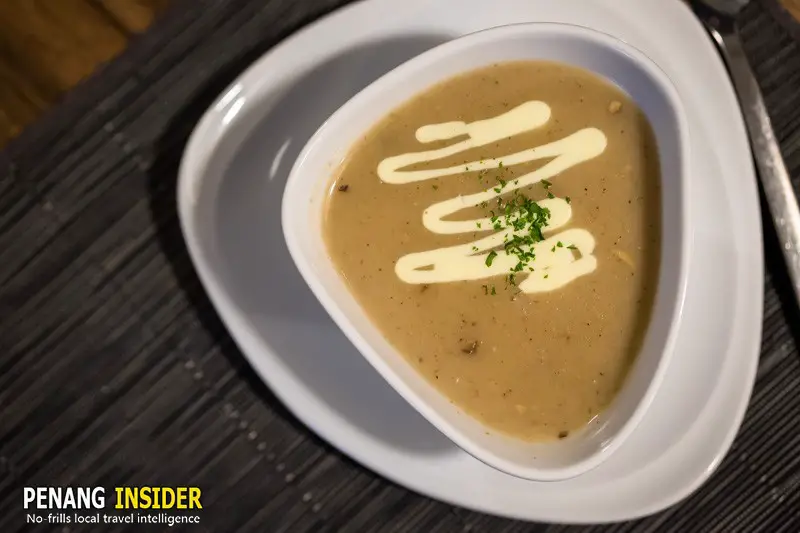 The second course is the Soup of the Day, which rotates between mushroom, chicken, and asparagus. When we visited, we had the mushroom.
It's always quite challenging to find a place anywhere in Malaysia where one can actually have a real "vellutata" — creamy, zesty soup, which is not too watery nor too puree-ish, the perfect middle-ground.
But holy Molly, Spoon nailed it: smooth, zesty, and comes in a good portion. It reminded me of some of the soups I had in Italy, to be frank… and those are some of the best.
ENOUGH FOOD? GET INSPIRED:
G Hotel Kelawai's Lunch Special Main Course
By now, you should be ready for the main course. Every week, G Hotel Kelawai Penang buffet has a selection of three choices, all different in each of the five menus.
When we went we tasted Menu 4, a choice between Grilled Chicken, Seafood Delight or Tom Yum Fried Rice.
You are probably not going to choose rice, I believe — but even if you do, the dish is quite good. Wok-fried and served A La Thai, using slightly longer rice, it has prawns, lime wedges, anchovies, egg, and mango chutney.
The chutney was a bit too sour for our tastes — but the crunchy and flavorsome deep-fried anchovies made up for it pretty well.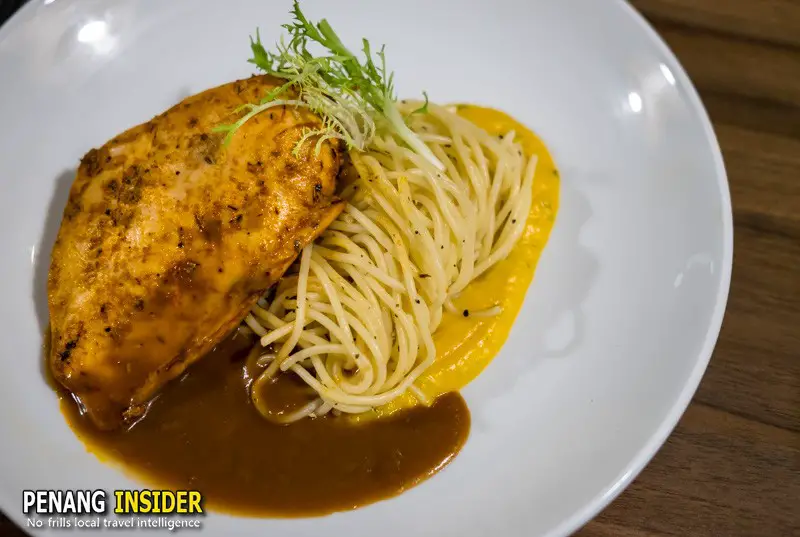 We decided for chicken: marinated breast served over a thick and creamy layer of Pumpkin Gremolata, and sitting next to a bunch of spaghetti "al dente". When we received the plate, we realized that yes, this would have been more than enough of a portion to make this set meal worth the RM25.
The chicken breast was not only big but also tender and well cooked — and pretty thick to boot. We personally like when the chicken is soft and yet savory, and the pumpkin underneath was perfectly combined to enhance the taste of the meat. As an Italian, I usually frown any sight of pasta served as a side, but I have to say that in this case, the spaghetti, which was cooked "al dente" — meaning "a bit hard" — and without any sauce, actually belonged to this dish. They made the chicken's tenderness stand out more.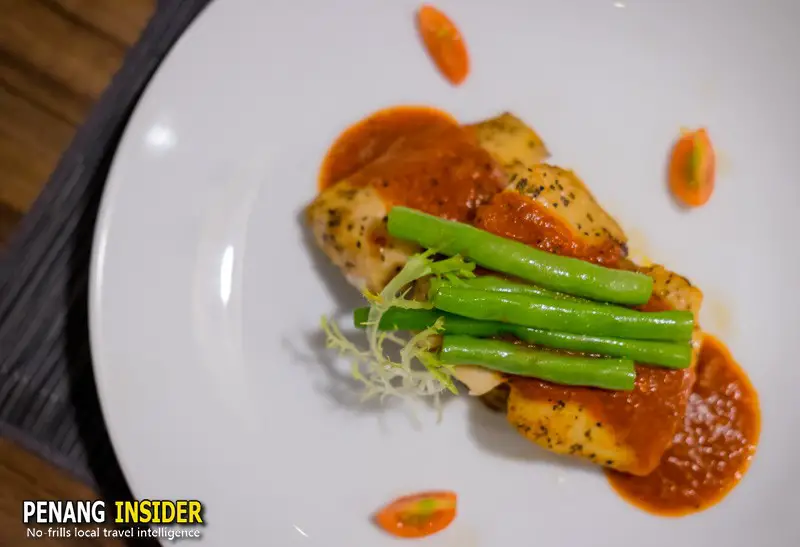 The last available choice was seafood delight: charred chunks of tilapia fish, and a decent portion of it. Covered in a zesty tomato-based paste and aspersed with Pepper Coulis and Sweet Basil, it tasted very fresh and tender. A few roasted potatoes buried underneath sealed the deal. When I tried some, I was hard-pressed to decide whether it beat the grilled chicken or not. Different tastes, and yet, two main dishes that will fill you up, leaving only a little space for… the final sweet delight.
We had "Red Velvet", a sponge cake topped with strawberry and whipped cream that really stuffed me up — in the good sense of the term. Soft yet not ridiculously flabby like what most Malaysians believe a cake should be, and with the right kick of flavor to it.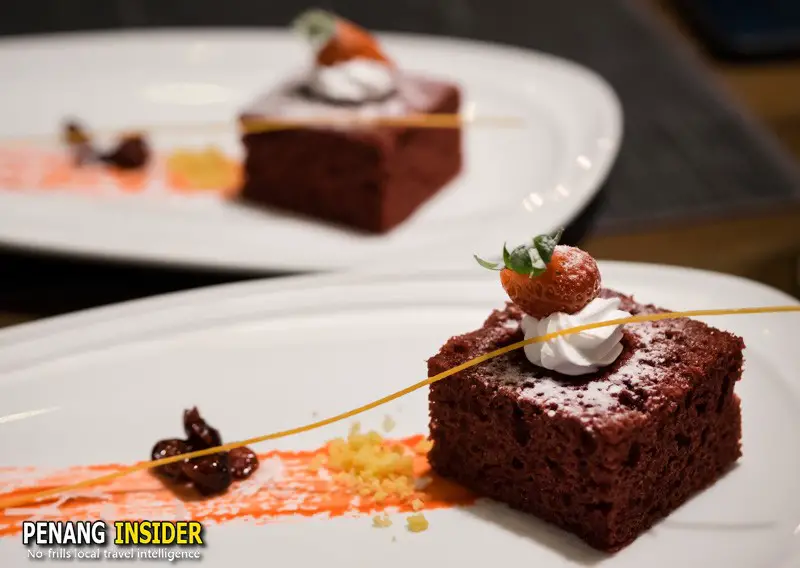 As a last treat, the menu included a hot beverage. I went for cappuccino, and I have to say, it was not as good as the traditional Italian style, but pretty much above Asian average. Frothy milk on top, a good base of coffee that doesn't mix with the foam. Locals won't even notice the difference.
Drinks at Spoon
Alright, we knew that this place has some nice signature drinks and after all the food served at this buffet lunch, I needed to regain some tone.
Spoon's signature cocktail Pomegranate Mojito caught my eye immediately and I ordered one. It came served into a tall glass, its amber color inviting, the right dose of ice floating on top, and the quintessential lime tucked at the edge.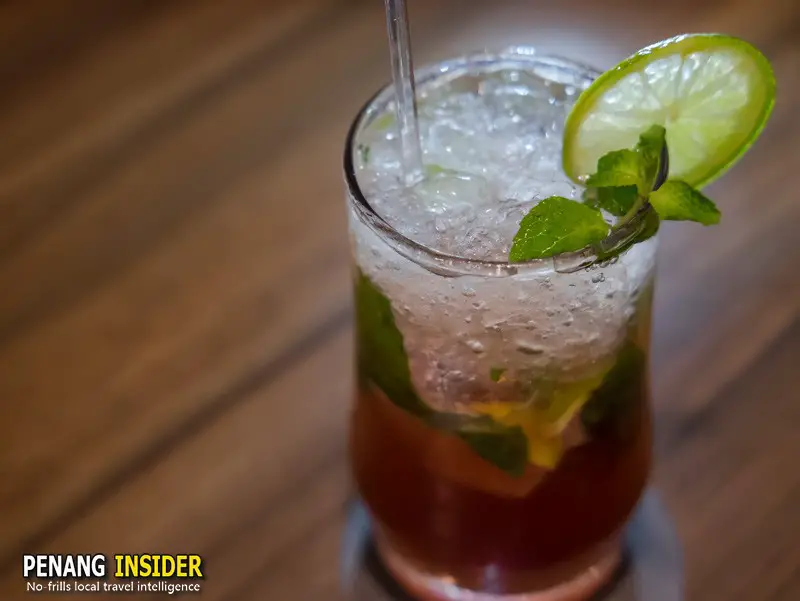 It was enough refreshing, with the right amount of alcohol to make it zesty and not heavy, a definite pleasure to sip. The taste of the Pomegranate is not entirely obvious: rather, it feels like a nice spike that sets the drink apart from "traditional" Mojitos, and yet doesn't make the cocktail taste too alien.
But PLEASE, substitute the plastic straws with something more eco-friendly, thanks.
G Hotel Kelawai Lunch Special: the verdict
We believe that, for a mere RM25, this is possibly the best lunch special in Penang available at the moment.
The atmosphere is high-end, you get four courses and a beverage, and the price is very low. You will really get your dollar worth here. Also, the dinner buffet promotion is worth checking out.
Spoon lunch set Pros:
1.High-end ambiance, air-conditioned and cozy. Ideal to impress a client or date over lunch.
2.Good sized portions that WILL fill you up. Don't plan any serious brain activity after lunch.
3. Cheap for the quality you get.
4. Free one-hour parking for dine-in guest at the hotel's car park. Subsequent hours cost RM2/hour.
Spoon lunch set Cons:
1. It's a hotel, so it may feel a bit "corporate" to walk through the lobby and into the lift to reach Spoon. Even the restaurant itself, as a consequence, is studied for buffet and hence will make you feel like you are hotel guests. Nothing too off-putting, but worth noting.
---
Disclaimer: Penang Insider has been a guest of Spoon during a recent blogger meet-up and tasting. All the opinions expressed in this article are solely our own and are an honest review of our dining experience. In other words, if a place sucks, we'd never recommend it to our readers… believe it or not, we are always honest in our judgment. Go try for yourself.
---
And if you liked this, why don't you sign up for our mailing list? We will send you immediately a FREE photographic eBook with some incredible pictures of Penang, and we promise, we will disturb you only about once a month with some good local advice you won't find on the site