When thinking about hiking in Penang, many go to Penang Hill or cross into Seberang Perai to hike in Mainland Penang in places like Cherok Tok Kun, a forest reserve near the cool city of Bukit Mertajam, or Bukit Juru and Bukit Panchor State Park. Otherwise, nearby Kedah state has beautiful peaks like Gunung Baling and Gunung Pulai.
But remaining on Penang island, there's another cluster of hills soaring to the west of Penang Hill that people know mostly for Bukit Hijau — meaning "Green Hill", it's an easy and short hike starting from Jalan Tambaga in Island Park. Even if it's less than 200 meters high, Bukit Hijau rewards hikers with beautiful views of the Paya Terubong Valley and Kek Lok Si Temple on the flank of Penang Hill. This main trail is also located beside the Bukit Hijau waterfall, a tall cascade dropping from a sheer cliff.
Here is all you need to know to make the best of your visit to Bukit Hijau Penang in 2021.
---
How to get to Bukit Hijau in Penang
The start of the trailhead to Bukit Hijau is behind a terraced house in Cangkat Tembaga, Island Park. You can park your motorbike or try to find a spot for your car at the end of the residential area, and proceed up a flight of stairs to an outdoor badminton court set at the foot of the hill.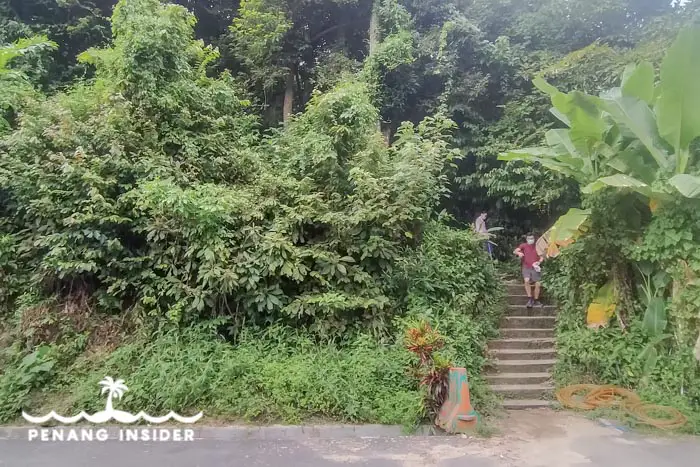 A beautiful waterfall is just nearby, and we'll tell you how to go see it later.
This is a map to Bukit Hijau's trail-head in Cangkat Tembaga:
---
Tips for Visiting Bukit Hijau Penang
Bring water and a sunhat
Bring mosquito repellent because they do bite along these ridges!
If you aren't the type who can relieve herself in the wild, use a toilet BEFORE coming here as there are no facilities around Bukit Hijau
As above, think about food. If you plan on coming here around lunch time (not recommended due to extreme heat) be prepared with some snacks.
Areas like Tai Kar Luck have tap water and tables, but that's pretty much it. You'll need a portable stove to cook anything, and if you do so, DO NOT play play with fire.
---
Hiking to Bukit Hijau's Summit
The scenic end to Bukit Hijau's hike are two opposite viewpoints that offer great views of Kek Lok Si temple and the Paya Terubong valley on one side, and vistas stretching from Island Park over Jelutong to Pulau Jerejak and Penang's First Bridge from an exposed rock face. This rock also makes for a very scenic sunrise or sunset photography location.
READ MORE – Great Pre-Wedding Locations in Penang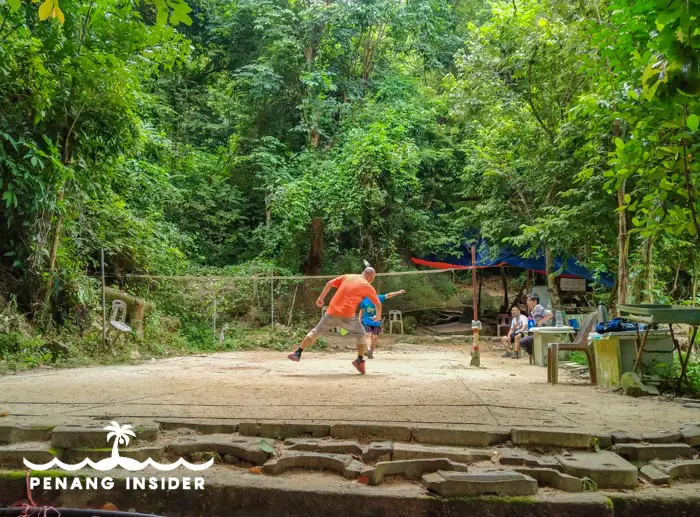 You can hike to the top of Bukit Hijau in about 25 minutes from the badminton court. Follow a well-marked staircase with stone steps first up to a shrine set above a pond, where there's one first rest stop for hikers.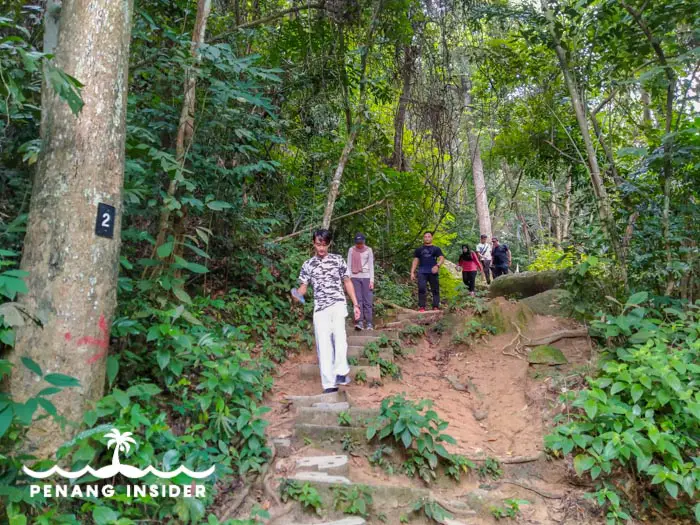 Continue upwards. You'll soon come to a major fork in the road: if you take the left-hand path, you'll proceed up an easier staircase that connects you to the top of the ridge passing a rock that hikers named "Shark Rock". Stay on the main staircase leading up and keep in mind that the many side trails lead to local homes and Chinese shrines.
If, on the other hand, you take the right-hand path at the fork, you'll proceed to Bukit Hijau's summit via a slightly rougher path that first skirts a beautiful tree-root curled into a circle, and then takes you to the top via a barren ascent punctuated by trees and large boulders. When you start seeing the edge of the ridge, lookout for a right turn that brings you directly to the exposed rock looming over Island Park.
There's a small hikers' hut here. Take the main path above the ridge to the left, and you'll soon reach the top of Bukit Hijau, where there's a small tennis court. To the right is the viewpoint above Air Hitam and Paya Terubong valley, with Kek Lok Si and Penang Hill in front of you. Just ahead of the court and to the left is Shark Rock. Descend here to reconnect to the pond, and leave the area via the badminton court.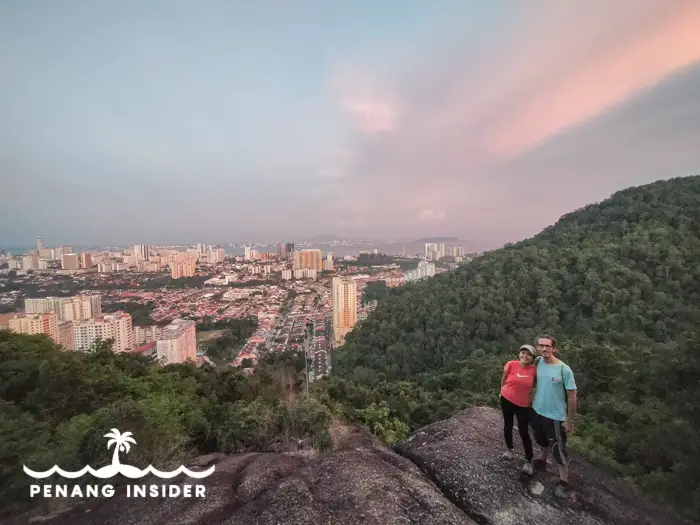 The path gets dark quickly after sundown around 7/7.30 pm, so remember to bring a headlamp if planning to stay on the top to see the sunset.
---
Other possible routes at Bukit Hijau's Hiking Area
The summit of Bukit Hijau is only the most straightforward hike you can do in this patch of interconnected hills and valleys. We have walked all over the place and recorded our trails on a GPS application for your convenience, as the majority of these trails do not appear in most offline GPS.
Here's a map of the main trails we experienced at Bukit Hijau: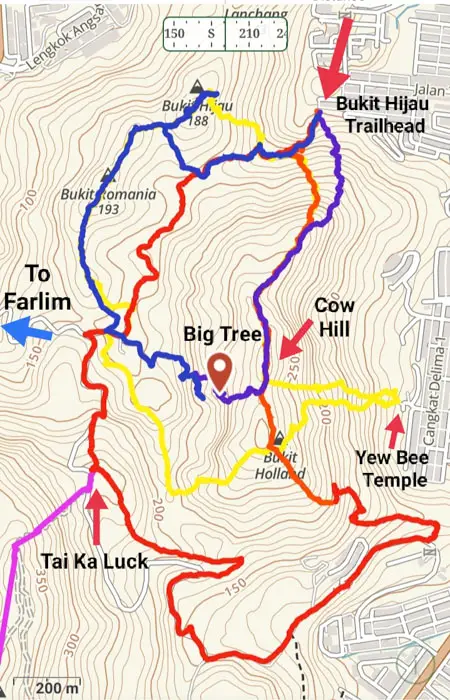 As you can see, there are several opportunities to make some interesting loops. We are going to explain the main routes in the following paragraphs.
---
Alternative Route to Cow Hill and Bukit Holland
Bukit Hijau's summit is just one among a cluster of interconnected hills that extend for about 9 kilometers until Bukit Jambul in the center of Penang island. Before the trail was halted for construction near the privately owned Iconic Hill (under the management of Iconic Hotel, one of Bukit Mertajam's best hotels), it was possible to hike uninterruptedly from Farlim all the way to Bukit Jambul — a 5-hour hike passing nine of Penang's central hills that became popularly known among local hikers as the "Trans 9 Peaks".
It's highly recommended to take some time to explore this area, for it grants chances to hike up to a ridge and loop around a central valley strewn with small farms.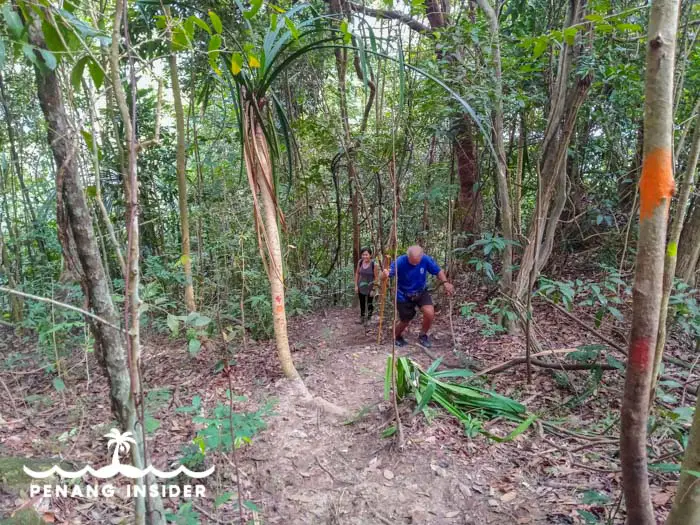 The Chinese shrine and rest area of Tai Kar Luck make for a perfect mid-point whether you decide to take the route clockwise or anticlockwise from Bukit Hijau.
From the badminton court, you can strike directly to the top of the western ridge by taking the steep trail that shoots up directly from the left side of the playground.
Otherwise, hike until about 10 metres BEFORE the pond, and pay attention to the first path/staircase you'll find on your left side. It's a steep hike via a very well-marked trail with ropes snaking up the side of the hill all the way to the top of Cow Hill.
---
The Yew Bee Temple Route to Cow Hill/Bukit Holland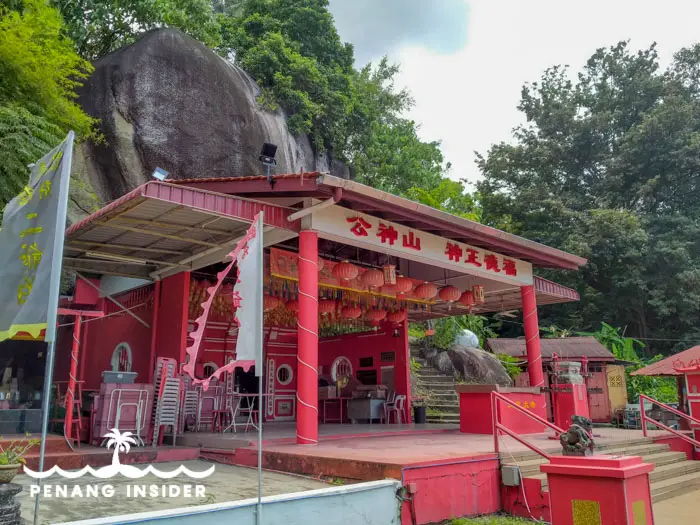 You can also summit Cow Hill via a steep path flanked by many beautiful boulders that crawl up from the Chinese temple Yew Bee in Cangkat Delima 3, Taman Island Glades.
This is not recommended for beginner hikers or children, but it's a vigorous way to the top for all others. Once at Cow Hill, you can turn right to continue down and up to Bukit Hijau, and loop back via Bukit Romania, Tai Ka Luck, and back to Cow Hill, or walk the opposite way if taking a left.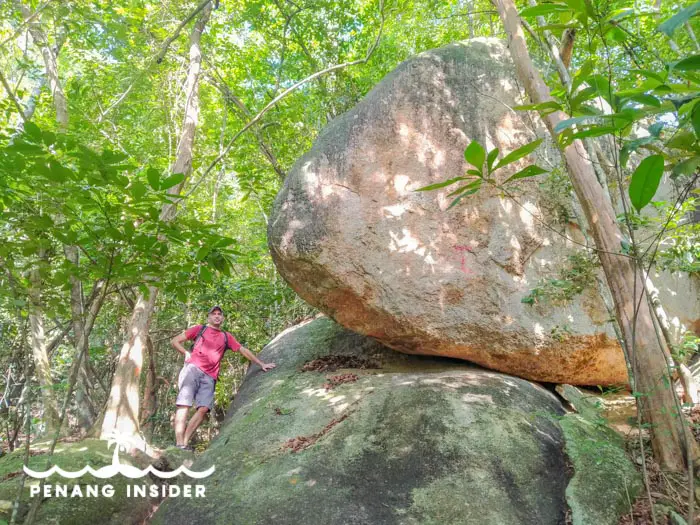 ---
The Big Tree Trail down to the farms — where things can get slightly hardcore
If you keep walking clockwise from Cow Hill, you'll soon reach a side path going downhill to your right. Follow it down for about 8 minutes, and you'll come under the Big Tree. It's very different from the most famous Big Tree of Penang at Cherok Tok Kun, but it's so tall you'll really feel like a nut next to it.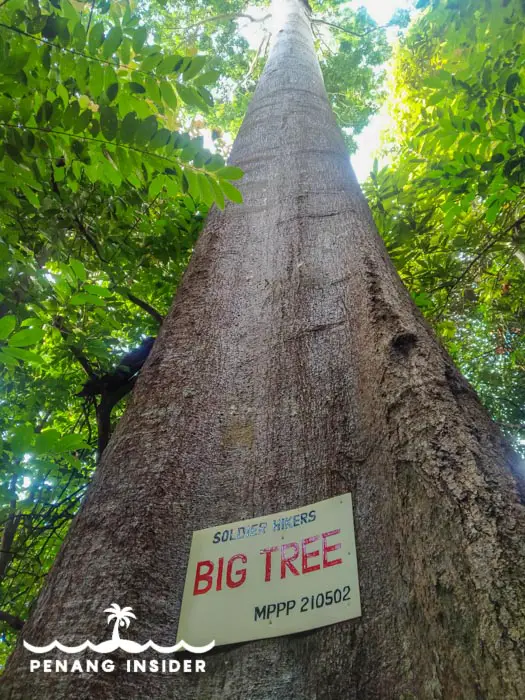 Non-experienced hikers should turn back up after taking their pictures, and continue down to Tai Kar Luck, rather than continue descending for the trail soon enough disappears into too many.
It's possible to reach a paved motorcycle path connected to a set of farms if you turn right where you'll see a big, empty metallic cage, and proceed beyond it literally following your instincts. Pay attention because this patch goes right by the edge of a cliff that's often covered in leaves and undergrowth, for a fall here would definitely hurt.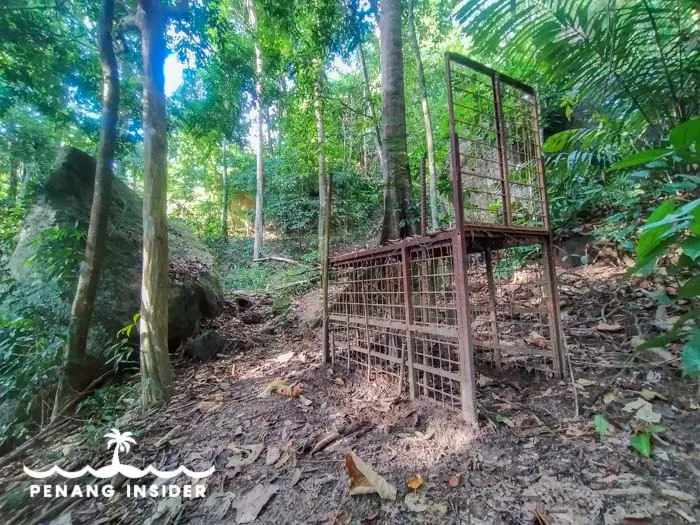 If you make it to the farms, you'll soon join a fork in the road where you can re-join Bukit Hijau via a mountain path through Bukit Romania, or by taking the flat, shorter trail via the farms to the badminton court. It's about 30 minutes back out from here.
Continuing straight and then left, you'll reach Tai Ka Luck in another 20 minutes tops.
---
Tai Kar Luck rest stop
This Chinese shrine and ample hiker rest area are the literal crossroads from all the routes coming in from the north (Bukit Hijau-Farlim), south (Bukit Relau, and onwards to Bukit Botak and Iconic Hill), and east (Bukit Gambier).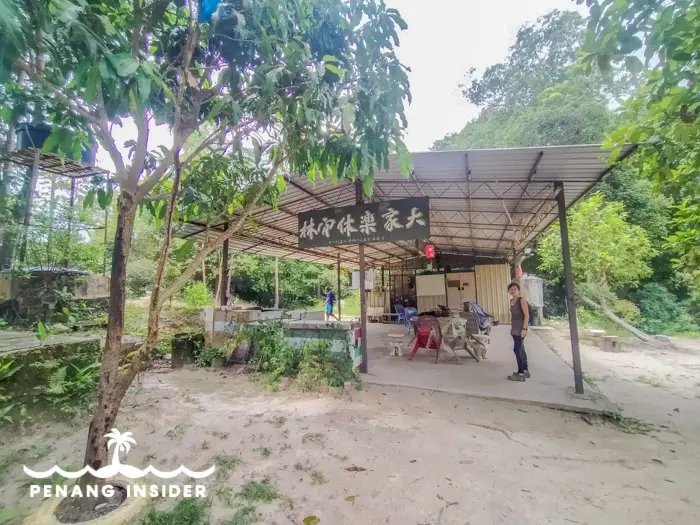 Since the route south via the Trans 9 Peak to Bukit Jambul is closed/hard to follow at the time of writing, we consider Tai Kar Luck as a perfect southernmost mid-point for a circular loop of the Bukit Hijau massif. This route will take you approximately 2/3 hours to complete, depending on your speed and the time you'll spend at the rest stops and viewpoints along the way.
---
Bukit Hijau's Waterfall
Once you emerge back out again from the badminton court, don't forget that the road that continues to the right of the Bukit Hijau trailhead takes to another side of the hill where you can see the beautiful Bukit Hijau waterfall.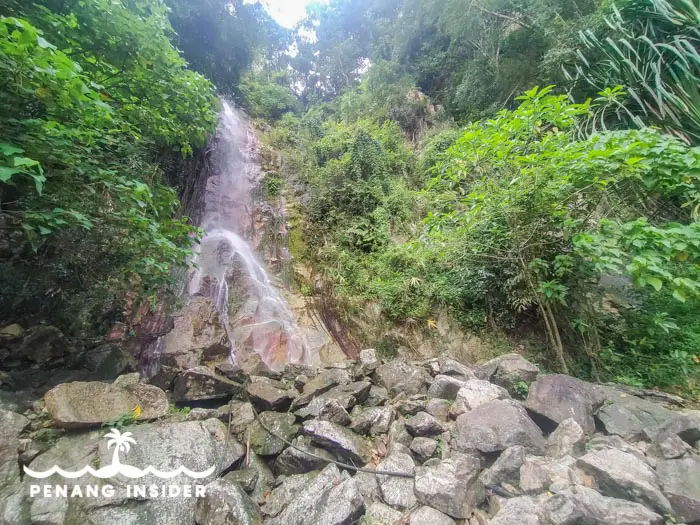 Set at the back of a Chinese and a Hindu temple and before a large concrete expanse, this is one of the easiest Penang waterfalls to reach as you can just drive there. It's a majestic 20-something-meters drop that becomes rushing with water in the wet season.
You may bathe here, but if you do so, remember to keep the place clean — take out your trash and be a responsible human being. We DO encourage you to have fun here, but littering and being an ass is out of the question, thanks for understanding.
---
Bukit Hijau Penang: The Final Verdict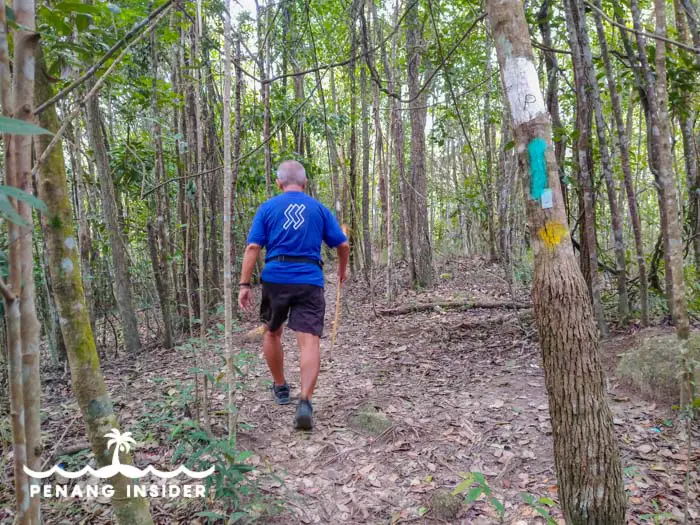 Bukit Hijau is a very nice hiking area that's suitable for all levels and easily reachable with your own wheels. If you don't have, either charter a Grab car or ask a local friend to take you.
It's a very valid alternative to the trails on Penang Hill and is very good for both beginners and people who aren't too fit but still want to enjoy nature. The climb up to Bukit Hijau's viewpoint is straightforward, and yet the views you'll get definitely give a sense of satisfaction.
If you are a beginner and intend to try the circular loop all the way to Tai Kar Luck, it's best to walk anti-clockwise, meaning, hike first to Bukit Hijau's summit and then walk back down to Tai Kar Luck via Bukit Romania and the farms.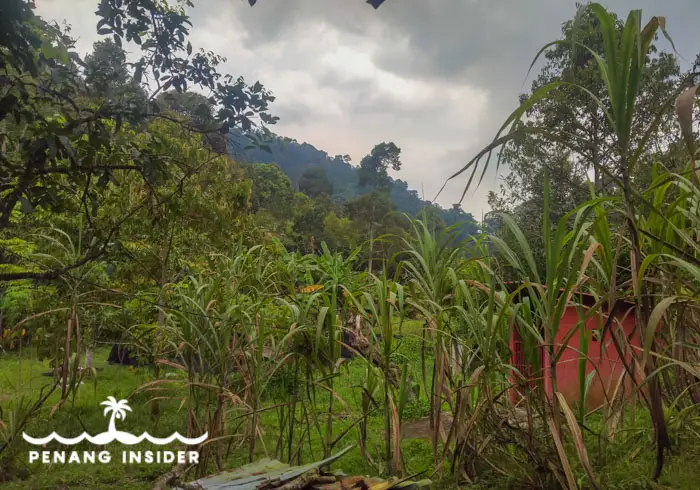 Experienced hikers may prefer to strike up clockwise, reaching Cow Hill and Bukit Holland first, and then descending to the valley before looping back to Bukit Hijau's summit or directly to the badminton court.
However you do it, you'll soon fall in love with this area — two low hill ranges protecting a valley studded with farms and tropical vegetation.
---
And if you liked this, why don't you sign up for our mailing list? We will send you immediately a FREE photographic eBook with some incredible pictures of Penang, and we promise, we will disturb you only about once a month with some good local advice you won't find on the site
---