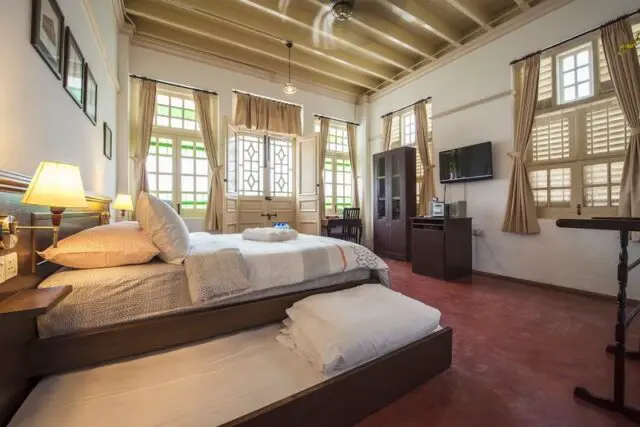 Traveling to Penang and looking for a place to stay? You have landed on the right page. Penang is well-known for its large variety of accommodation.

We have already reviewed some of the best boutique hotels in Penang, swanky Penang 5-Star Hotels, best beach hotels in Batu Ferringhi, and suggested the best budget hotels in Penang, but what if you wanted a cozier, more homey, apartment-like accommodation? Maybe a Penang apartment where you can stay with a group of up to 10 friends or family members?
Then you should consider renting an Airbnb in Penang.
Penang Airbnbs are often upholstered from private apartments, have some great price deals, and are perfect locations near all the best things to do in Penang — don't have a clue? Check out our guide to the best areas of Penang — to consider for a warmer, more intimate stay on the island.
Why Choose to Stay at Airbnb in Penang?
Because Airbnbs in Penang are run out of very modern apartments, most often located in areas of the island that are perfect to get around on foot, find lovely food — read our guide to the essential Penang Food to get you started — and chase the famous Penang street art.
Airbnbs in Penang, like in other Malaysian cities such as Ipoh, are particularly suited for families and larger groups, as they often can accommodate between 4 and 8 people, at very competitive prices. Also, Airbnbs in Penang have kitchen facilities you can use to cook up a meal, relax with friends and family, and can at the best of times be rented long-term at very competitive prices.
---
The Best Airbnbs in Penang
The following is a selection of what we think are some of the best Airbnb accommodations in Penang. From fully furnished loft-like apartments that can host a whole family, to more intimate, heritage-styled private rooms, this post will give you all the inspiration you need to book your perfect Airbnb stay in Penang.
---
Blogging transparency: this post contains affiliate links. These are products and services that we personally use and recommend. If you click on one and buy any service, I will get a small commission at no extra cost to you. Consider it a small way to say thanks, and keep Penang Insider going.
---