Pre wedding photography is very popular in Asia: couples love to capture some beautiful images that are staged and are complementary to the normal and usual pictures of their wedding ceremonies. Of course, pre wedding photoshoots in Malaysia are also popular given the wealth of great locations that are just short getaways from either Kuala Lumpur or Penang.
And it's exactly Penang, a UNESCO World Heritage Site filled with beautiful 5-star hotels, boutique hotels and charming Penang Airbnbs, that is configuring as a perfect and increasingly popular location for a Malaysian wedding — and even more for a pre-wedding photoshoot in Malaysia. The reason is clear: with its beautiful colonial heritage lanes dotted with Chinese shophouses, multi-colored Hindu temples and Penang Little India, regal mosques, and popular Penang street art, George Town is an eternal favorite to get beautiful, unique pre wedding photographs.
But Penang has much more: there are also scenic locations such as the Top at KOMTAR, Penang's highest skyscraper with its 232-meters-high observation deck — one perfect location for jaw-dropping views over the city, or the former Penang Butterfly Farm, Entopia. Have you considered postcard-pretty Monkey Beach?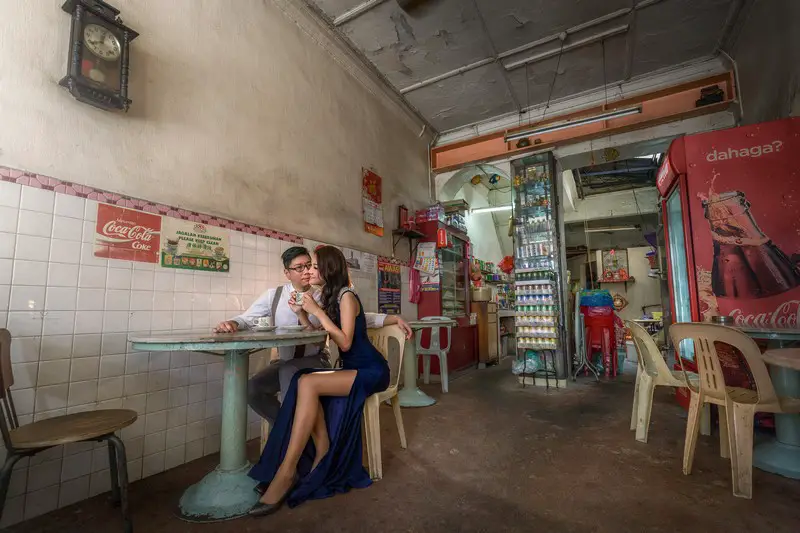 But Penang also has many beautiful natural locations filled with incredible Malaysian animals: Penang wedding photographers have at least 20 beautiful Penang Beaches to choose from, a national park at Teluk Bahang, and other places in Seberang Perai, the less discovered mainland chunk of Penang State, whose main municipality is interesting and old-world Bukit Mertajam.
Given such a wealth of stunning places for that perfect pre wedding photoshoot in Penang, we thought of asking some of the best Penang wedding photographers to share their secrets spots and delight us with some of their beautiful pre wedding shots in Penang.
If you are looking for some inspirations for your pre wedding photoshoot in Penang, you better bookmark this page right now, and come back later as you plan for your best day.
Best Locations for Pre Wedding Photoshoot Packages in George Town