Cheap flights to Penang? You have come to the right place.
After Kuala Lumpur 's KLIA, KLIA2 and Johor Bharu's Senai, Penang International Airport gets most of West Malaysia's inbound traffic. Besides its great location, it is somehow a regional hub because it doesn't get much international traffic from, for example, Europe, the USA or Australia. Indeed, there are no direct flights to Penang from London , or Manchester to Penang. One must stop-over in Kuala Lumpur.
To avoid confusion, this post wants to highlight some of the cheapest flights to Penang, reviewing routes and giving suggestions to get the best deals and plan your trip.
Where you can Fly from Penang
Besides national MAS Airlines, Penang airport is a northwestern hub of low-cost giants AirAsia, Malindo, JetStar and FireFlyz (a low-cost subsidiary of MAS). It has some interesting regional connections to Thailand, Indonesia, Vietnam, China, Taiwan, Myanmar, and Singapore .
For other Asian countries and Australia, one has to fly — or travel by train/bus — to one of Kuala Lumpur's two main International Airports, KLIA and KLIA2. Which brings us to explain:
Flights to Penang from KL
These days, flying to capital Kuala Lumpur often comes cheaper than taking one of the new ETS Trains from Butterworth — Penang's transport hub, right across the first bridge, in Seberang Perai.
Consider that Kuala Lumpur's two airports may have most of AirAsia international flights, but are also a good hour away from the city. It's much faster to look for flights to/from Penang and Subang. Low cost carriers Malindo and FireFlyz are the two companies with the bigger number of flights between Penang and Subang airports.
Subang, a satellite city at the eastern edge of Kuala Lumpur's metro area, has the capital's second airport, Sultan Abdul Aziz Shah — popularly called Subang airport. It is connected to KL Sentral by frequent taxi services or by bus.
Rapid KL Bus U81 stops nearby Subang airport's arrival gates: walk outside, take a right and proceed until you see the bus stand on your right. In regular traffic conditions, it should take you about 25/40 minutes to reach downtown KL.
If taking taxis, use the pre-paid coupons sold inside the airport to avoid being overcharged.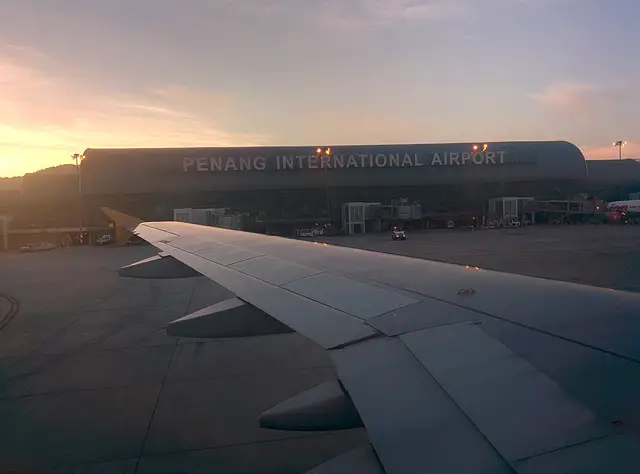 International Direct Flights from Penang
Besides stopping over in Kuala Lumpur, direct flights from Penang reach some useful international destinations.
For Thailand, one can reach Bangkok via AirAsia, or Phuket via FireFlyz.
For Singapore, several direct AirAsia flights land daily in Changi International Airport, making connections between the two former Malayian Federation states a breeze.
For Indonesia, several companies fly to Jakarta and Surabaya in Java, or Medan and Banda Aceh in Sumatra.
For Vietnam, AirAsia has one handy direct flight to Ho Chi Minh City — a nice and quick getaway with some inspiring cities in the Mekong Delta.
One direct flight also connects Penang to Taiwan.
For China, flights traditionally catered to inbound tourism from Shenzen and Guangzhou, but have expanded as of late. Lucky Air now flies to Kunming, and there are also direct flights to Hong Kong via Dragon Air.
There is also a direct flight to Yangon in Myanmar that's usually quite cheap, and a great chance to visit one of Southeast Asia's rising countries.
Useful Direct Connections within Malaysia
Besides Kuala Lumpur, Penang Airport is well connected to other major cities in both Peninsular and East Malaysia.
AirAsia offers direct flights to Johor Bahru, right across the causeway from Singapore, Langkawi island, and Kuching and Kota Kinabalu in East Malaysia. When booked in advance, these flights are among the cheapest you can find — crossing the South China Sea to Kuching for RM99 or less is quite a steal.
Kota Bharu and Melaka are served by FireFlyz and Malindo Air, cutting travel time from a 6/7 hours drive to about an hour.
Few Tips to Navigate Penang International Airport
Penang International Airport is on two levels: departures are on the first floor and arrivals at the ground floor. Once landing, and after having passed immigration procedures when arriving from a foreign country, you will follow passengers along the only arrival/departure gates area, and then downstairs via a set of moving escalators. If you don't need to collect baggage, you will walk out of arrivals through the customs' green lane — no need to worry unless you are carrying any prohibited items.
The check-in desks are on the top floor, to the right side of the departure hall. If on one hand the desks of MAS, Malindo and JetStar are never too busy, on the other it's wise to arrive well in advance for AirAsia flights. The company serves many routes, and there are often long queues when one needs to check in luggage.
If you have no luggage to drop and have already checked-in online — you can do that up to a few hours before your departure — you can just walk to the centre of the departure hall if flying abroad, or to the left to catch domestic flights. Show your boarding pass and off you go.
If you haven't checked in before arriving, Penang airport is one of the few around Malaysia where you can find machines that can print your boarding pass. This works best for AirAsia flights. Bring your reservation number, or visit the AirAsia website, go to the check-in section, and ask for the code you need to scan at these machines and get your boarding passes.
Cheapest Ways to Get to Penang International Airport
Penang airport is by far one of the easiest Malaysian airports to get to by public transport. From George Town, buses 401 and 401E depart from the main city bus station near the KOMTAR tower complex, cost RM2.70 and reach the airport in about 45 minutes. Time your connections wisely, leaving at least 3 hours before your flight's departure.
If arriving in Penang airport, just walk outside the arrival gate and walk to the left side, where you will see the bus stand. Make sure that the bus you are taking is headed towards Sungai Nibong – George Town, as the buses coming from the city stop at the airport but continue south to Balik Pulau.
Bus services are a great way to reach the city on the cheap — just consider they run from about 6 a.m. to 11 p.m.
Outside those working hours, your best bet is using smartphone apps like Uber and Grab Car. As we described before, they offer comfortable, quick and cheap rides between George Town and the international airport. Try to avoid taking taxis if at all possible, unless you purchase a fixed price coupon from the booth right outside Penang Airport's arrivals — careful, as there's a tendency to overcharge otherwise.
Have a good flight to or from Penang!
---
Disclaimer: In full transparency, there are affiliate links in this post. If you book a room using our links, we'll earn a little commission at no extra cost to you. See it as a way to help us keep up with publishing free content.
Also, flight routes and schedules to/from Penang are constantly subjected to change. We are doing our best to keep this page as updated as possible, but forgive us if any of the information above has become obsolete since the publication of this post.